With a series of celebrations to be had, Daria MEZHETSKAIA (RUS) tops the lot, celebrating her 23rd birthday on the same day she took her first senior European Championship and European Games medal which just happened to be gold.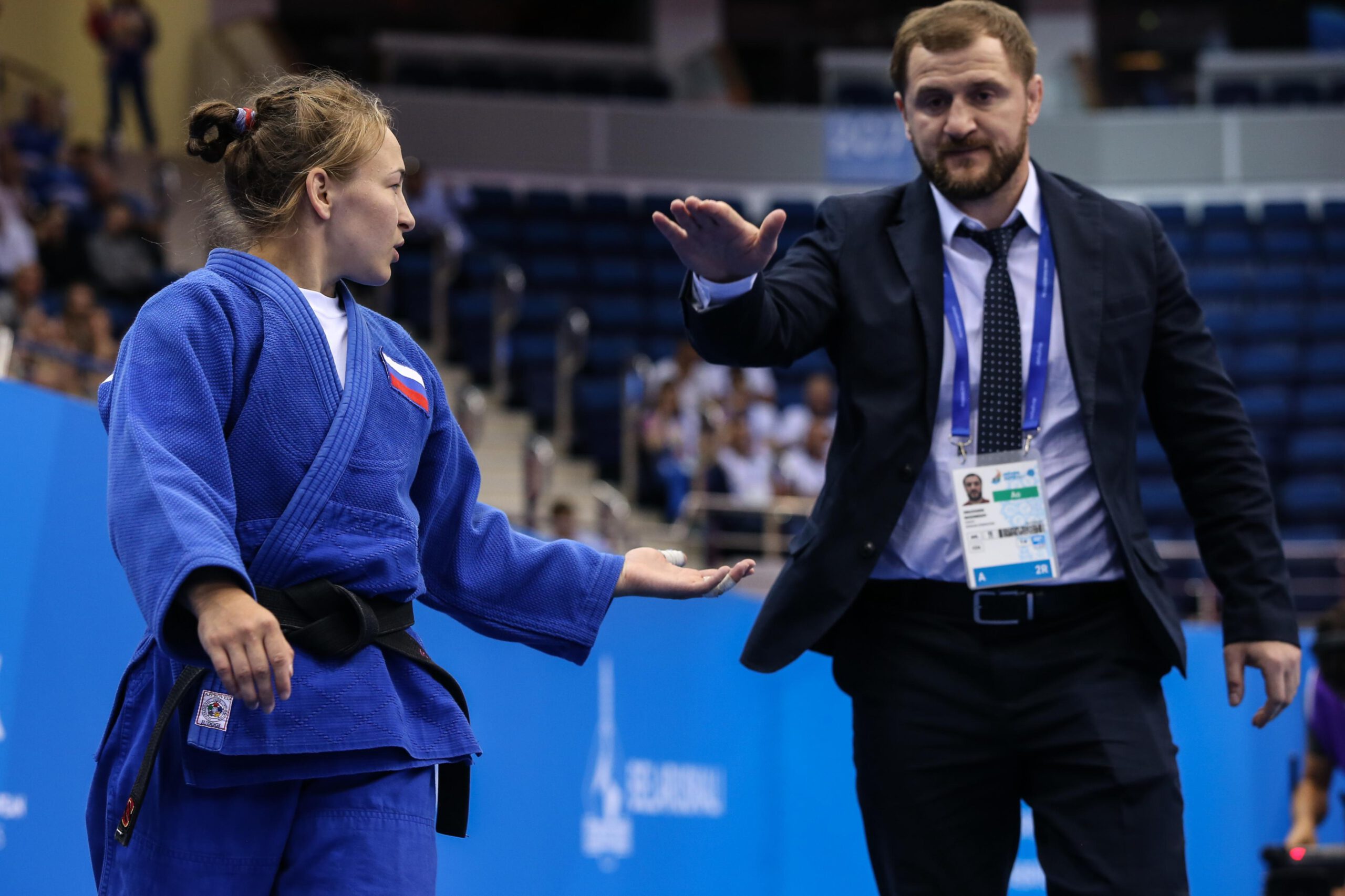 Let's do this! Daria MEZHETSKAIA and coach before the -57kg final.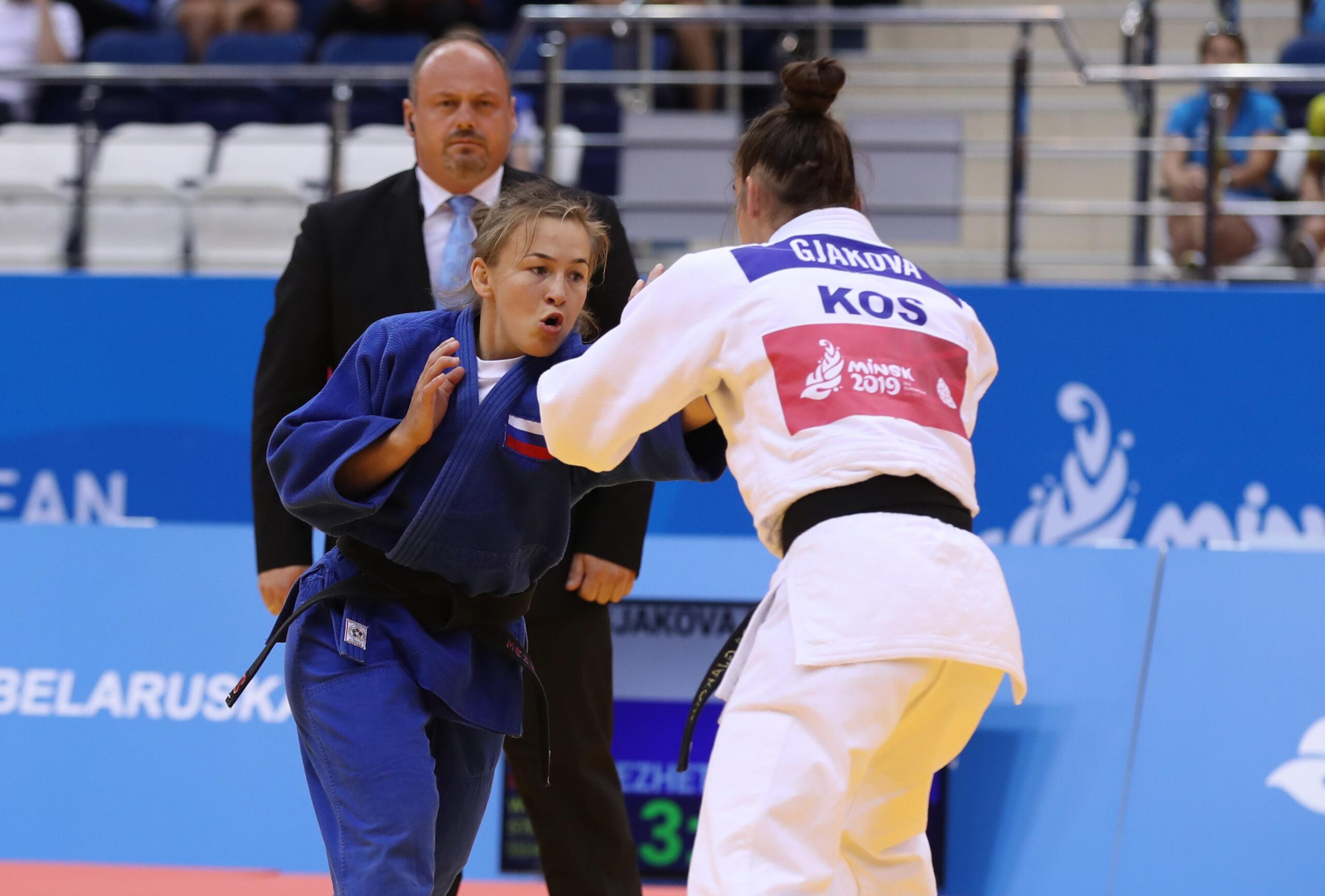 Daria MEZHETSKAIA in her gold medal contest with Nora GJAKOVA (KOS) – Carlos Ferreira
The -57kg Russian athlete devastated her opponents with a Galstyan-style spinning harai. She was calculated in her contests, gripping and moving to get the desired reaction and ultimately the win. In her semi final against Sappho COBAN (GER), MEZHETSKAIA put in a sequence of attacks, showcasing her championing abilities.
So for me it was a long path to this medal and it does mean a lot to me. It's very important that I've won this particular medal at this time.

The whole day was really a great moment for me but obviously in the final that was the most tense time, up against the reigning European Champion, Nora GJAKOVA.

I missed half a year because I needed to have surgery and during this time I understood that I really wanted to get to the highest level, to the top, I knew that I would really have to strive for this and focus. It was new motivation for me and it led me to this point today.
The young Russian has her sights set on a place at the World Championships but will make an appearance in a Grand Prix either in Croatia or Hungary beforehand. It was a fantastic start to these European Games and also a chance for others to celebrate some milestones.

BILODID TAKES BACK EUROPEAN TITLE
In the -48kg category, Daria BILODID (UKR) once again met Milica NIKOLIC (SRB) in the semi final and in the same way as in the European Championships in 2017.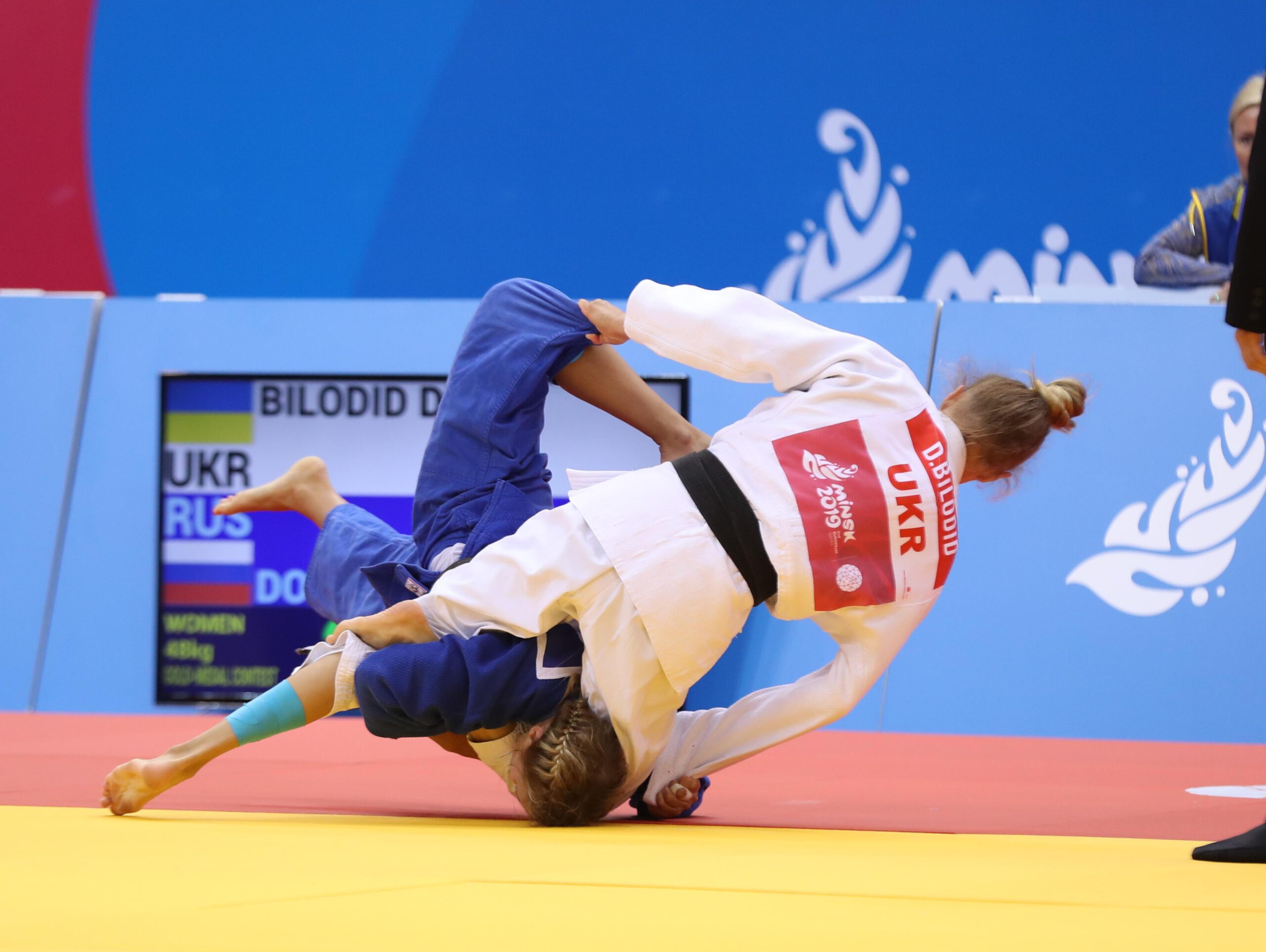 Daria BILODID (UKR) takes back her European Championship title – Carlos Ferreira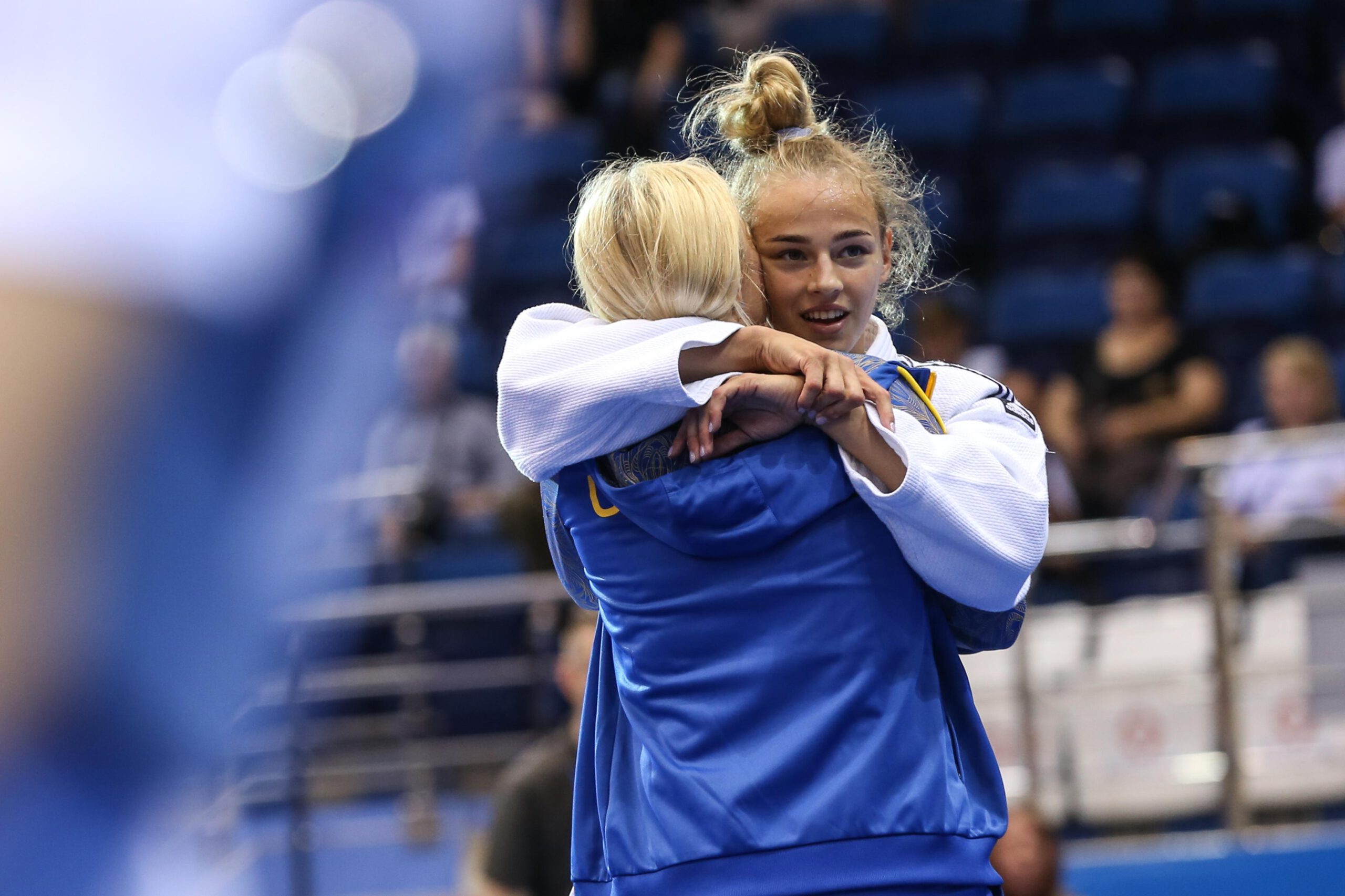 NIKOLIC put up a solid fight against the current World Champion and caught BILODID beautifully for a waza ari score, unfortunately it wasn't enough as BILODID came straight back to score ippon and seal her position in the final against 2018 European Champion, Irina DOLGOVA (RUS).
It was a very good situation for me, I won my last European Championship in 2017, last year I missed out and of course I wanted to come back to Europe because now I fight mainly on the IJF tour so after two years I came back to win.

I had the same situation with NIKOLIC two years ago and I couldn't believe I found myself there again but I acted calmly and thought that everything would be okay.

I was confident going in to the final, the gold medal is the most important to me and this competition was perfect for me. I had a lot of supporters from Ukraine and from my club.
FOUR TIMES A CHARM FOR KELMENDI
After a gruelling day of contests, Majlinda KELMENDI (KOS) perfectly timed a counter attack against Amandine BUCHARD (FRA) for a place in the -52kg category final against 2018 European Champion, Natalia KUZIUTINA (RUS).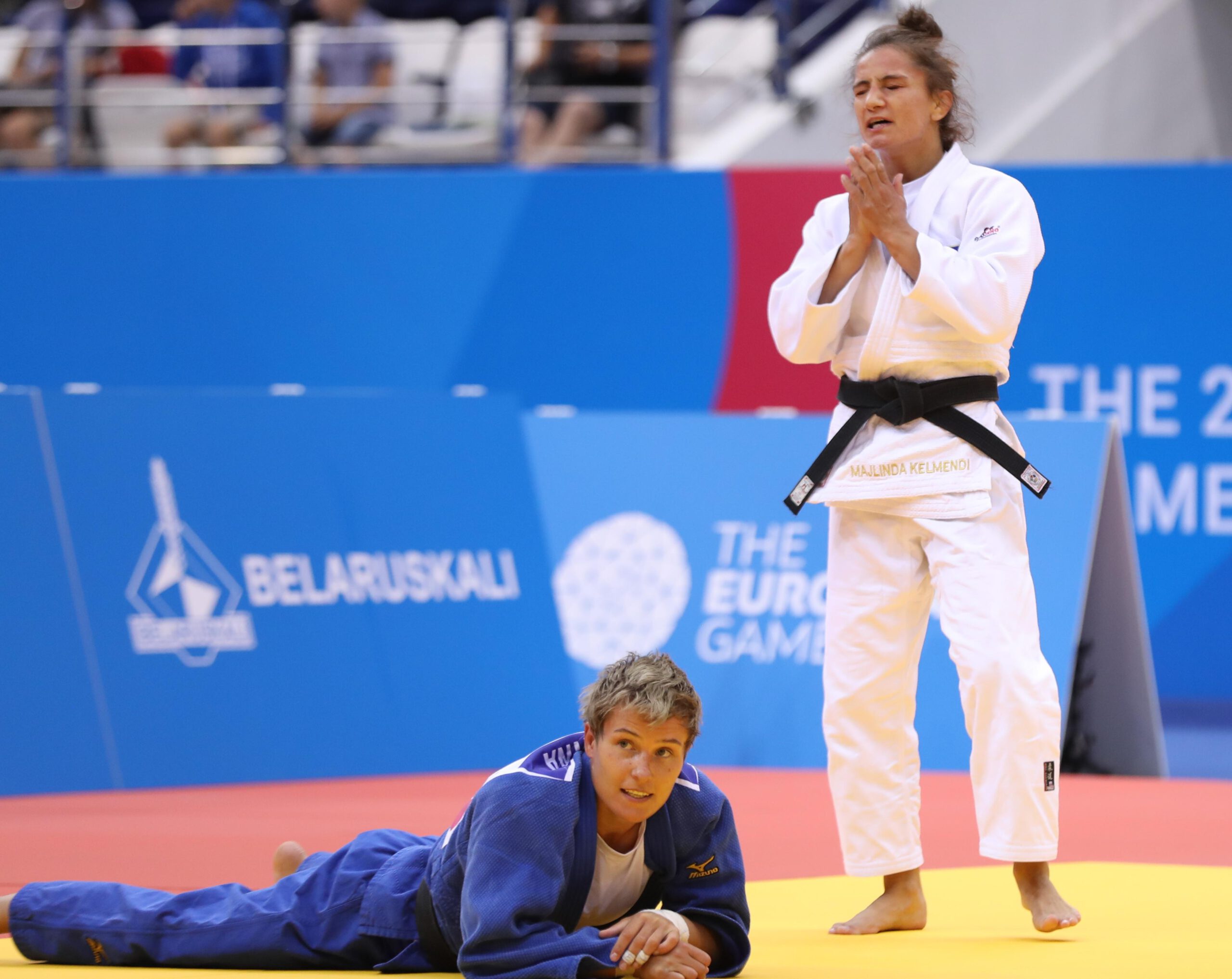 KELMENDI filled with happiness after her final win. – Carlos Ferreira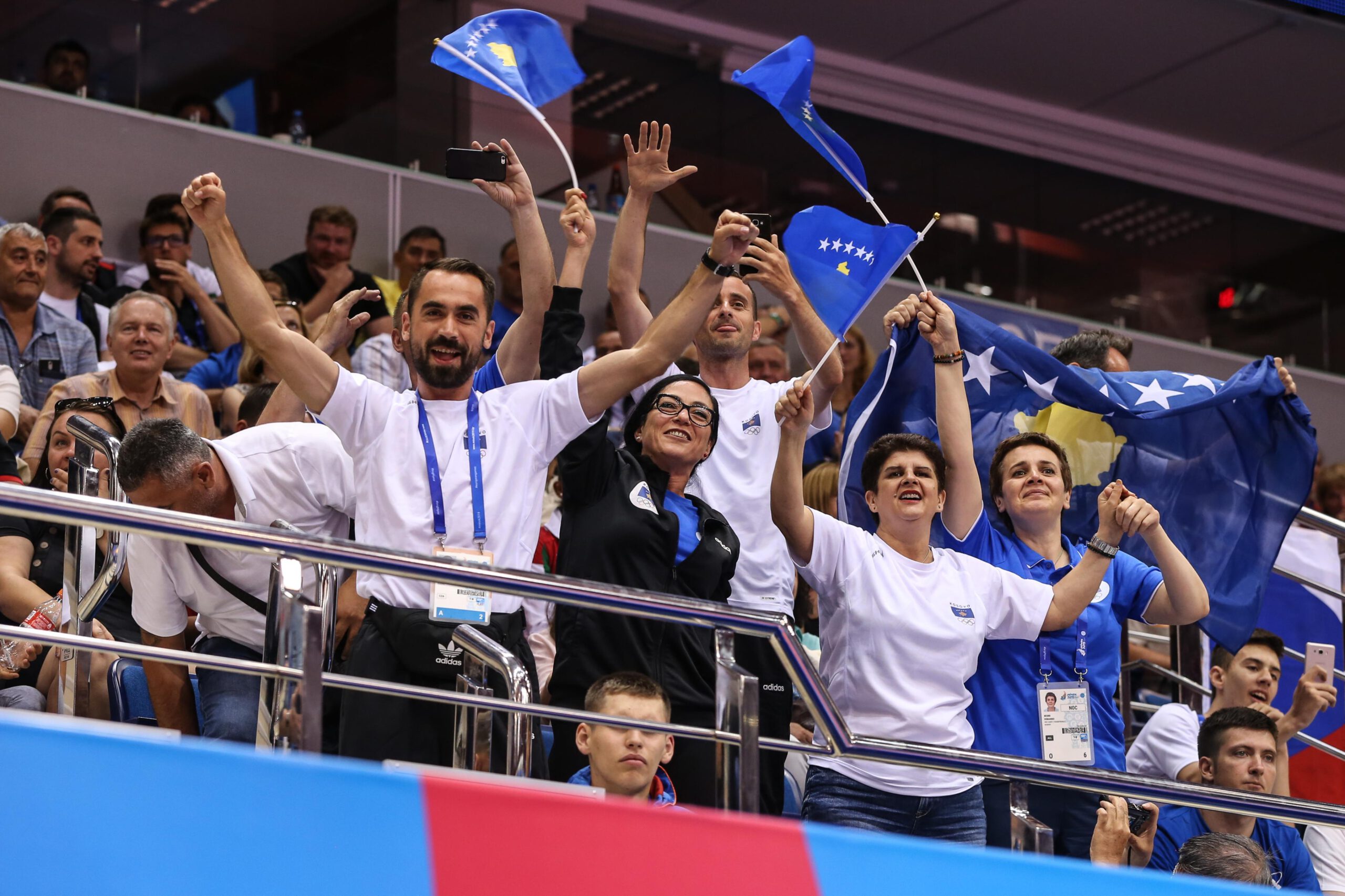 The Kosovar crowd cheering on KELMENDI in the -52kg final – Emanuele Di Feliciantonio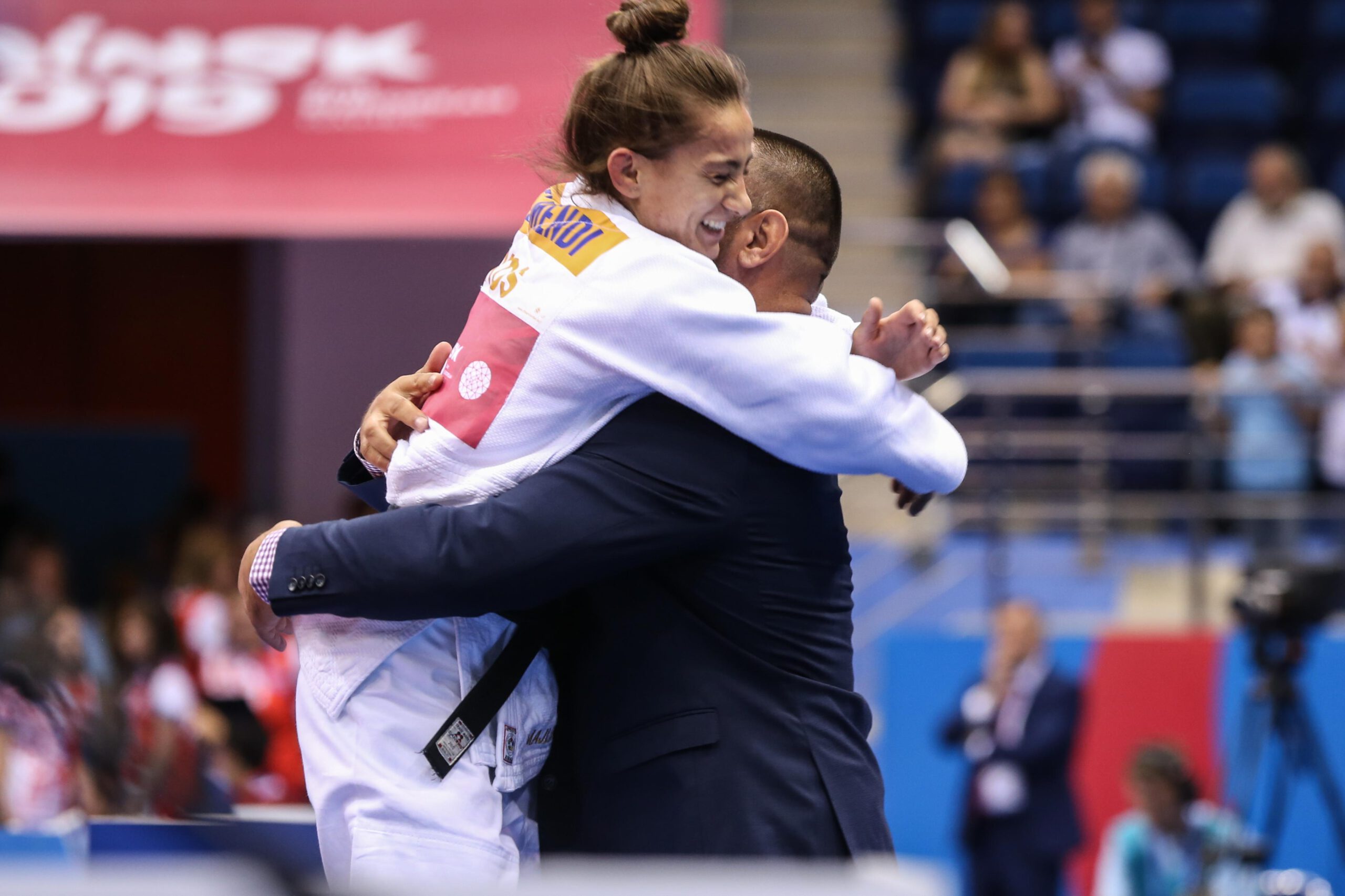 The pair took the contest in to golden score, a truly great match of strength, but only one would come out on top, KELMENDI made it her fourth European Championship title and her first in a European Games.
Of course I am very happy, to be honest it wasn't an easy day because for two years I haven't fought in a Championship and it was a little stressful but in the end I took gold and I am really happy. I'm in good shape now and I hope it will be fine till the World Championships and then we'll see.

BUCHARD is doing very well, recently she's medalling everywhere she goes and is WRL #1. I knew the fight would be tough and that she would be strong but I stayed strong mentally, I didn't think the throw would come in the first or even second minute and I was prepared even for golden score, more or less it went how I planned.

I was very motivated in the final just because KUZIUTINA was the current European Champion so I wanted really badly to take this title, I miss being on the top, being the best in Europe and in the world so I'm really motivated to go on. KUZIUTINA is so strong, so physically strong it was incredible but it went well for me, we both had a lot of support and it was good judo for the crowd.
CHKHVIMIANI CHANGES GEORGIAN FATE
In 2018, the European Championships were somewhat of a nightmare for the the Georgian team but they absolutely turned it around on the first day of the European Games taking four medals in two weight categories.
Lukhumi CHKHVIMIANI (GEO) had only one contest in Tel Aviv, yet today he was on fire making his way through the -60kg weight category. On the other side of the draw, Spanish athlete, Francisco GARRIGOS was also tearing through his opponents.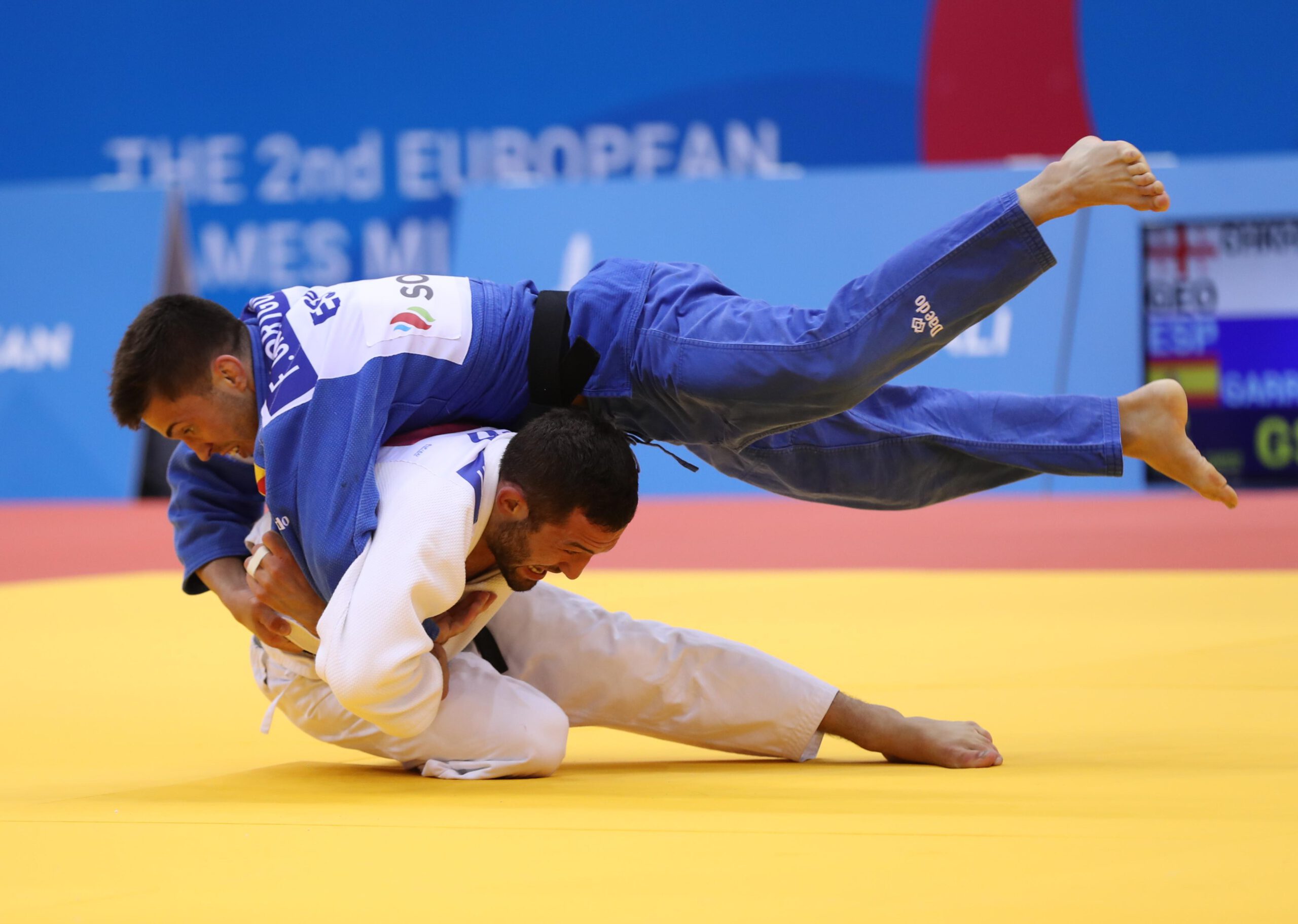 CHKHVIMIANI finally finds success against GARRIGOS (ESP). – Carlos Ferreira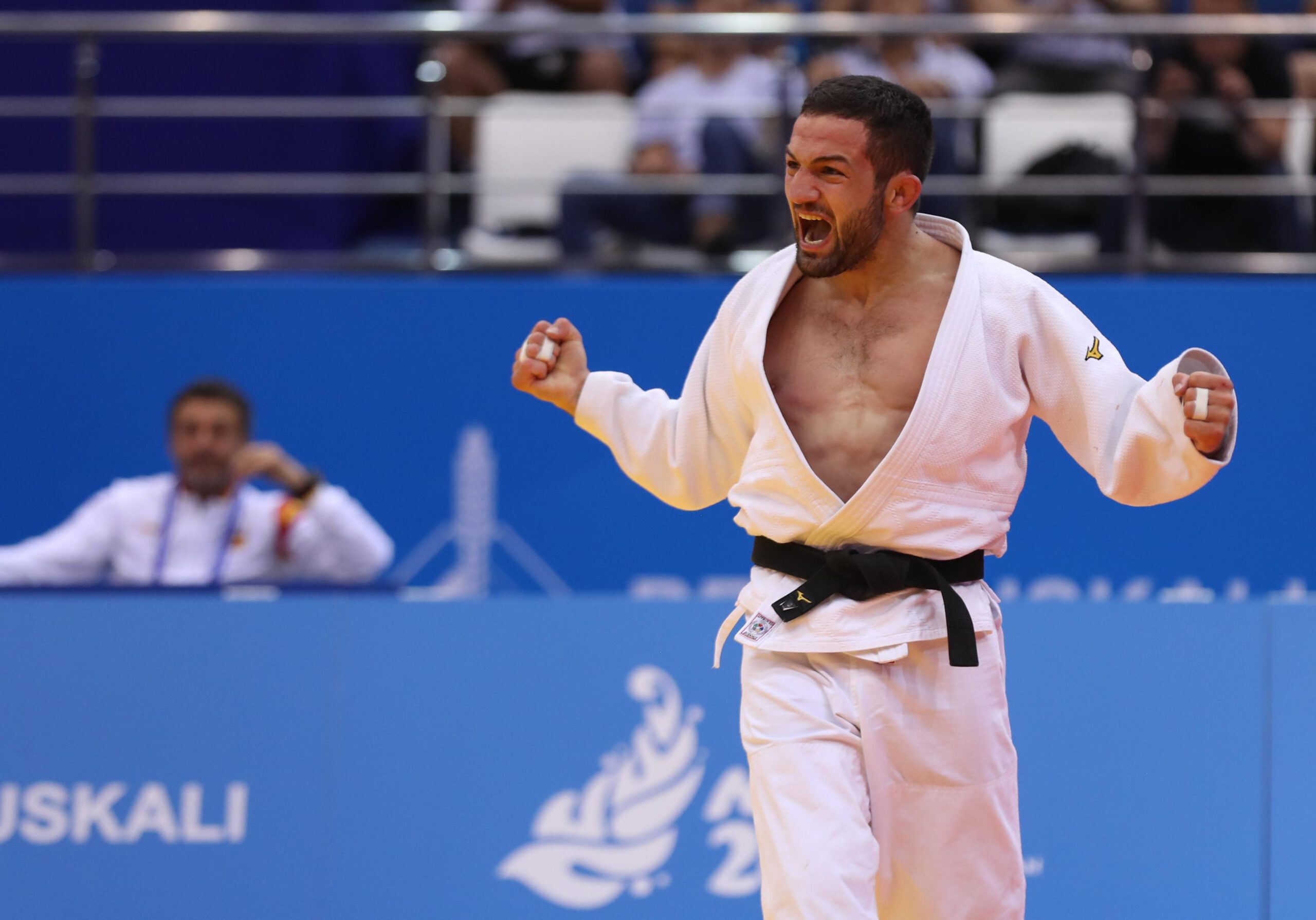 No one could have predicted the outcome as both contenders were having their own special day but GARRIGOS held the most previous wins against the Georgian. This didn't seem to matter to CHKHVIMIANI as the pair went back and forth throughout the contest till eventually the latter took Georgia's first gold medal of the tournament.
The preparation for these European Championships were very hard, of course this year it is different as it is part of the Games but I trained very hard and am very happy, I'd like to thank my coaches and to everyone that helped me reach this title.

I know Walide KHYAR (FRA) very well, this is the third time we've met and he is so strong but this time luck was on my side and I was able to win.

I have met GARRIGOS several times but this time was really special, because in this big European Final, a first for us both, neither had been in this position. I lost to him several times but I prepared myself to beat him and thankfully today I was able to do this.
A DECADE OF EUROPEAN SUCCESS FOR ZANTARAIA
As unbelievable as it may seem, Georgii ZANTARAIA (UKR) took his first European Championship medal in Tbilisi in 2009, the same year he became World Champion in Rotterdam. His talents seem never ending and have seen him accrue an incredible amount of titles over the years, today was no different making it his third European title.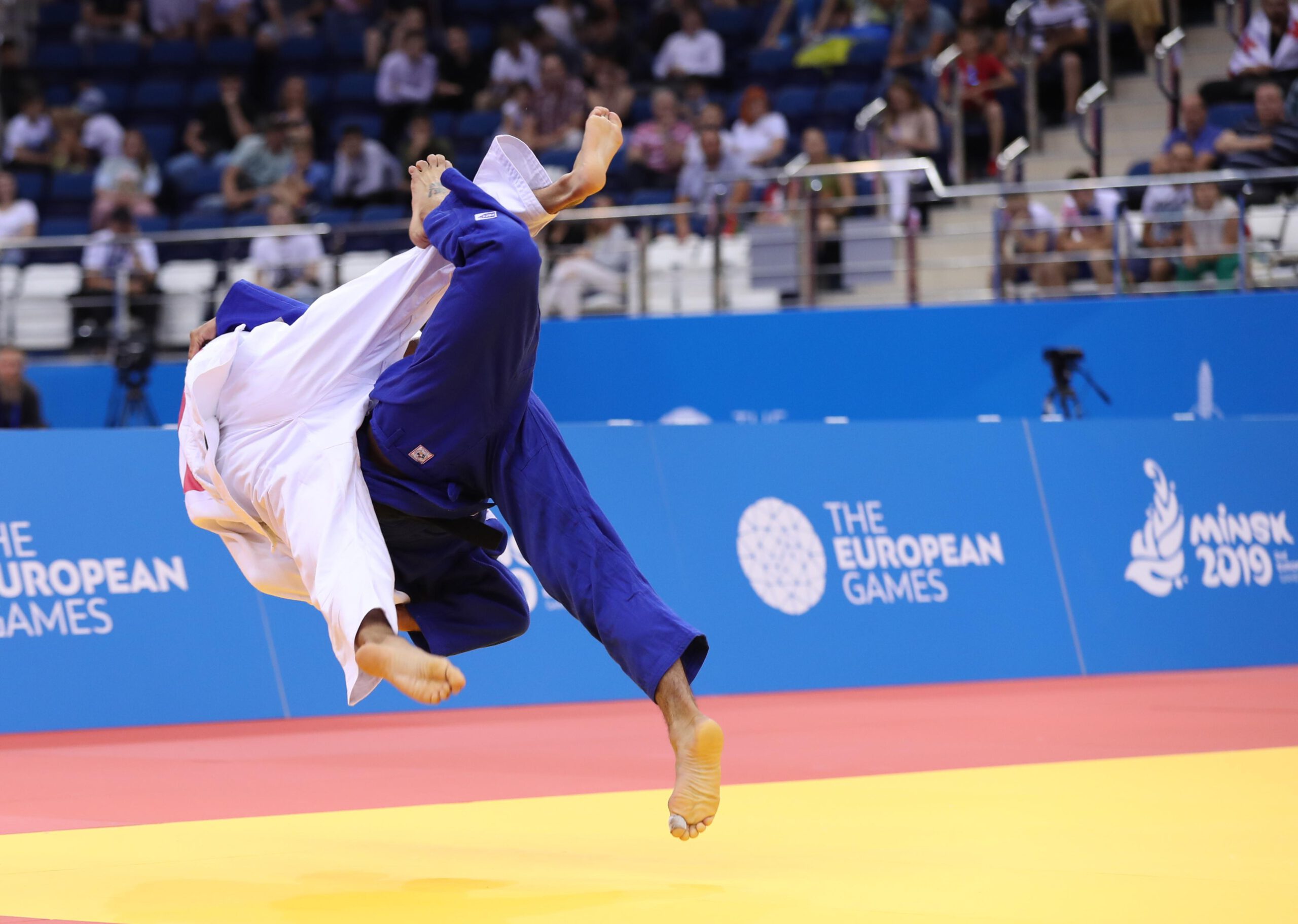 ZANTARAIA launches with an uchi mata attack for the European Champion title – Carlos Ferreira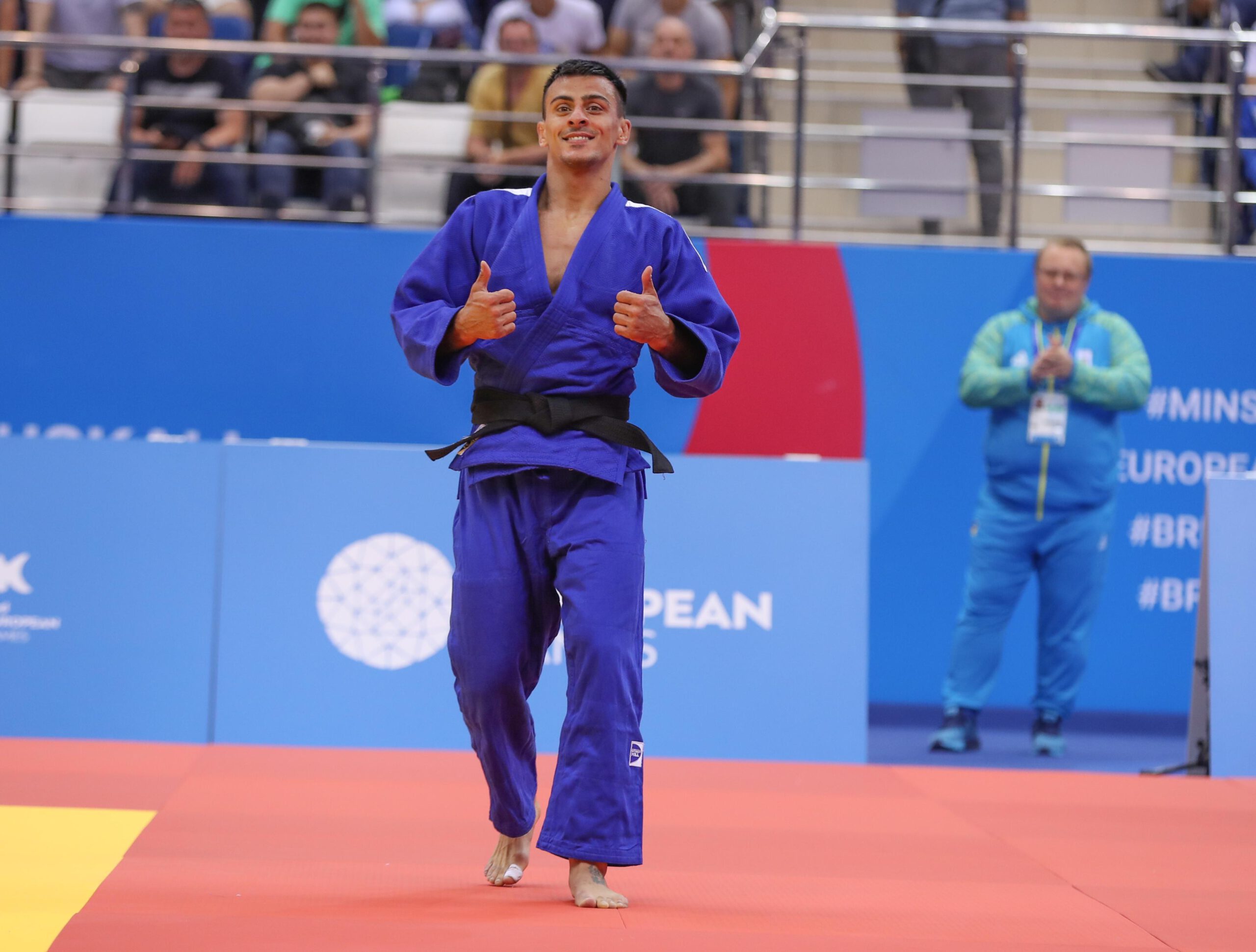 A decade of European Championships for ZANTARAIA – Carlos Ferreira
Matteo MEDVES (ITA) also had a blinding day but was unable to overcome the power of the Ukrainian superstar in the European final.
I am so happy but my dream is the Olympic Games, I have World and European titles but this is what I am missing.

I'd love to tell you what the secret to success is – he laughs – maybe you can ask my coach!

Many people including my family have come here and are supporting me, I really don't think I could have lost today. Today was simply my day, I fought great guys in all of my contests.
The standard of judo was tremendous on the first day and we hope for it to continue in to day 2 with the mens -73kg and -81kg categories as well as the womens -63kg and -70kg categories.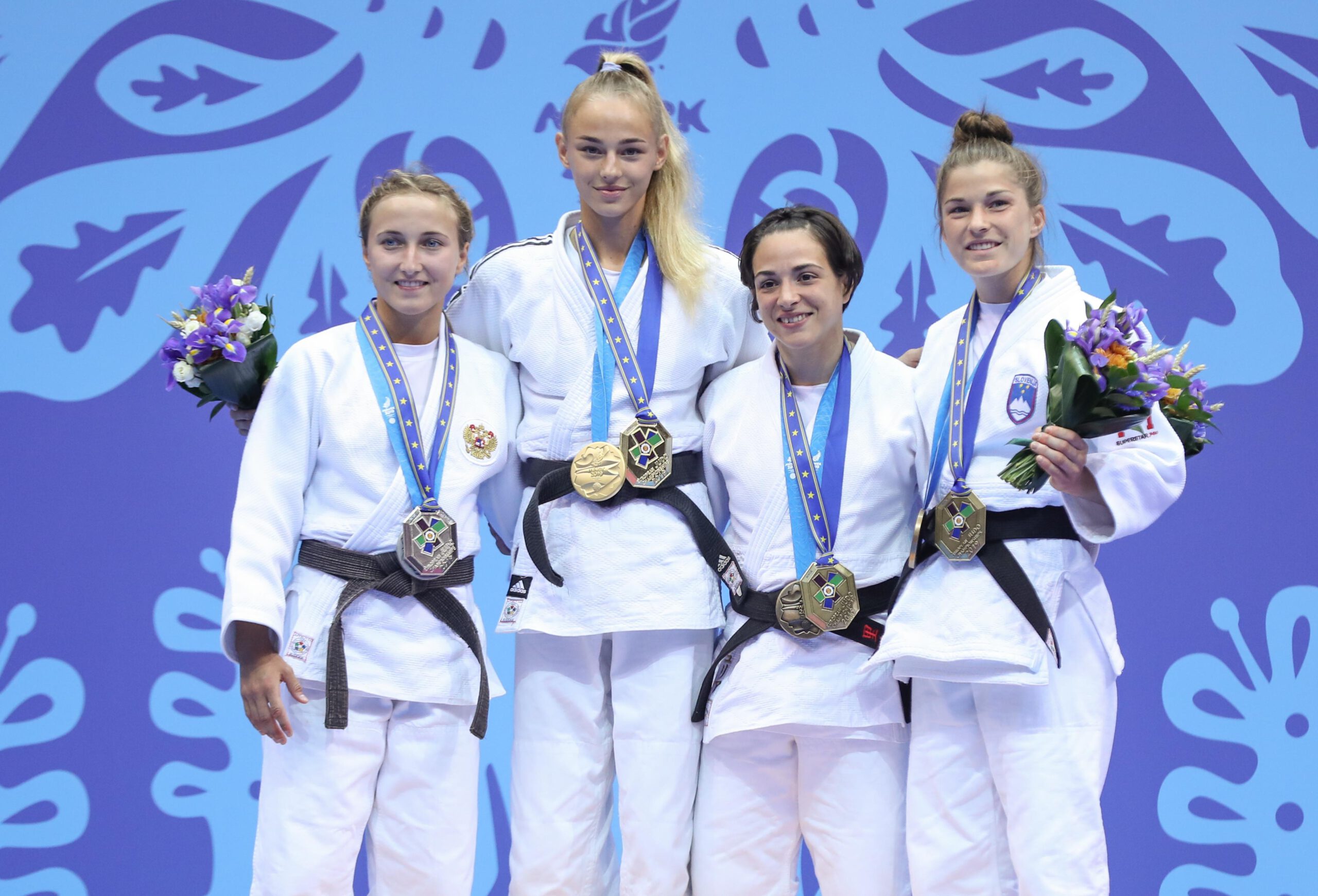 -48kg 1. BILODID, Daria (UKR) 2. DOLGOVA, Irina (RUS) 3. FIGUEROA, Julia (ESP) 4. STANGAR, Marusa (SLO) – Carlos Ferreira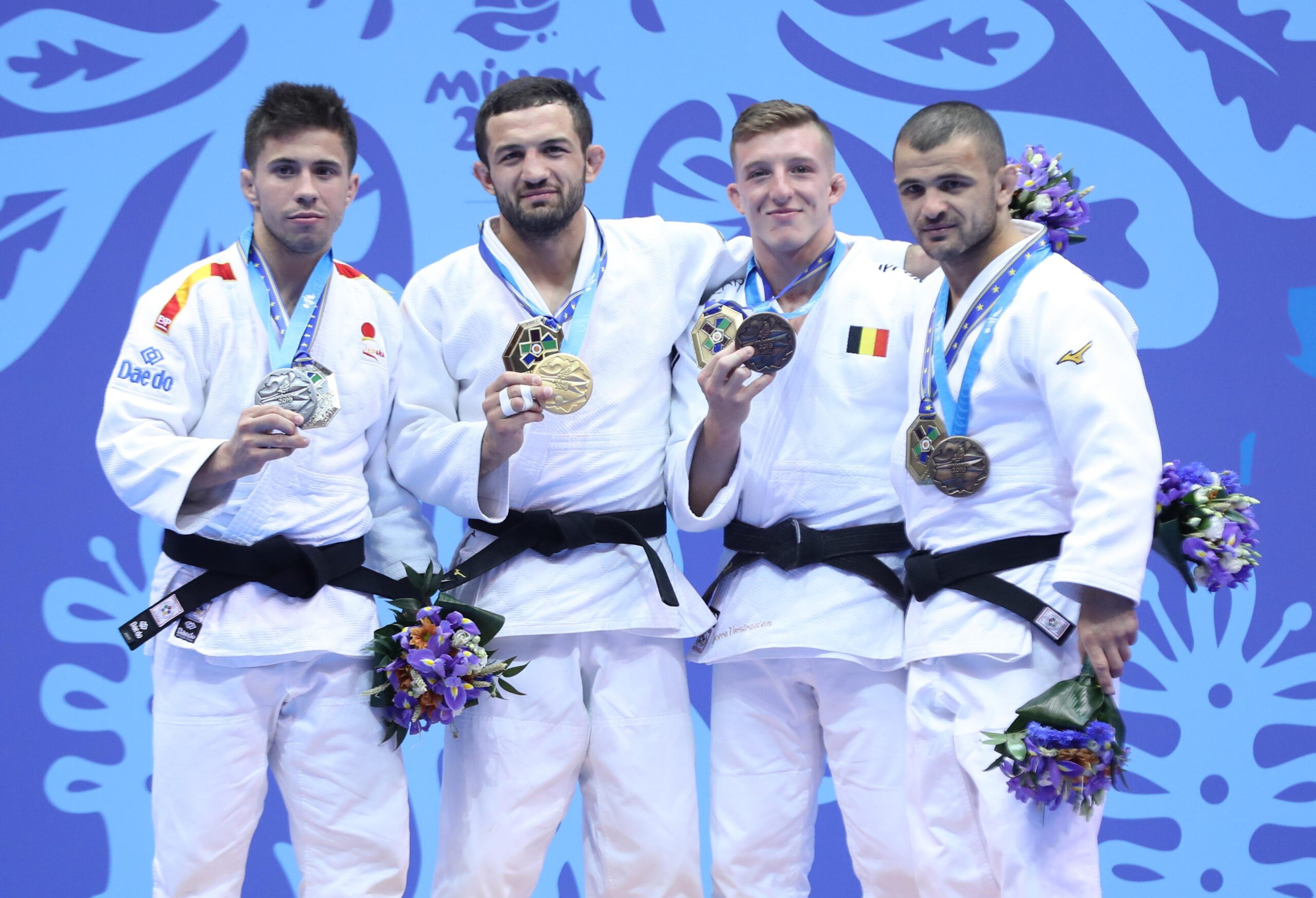 -60kg 1. CHKHVIMIANI, Lukhumi (GEO) 2. GARRIGOS, Francisco (ESP) 3. VERSTRAETEN, Jorre (BEL) 4. PAPINASHVILI, Amiran (GEO) – Carlos Ferreira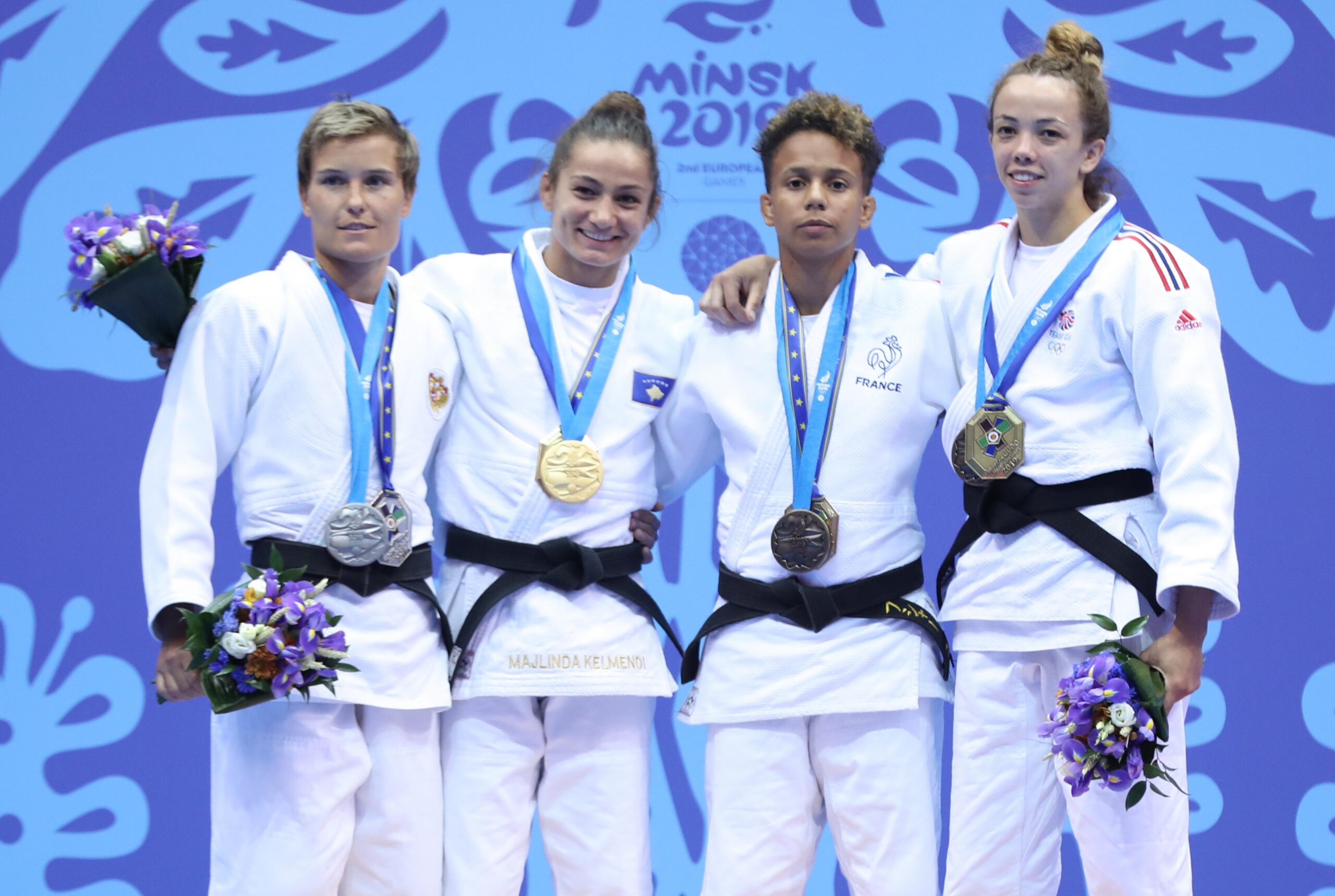 -52kg 1. KELMENDI, Majlinda (KOS) 2. KUZIUTINA, Natalia (RUS) 3. BUCHARD, Amandine (FRA) 4. GILES, Chelsie (GBR) – Carlos Ferreira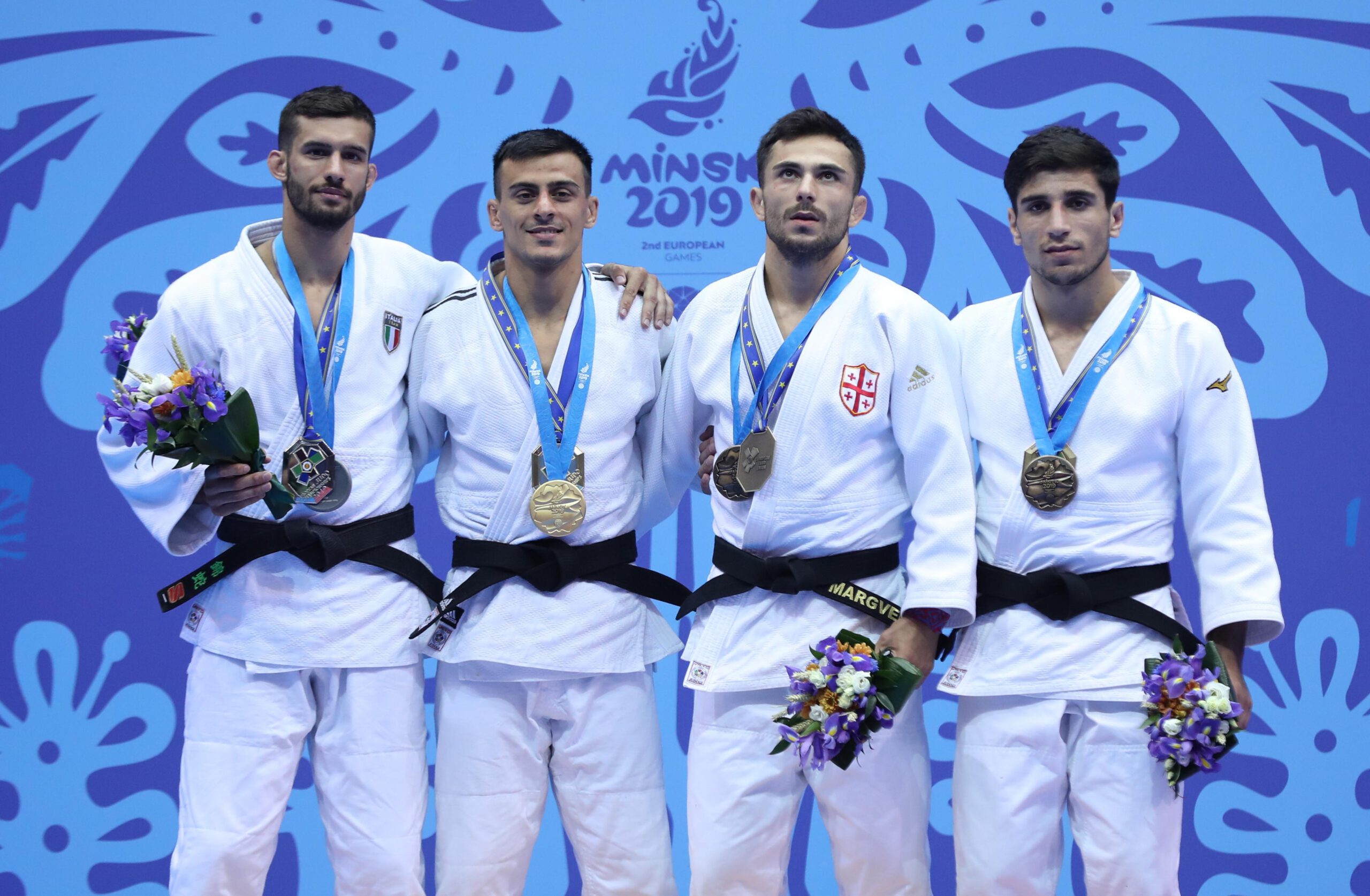 -66kg 1. ZANTARAIA, Georgii (UKR) 2. MEDVES, Matteo (ITA) 3. MARGVELASHVILI, Vazha (GEO) 4. NINIASHVILI, Bagrati (GEO) – Carlos Ferreira
-57kg 1. MEZHETSKAIA, Daria (RUS) 2. GJAKOVA, Nora (KOS) 3. MONTEIRO, Telma (POR) 4. STARKE, Pauline (GER) – Carlos Ferreira
Judoka
Author: Thea Cowen
---