It was SIPOCZ Richard (HUN) big dream to finish his last championship at the cadet level by winning the European title once again and make his dream come true.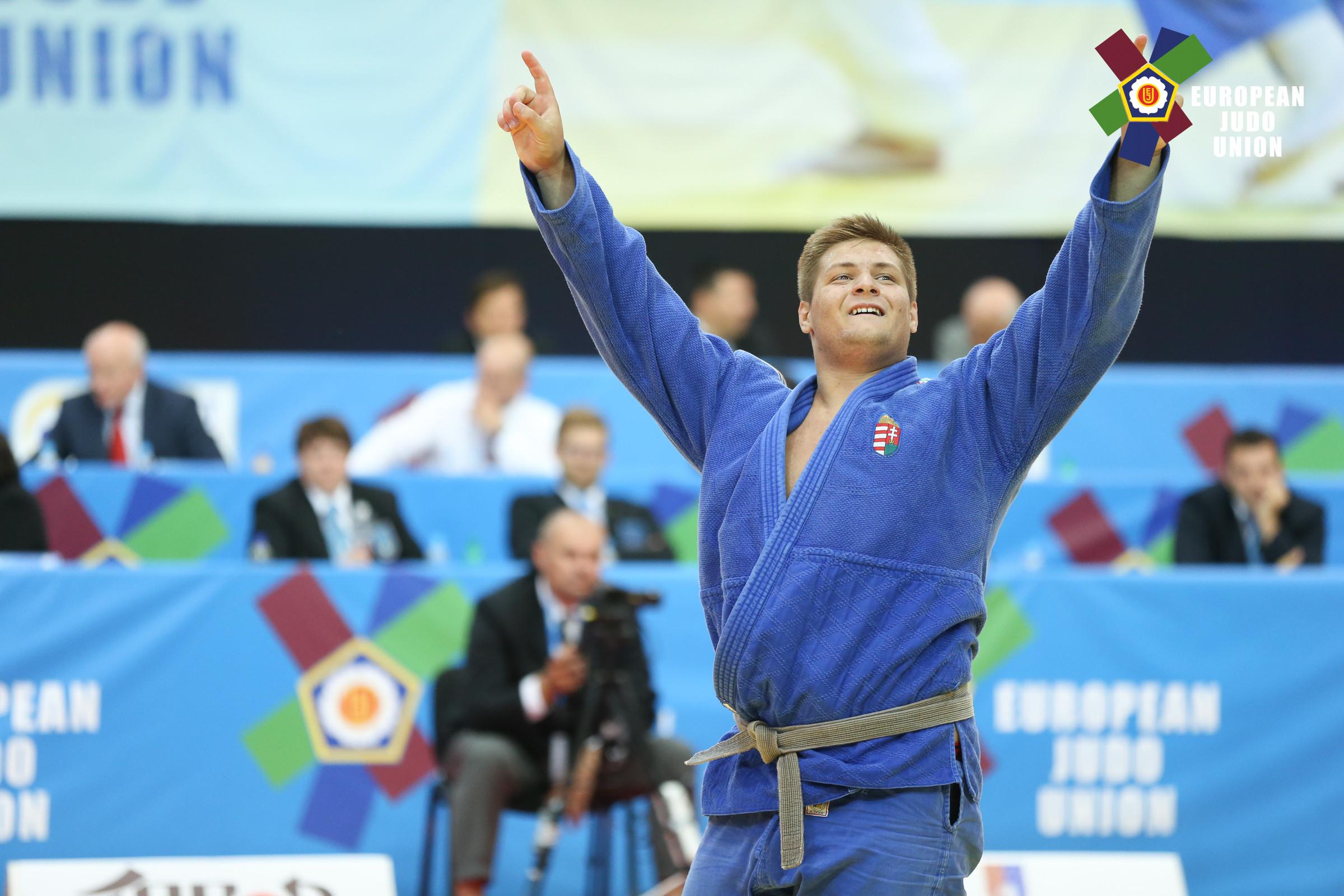 Sipocz began his cadet journey as the 2016 Cadet European Champion, followed by a second place last year. This year he was #2 seed. On the other side of the draw was Omer AYDIN (TUR) waiting, the current bronze medallist of the Cadet Junior World Championchips. Before the pair could face each other, SIPOCZ had to win three matches.
"I hadn't big problems today, I showed good techniques and big ippons today."
In the second round Sipocz threw Benjamin MATASEJE (Slovakia) with uchi-mata for ippon. In the quarter-final, Sipocz faced Losseni KONE (GER) and quickly threw him with sasae-tsuri-komi-ashi for ippon. Moving into the semi-final against Wojciech KORDYALIK (POL), he finished half way through the match with ko-soto-gari.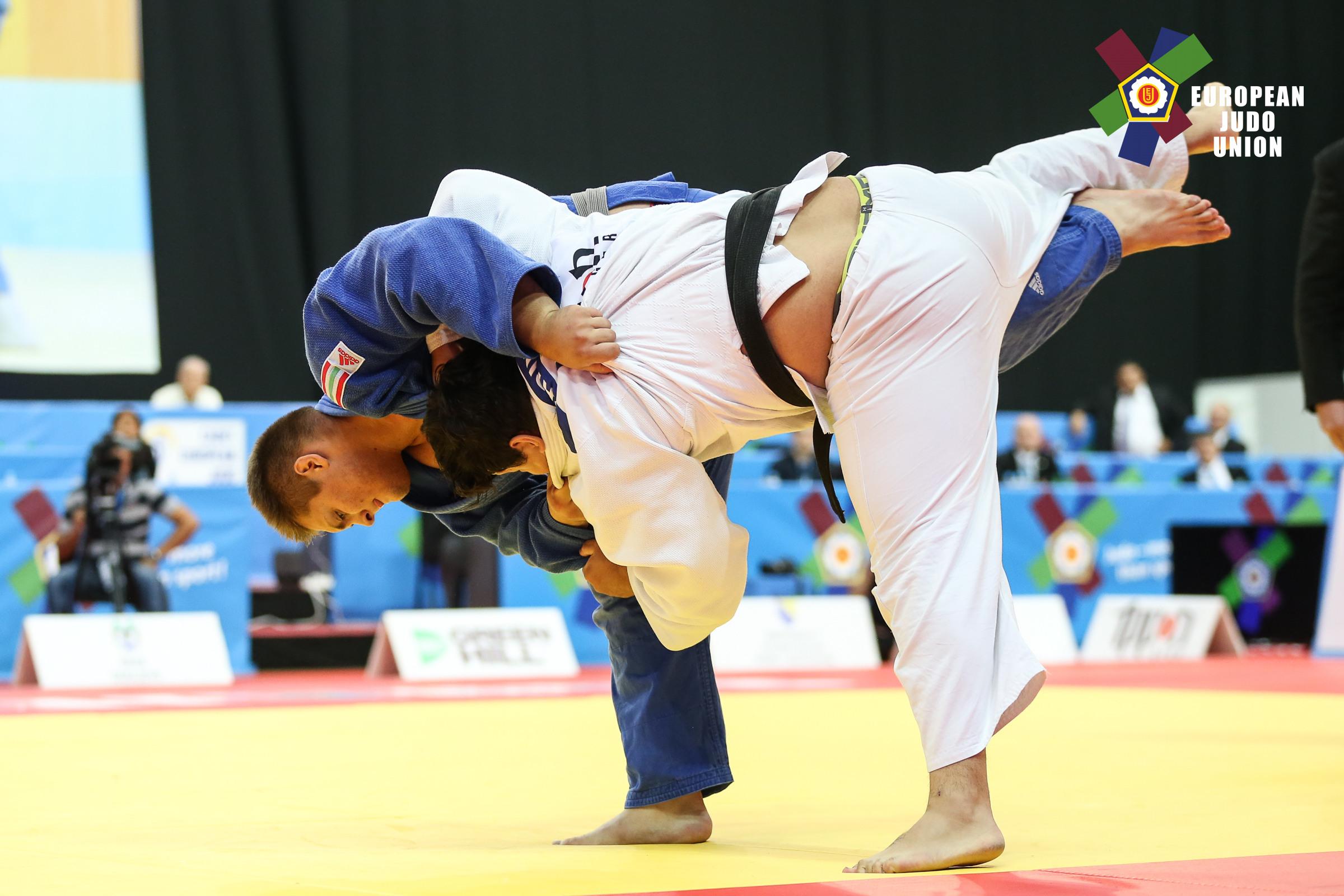 In the final, Sipocz faced the #1 seed from Turkey, Omer AYDIN.
In the beginning, Aydin almost caught Sipocz in a hold down. Luckily Aydin had trouble keeping it for more than a few seconds and the 17-year old Hungarian managed to escape. With both players going to the last minute, Sipocz unleashed an uchi-mata to earn a waza-ari, putting pressure on Aydin. Aydin came in for a hip throw attempt but Spiocz side-stepped and countered him with another uchi-mata to get the second waza-ari which combined for an ippon win.
"I have lost once before to Omer AYDIN (TUR) last year in the team event at the European Youth Olympic Festival. This made me nervous, but my coach advised me to use my ashi-waza and this helped me to take the win."
The next tournament for Spiocz will be at home – at the Junior European Cup in Paks. His aim is to qualify for the Junior European Championships in Sofia, in September and the World Championships in Nassau, Bahamas in October.
"I have had a perfect day, as this is my third and final Cadet European Championships. So I came here to win the title and finalise my cadet level as a champion."
The next test is just around the corner because the first mixed team European Cadet Championship event will take place tomorrow and Hungary is hoping to get another medal.
"Tomorrow I will compete in the mixed team event. We have a tough draw so we will see, but I think we have a strong team."
The third day of the 2018 Cadet European Judo Championships concluded individual's competition: Girl's -70kg, +70kg; and boy's -81kg, -90kg, and +90kg weight categories. Russia finished at the top of the medal table with 3 gold, 3 silver and 1 bronze medal, followed by France (2 gold, 1 bronze), Italy (1 gold, 4 silver, 1 bronze) and Turkey (1 gold, 2 silver, 5 bronze) to take the top four spots.
---
Podium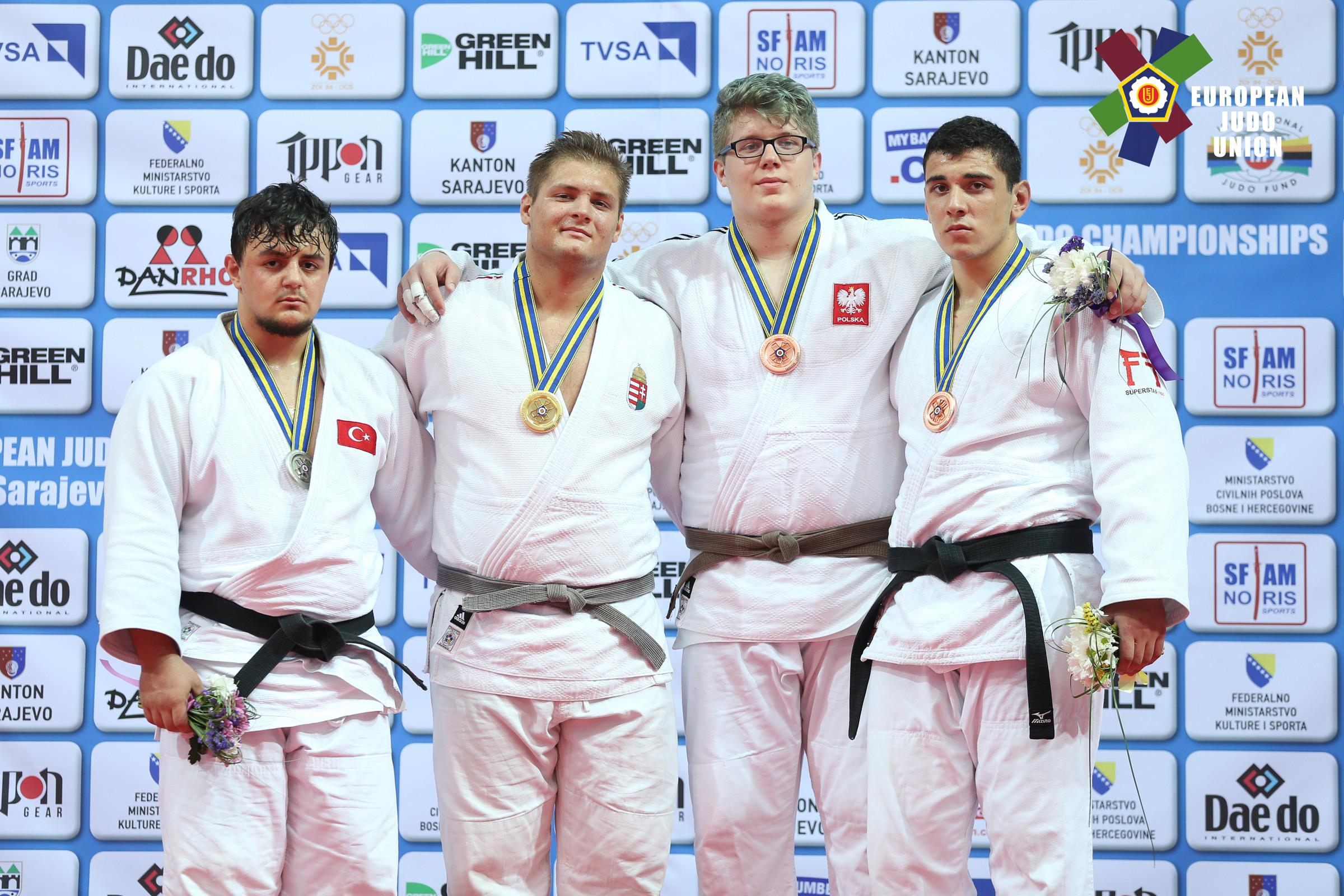 Podium Cadet European Judo Championships +90kg SIPOCZ, Richard (HUN) AYDIN, Omer (TUR) KORDYALIK, Wojciech (POL) INANEISHVILI, Saba (GEO) – Emanuele Di Feliciantonio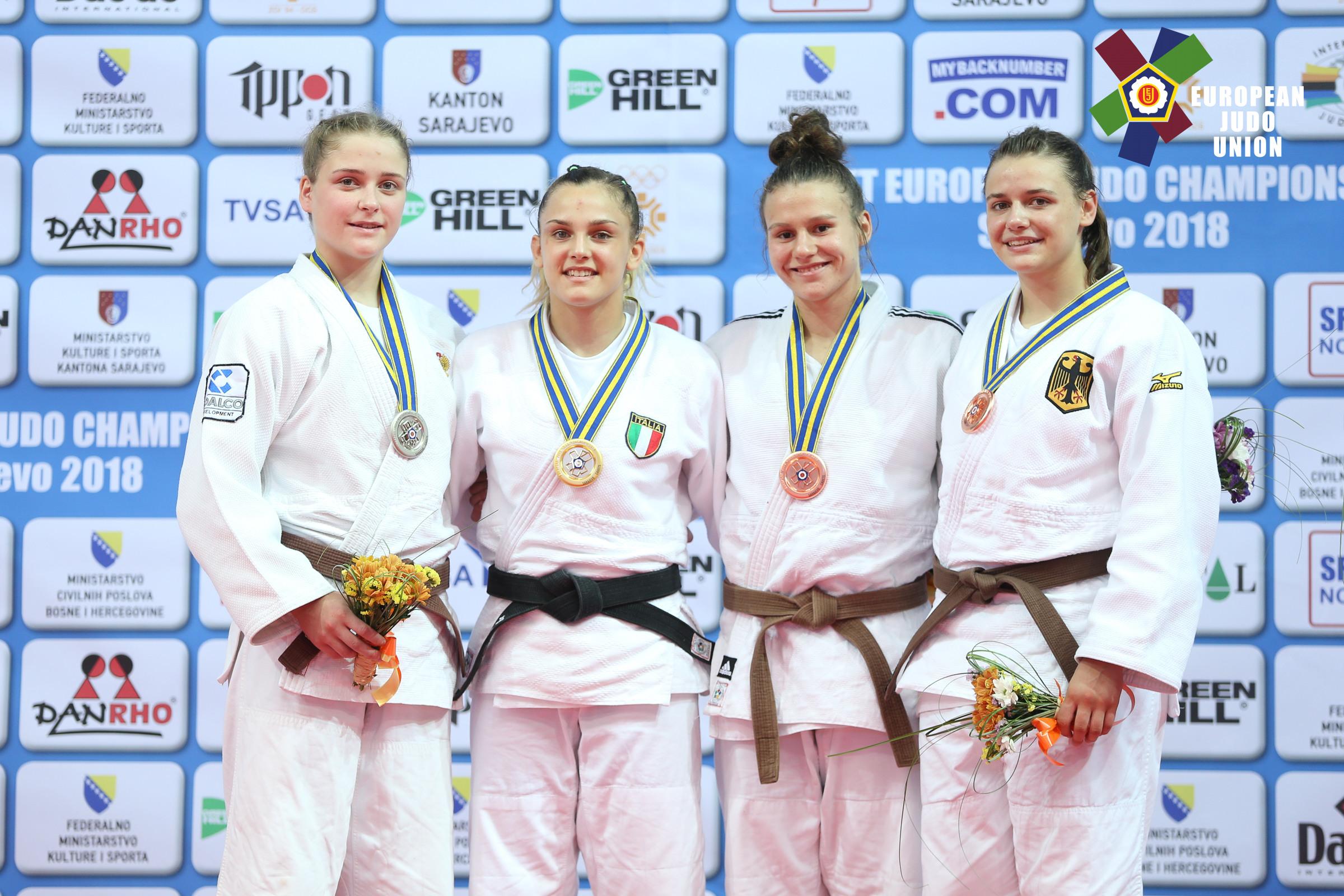 Podium Cadet European Judo Championships -70 kg ESPOSITO, Martina (ITA) KARIAKINA, Daria (RUS) LOBNIK, Metka (SLO) IGL, Raffaela (GER) – Emanuele Di Feliciantonio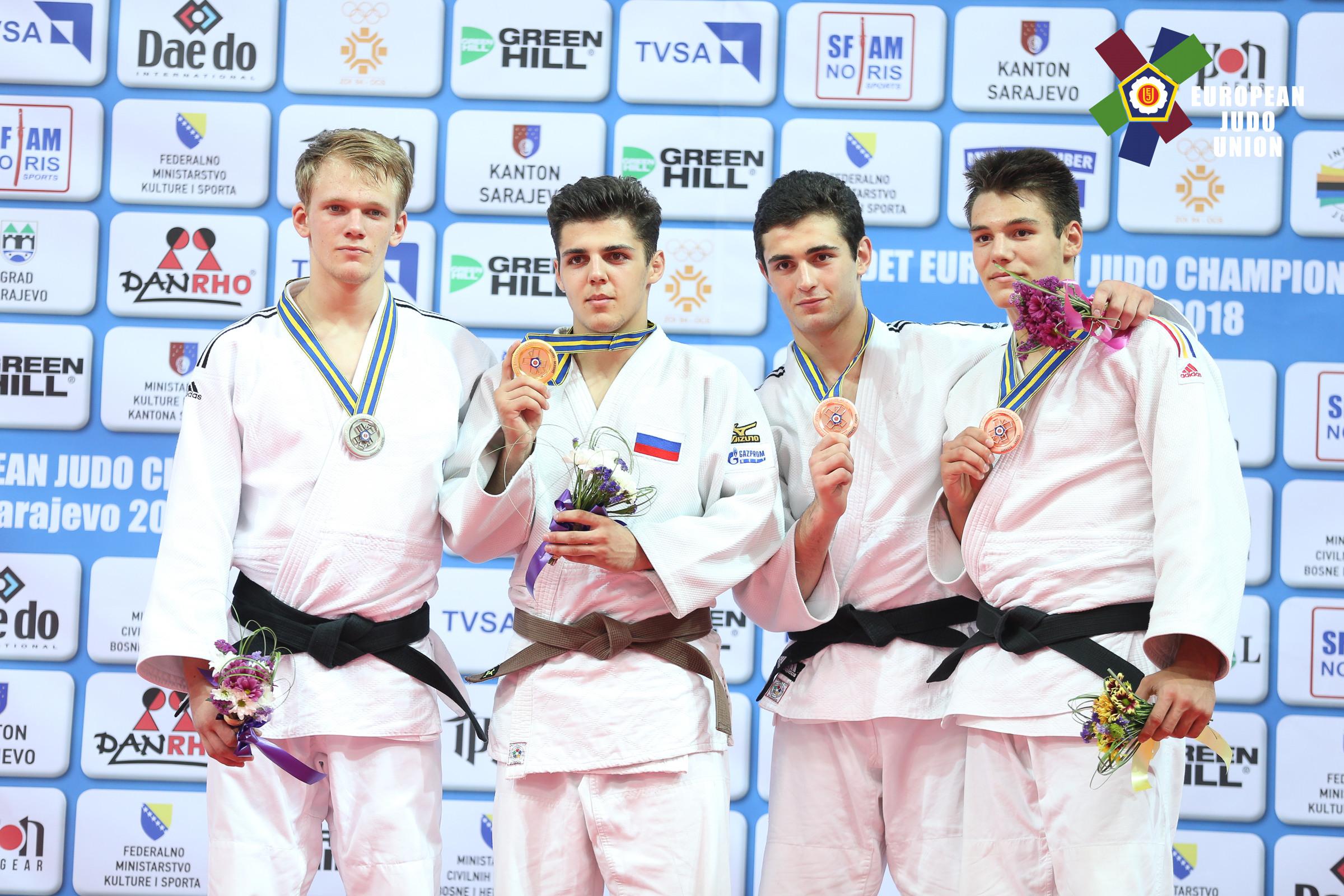 Podium Cadet European Judo Championships -81 kg UMAROV, Daniil (RUS) VAN DIJK, Mark (NED) SHERAZADISHVILI, Giorgi (GEO) CRET, Alex (ROU) – Emanuele Di Feliciantonio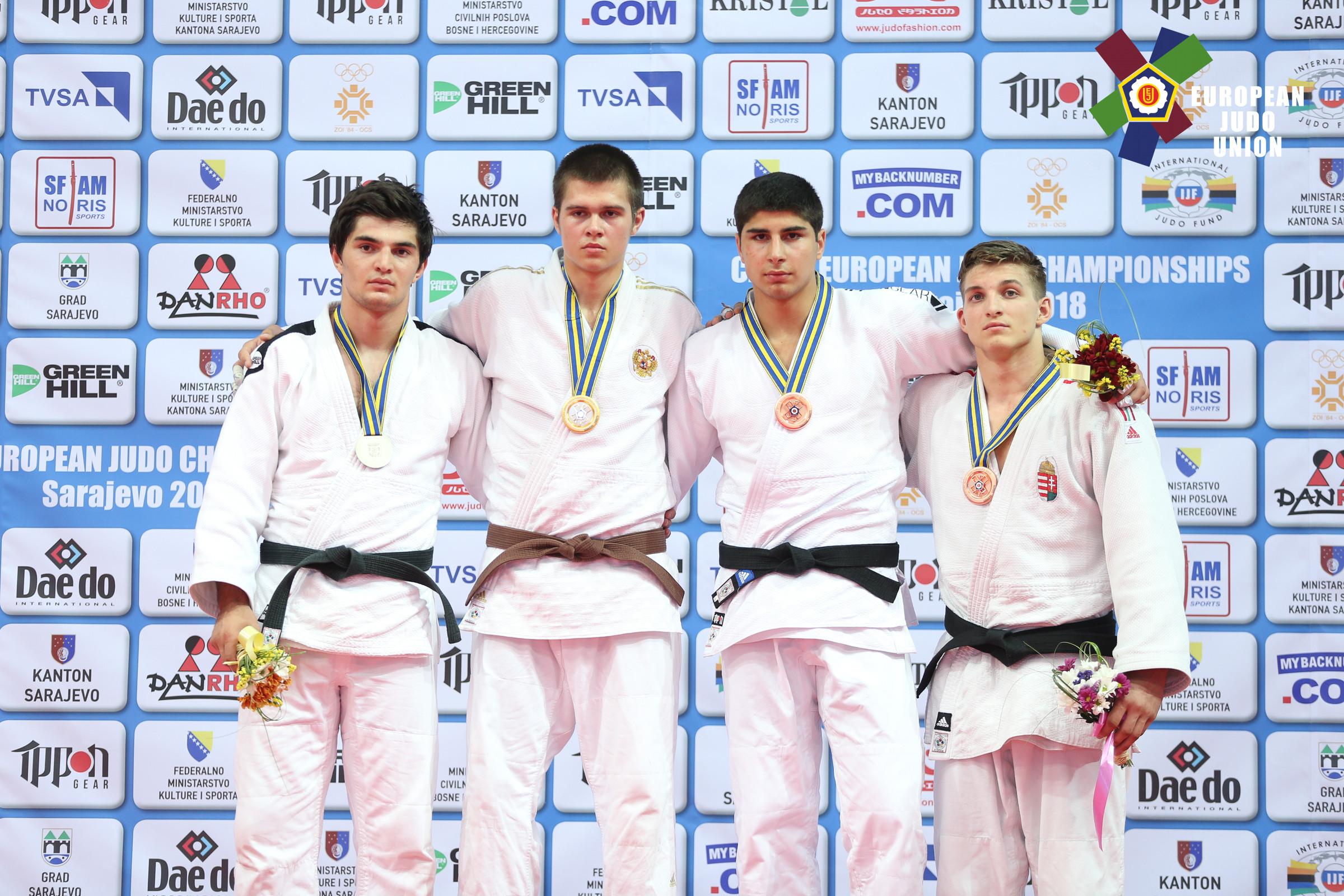 Podium Cadet European Judo Championships -90 kg KANIKOVSKIY, Matvey(RUS) KHARAZISHVILI, Nika(GEO) SULAMANIDZE, Ilia (GEO) VVEG, Zsombor (HUN) – Emanuele Di Feliciantonio
---