Both, the Veteran and Kata European Judo Championships are scheduled to begin in just a little over two weeks in a beautiful place called Podčetrtek, Slovenia. First up the Veteran event, where 8-10 June will bring all contests between individual weight and age divisions. On the 11th of June, they will all come together and challenge one another for the team trophy. The next two-days following that will view Europe's finest Kata champions. 
The President of the European Judo Union, Dr TOTH Laszlo expressed his gratitude to the Slovenian Judo Federation for organising these events;
Judo is more than sport. This tournament [Veterans] is a great opportunity to perform our judo skills and meet our friends, and once again to spend time in close communication is also an opportunity to further improve friendships and mutual understanding of Judo for those judokas, who started their path on the tatami and continued it in other spheres of activities but who carry the spirit of Judo throughout their lives.
Kata continues to play a central role in the World of Judo, requiring of its practitioners the acquisition of considerable knowledge and understanding of the art of judo along with the ability to demonstrate a high degree of expertise in the stylised execution of judo waza. Being able to practise judo in the kata version also means strengthening the mind and body. European Judo Union intends to pay more attention to the construction and operation of the Kata system. The first sign of this the European Judo Championships Kata.
I am thankful to the Slovenian Judo Federation and its President for hosting these events and I am sure that their hospitable approach to the organization will result in a warm atmosphere and unforgettable memories for the participants, their parents, spectators and media officers who are following this fascinating event.
The President of the Slovenian Judo Federation, Mr Lovrencij GALUF also expressed his enthusiasm ahead of an sensational week with the judo family;
We are proud and delighted to have been selected to host such a large and important event as the European Veterans Championships. We are organising it in the spirit of celebrating 70th anniversary of Slovenian Judo Federation. Over the years we successfully organized European Junior Championship, Senior European Championship, European Cadet Championship and World Junior Championship. We are also affiliated with the organisation of the European Kata Championships which was held twice under our organisation.
Why European Championships for Veterans? Because we want to show that judo is not only about fighting and hard work, but also about building our relationships, mutual understanding and values that unite and connect us all. Judo is a sport that we cherished already as children and especially now as we are at the age where we are wiser and when we also have other priorities in life, but judo stays with us in our hearts forever.
And why katas? We all reach a point where we start to wonder about the beginnings and origins. That is what katas represent. They highlight the morals and basics of the sport that dictates our lives. Looking from another point of view, judo emphasizes perfection, history and essence. We promise to strive towards that perfection when organizing the European Championship, which will take place in Koper. See you soon and welcome.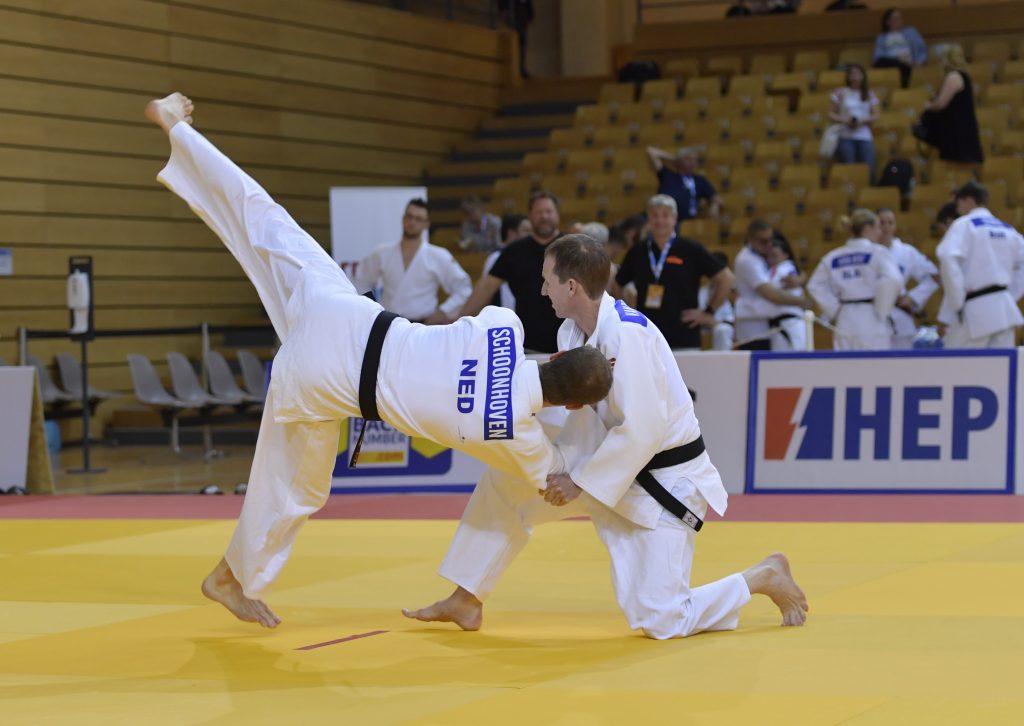 Don't miss your chance to partake and spend an amazing week in incredible family oriented in surroundings. With information on how to register, please visit the following sites:
Veterans European Championships: https://www.eju.net/download-file/?parentId=248280&id=263644
Kata European Championships: https://www.eju.net/download-file/?parentId=254801&id=263578
We look forward to seeing you all!
Author: Szandra Szogedi
---