During the Judo Festival, a press conference was held at the Hotel Parentium, with a stunning backdrop, demonstrating one of the many reasons that Poreč, Croatia is the host of such an important event.
EJU President Dr László TÓTH opened the conference, explaining that of course it can be in a more official setting but this is a special place to discuss Croatian Judo and EJU goals and is an opportunity to be utilised.
The ethos of the European Judo Union is that 'judo is more than sport', with Tóth opening with an anecdote.
I was in Slovenia over the last couple of weeks and between two competitions I decided to go for a walk in a tracksuit, cap, no one could recognise me. So I started walking around the area and met a woman, an official and I asked her about the event, which sport she was from. she told me she was an official, within kata she was a judge. She explained what it was and when I asked what it meant she told me that judo is more than a sport and that it is an education. She gave me the best answer.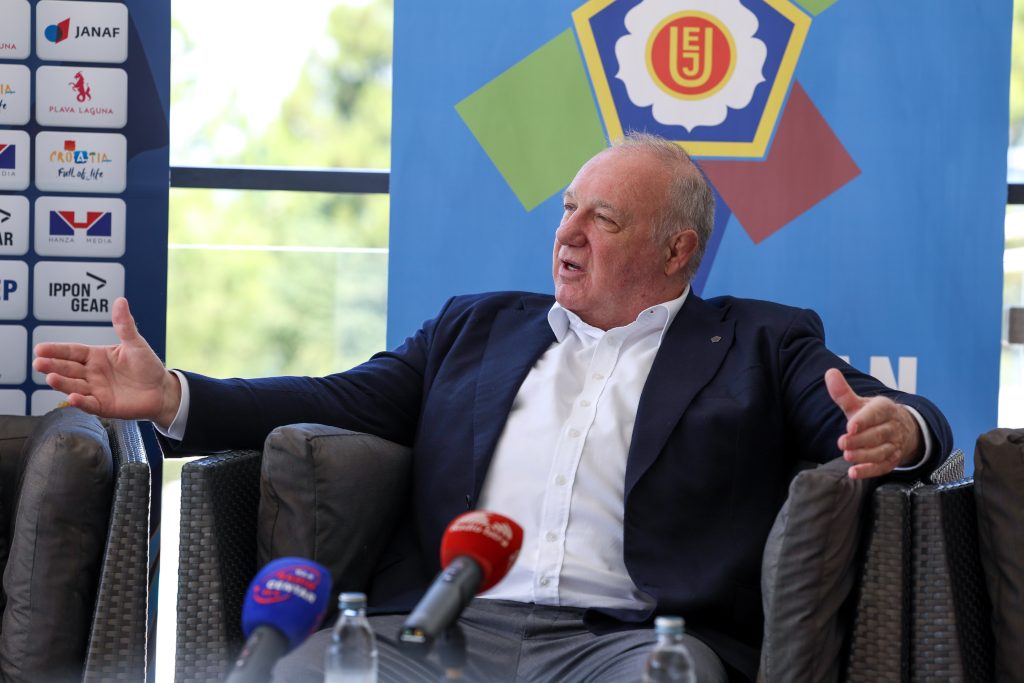 I think everyone has a different opinion but I believe it is more than sport and gives us a special life. 700 veterans were participating in the European Championships, also the Kata European Championships had record numbers, there was also a special Kodokan seminar.
Now these people, they are not professionals, and when we watch professional sports and final blocks we look at times and planning but for this, it was completely different, seeing how these older men and women are doing judo and they are strong, healthy. We are not only preparing for Olympic Games, judo can start when they're 4 and 5 years old and it is important to treat it like an education. Our main programme, our main goal is judo for all.
That being said we need heroes like this woman to my side, Barbara Matić, to increase the visibility of the sport. We are here in Croatia because of this wonderful Judo Festival, it may be the sixth year of the official EJU event but Croatia have been running this for fifteen years now, and many countries offer something similar. Poreč is a special place, bringing so many people together and we must remember that it was the first place to host an event following the pandemic, bringing us together once again.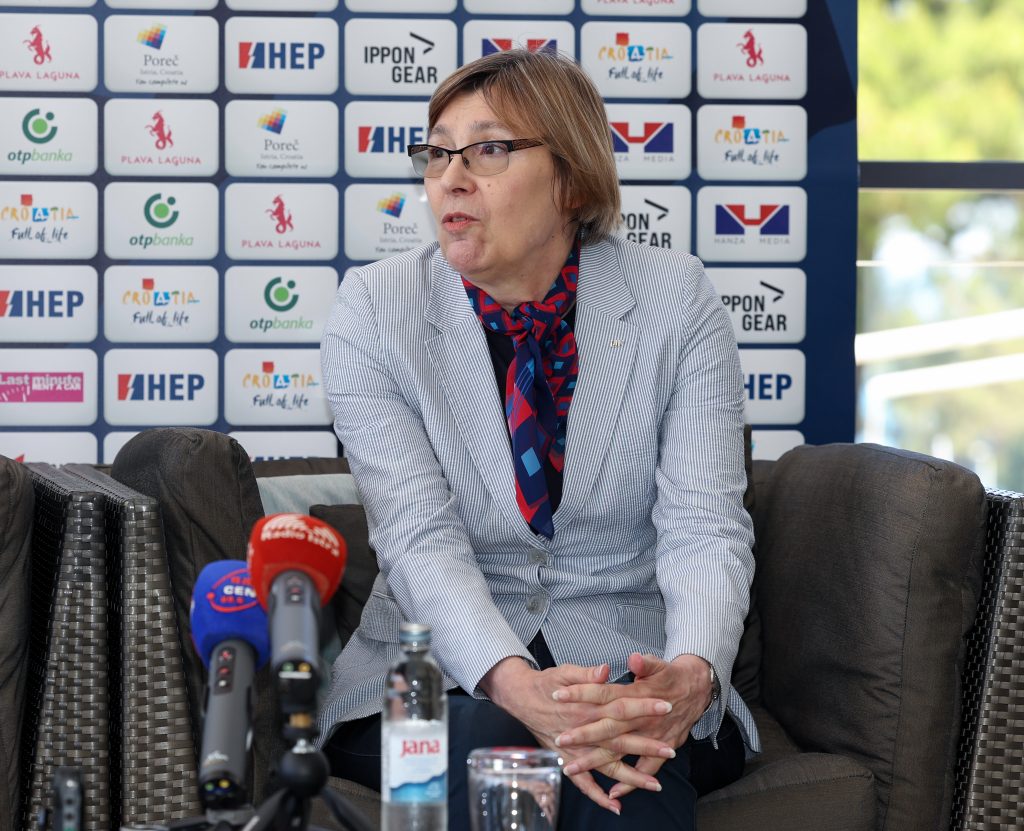 President of the Croatian Judo Federation, Dr Sanda Čorak continued,
The Croatian Judo Federation organizes a large number of competitions and events, even though this is not a competition, the Judo Festival is extremely important for us! Exactly what Dr Tóth said "Judo is more than a sport!" and this event is actually proving that fact, in one place in this kind of environment provided by Poreč and the "Zelena Laguna", we enable children on the tatami who have just started doing judo and Olympic Champions to somehow they can meet each other. Many years ago, we started the Judo & Family project with the idea of bringing together families with children who practice judo to have an interesting vacation. Today, this has grown into a great event that gathers over 1,500 judokas, and we are extremely proud of it.
Olympic, World and European Champions have been coming to Poreč for many years. Poreč has proven to be an ideal destination for judokas. This is an extremely important event for the City of Poreč as well, photos, reports of athletes and various news from Istria go all over the world, and the entire leadership of the City of Poreč, led by Mayor Loris Peršurić, is satisfied with the same.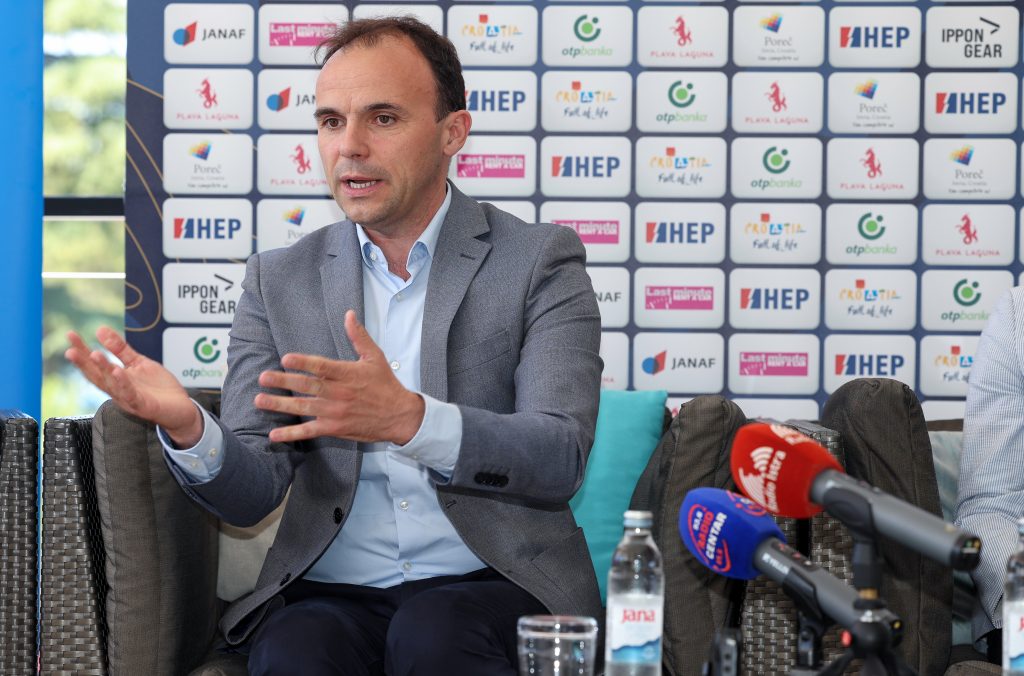 Mayor Loris Peršurić then went on to say,
First of all welcome, welcome back. I'm glad that the event is coming back and being upgraded year after year, this certainly means a lot for Poreč, it's important for tourism, it's important for us. This is an opportunity for all of us in Poreč to prove once again how important sport is to us, we heard earlier how "Judo is more than sport", so I would say that sport teaches us life lessons that we need throughout our lives. We have a great infrastructure thanks to now Plava Laguna, which has a rich and large accommodation capacity, what would be called a win-win situation in the new Croatia. We are extremely happy that the Judo Festival is right in Poreč and thanks to the federation, thanks to the federations, to everyone involved in the organization, there is also Hrvoje Linda who gives of himself in all of this. When we look at how many top athletes, top judokas are here today, it's really impressive, we can say that Poreč is currently the judo center of the world.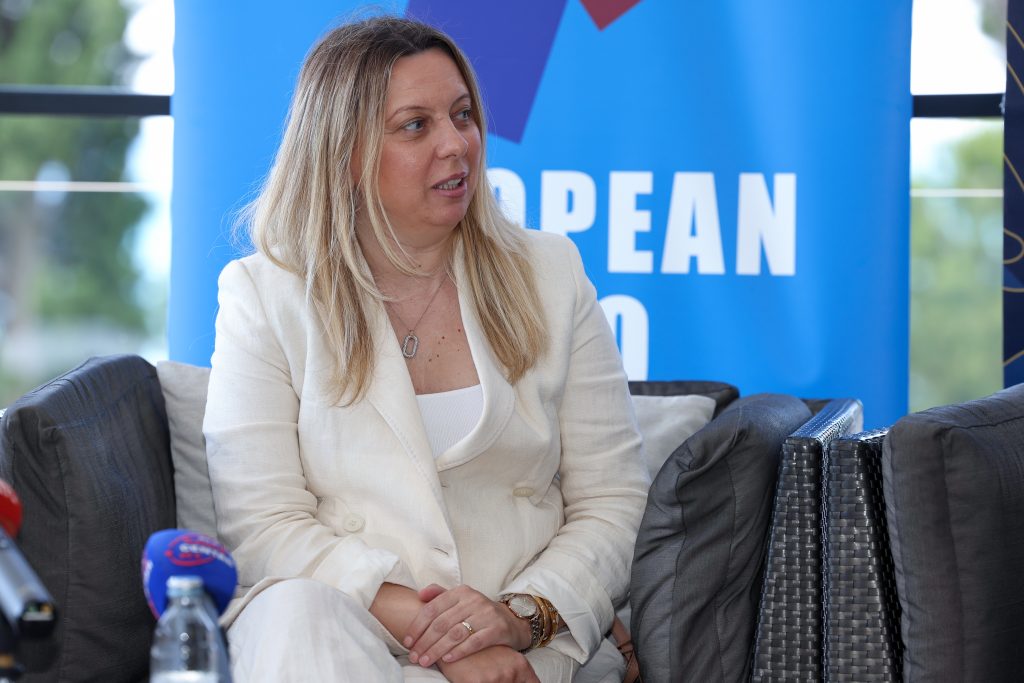 Plava Laguna and the Croatian Judo Federation have been successfully cooperating in the organization of major events for many years. Orieta VALKOVIĆ, sales director of Plava Laguna d.d., said more about the entire project.
First of all, I would like to thank everyone present here, Ms. Čorak, Mr. Tóth and Mr. Lindi for choosing Poreč and Plava Laguna for the organization of the Judo Festival for the eighth time. Plava laguna has invested a lot in the accommodation infrastructure as well as in the sports infrastructure, which is why we are able to host similar events with a large number of top sportsmen and women. I would once again like to thank the Croatian Judo Federation for promoting judo as a family sport and through sport for promoting Croatia, Istria and Poreč as a destination, because as my predecessors here said, "Judo is more than a sport!
Judoka
Author: Thea Cowen
---