The Georgian talisman; the team captain. Current world number one in the -100kg category, Varlam LIPARTELIANI (GEO) is the pride of Georgia. It is an exceptionally demanding role to fill given the huge importance judo plays in the country and the unprecedented level of success enjoyed by a nation of only four million people. It would be entirely fitting if the 32-year old Liparteliani were finally able to capture the gold medal having already collected three silvers and two bronze medals in his sparkling career. Liparteliani has entertained and thrilled audiences all over the world with his exciting and attractive judo. It is difficult to think of a more popular athlete on the circuit. The sporting arena however is no place to be overly sentimental and the line-up of those who are preparing to send Liparteliani packing is long. His position as number one seed appears to work well if the line-up of athletes remains the same by the time of the draw. Liparteliani may likely face for the first time Shady ELNAHAS (CAN), Elmar GASIMOV (AZE) against whom he is 4-0, and Alexander IDDIR (FRA) whom he leads 7-2. The top seeds in the lower half of the draw include Michael KORRELL (NED) 3-2, current world champion Jorge FONSECA (POR) 0-3, Arman ADAMIAN (RUS) 2-1 and Ramadan DARWISH (EGY) 1-0. So much for the seeded athletes. But among the unseeded athletes lurks Toma NIKIFOROV (BEL) to whom Liparteliani lost in the final of the 2021 European championships. There is also the fast improving Simeon CATHARINA (NED) 0-1 whom Liparteliani last fought three years ago, and IDA Kentaro (JPN) against whom Liparteliani is 0-3.
IN FORM MALONGA READY TO FACE THE CHALLENGE
The current world champion Madeleine MALONGA (FRA) will be in Budapest to defend her title in the -78kg category. The 27-year old world number one is a big occasion athlete and won the world title in only her second world championships. She also has two golds and a bronze medal from her four European championship outings.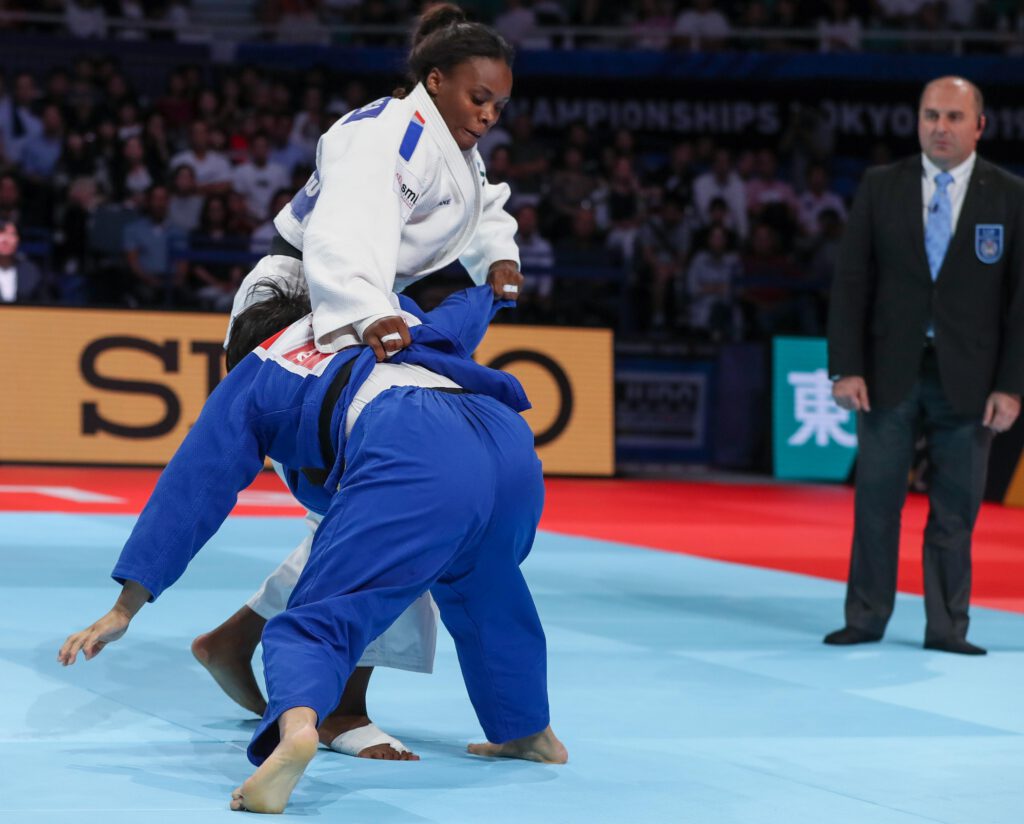 Malonga has good records against all the seeds in the top half of the draw including Guusje STEENHUIS (NED) 3-1, Kaliema ANTOMARCHI (CUB) 3-0 and double world champion Mayra AGUIAR (BRA) 2-1. Things are a little tighter in the lower half of the draw where the number two seed is Anna Maria WAGNER (GER) 2-1. Malonga has a losing record against 2015 world champion UMEKI Mami (JPN) 1-4 and a narrow lead against 2017 world bronze medallist Natalie POWELL (GBR) 7-6. Against Luise MALZAHN (GER) it even at 5-5. Quite apart from the records, it is the rapid improvements in power and throwing skills (and the reduction in unforced errors) that makes Malonga the favourite. From outside the top seeds perhaps Beata PACUT (POL) or Bernadette GRAF may conjure something up.
Judoka
Author: Sheldon Franco Rooks
---