-100kg
As on the previous days, the standard of competition was so high that there were some major upsets, especially on the European side. There were early exits for Dusseldorf Grand Slam bronze medallist Laurin BOEHLER (AUT) as well as team mate Aaron FARA, injuries have plagued the former this year and even fighting today; FARA narrowly missed out on a place in the quarter finals.
The disappointment didn't end there, the French men, Cryrille MARET and Alexander IDDIR both missed out on an opportunity in the final block, despite some incredible earlier contests. MARET just missed out on the quarter final place against WRL #23 and 2018 World bronze medallist, semi-finalist Niyaz ILYASOV (RUS). European bronze medallist Peter PALTCHIK (ISR) ceded a score early in his first contest against Mukhammadkarim KHURRAMOV (UZB) which he was unable to return.
The current European Champion and Ekaterinburg Grand Slam gold medallist, Arman ADAMIAN (RUS) had high expectations to his name and started well in his first fight with an ippon score in 13 seconds, but was unable to continue to live up to them as Olympic silver medallist and semi-finallist, Elmar GASIMOV (AZE) put him out of the competition.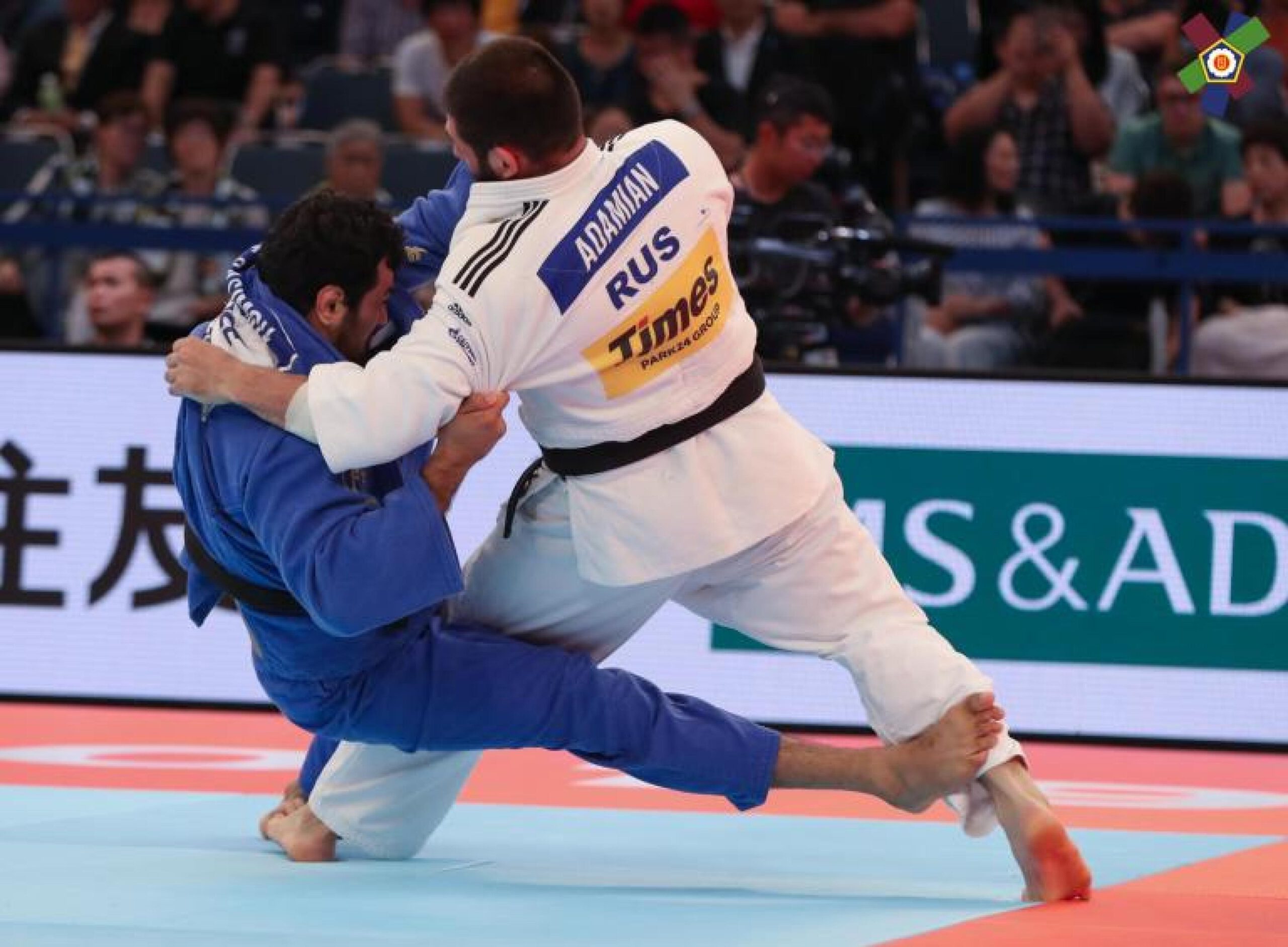 Jorge FONSECA (POR) will meet the Azeri in the semi final later on this evening, the Portuguese athlete has been on a roll today, his signature seoi nage taking out #9 seed Benjamin FLETCHER (IRL) as well as the #1 seed, Varlam LIPARTELIANI (GEO). Though the 2018 World silver medallist was not falling for the seoi nage attempts, he needed to defend with all his strength against powerhouse FONSECA and in doing so left himself wide open for a counter.
Current World Champion, CHO Guham (KOR) has taken the other semi place against ILYASOV. In the repechage, LIPARTLIANI will fight Michael KORREL (NED) for a chance to take the bronze medal.
-78kg
European Champion Klara APOTEKAR (SLO) got off to a good start in her first round contest against Marie BRANSER (COD). The long limbed athlete put her stature to good use, and dominated her fight against the former German representative who didn't have an answer for APOTEKAR. With just over a minute left on the clock, the Slovenian athlete took the contest in to ne waza and secured her place in the second round against Anna Maria WAGNER (GER). APOTEKAR eventually took her place in the semi final against the current World Champion, HAMADA Shori (JPN).
Unfortunately some of the top seeds and assumed most likely to medal were eliminated, including the Dutch and German womens teams. 2018 World silver and bronze medallists, Guusje STEENHUIS and Marhinde VERKERK were unlucky, VERKERK just missed out on the quarter finals against young talent, Patricia SAMPAIO (POR). The German women regrettably left the tournament in the preliminary round, both WAGNER and Luise MALZAHN have been appearing on the podium together, this year in the final of the Baku Grand Slam, but it was not to be in Tokyo.
Junior European Champion, Patricia SAMPAIO (POR) had close calls against Jovana PEKOVIC (MNE) and VERKERK on her way to quarter final but nevertheless, the young athlete overcame these hurdles to prove herself on the World stage. The quarter final against HAMADA was a turning point and SAMPAIO is now in the repechage against Zhenzhao MA (CHN). It is debatable whether or not the Chinese athlete will compete, showing signs of a serious leg injury in her quarter final contest.
The other European semi-finalist is Paris Grand Slam Champion, Madeleine MALONGA of France. She has confidently dominated each of her contests today and scored twice with waza ari against Natalie Powell (GBR) to face #1 seed Mayra AGUIAR (BRA) in the semi final. Before POWELL was pushed to the repechage, World bronze medallist had some great triumphs and will be looking to bring it back against Loriana KUKA (KOS).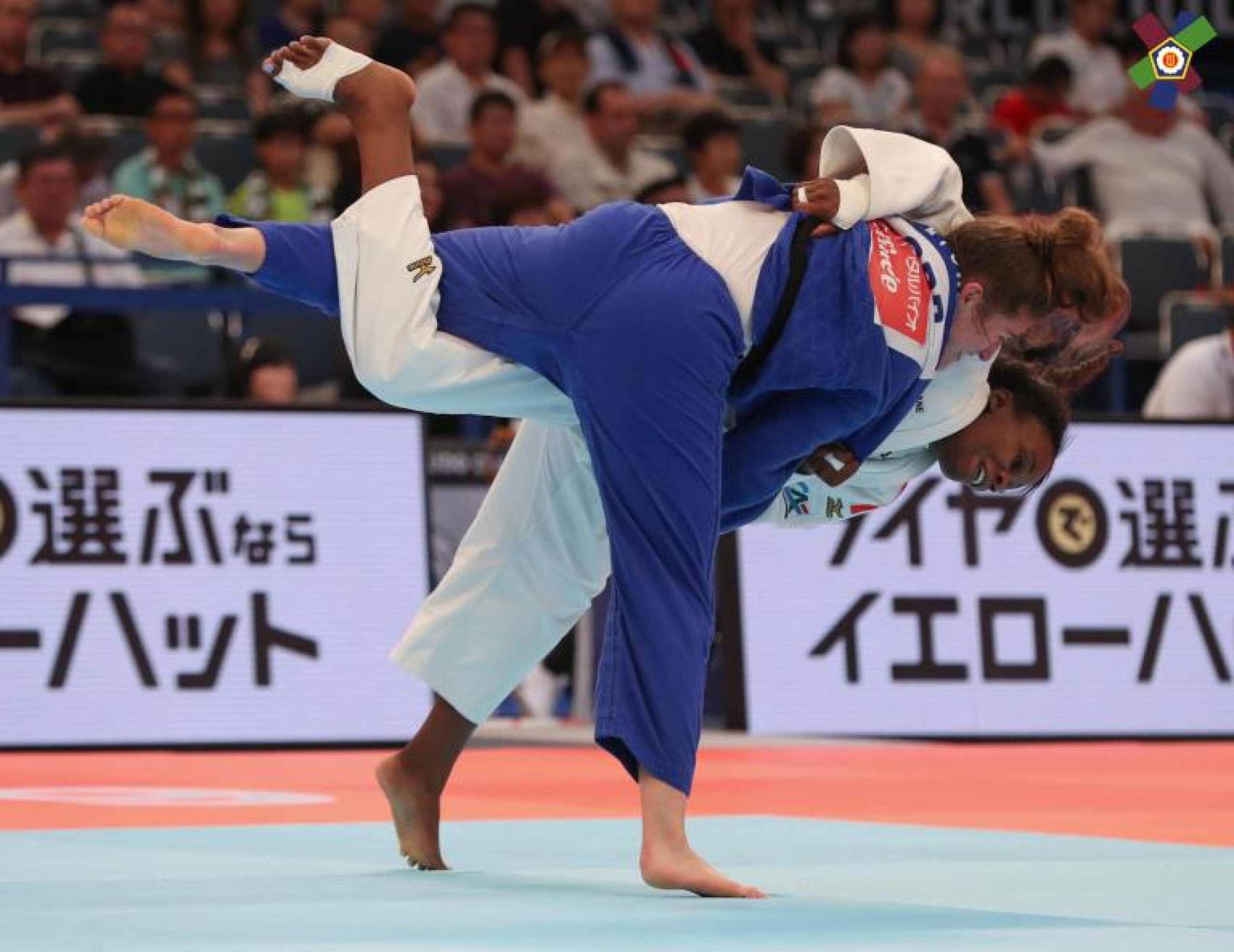 Final block starting at 7pm local time:
-78kg
Repechage Contests
Loriana KUKA (KOS) v Natalie Powell (GBR)
Zhenzhao MA (CHN) v Patricia SAMPAIO (POR)
Semi Final Contests
Mayra AGUIAR (BRA) v Madeleine MALONGA (FRA)
Klara APOTEKAR (SLO) v HAMADA Shori (JPN)

-100kg
Repechage Contests
Varlam LIPARTELIANI (GEO) v Michael KORREL (NED)
WOLF Aaron (JPN) v Shady ELNAHAS (CAN)
Semi Final Contests
Jorge FONSECA (POR) v Elmar GASIMOV (AZE)
CHO Guham (KOR) v Niyaz ILYASOV (RUS)
Judoka
---