The judo event finally started at the 2023 European Youth Olympic Festival in Maribor. On the occasion of the first competition day the European Judo Union President Dr Lászlo TÓTH had the privilege to host the Slovenian Olympic Committee President Mr Franjo BOBINAC, the long-time sports official and diplomat with extensive international experience in various business fields. Before he took over presidency of the Slovenian NOC Mr Bobinac, from 2008-2022 he was president of the of the Handball Association of Slovenia, however he is still involved in handball as Executive Committee of the European Handball Federation (EHF).
2023 EYOF in Maribor is, for the next seven days, home for National teams that arrived from 48 different countries. European Olympic Committies have for quite a long time recognised the importance of organising such multi-sport events, now in collaboration with Slovenian Olympic Committee they organised another one in a row.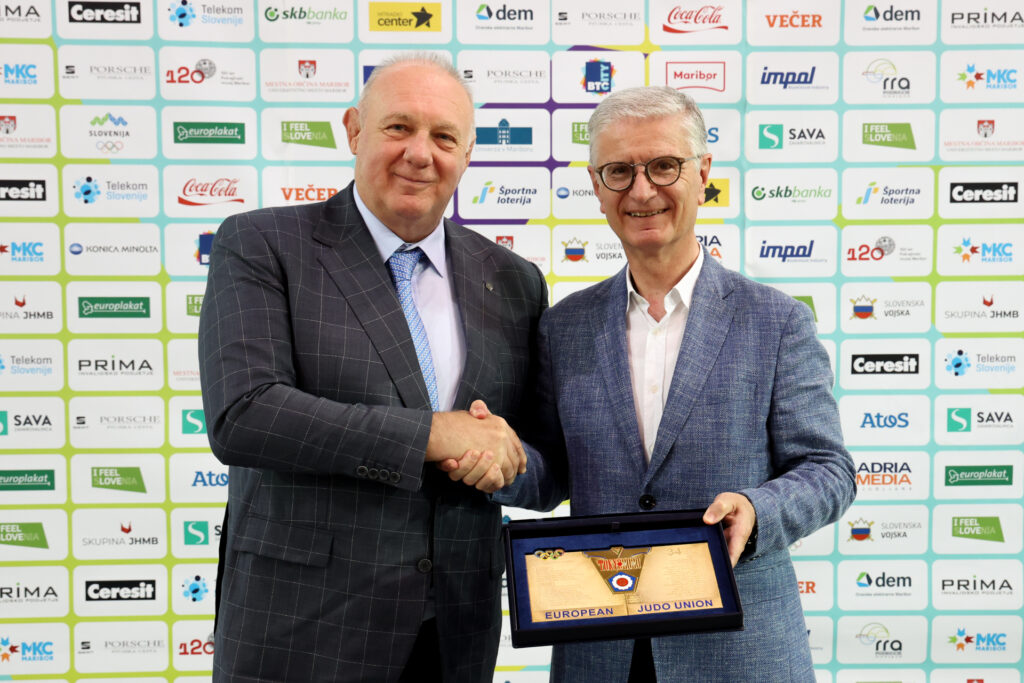 Well, it's actually the biggest festival, the biggest sports event ever organized in Slovenia as far as multi-sports is concerned. We have organized basketball, handball, alpine-skiing, judo as well as many other things, but never eleven disciplines, 4000 thousand athletes and teams in one city at 18 different locations, by far the largest sports event ever organized in Slovenia. On the other hand, sport is a great story in Slovenia, not only because of the competitors who are phenomenal, who have top sports results and medals. Sport in Slovenia is very important because it connects people, opens up opportunities for tourism, for the economy, for cooperation. What seems significant to me precisely because of this event, the European Youth OIympic Festival, is that sport is the one that persuades young people in the language that young people understand the most, which is the language of friendship and respect. For these young people, it is not just that they compete, they will socialize, build their friendships, learn from each other and exchange experiences. Not only will the medals be counted here, but it will be a memory for them for the rest of their lives, and this will help them build themselves as people to be better people, better workers at work, in society. EYOF, since the nineties when it was organized, show that 54 winners of EYOF later won Olympic gold medals, so in Maribor today we are looking at future Olympic Champions. This is why we are very happy and I want to thank the Government of the Republic of Slovenia, which helped us a lot in this, the city of Maribor, without which this would not have been possible, and of course the European Olympic Committees, which have given Slovenia the trust with which the Slovenian Olympic Committee cooperates very well. Good team, thanks to all the athletes, coaches, professional staffs for coming, to the organizing committee, and especially to the 800 volunteers who work in Maribor. Thanks, next to our sponsors, of course to the media for being the bridge between athletes and fans, without them no one would know that the event is taking place in Maribor.
During the Opening Ceremony on Sunday, six former Slovenian athletes were carrying the EOC Flag, but for the international audience two most recognisable names were Urška ŽOLNIR JUGOVAR and Tina MAZE who are also the most decorated athletes. Žolnir won the Olympic title in London 2012 while Maze got herself two gold medals at 2014 winter Olympic Games in Sochi at the Downhill and the Giant slalom disciplines. President Bobinac explained how important judo is for Slovenia.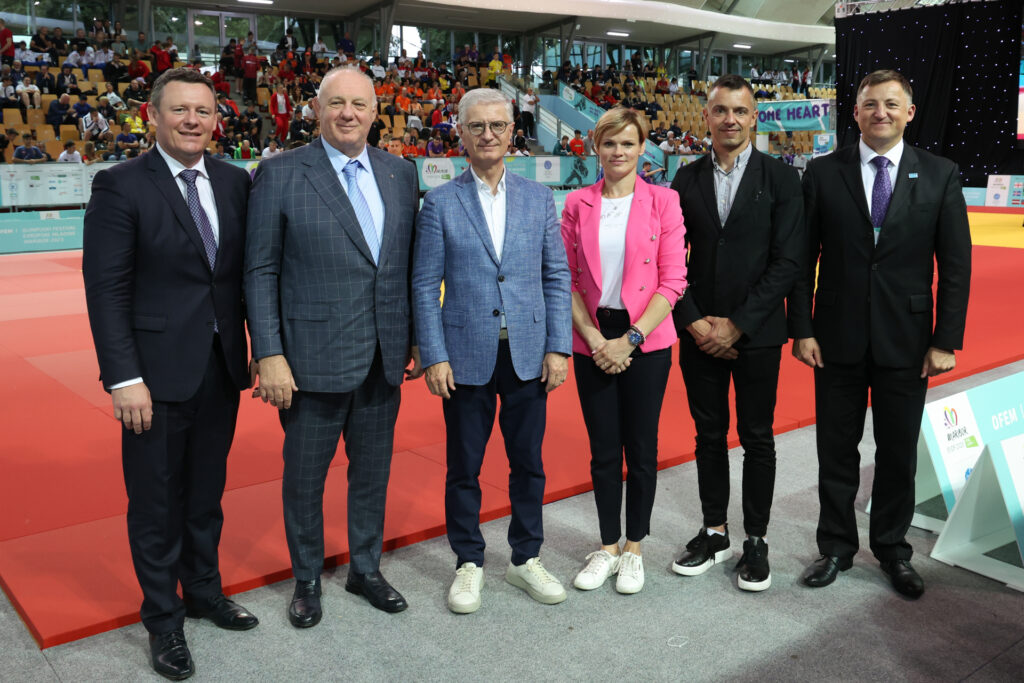 First of all, I would say that we clearly have a large number of medals, fantastic judokas. Urška Žolnir is exactly the ambassador of judo, I think she is very, very important. She showed not only that you can be a top athlete, but that you can also finish your studies, that you can go into business, and I think that she has a very nice career ahead of her, anywhere. She is the face of our sport, of our sportsmen and women, of our judo. I think it is phenomenal that the European Judo Union has Urška, that the Slovenian Judo Federation and the Olympic Committee has her, as the president of the committee, I am extremely proud and we will push people like her through the programs of the Olympic Committee. Here, of course, I have to mention Marjan FABJAN, who for me is a legend, a true engine, exceptional. I think we all have to give him recognition, if it wasn't for him, there wouldn't be many. Among the medal winners from the Olympic Games, there are also Tina TRSTENJAK, Ana VELENŠEK, Lucija POLAVDER, and many other medal winners from major competitions, world and European championships. It is important that judo is a sport that has some tradition in Slovenia, I see it as a sport that is in some way basic for the development of young people, many other sports can use sports skills, such as handball, which I personally come from. I even think that there should be more judo in schools, just as athletics is represented, judo is an important basic sport and should have its place in schools.
A short message for all participants at the EYOF,
First of all, thanks for being there, for preparing so much for their national team. Without their work and parents, of course, there is nothing for the development of athletes without parents. I can only say that as the President of the Olympic Committee, I will strongly advocate for the reputation and financing of coaches in Slovenia, not only judo but all sports. As for EYOF, let them just enjoy themselves, to do their best, if they do their best they are already winners for me.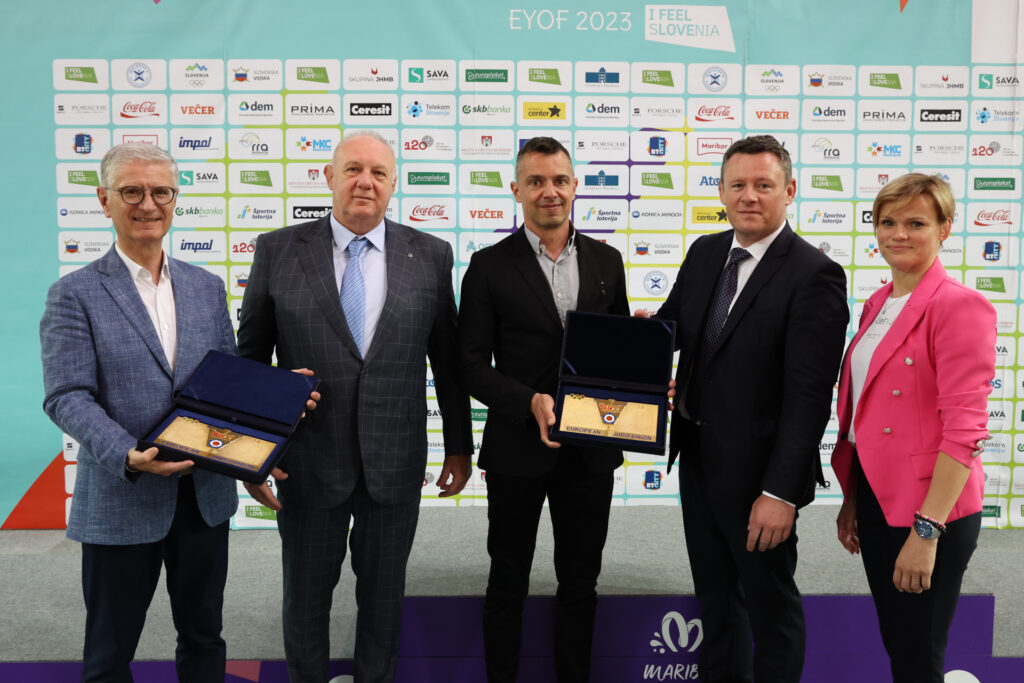 Lastly, but no less important, I am really impressed with the judo event at the EYOF, how everything is organized, attention to details, and here I have to give recognition to the President of the European Judo Union, Dr. László TÓTH, I think he is a phenomenal President, a great motivator and he connects people in a wonderful way. This organization is great, I know that others are also good, but I must mention that judo has a great President, that I met him and that we are friends.
Judoka
Author: Mario Krvavac
---