Over the course of today, the Judo for Children and Adapted Judo in Europe Workshop is held in Poreč, Croatia, as part of the Judo Festival 2023.
President of the Croatian Judo Federation, Dr Sanda CORAK gave her positive words at the start,
Judo for all, this includes children and adaptive judo as well. So many issues that must be solved so I am grateful that you all came so that we can work together on the rules. It is a great pleasure that President Tóth is also supporting all of these activities. I wish you all good cooperation and work on these rules. 
European Judo Union president, Dr László TÓTH continued,
Thank you to the people who are responsible for this sector. We have a celebration today, the new team including Vice President, Sergei ASCHWANDEN and Education Director, Ronnie SAEZ, this team was elected 365 days ago by 50 countries. This has given us the opportunity to develop and wake up a little bit. What may not have been so important before, is now. Before my election when I was in the Kata European Championships in Rijeka, this showed me the beauty and value in our judo and we weren't paying enough attention. We have so many great things in the EJU that we were trying to build but this was also a special demonstration for adaptive judo.
This is true now for me, that judo is more than sport. After this moment we tried to develop a new system and open our eyes. Maybe we were not informed properly and so after this moment, for me I knew we needed to change. Now we are awake. After the election we have put much more focus on education, several parts were running well, sports and refereeing were good but education was the weakest and it was a shame for us. This is the most important as it is the future. Now that Sergei has begun to work with this team I can feel the activity now and the power from the federations that they want to push this. 
We must be united. My wish is for everyone to find a common way, I understand that federations will have their own ways but we are the EJU, we must find a good way for all of us. I want to remind you what has happened, in the past year greater steps have been made than in a great deal of time before this. We have strong people here that can make a real difference including Denisa DELIU who is a bridge between EJU and IJF and is greatly respected by our IJF President, Mr Marius Vizer.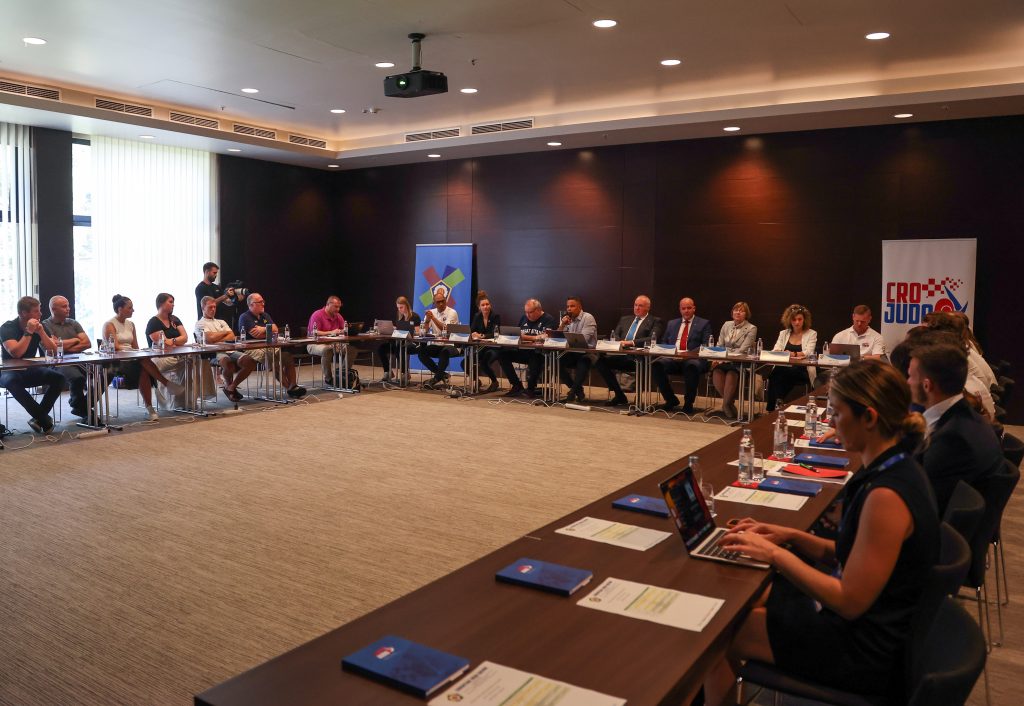 In the end, children must be happy and healthy. I believe that with our programme, our vision and mission, we can do it together.
Vice President Hrvoje LINDI also wanted to state his support for this mission.
Thanks to friend and vice president Sergei, I want to inform you all that the EJU sports sector will give as much support as we can from all of our team, I wish you good luck and success and you will make an amazing job in the future. 
Author: Thea Cowen
---