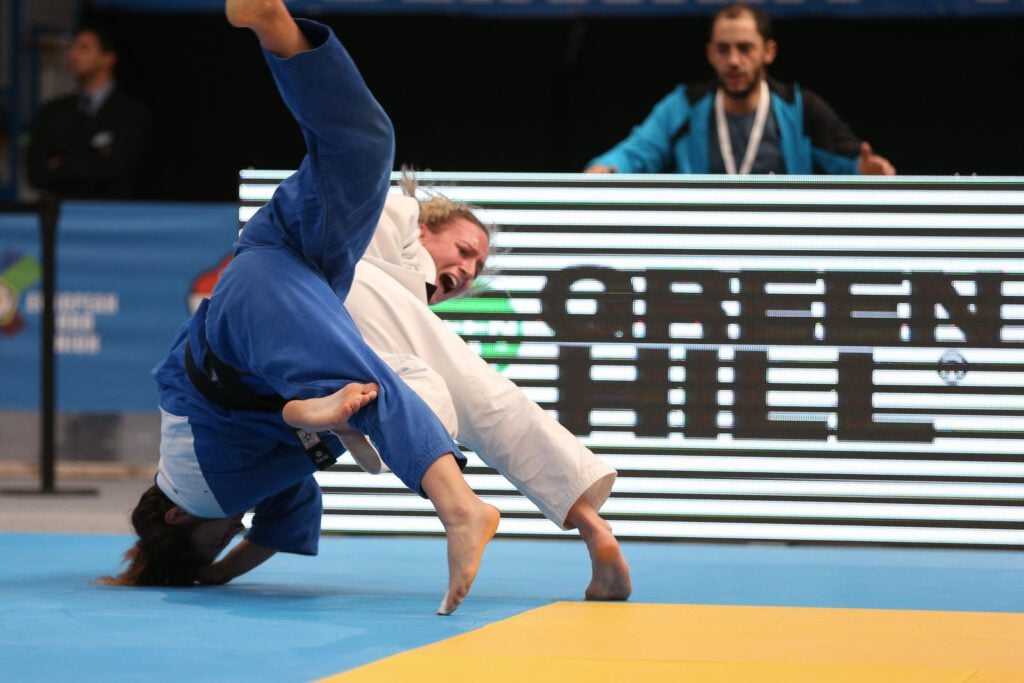 It's kind of bad news for the EJU media team. Social media manager Hannah MARTIN will not be available for posting stories from the World Championships Seniors in Tashkent (UZB) on the upcoming Sunday. It's good news for the 34-year-old American though. Hannah will be competing in the -63 kg category in her 7th World Championships. It's only her fifth competition after she gave birth to her daughter ZOEY 16 months ago. Ideally it will be her first step to the Olympic Games in Paris 2024.
Hannah, being a wife, mother, top-class athlete and social media manager at the same time – how will you manage the upcoming days in Tashkent? Who takes care about Zoey?
Hannah Martin: "My husband and coach Miguel. He stays home in Hannover this time. I guess, we will be talking on the phone a lot within the next days. But we will still have enough time to talk about the draw and my first opponent at home as I will be flying to Tashkent Thursday morning."
How hard is it to leave Zoey and Miguel behind?
Martin "Before being a mum I was mainly focusing on myself and my judo career. Nowadays it's completely different. I am focusing on the needs of my daughter. It's all about her. She even comes with me to training. If she is tired, my training turns out to be a bit less efficient, but that's okay of course. Maybe one day I will take her to a competition, but in this case of the World Championships it's better that Zoey stays at home with Miguel. "
When did you decide to get back into competition mode again?
Martin: "I have always dreamed of qualifying myself for the Olympic Games. As Tokyo was postponed due to the pandemic, and I could not take part. Two and a half months after the birth of Zoey I found myself back at the Dojo practicing. It was one of those take it one day at a time, step by step sort of thing. Being a mother I don't put pressure on myself anymore. Judo is fun and of course as a competitor I always will have some sort of expectation for myself. But at the moment I just try my best. No doubt: I really enjoy my second sports career. Of course my preparation for Tashkent was not as it used to be. But I feel in good shape and I am not as nervous as before."
How would you rate your chances for Tashkent?
Martin: "In 2013 in Rio I won two rounds, loosing against Gevrise Emane of France right before the quarter final. That was my best performance on a World Championships level so far. It would be good to win one or two fights this time too. Let's see."
It's all about collecting points for the Olympic qualification, isn't it?
Martin: "I would be happy about a couple of points, no doubt. But it's still quite early in the qualification period. Let's put it this way: If I am able to win a medal at the Pan American Championships in 2023, my chances for Paris will be increasing."
Will you have a coach on Sunday?
Martin: " We have a coaching staff from the USA team, but I will call Miguel before and after my fights. That is for sure. Two of his German athletes from the Olympic Training Centre in Hannover are competing in Uzbekistan too, Pauline Starke/-57 and Igor Wandtke/-73- so most likely he will be watching judo all weekend."
Does it happen that you start arguing with your husband about judo matters?
Martin: "We try our best, that Judo does not come home, but we are a crazy judo family and we always end up having a discussion or two over dinner."
We have not talked about your EJU parttime job as social media manager yet. How do you manage to have time for your professional career as well?
Martin: "I finished my Bachelors in communications a few years ago, and I have to say, I did not plan my professional career as I was focusing on qualifying for Tokyo at the time. Working for the EJU, sort of just happened. When I was pregnant, the EJU job seemed to be a good opportunity for me to stay connected with the Judo family. I am really happy for this kind of opportunity."
Will you have time to do some posts in Tashkent too?
Martin: "On Sunday, on the day of my competition, I will use my mobile only to stay in touch with my coach. That is when my colleagues take over. But from Monday onwards I will be working again…"
Author: EJU Media
---