The team event on the third day of competition marked the conclusion of the Junior European Championships in Oberwart, Austria. Despite the absence of home-interest, excitement and drama was on offer early as first the might of France were thrashed 4-1 by Poland whilst rank-outsiders Serbia downed the powerful Dutch by the same 4-1 score line. All of this took place before what may be considered the Match-of-the-Day between reigning champions Georgia and Russia went head-to-head in the first quarter final.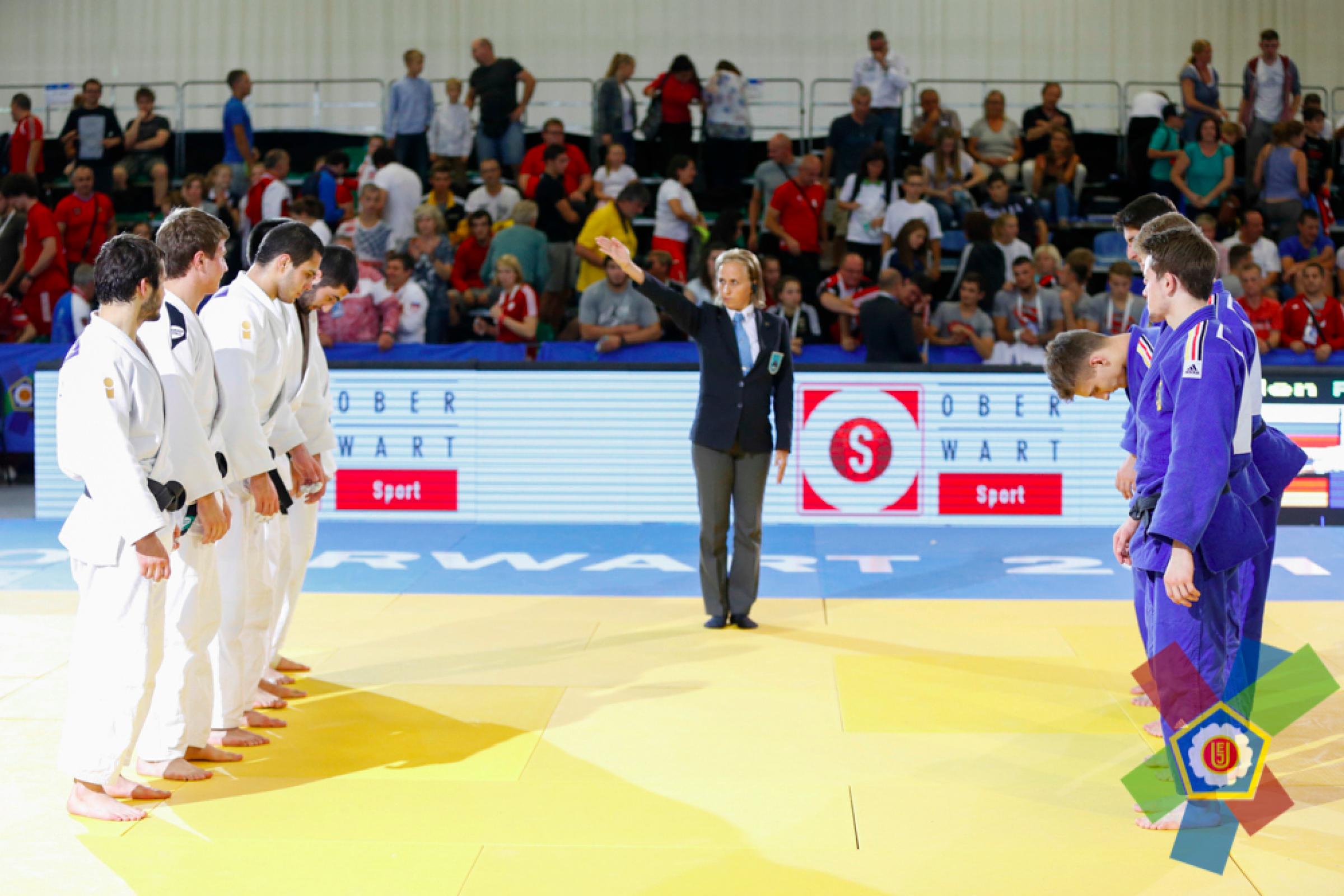 Russian coach Vladimir DRACHKO made several changes to his team that had defeated Finland in the first round by a score of 4-1. Key, however, were the choices of Russians Urushkan Bek BALAEV at -73kg, who went on to defeat junior European champion Tamazi KIRAKOZASHVILI, and Niyaz ILYASOV at +90kg who threw junior European champion Guram TUSHISHVILI for ippon after Mikhail IGOLNIKOV had shocked Beka GVINIASHVILI, the third of the Georgian's junior European champions, by throwing him for ippon. The score of 3-2 brought about a semi final for the Russians with Poland who were swept aside by a score of 5-0. In the final the German men proved no match for a now rampant Russian team, even though Drachko again chose to change its make-up, and the Russians ran out 5-0 winners
"I was confident that my chosen replacements could do the job required of them. Germany is a strong team and always very well coached. There was always an outside chance that they could spring a surprise and in teams anything is possible. But we proved up to the task and in the end we showed our depth," said Vladimir Drachko.
Asked about the heavyweight match-up against Georgia Drachko said, "We made a tactical decision in the match with Georgia to have Niyaz ILYASOV go up against Guram TUSHISHVILI as we felt that Ilyasov would cause more problems for Tushishvili," said Drachko. Tameraln BASHAEV (+90kg) had been disappointed with his performance in the individual competition but appeared inspired in the team event. "My coaches spoke with me and helped to lift my spirits," said Bashaev. In celebrating his part in Russia's win Bashaev singled out his coach at the Grozny Judo Club for all his support in preparing for these championships. When asked about his most satisfying win Bashaev answered, "It has to be the final contest, although I was very concerned about my opponent [Schoenefeldt] who appeared to hurt his knee."
---