As always, the Mixed Teams events provided us with a fantastic atmosphere with the crowd and athletes getting vocal for their respective teams.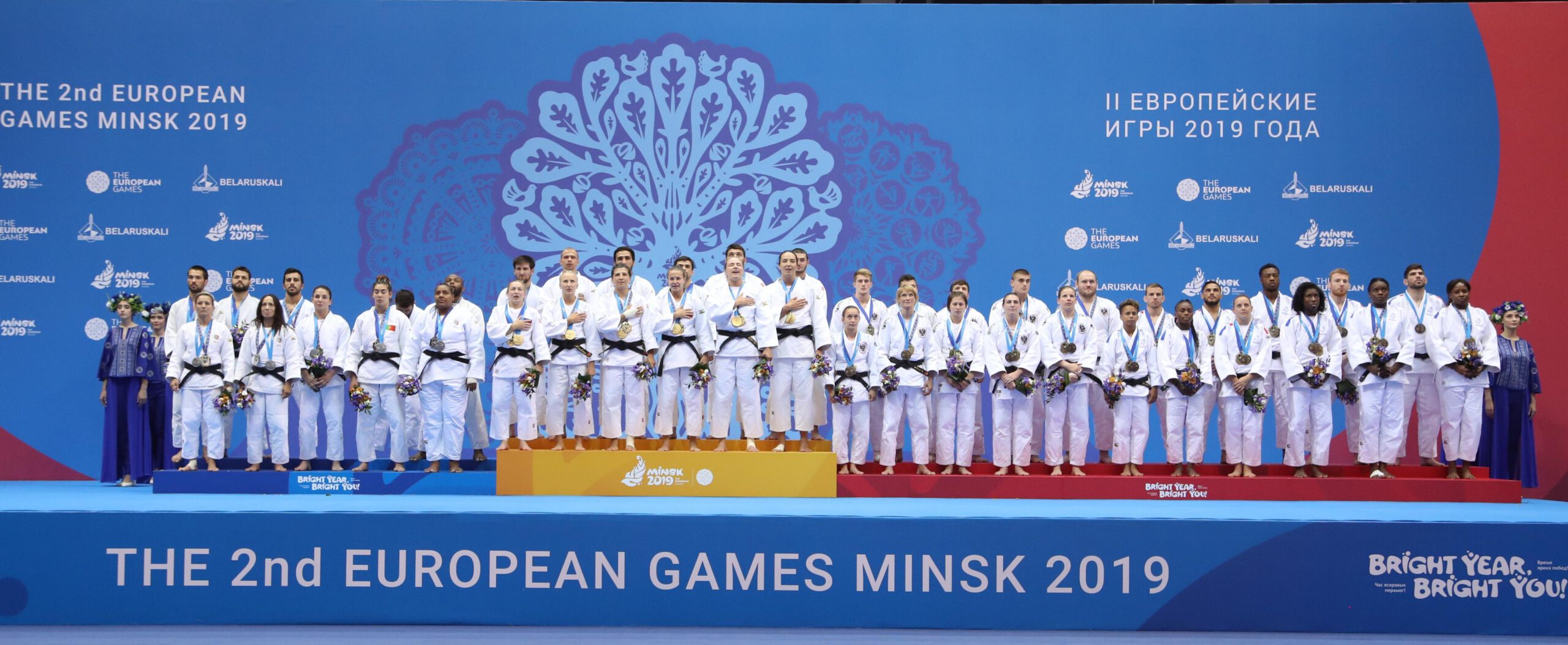 Nail-biting preliminaries eventually saw Team Portugal and Team Russia in the final, but it was not an easy road for either nation.
TEAM PORTUGAL

TEAM RUSSIA
The Russian team made light work of their first and second round opponents, Team Turkey and Team Serbia, beating both 4:0. The home team of Belarus proved much more difficult, with an arena of spectators behind Belarus, they carried them as far as possible but eventually the Russian athletes got the better of them.
The final contest was between the new European Champion, Daria MEZHETSKAIA (RUS) and Ulyana MINENKOVA (BLR), both gave a good fight but MEZHETSKAIA earned a waza ari score in ne waza before throwing for ippon and Russia's place against Portugal in the final.
FINAL
Portugal started off strong, Barbara TIMO winning her contest in the -70kg category by waza ari in golden score. The next between Anri EGUTIDZE (POR) and Khusen KHALMURZAEV (RUS) also went the distance in to golden score and a quick reaction from the Portuguese took KHALMURZAEV on to his shoulder and put another win on the board for Portugal.
The streak ended there as European silver medallist, Inal TASOEV (RUS) defeated FONSECA in the third contest. MEZHETSKAIA continued her road of destruction and the Russian comeback, taking MONTEIRO over with an ippon seoi nage and ending the contest quickly.

Musa MOGUSHKOV (RUS) defeated Jorge FERNANDES (POR) in the sixth contest which brought the final to 3-3. Unfortunately, the draw to decide which weight category would decide the Champions was the -73kg. MOGUSHKOV and FERNANDES went head to head for a second time, having already been in golden score, the pair were exhausted but with their team support they carried on. In the end it was a Russian victory,
Honestly, before I even came to the European championship, I was hoping for a similar scenario. I imagined this responsibility and how hard it would be. When it happened today, I was able to deal with it and it is very nice that I was able to bring success to my country.

When I equalled to 3-3, I suddenly thought, what if [I have to do the additonal golden score match]? I never was in a situation like this before. I did not know how I could continue, because I was a bit tired. Then they told me [that his category was drawn] and everyone looked at me. If I wanted it or not, I had to go and I went out on autopilot.

I was probably four times a silver medallist in the team event at the European championships. We were in absolutely the same situation before, we were leading 3-0 or 2-0 and then we lost. Now it was the opposite. We were losing 0-3 and were able to turn it around and win. Apparently it worked better for us that way.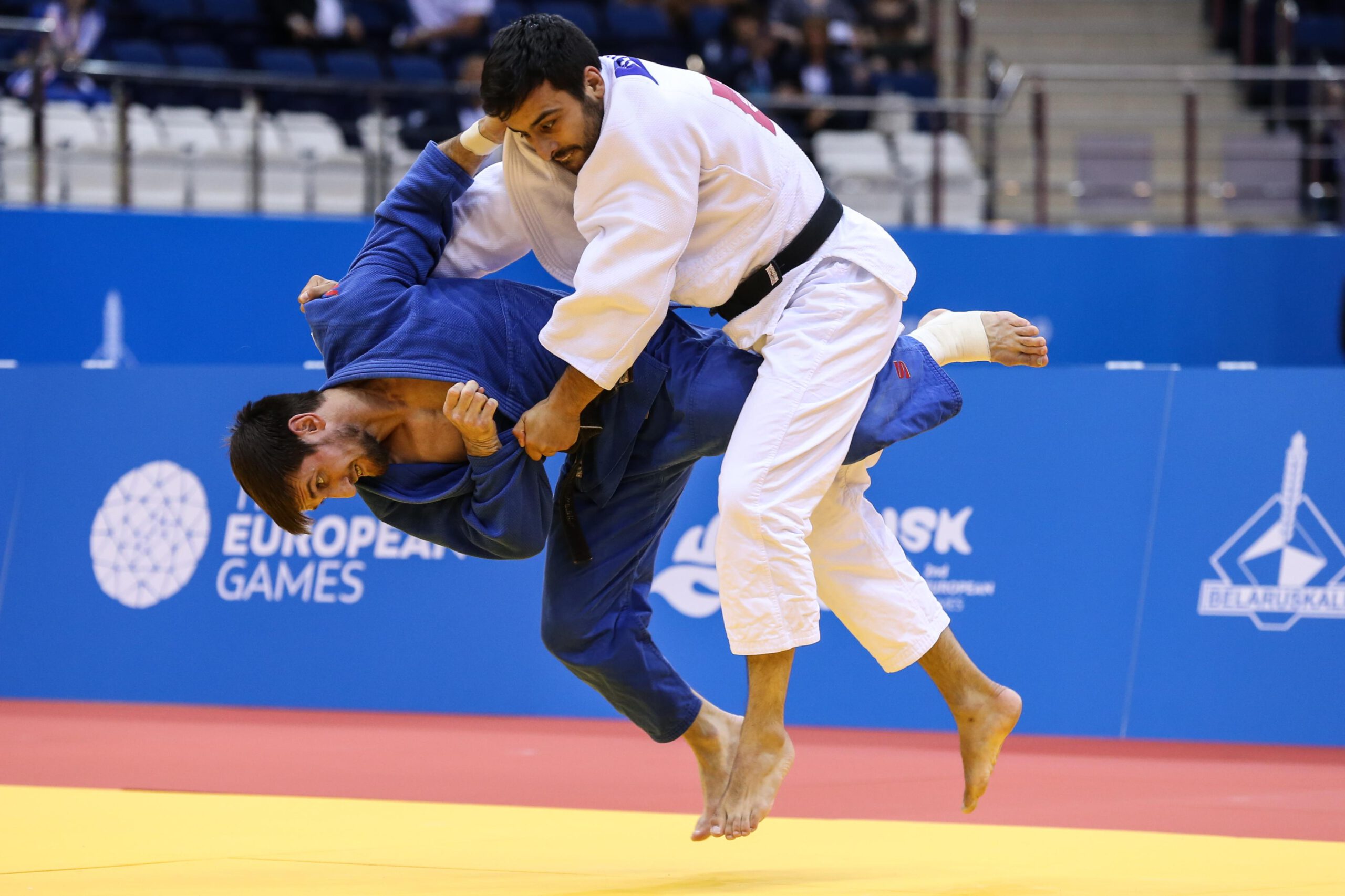 Head Coach, Dmitry MOROZOV told that everyone was surprised about the final draw, both teams could see how difficult the previous contest had been for both fighters, and now they had to continue, it was an epic fight between two great athletes.
MEZHETSKAIA has had a faultless week and was very proud of their team result,
We all have the evaluation of our performance around our necks now, it is the gold. We performed very well. Finals are always tense and tight. Everyone wants to win. Thank God it worked out for us. Inal [TASOEV] turned it around when we were losing 3-0 and set the pace for us.
The passionate Portuguese were of course disappointed that they wouldn't be stepping on top of the podium but with the final decision being so close, no one could have been upset with their performance. EGUTIDZE was first to declare how happy he was with his team,
I am so proud of my team, from the first fight because against Spain was difficult, second was the French and then we had the Netherlands and finally Russia. We are always together, win or lose, we do it all together and I know we can always be better and do more but for now we are very happy.
Portugal Coach, Pedro SOARES,
My team was fantastic, we do not have a big team like Russia or France, we had two athletes that moved up a weight category so its like a gold medal because what we did was incredible. We needed a lot of team spirit to get to the podium and they were amazing.

We have expectations because we have a strong and consistent female team and the guys did the rest today. We had tight victories against all of the nations today but that self and team motivation is what got us there in the end, I think they exceeded expectations and we reached our goal of making it to the podium. It is the first time Portugal have been on the podium and I hope we will become a team that the rest of the world looks to.
Fight for Bronze
The fairytale story for the Portuguese team was mirrored by Team Austria, taking their place on the podium for the first time. This historic moment came to a head in the bronze contest against the strong Netherlands team, the wins started going in their favour following success from Sabrina FILZMOSER in the -57kg category.
When the realisation finally set in that they had become the Mixed Teams bronze medallists, they received a phone call from Ludwig Paischer, two-time European Champion and World and Olympic silver medallist, to congratulate them on their success.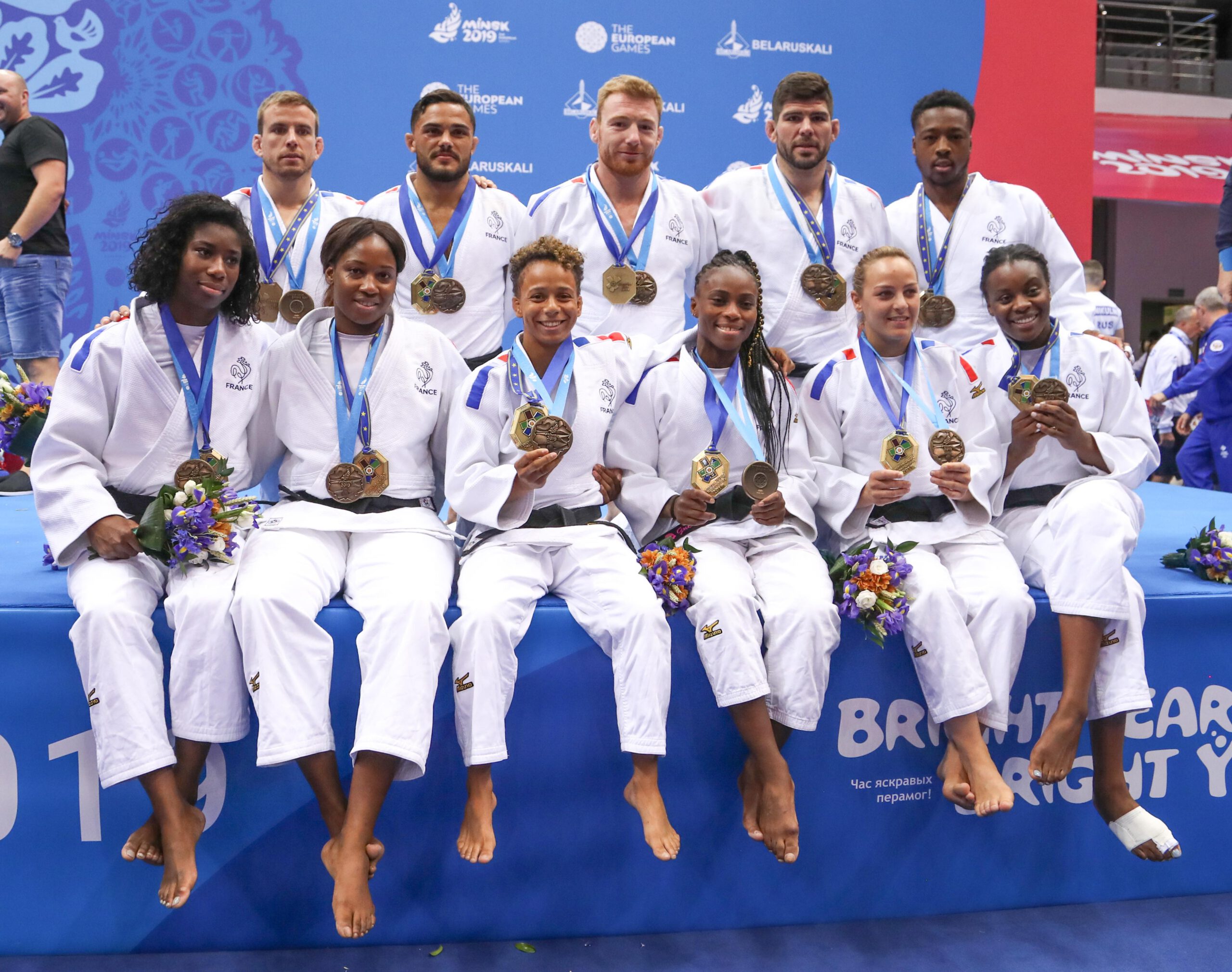 The strength of the French team is undeniable and were in with a good chance of making it on to the podium, some of their athletes taking medals in the individual competition during the previous three days including Champion, Margaux PINOT in the -70kg category and bronze medallists, Amandine BUCHARD, Cyrille MARET and Madeleine MALONGA.

The experienced team were challenged in the second round by the eventual silver medallists, Portugal, but ensured they took the bronze with strong performances against Slovenia in the repechage and finally, despite the will of the crowd, the win and bronze medal against the home nation of Belarus.
Judoka
Author: Thea Cowen
---