The first day of the Suzuki World Judo Championships ended with Orkhan SAFAROV (AZE) narrowly missing out on the gold medal in the -60kg category.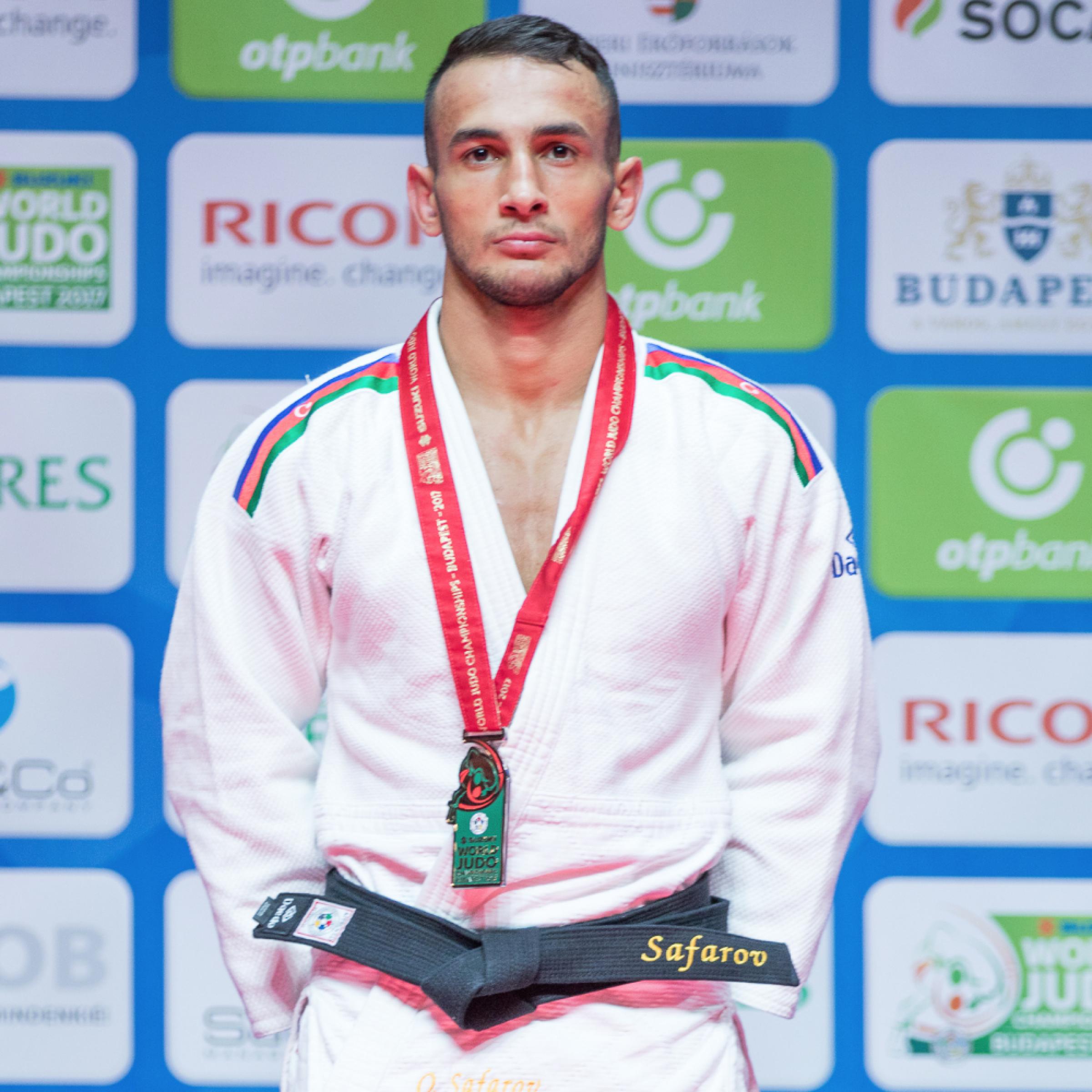 2013 World bronze medallist, Safarov, began the day amongst the top eight seeded players in the category. During his first contest, Safarov threw Yanislav GERCHEV (BUL) with a reverse seoi nage. He followed this up and booked a spot in the quarter finals by stunning Goncalo MANSINHO (POR) within the first 30 seconds of their contest with a nicely executed tsuri komi goshi.
During his quarter final, the 26-year-old judoka faced 2015 World Champion, Yeldos SMETOV (KAZ). The pair of them were early into the second minute of the contest when Smetov was penalised for defensive posture. A minute later Smetov collected another penalty, this time for not engaging in the contest. There was a little over 30 seconds left to go when Smetov turned his yellow cards into a red one as a result of a false attack. This meant a secured spot for Safarov into the final block.
Rio 2016 Olympic bronze medallist, Diyorbek UROZBOEV (UZB) stood opposite Safarov during the semi-finals, which began with a penalty for the Azeri judoka when he applied an incorrect gripping exchange. Shortly after, Safarov managed to score with his signature technique, tsuri komi goshi, rolling Urozboev over for waza ari. Half way through the contest, Urozboev launched forward in the hope of picking up Safarov whilst seeking to rotate in for an ogoshi. However, triple European medallist, Safarov, not only blocked the attempt, but used the opportunity to flatten Urozboev when he countered him with a kosoto gake combination.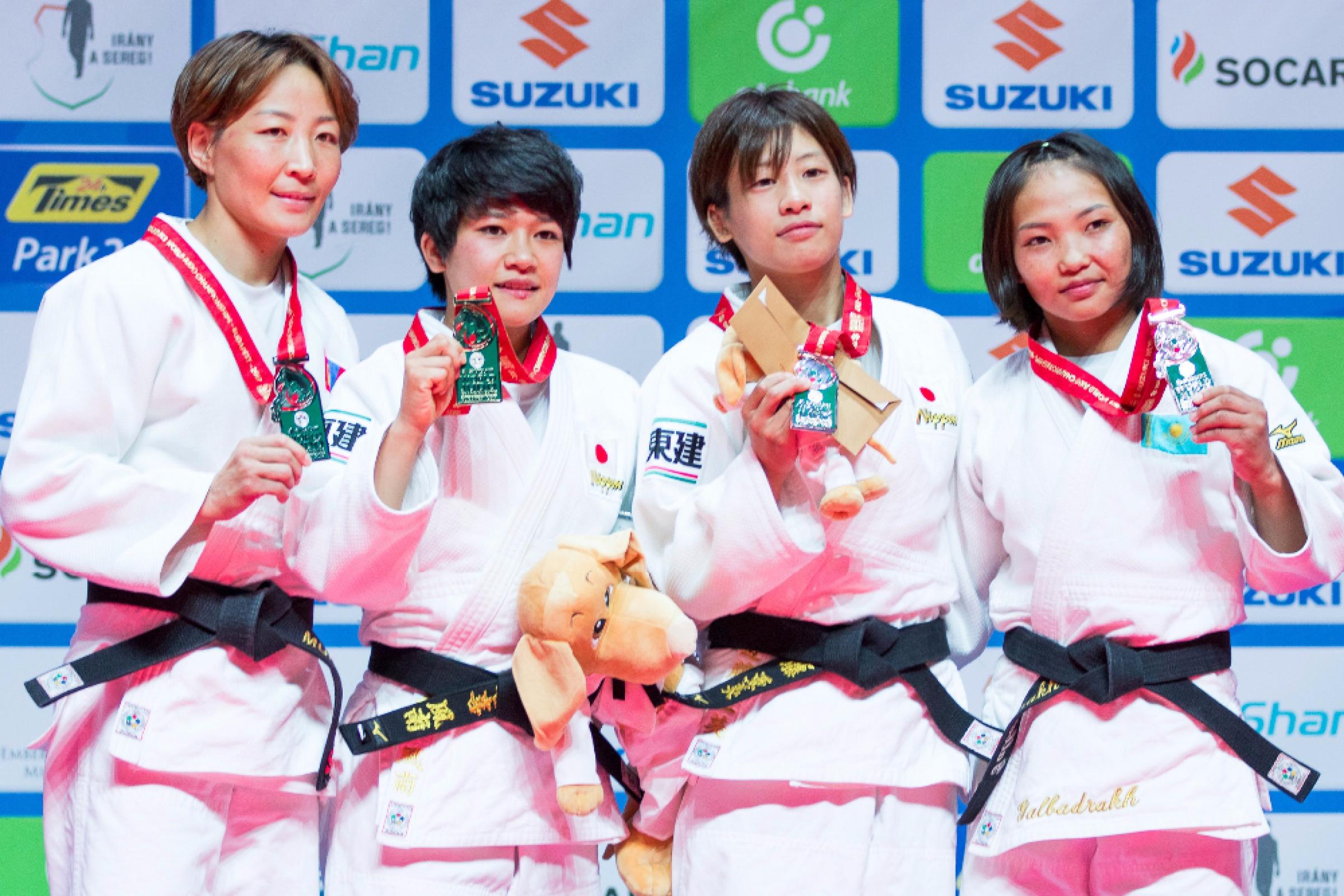 Podium -48 kg 1. TONAKI, Funa (JPN) 2. MUNKHBAT, Urantsetseg (MGL) 3. KONDO, Ami (JPN) 3. GALBADRAKH, Otgontsetseg (KAZ) – Rafal Burza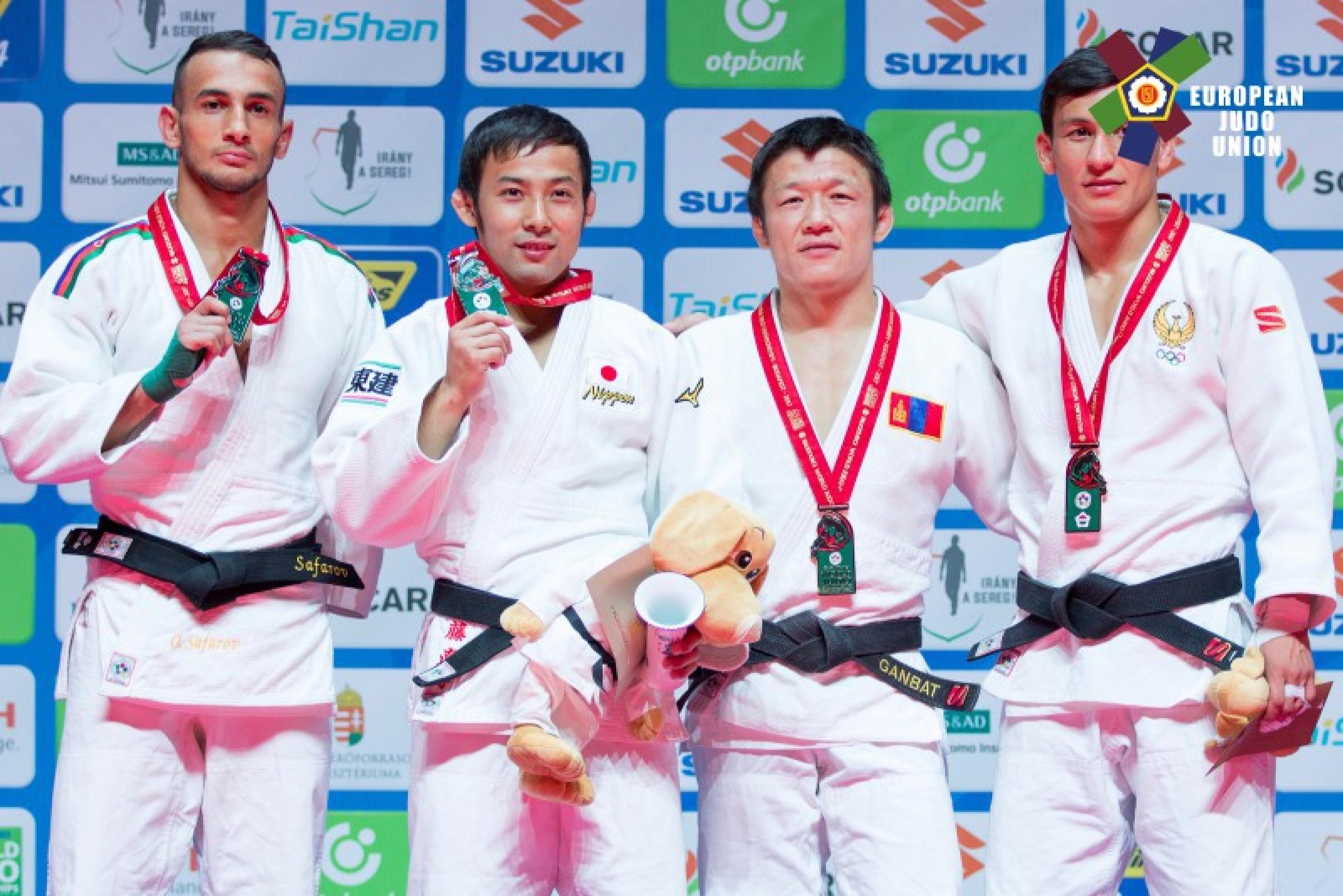 Podium -60 kg 1. TAKATO, Naohisa (JPN) 2. SAFAROV, Orkhan (AZE) 3. GANBAT, Boldbaatar (MGL) 3. UROZBOEV, Diyorbek (UZB) – Rafal Burza
Safarov was now only one step away from the world title. In his way stood 2013 World Champion and Rio 2016 Olympic medallist, TAKATO Naohisa (JPN) who himself was a step away from regaining the World title. Today, was the fourth occasion the pair had faced each other and their was an air of expectation when they entered the Papp Laszlo Arena for their last and final contest, the final of the -60 kg category. Takato picked up a penalty in the second minute when he held Safarov's sleeve with a pistol grip for too long. Close to the last minute of a tight battle, Safarov rushed forward for a kosoto gake attempt, which Takato used to score, countering with ouchi gari. The waza ari lead did not satisfy the Japanse judoka however and, with 40 seconds left, Takato came up with another stunning ouchi gari, this time burying Safarov for Ippon. World silver medallist of 2017, Safarov, summed up his day;
"I certainly came here for a medal as I wanted to prove that I belong from the best in the World in the -60 kg category. I prepared hard for the competition which is why I was expecting the medal. I felt upset because I lost against the Japanese athlete at the Rio Olympic Games and here I lost to him too, so he is always stopping me, that is why I was upset after the final.
"Takato controls my left hand every time. I am a left-handed player and every time I tried to go left, he blocks me. Maybe if I was to change to the right side, it would have been different but he controls my left hand and it stops me. Now I am happy, everything is perfect and maybe after today I need a little rest."
Pavel PETRIKOV (CZE) had an astonishing day, finishing in 5th place. It was a similar outcome for Milica NIKOLIC (SRB) and Irina DOLGOVA (RUS) in the -48 kg category. The Suzuki World Judo Championships 2017 continues tomorrow with the men's -66 kg and women's 52 kg categories taking to the tatami.
---
Playlist
Judoka
---