The fourth day of the European Youth Olympic Festival [EYOF] has ended with history to be draw in the book of the Serbian judo records. Number one seeded, 2015 Cadet European Championships bronze medalist, Jovana OBRADOVIC became the first ever judoka to win an EYOF gold medal for Serbia, which was learned after her winning contest of the final at the -63kg category. "I feel great; it feels great to win a gold medal and I really don't know what to say. I am still not fully aware of the fact that I have won this event. I feel really proud to represent Serbia on this event and to make history", she expressed her feelings after the medal ceremony.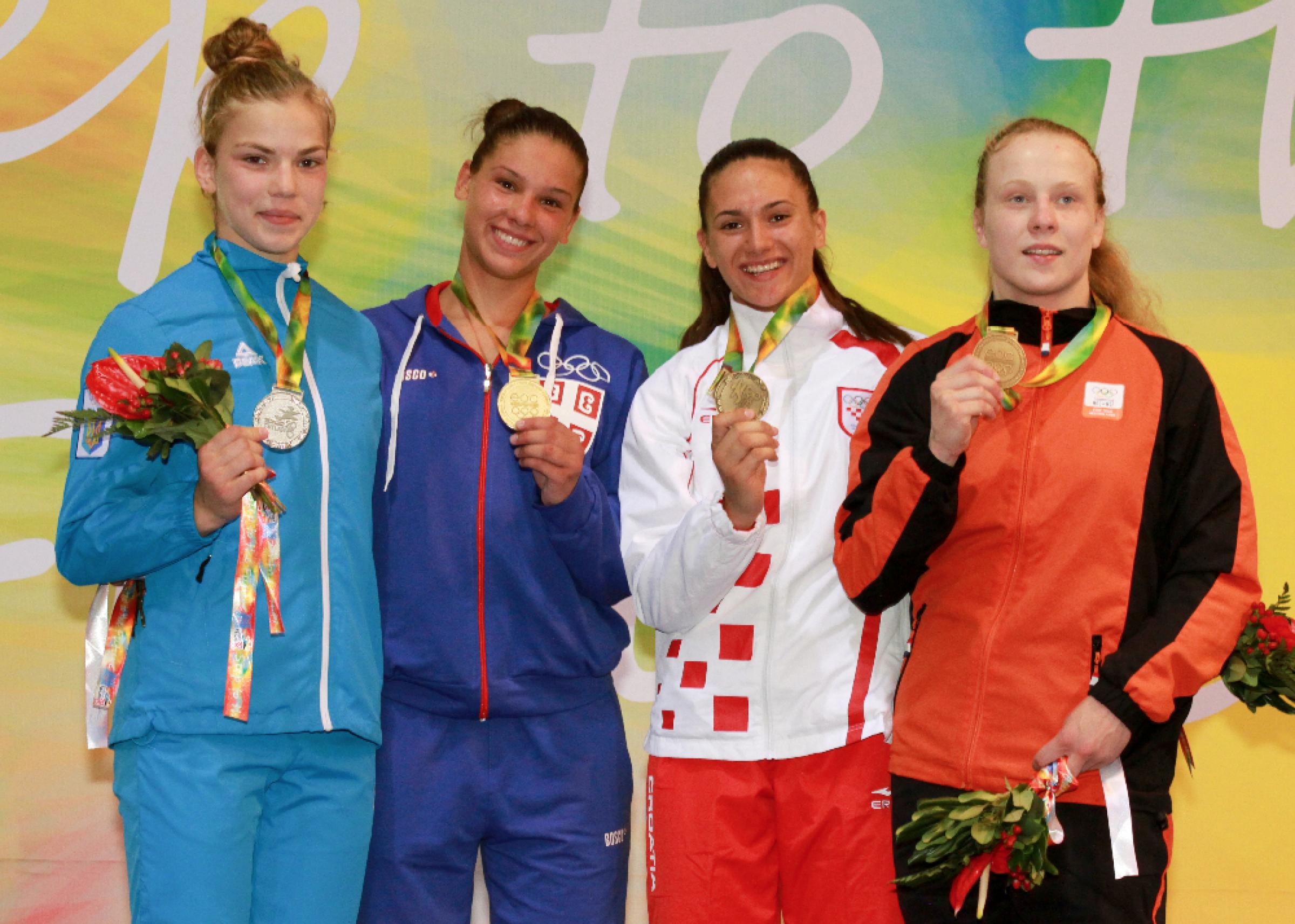 It is important to know that there is not only one of her in the family. Her sister, Anja Obradovic is also a judo ace within the same weight category. At the Cadet Europeans this year, they have both won bronze medal, however, due to the rules which says only one player per country can be entered in each weight class, it was Jovana who had the opportunity to represent Serbia at this event. The selection was due to the fact that Jovana was higher ranked on the IJF [International Judo Federation] ranking list than her sister. Jovana revealed her thoughts to us: "If my sister would have been here I am sure she would also win a medal because she is really good. I won this medal for her."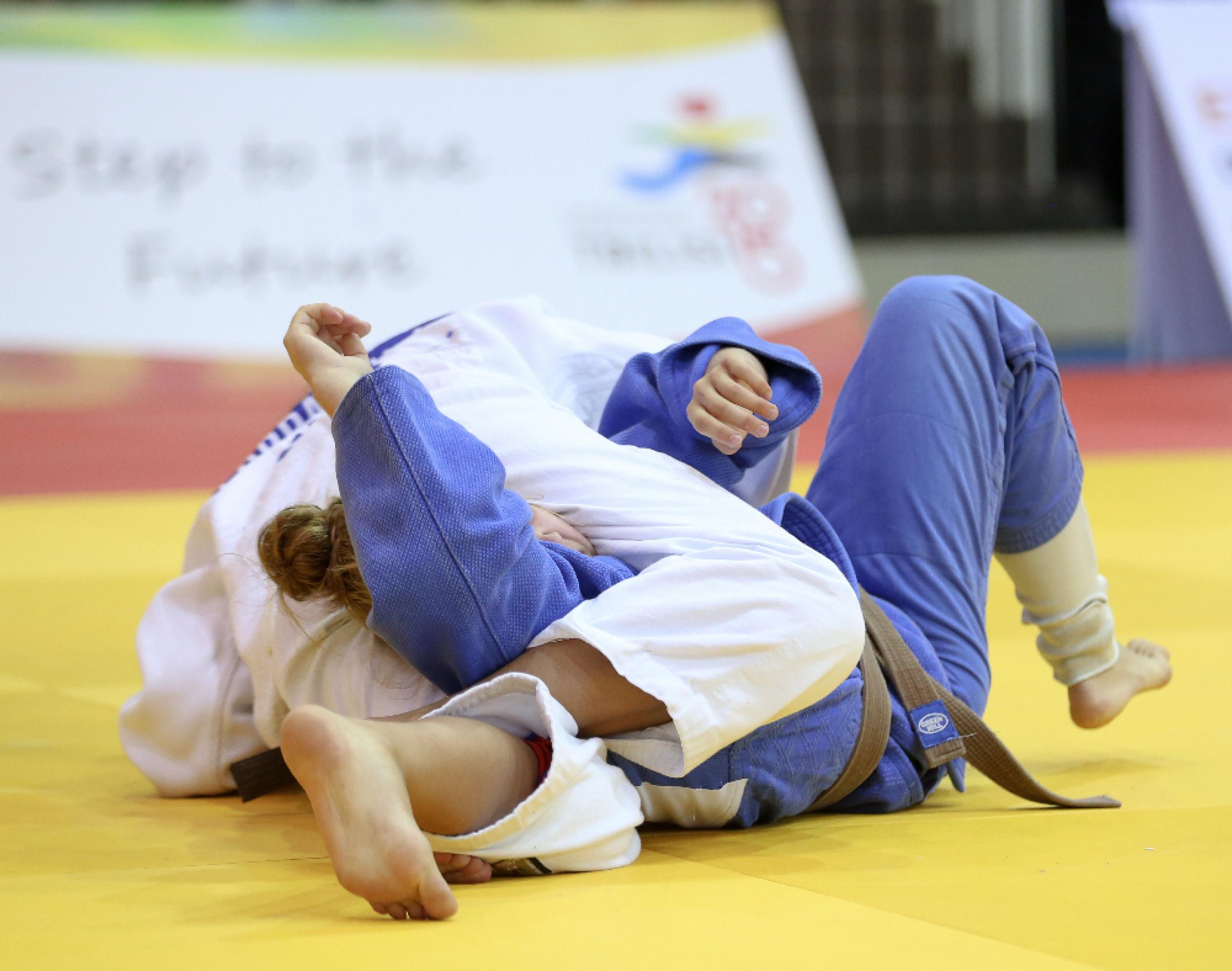 Being number one seeded can often put pressure on a player. Was it the same case for Obradovic? "I had a big pressure on my shoulders for being number one seeded and a lot was expected from me but at the end I managed to deal with the pressure. On almost every tournament I am the number one seeded." Obradovic won all of her contests by Ippon, whilst mainly dominating in ne-waza. Her first opponent of the day was Dena POHL (GER) who was not aware of the Serbian judoka's transition skills until she scored for yuko to than secure an osei-komi-waza to move into the quarter finals. Both of her following opponents, Minel AKDENIZ (TUR) and Sanne VERMEER (NED) fall into the trap of Obradovic's ne-waza virtuosity, which meant she has only one more clash left for the day. This clash was the final against Iryna KHRYASHCHEVSKA (UKR). The Serbian judoka settled back for 'plan A' and repeated the success from her first contest throwing for yuko and holding her opponent down for gold. Obradovic: "The final was the toughest fight for me because the gold medal was at steak…"

Serbian cadet female national coach, Dragan SPASIC also concluded Obradovic's performance: "She won a bronze medal in Sofia at the Cadet European Championships so a medal was in plan for us today but winning gold was beyond our expectations. It is a fantastic achievements since she made history for the Serbian judo society and it was a great honour to sit in the coaching chair whilst she was fighting."

The Russian team secured their first gold medal today by Murad KURBANISMAILOV (RUS) at the -81kg category whilst Italy gained their fourth one by Alice BELLANDI (ITA) who won the -70kg category. It is still the Italian team to lead the medal table with one last day remaining of the 2015 EYOF. The tournament will begin at 12:00 (local time) tomorrow with venture from the last three weigh categories (-90kg, +90kg, +70).
Gold medalist -63kg: Jovana OBRADOVIC (SRB)

I feel great; it feels great to win a gold medal and I really don't know what to say. I am still not fully aware of the fact that I have won this event… I feel really proud to represent Serbia on this event and to make history.

Gold medalist -70kg: Alice Bellandi (ITA)

"I won some silver medals but never gold. This is my biggest international success. After the European Championships I got more self confidence and consciousness of my skill. "

"The girl from Montenegro was really strong and I am very happy that I threw her in few seconds. I never tought that was possible. The secret of my success is the strong support from my club and my family who boost me to do it always better."

Gold medalist -81kg: Murad KURBANISMAILOV (RUS)

"I am very happy that I brought this gold medal to Russia. All my fights were different but each of them physical hard. I felt a big responsibility because this was my last individual fight for this year. At the World Championships I will only fight for the team like at the European Championships. But I hope I can win a team medal again."
---