It may be a surprise to many given the consistent success of strong judo nation, Georgia, but on day three of the World Championships 2021, history was made by Lasha SHAVDATUASHVILI.
The 29 year-old Gori native first impressed the world in 2012 when blistering through the -66kg category during the London Olympic Games to take the gold medal and Olympic title, made all the more impressive by the fact he'd only just become junior European champion in 2011.
For the following cycle he changed weight categories and worked to find his footing in -73kg, new opponents, new styles of judo, all a big change yet still with Olympic success in his sights. Incredibly the talented Georgian took bronze in Rio de Janeiro, losing out only to current Olympic champion, ONO Shohei (JPN).
By this time he had already found European success in Budapest, 2013, where he defeated Kamal KHAN-MAGOMEDOV (RUS) in the final to become European champion. All that was left to complete his collection was a World title.
The last World Championships in Budapest, 2017, things were looking good for Shavdatuashvili, winning his first three contests comfortably. An unfortunate meeting with HASHIMOTO Soichi (JPN) and an uncomfortable bronze medal contest with AN Chang-Rim (KOR) meant that he fell at the final hurdle and missed out on a medal. Fast forward to 2021, a matter of weeks before the Olympic Games in Tokyo, things were to be different.
To suggest anyone has an easy route to a world championship final would be naive, but it became especially exhausting for the Georgian as his opponents took him in to golden score in the final three contests.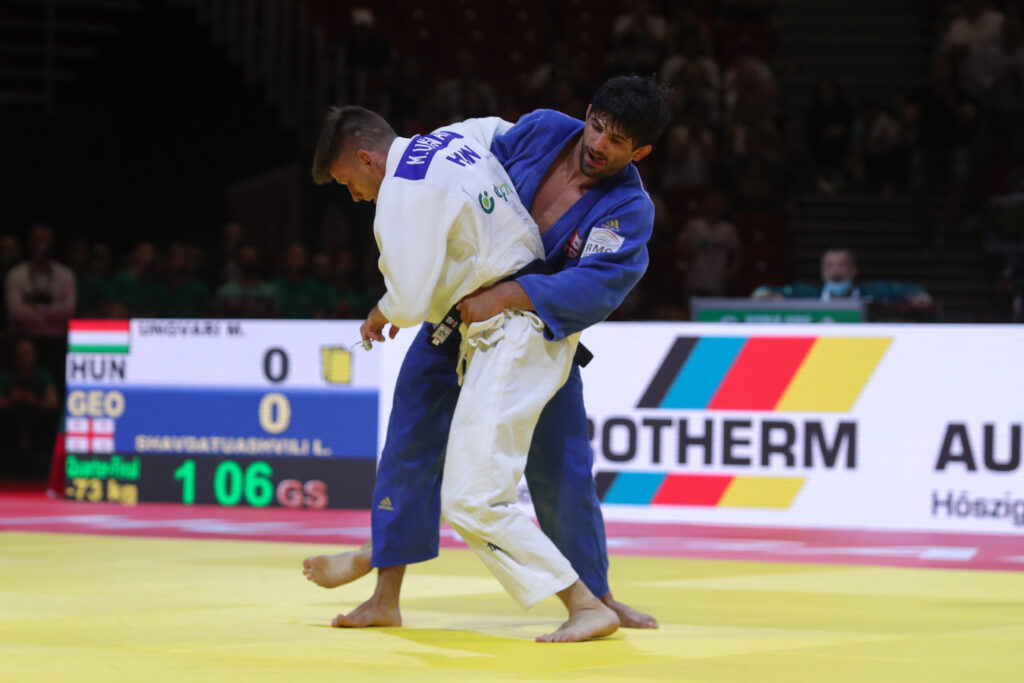 It was an exhilarating quarter with the home favourite, 2012 London Olympic Games silver medallist, UNGVARI Miklos. A repeat of this great final, nine years later was certainly a spectacle with both still at such a strong level, the crowd doing everything to give Ungvari the strength to reach the semi, but it was not to be. Moving in to the semi final against Bilal CILOGLU (TUR) threw out yet more problems for the now world champion but an o uchi gari won the contest and put Shavdatuashvili in the final against 2019 European champion, Tommy MACIAS (SWE) who had just defeated Hashimoto in a stressful bout.
The Georgian may have a winning record, but a mistake in 2019 put him out of the running for European championship glory. He wouldn't make the same mistake. The first exchange set the tone, and no matter how Macias tried, the contest was controlled by his opponent. Once again it became a battle of tactics as neither allowed for a successful throw, a final shido awarded to Macias.
A drop to his knees, exhausted but exhilarated. Finally the World Champion.
Celebrating MACIAS, the best of his opponents.
It was a proud day for the Georgian team.
A very happy World Champion.
Shavdatuashvili became the 2021 World Champion in the -73kg category, completing his collection, bringing unknown joy to a country that is dedicated to the success of their representatives. An emotional celebration followed immediately afterwards in the crowd, Shavdatuashvili lost within the waves of supporters. Finally, they were able to sing their national anthem.
Judoka
Author: Thea Cowen
---