Since 1951, there has never been a Spanish World Champion in any of the men's categories, until today. SHERAZADISHVILI wrote history in Baku, Azerbaijan by storming through the -90kg category to take the first senior men's gold medal in Spanish judo history. This is an amazing feat for the 22 year-old,
"It is incredible, I am so so happy because it was my dream when I was a child, this is unbelievable. Every fight was so hard and I am so happy to get this medal for Spain also for Georgia, because I am from Georgia and I want to say thank you to all of them."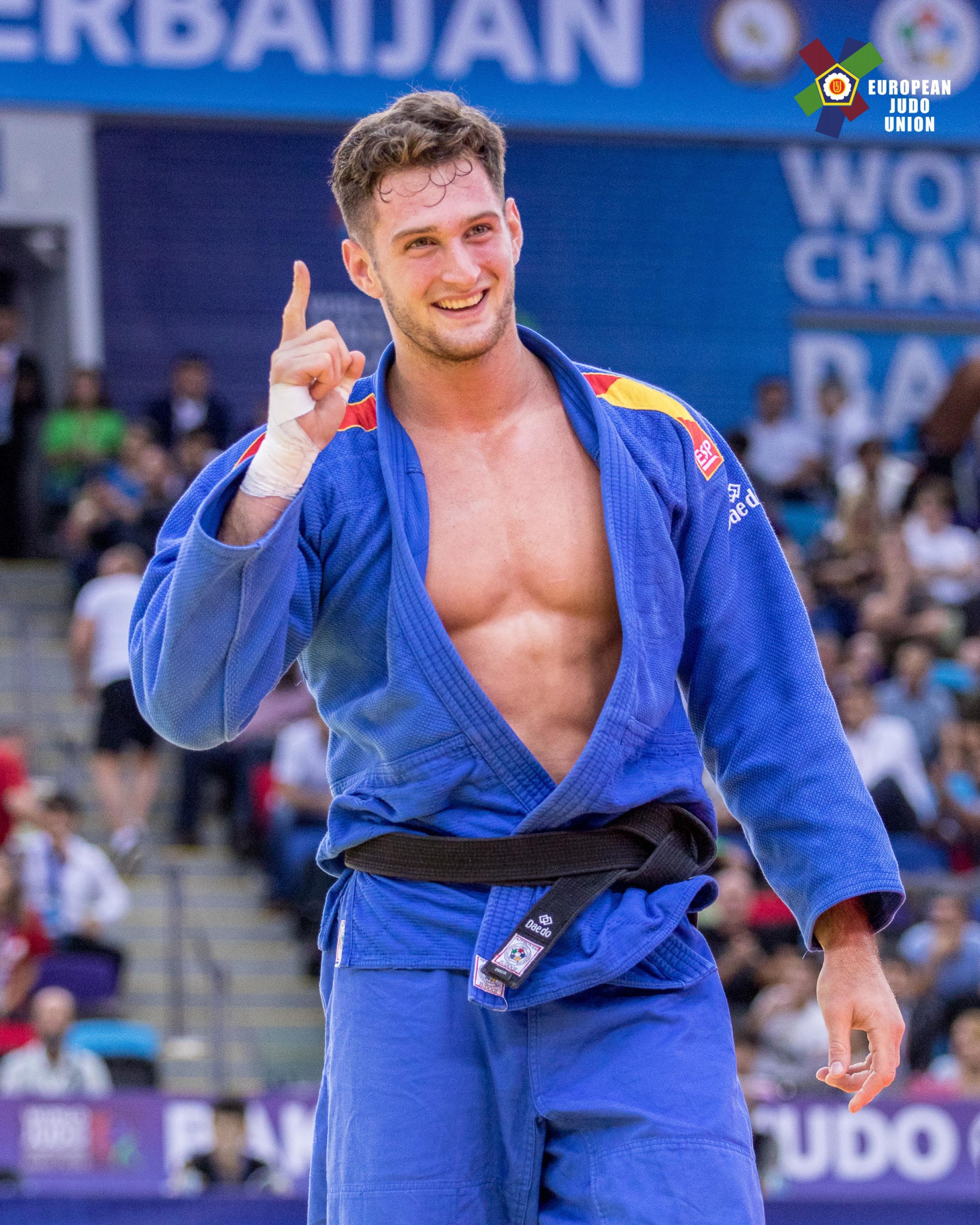 At no point during the day did Nikoloz SHERAZADISHVILI (ESP) look anything but confident. The European bronze medallist is a tall -90kg athlete and uses this to his advantage. Georgian-born, he has the support, not only of the Spanish team and friends but that of the vast Georgian crowd that filled the arena this afternoon. When asked how he felt to have all those people behind him he told us,
"I felt like I was at home, you saw so many Georgians came to see the judo and they were all shouting for me and then the Spanish team, it was all unbelievable."
He looked very calm in his approach to his contests today. The evening before he was also very relaxed,
"I prepare what I can, I give everything but I try to be calm and relaxed in my head, so my coach won't be nervous for me and I try to be happy every day but I'm also nervous for sure."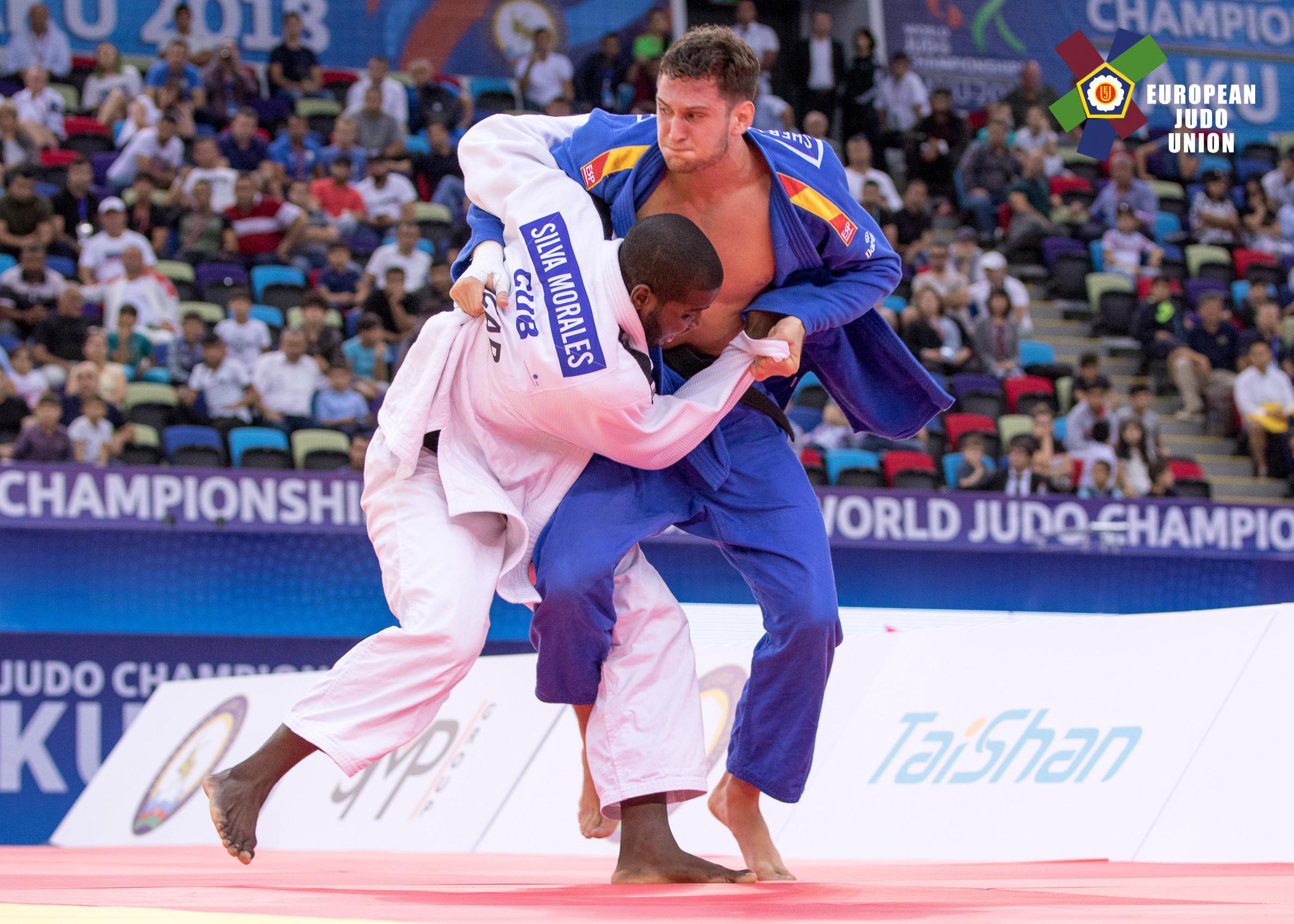 The #3 seed for the tournament found himself the highest seeded player after the second round following surprise early exits from #1 Aleksander KUKOLJ (SRB) and #2 Beka GVINIASHVILI (GEO), as well as the 2017 World Champion, Nemanja MAJDOV (SRB). His trademark uchi mata taking him through his second round as well as the third round contest against Mikhail IGOLNIKOV (RUS). He had not managed to defeat IGOLNIKOV since 2015, unfortunately this meant that he missed out on a place in the final of the European Championships this year, but it was time for the tables to turn. It was a comfortable left vs right match, both known for their uchi mata. An early waza ari score on the board for SHERAZADISHVILI set the tone for the contest, the Spanish athlete happy for the Russian to come in for his own technique, prepared for the counter attack.
His fourth round was against last years World silver medallist, Mikail OZERLER (TUR) – previously known as Mihael ZGANK (SLO) prior to his move. We didn't see his typical judo in this contest and asked the Spanish athlete if this was a tactical move, throwing his opponent with ouchi gari for ippon instead.
"Each fight had a different tactic, I study my opponents, it is so important to know them, this is what I do and give my best also."
SHERAZADISHVILI showed his hunger for the title in his quarter final against Asley GONZALEZ (CUB). As the Cuban went to the ground, the now World Champion pulled him back up to throw with a low uchi mata for waza ari. Later on in the exchange, his seoi nage was not on target but his superior strength in te waza finished the fight.
The gold medal contest was against the second Cuban entry, Ivan Felipe SILVA MORALES. The Cuban athlete came in strong and was first to score. This was a difficult exchange for both athletes and with only one minute on the clock, SHERAZADISHVILI knew he needed to give everything he had and threw to even the score. The almighty battle went two minutes in to golden score before the Spaniard came in with his World title winning, signature uchi mata. The crowd were on their feet to celebrate the success of this wonderful athlete. Not only did he prove he is number one in the world, but he did so with grace and respect, picking up the defeated SILVA MORALES before thanking the spectators.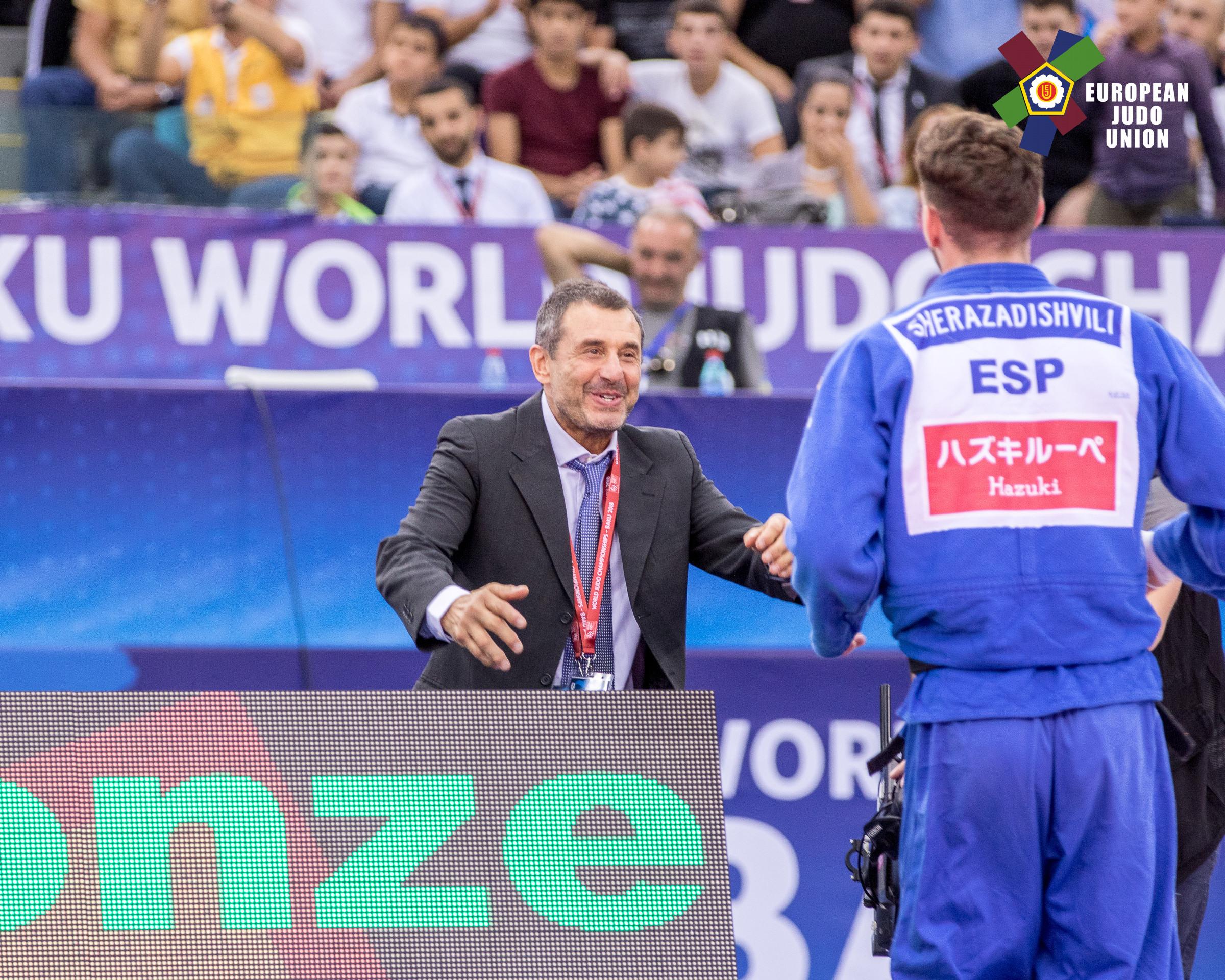 ---
GAHIE is the young star of France. Surrounded by successful World and Olympic teammates, it is only natural that the 21-year-old follow suit and take a senior World medal of her own. This incredible silver medal accomplishment left the athlete overwhelmed, all of her hard work and sacrifice paying off, though there was a slight sting, losing in the final contest.
Team mate, Clarisse AGBEGNENOU started the French trend yesterday taking their first medal and retaining her World title. With the team spirits now lifted, we asked if she felt motivated by this result,
"Yes it was motivation for me, she came back to me, she repeat to me, be careful, be calm and in your mind want it, you can do it."
After a fifth place in the World Championships last year, GAHIE had a benchmark for the standard in the -70kg and discovered what she needed to do to improve on her result. She worked on being more mentally prepared and strong, also working on her techniques and accuracy. There was also the factor of believing in herself more and trusting the process of her fights.
In the preliminaries she was very calm and had an air about her that isn't unlike that of a World Champion. She already felt that she was worthy of a place on the podium and that her judo and strength would get her there. In her first contest against Alena PROKOPENKO (RUS) she wasted no time in putting in her strong harai goshi attack, scoring an indisputable ippon and moved in to her next contest against Canadian athlete, Emily BURT. This contest proved much more awkward for the French medallist,
"It was very difficult because I attacked many times and nothing happened so I became rushed, my emotions took over and it was hard for me to be calm and stay focussed."
The world ranked #2 made her way through to the semi final, her emotions giving nothing away this time. As she stepped on the tatami to face her final opponent, 2017 World Champion, ARAI Chizuru (JPN), GAHIE looked strong and focussed, swiftly taking the first wazari, taking ARAI backwards with her strength. The Japanese athlete quickly responded with her own technique, scoring a waza ari also, transitioning straight in to ne waza to retain her World title.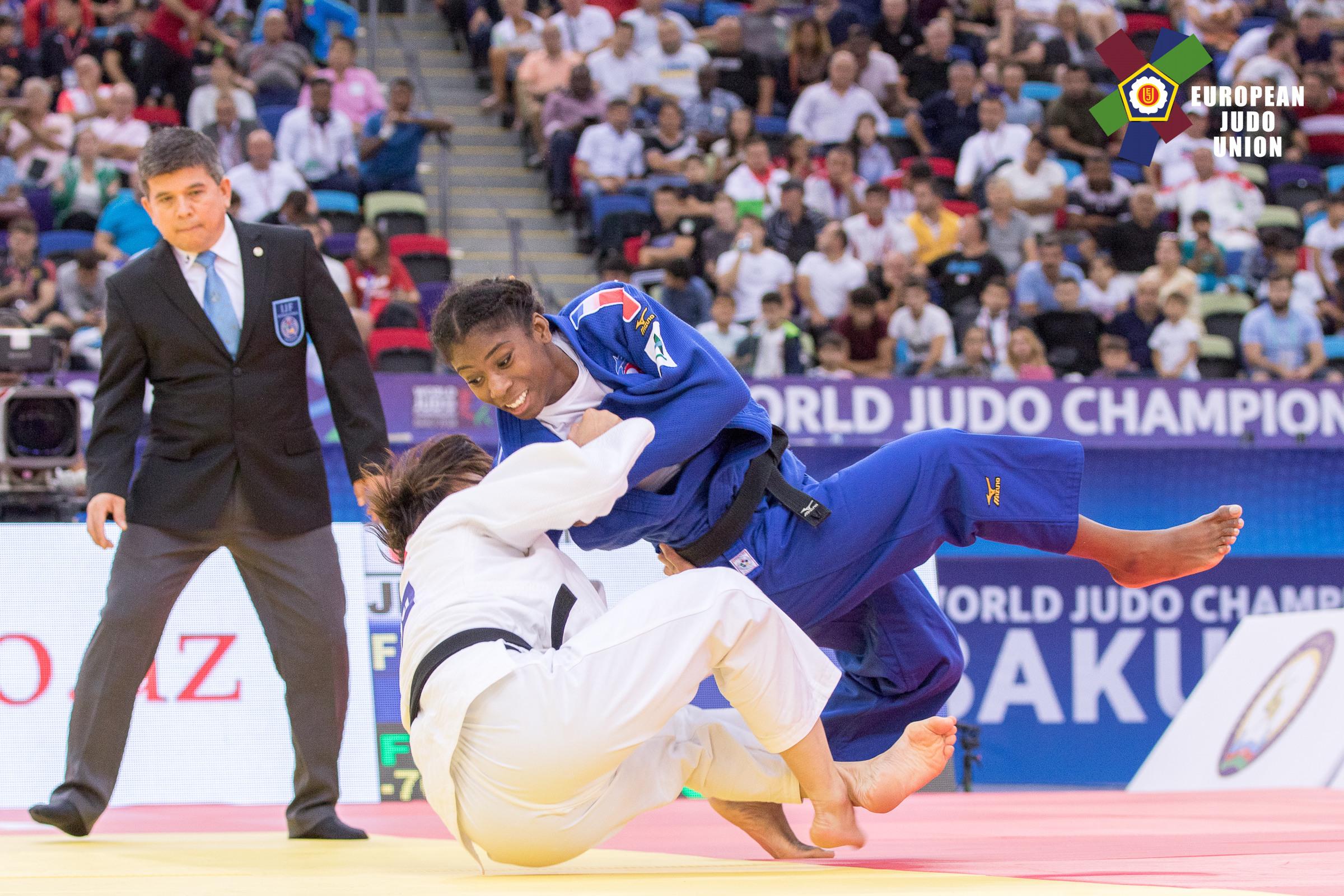 "I am sad, but I think next time I can win, so I will give my best, train again, trust in myself and in god, and follow the advice of my friends a bit more" she said lightheartedly.
This is the first senior World medal for Marie Eve GAHIE of France and although she wasn't entirely pleased with her second place, she is motivated for the future and to become World Champion.
---
Alex CLERGET (FRA) -90kg bronze
he French athletes covered all areas of the podium on day four and five of competition, the bronze medal coming from Axel CLERGET of France in the -90kg category.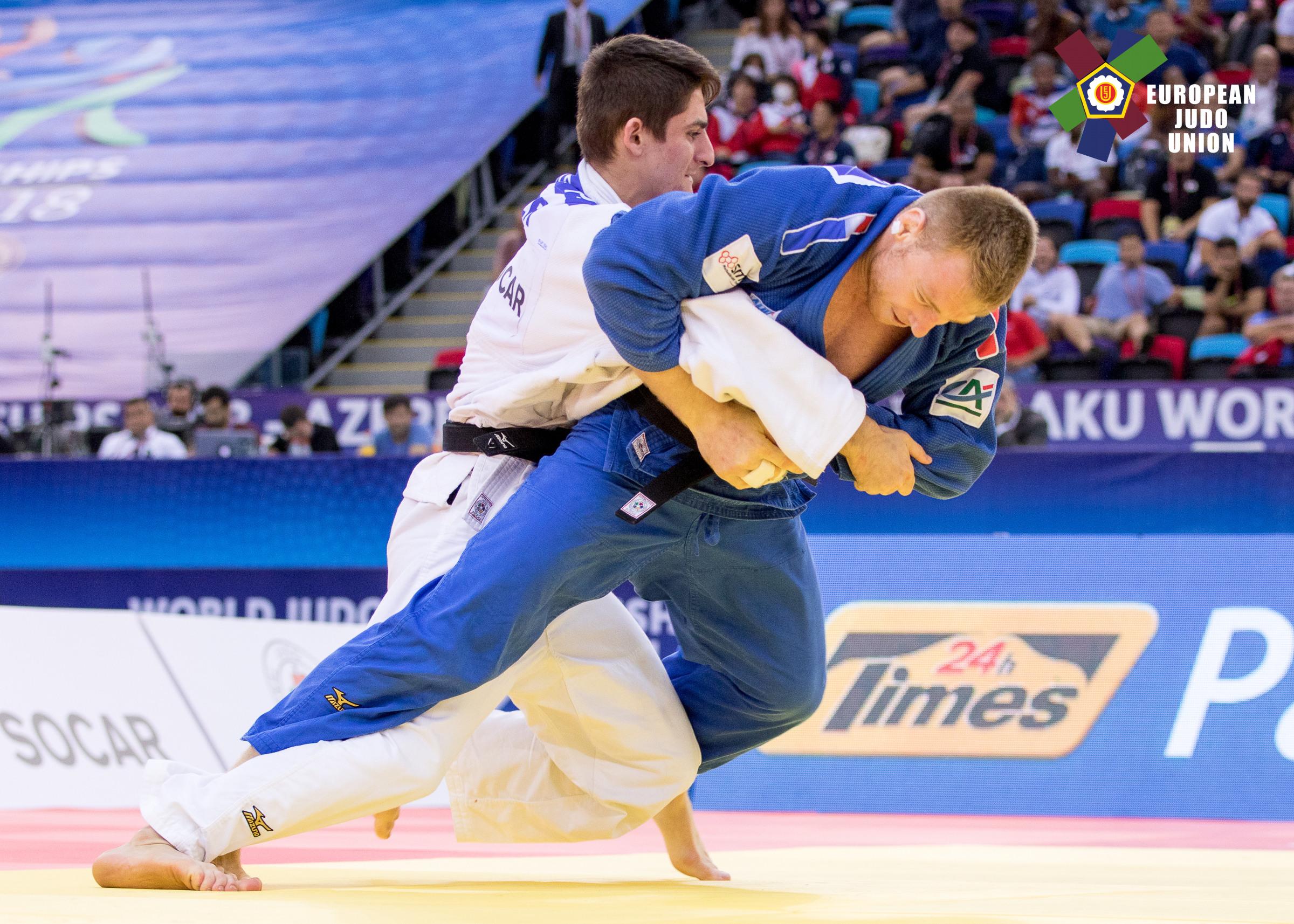 At the age of 31, CLERGET took his first World medal after consistently great results over the past two years. When asking the beaming athlete what he feels has changed recently and contributed to his success, he tells us,
"Now I have been a father for three months, maybe this has helped me, to think that judo is just a game, I have my family and my baby and now I come to play, it is very different and now I am really happy."
Prior to the Olympic Games in Rio De Janeiro in 2016, he was the second seed of the French team in the -90kg category and was pushed up to number one in the new Olympic cycle. His years of experience on the IJF tour have set him up for great success and have finally allowed him to achieve this particular dream of a world medal. The road to bronze was not an easy one for the French athlete, coming up against the fresh young Belarusian, Yahor VARAPAYEU in his first contest. His next opponent was GWAK Donghan (KOR). Asking about this important contest he told us,
"I have lost before against Gwak, he is a very strong man, he always beats me but each time I get closer and I lost in Paris, it was difficult but I worked hard to beat him and now I can do it, I'm really happy."
A deep ko uchi gari took him past Khusen KHALMURZAEV (RUS) and in to the quarter final against Komronshokh USTOPIRIYON (TJK). The French athlete made it look like light work but gave it everything to secure a place in the semi final with SILVA MORALES (CUB). The feelings were still raw regarding his semi final contest which caused debate, whether or not the athlete and the crowd agreed with the ippon score. CLERGET did not want to dwell on this, he was unsure himself and it was an emotional result for him as he missed out on a place in the semi final.
It was difficult for the Frenchman to regain focus for his bronze medal fight following that contest,
"I do a lot of work with the psychologist, I need to be focussed on myself and only to win the fight. My coach was here for me, we spoke together and I did not want to lose my last fight, and I won it, it is better to finish like that no?"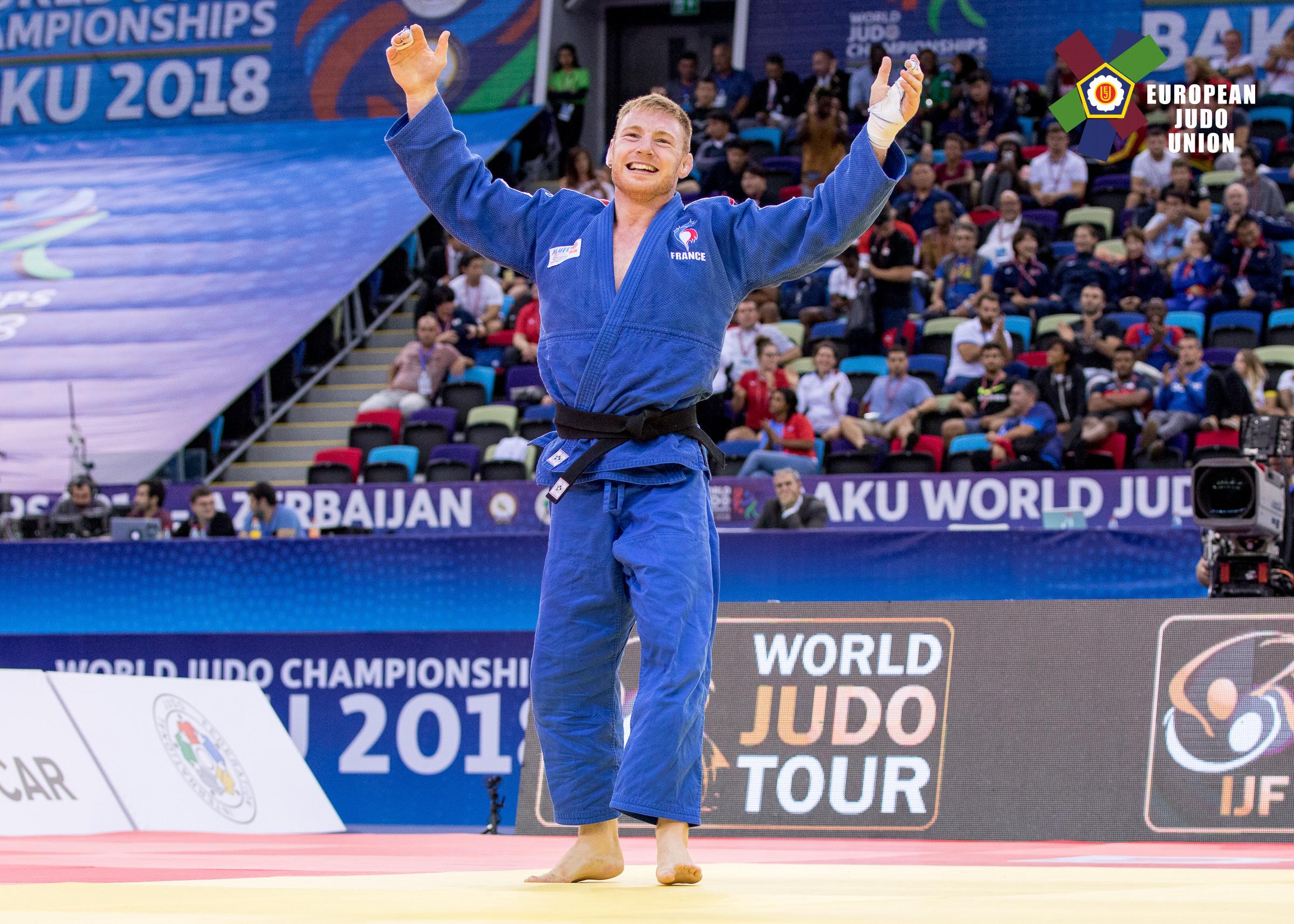 It certainly is. Congratulations to all of the athletes today!
---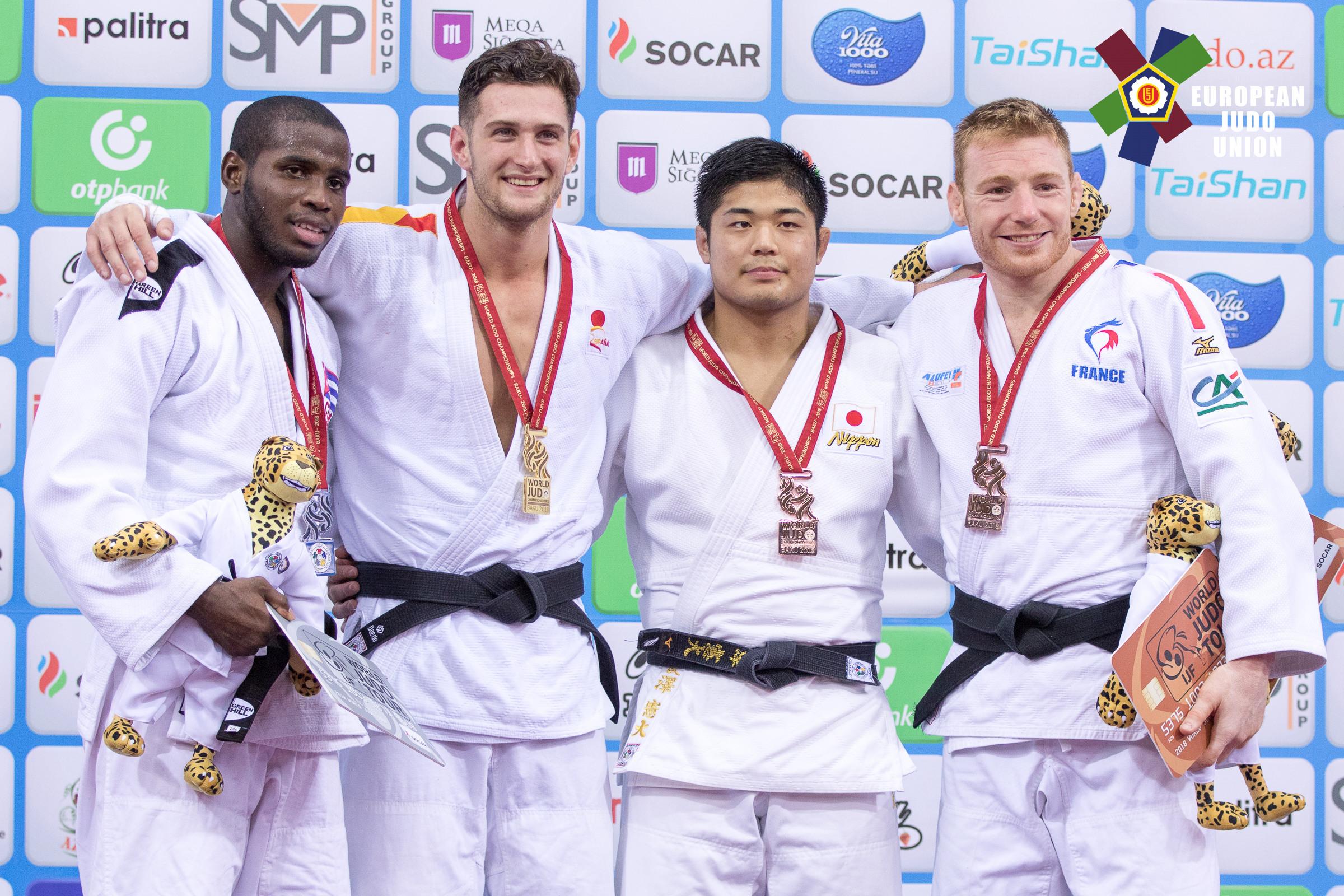 Podium -90 kg 1. SHERAZADISHVILI, Nikoloz (ESP) 2. SILVA MORALES, Ivan Felipe (CUB) 3. NAGASAWA, Kenta (JPN) 3. CLERGET, Axel (FRA) – Rafal Burza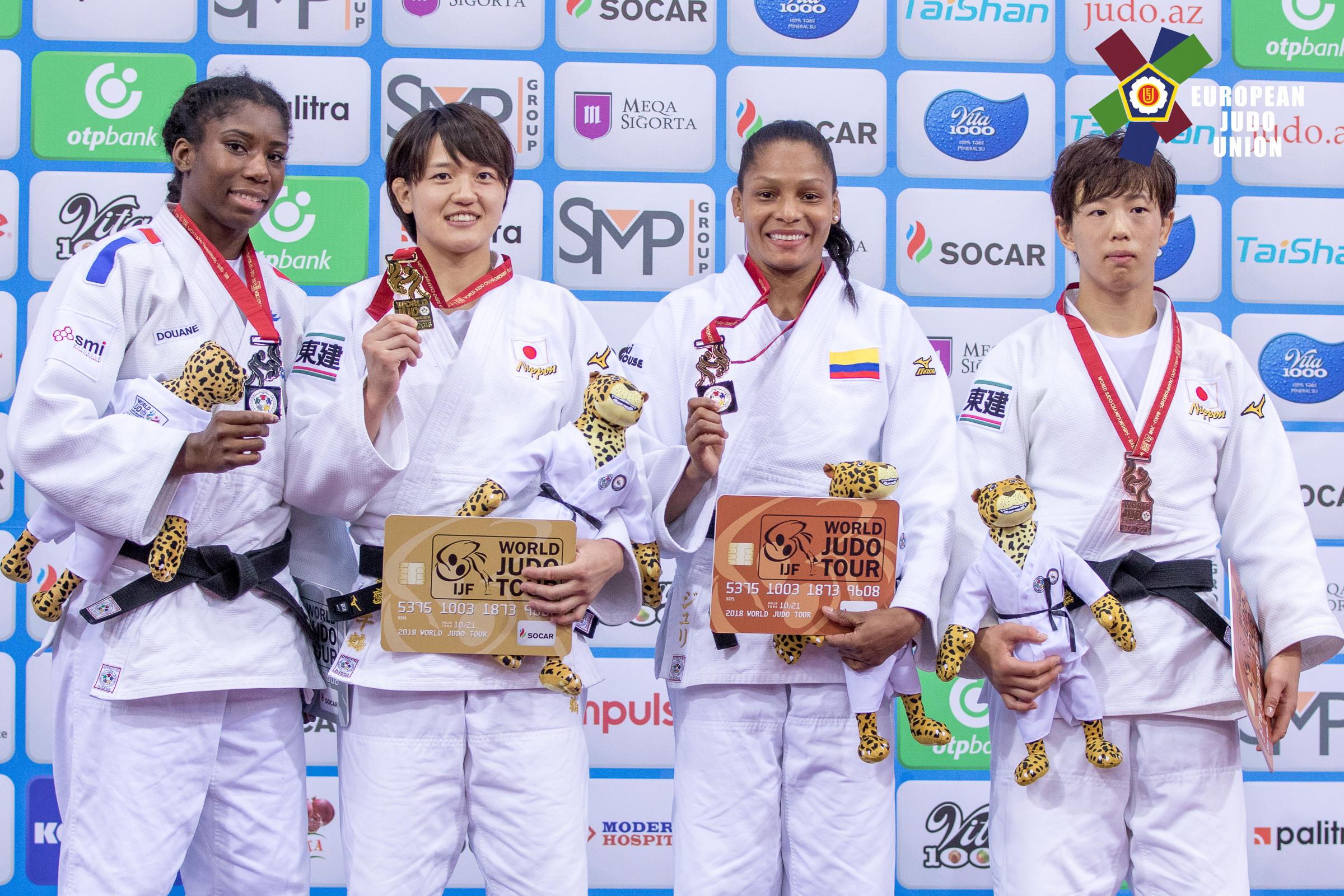 Podium -70kg 1. ARAI Chizuru (JPN) 2. Marie Eve GAHIE (FRA) 3. Yuri ALVEAR (COL 3. ONO Yoko (JPN) – Rafal Burza
Judoka
---