The Royal Spanish Federation held a General Assembly on the 22nd of November and have announced that Juan Carlos Barcos, has been re-elected president of the RFEJYDA for the 2020-2024 cycle.
In a ceremony held on Sunday morning, the only candidate has been reelected and proclaimed president with 69 votes in favour. The assembly members have also proclaimed the Delegate Commission of the General Assembly of the RFEJYDA for the same period (2020-2024). Barcos declared,
I am very happy with the re-election and the support received, I value the existing and latent unity in national Judo and I want from here to express my appreciation for the work of the clubs, teachers and the Autonomous Federations. The RFEJYDA is an example of a stable federation economically and in every way and that is thanks to the work of the team that surrounds me. It is also a pride and honor for me to be part of and to be very integrated in the EJU with its president Mr Sergey Soloveychik, as well as in the IJF with Mr Marius Vizer, the union with both federations and their presidents with me and with our federation is a great help for our continued development.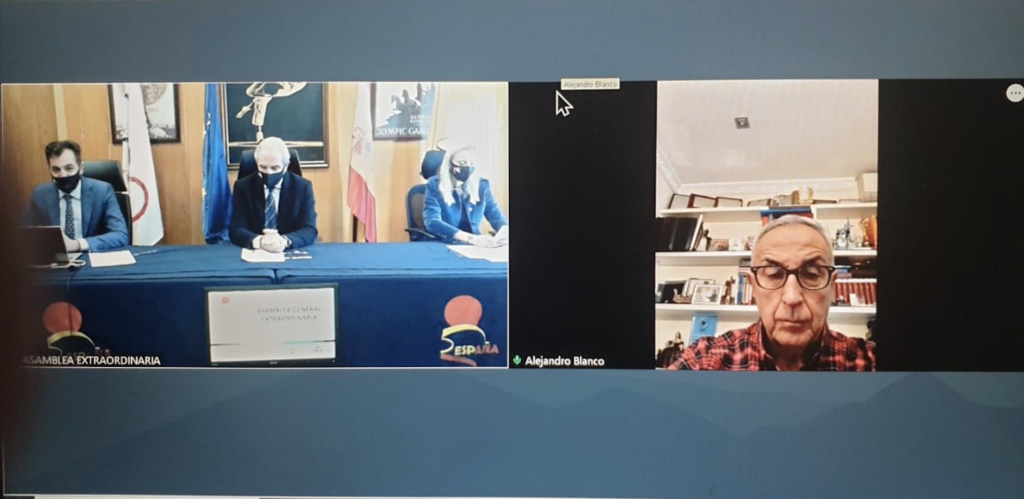 On the other hand, Alejandro Blanco, president of the Spanish Olympic Committee, also joined the Assembly as a guest after the proclamation, and dedicated a few words of affection to the newly re-elected president and to the entire national community of judo and DD.AA. highlighting,
The re-election of Juan Carlos is the best sign of unity, working together is the basis for success. From here I want to acknowledge the work of all the clubs and teachers and send them a message of encouragement, we have overcome other difficult moments and we are not only going to overcome this, but we are going to come out stronger, our gyms and clubs are the future of sport Spanish.
At the end of the Assembly, the Secretary of State for Sports, Irene Lozano appeared in a video in which she congratulated the newly re-elected President Juan C. Barcos and commented,
The RFEJYDA is an example of a stable and healthy federation, the CSD will continue working together with you as we have been doing so far, we will e by your side in these uncertain times and have a special sensitivity to your sports, sports like Judo, which from the beginning have also been an example of equality between men and women ". Also recalling the president "we will never forget that the first two women's medals in the history of Spanish Olympics are for two judokas, from here I also want to congratulate the federation and all its athletes for the recent successes obtained in Prague.
Executive Committee
Mr. Juan Carlos Barcos – President
Mr. José Luis VALCÁRCEL – 1st Vice President
Mr. Manuel D. MUÑIZ – 2nd Vice President
Ms. Victoria ROMERO – General Secretary
Mr. Gonzalo GONZALEZ – Executive Director
Mr. Francisco VALCARCEL – Board Director
Ms. Carmen CALVO – Board Director
Mr. Victor VALLE – Board Director
Mr. Jesús SANCHEZ – Board Director
Ms. Sara ALVAREZ – Sports Director
Author: Thea Cowen
---