Prior to the final block on day two of the Veteran European Judo Championships 2022, there was already plenty to celebrate. Firstly, both the President and Head Referee Commissioner of the EJU, Mr Otto KNEITINGER and Mr Franky DE MOOR awarded two members of the refereeing team for their significant commitment and service to their nations and further afield.
Bronislava BEDNAROVA and Alfonso ARJONA have dedicated many years to the Czech and Spanish judo communities respectively.
Arjona has been involved with judo since he was a child and began his career of refereeing at 18 years-old, for him a natural transition when the opportunity arose. It is tough to stay committed to such a role and travel internationally, it is purely the love for the sport, however Arjona makes it clear that friendship is one of his driving forces. Both on a national and international level, he appreciates that he is part of the bigger picture, part of a judo family.
Bedranova on the other hand actually started with volleyball before she transitioned to judo at 12 years-old thanks to a decision from her mother. In that time she became a competitor for the then, Czechoslovakia until she was 27, and in this time had also trained to become a referee, achieving her B-license in the early 90's. She tells us that this is a special sport, making friends all over the world and that judo has helped her through some of her toughest times, and now she will continue to help others by instructing the future generation of referees. Receiving this award was a surprise for her and it was very humbling to be recognised for her contributions.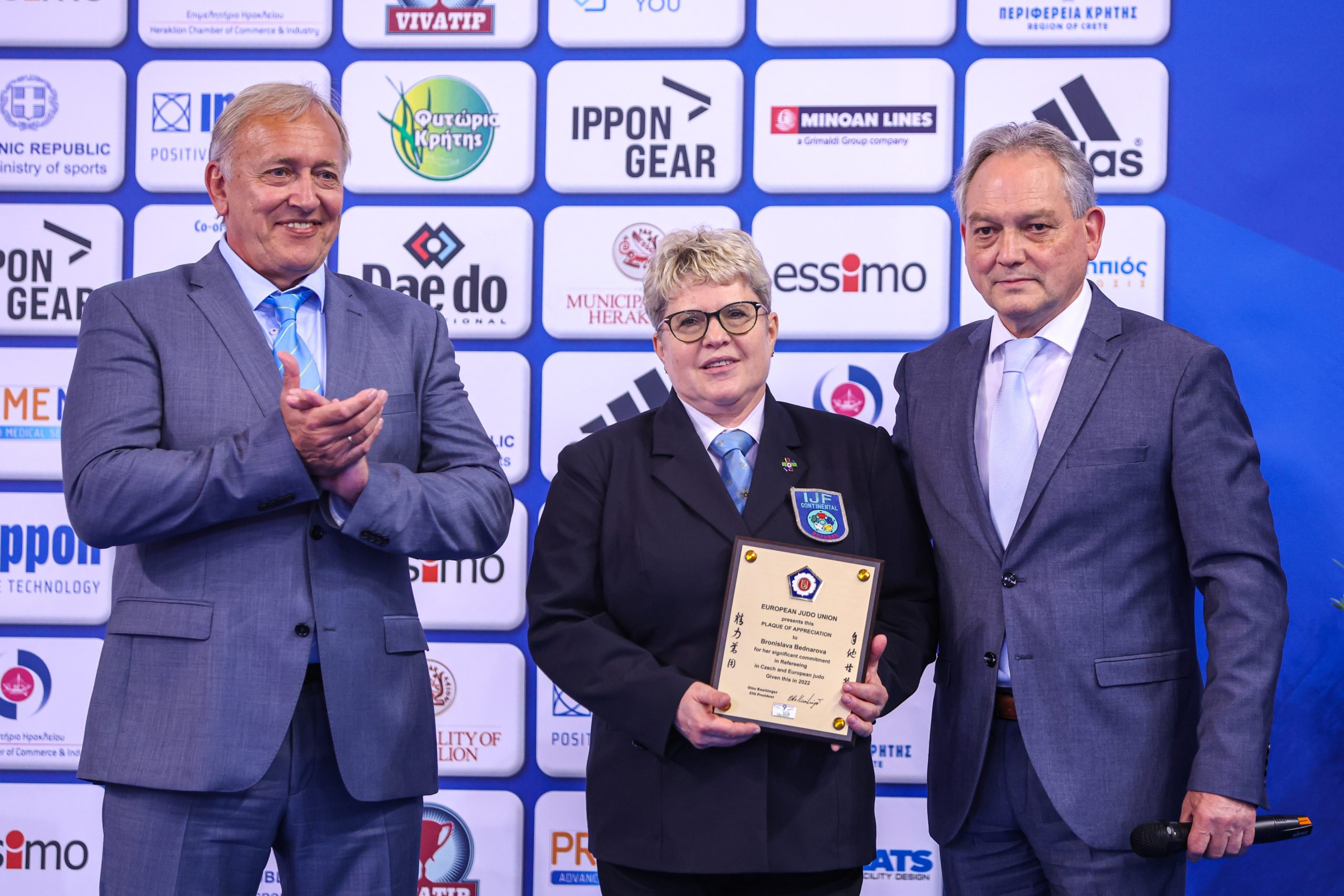 President Otto KNEITINGER, awardee Bronislava BEDNAROVA and Head Referee Commissioner Franky DE MOOR.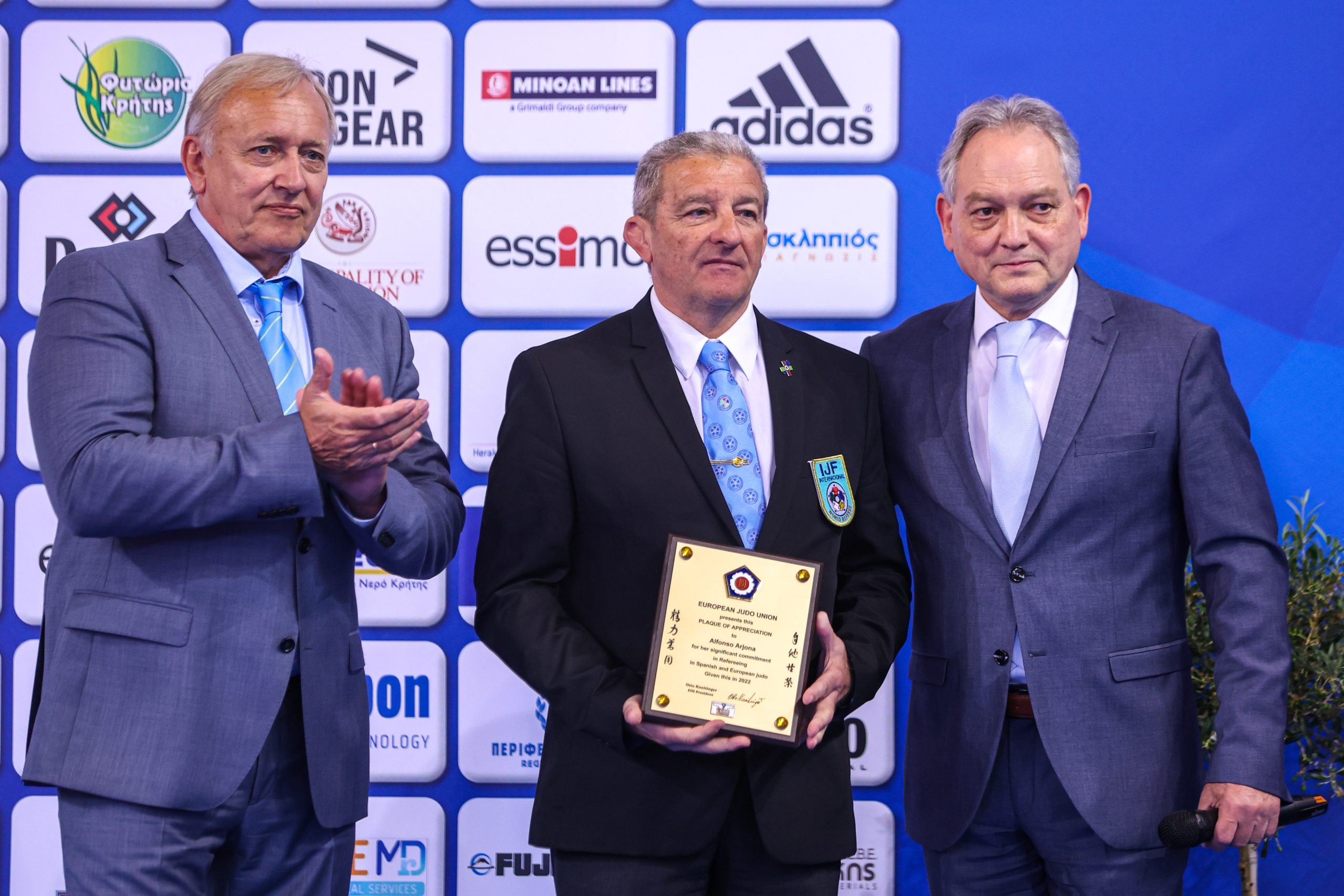 President Otto KNEITINGER, awardee Alfonso ARJONA and Head Referee Commissioner Franky DE MOOR.
Also amongst us was a very special guest. Mr Kneitinger presented an award to Mr Nikos KLOUVATOS of Greece. Klouvatos is a 93 year-old judoka and was here honoured in recognition of exemplary behaviour that promotes the spirit of judo.
The 7th Dan also holds the title of the longest-serving active judoka in the world and is an example of the beneficial properties of sport on our health. From a young age he had a great love for gymnastics which encouraged him to engage in many sports. But in the '60s he settled in martial arts and specifically in judo.
Judo won me over because, first of all, it is a polite sport, it trains the whole body and does not have many injuries.
At first he went as a spectator, then began training at the age of 35. Initially he expressed concern about his age to his peer coach, since everyone was under 20 years-old. Not only did they accept him, but both the club and sport embraced him.
Klouvatos confessed that his motivation to continue for so many years is clearly his love for judo and sports in general. He has coached many athletes who "have become more important than him", receiving only moral satisfaction. However, he believes that his constant presence in the field of judo made him achieve everything he has achieved so far in his life. Amongst which, he had an English language school and has travelled to over 100 countries.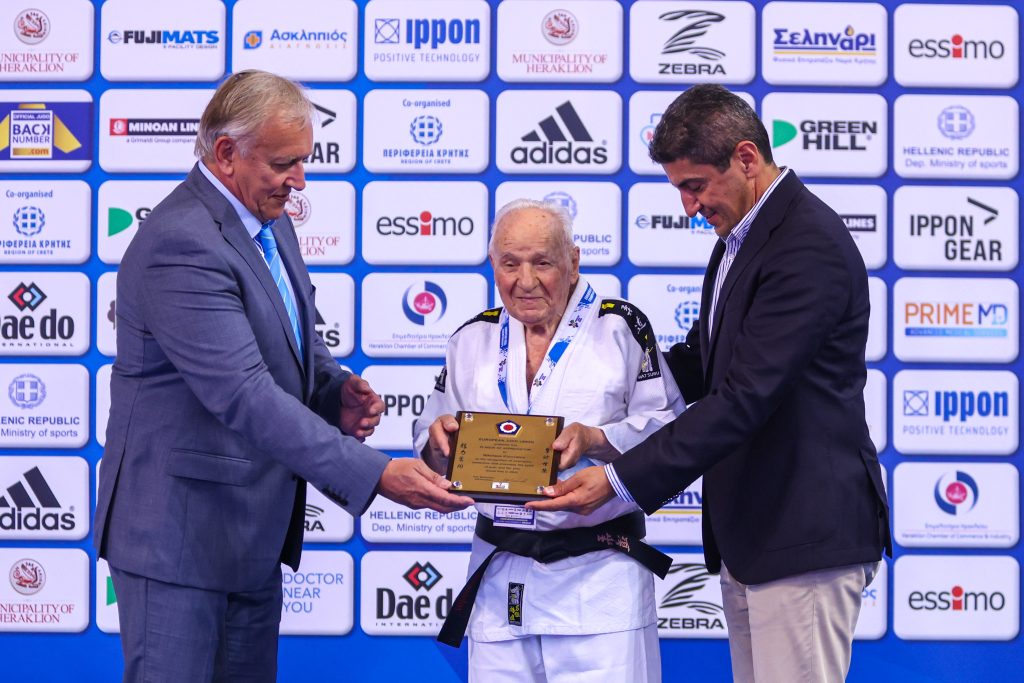 There were no opponents for Klouvatos on Friday, June 3rd, in Dyo Aorakia, Heraklion, Crete.
I have never been to a European Veterans Championship event and our federation has found a way for me to participate.
The holding of the championships in Greece aroused his interest and given that for the first time he will be in front of the public of his homeland, it created a desire to travel to Crete as soon as possible. He did not hide his joy for the undertaking of such an important sporting event by his country, congratulating the Hellenic Judo Federation.
Since he did not start early, it was difficult to compete in judo but fortunately the HJF regulations state that Dan grades can be given to pillars of the sport with a recognised track record. At the same time, he stated that he is happy with the fact that,
it is possible to award athletes who have shown exemplary attitude in the promotion and development of the sport.
Lifestyles, such as that of Klouvatos, reinforce the ideals that our sport advocates and show us what we can achieve regardless of age. Even with the intense periods that Greek society has undergone since 1929, the love for sport and judo that Nikos Klouvatos has, has remained unparalleled.
President Kneitinger has great respect for the veteran competitors, those who continue to be the pillars of our community. Though he will be handing the presidency reigns over this month, he will remain as Vice President and supporting the judo community, a pillar himself for many in this sport.
Author: Thea Cowen
---