After great success at the World Judo Championships in Baku, we were not left disappointed with the level of talent and ability here at the European Judo Open in Glasgow. The home nation crowd certainly provided a tremendous atmosphere for all the athletes, not least their own. They were fortunate enough to have over thirty athletes competing today, some of which making the final block in the evening.
The British superstars of the day were Josie STEELE in the -57kg category and Alexander SHORT in the -66kg category, both of the young athletes taking gold in their respective weight classes. SHORT had a technically sound day on the tatami, showing that no matter the physical strength, 'judo' wins the fight. The 21 year-old does not boast a collection of notable results as his wealth of opportunity has not been as great as his opponents, however this did not create an issue for the Scotsman as he won three of his contests with indisputable ippon scores. Diving four minutes in to golden score did not pose an issue for this athlete either, SHORT showing that his conditioning can match anyones and more.
His final contest against Adrian NIETO CHINARRO (ESP) was over in under a minute, the British athlete attacked with harai maki komi, ending his final contest. The gold medal was well earned.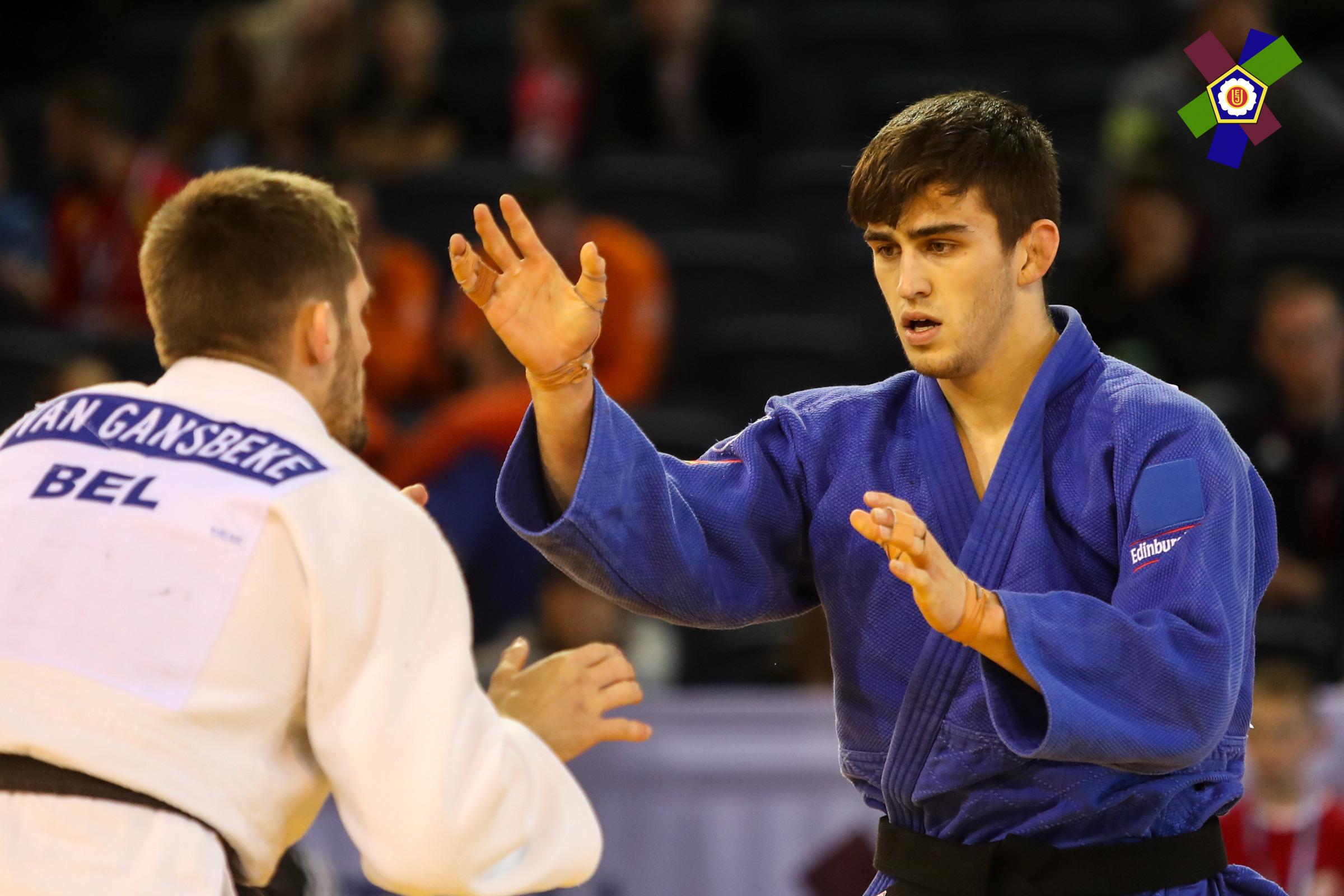 ---
The 18 year-old Scotswoman, STEELE, was performing in front of a predominantly Scottish crowd today in Glasgow and much to their delight she fought tirelessly to make it through each of her contests and in to the final round. This was the athletes first tournament as a senior competitor; feeling no pressure she took each fight as it came and performed outstandingly. When asking how she felt after the medal ceremony she told us,
"I'm feeling a bit overwhelmed to be honest, this is my first senior competition and to win it is quite amazing."
Surprising herself, STEELE didn't come in to the arena today knowing that she would take home a medal, but she came in to each contest with a clear view and when making it to the final, gave it her all, which proved to be more than enough.
The junior athlete has proved her worth time and time again on the junior circuit and will carry on focussing her efforts here. She has her sights set on a Junior World Championships medal which is a priority for the European Open gold medallist, and will carry on in her junior career, perhaps adding more senior titles to her collection.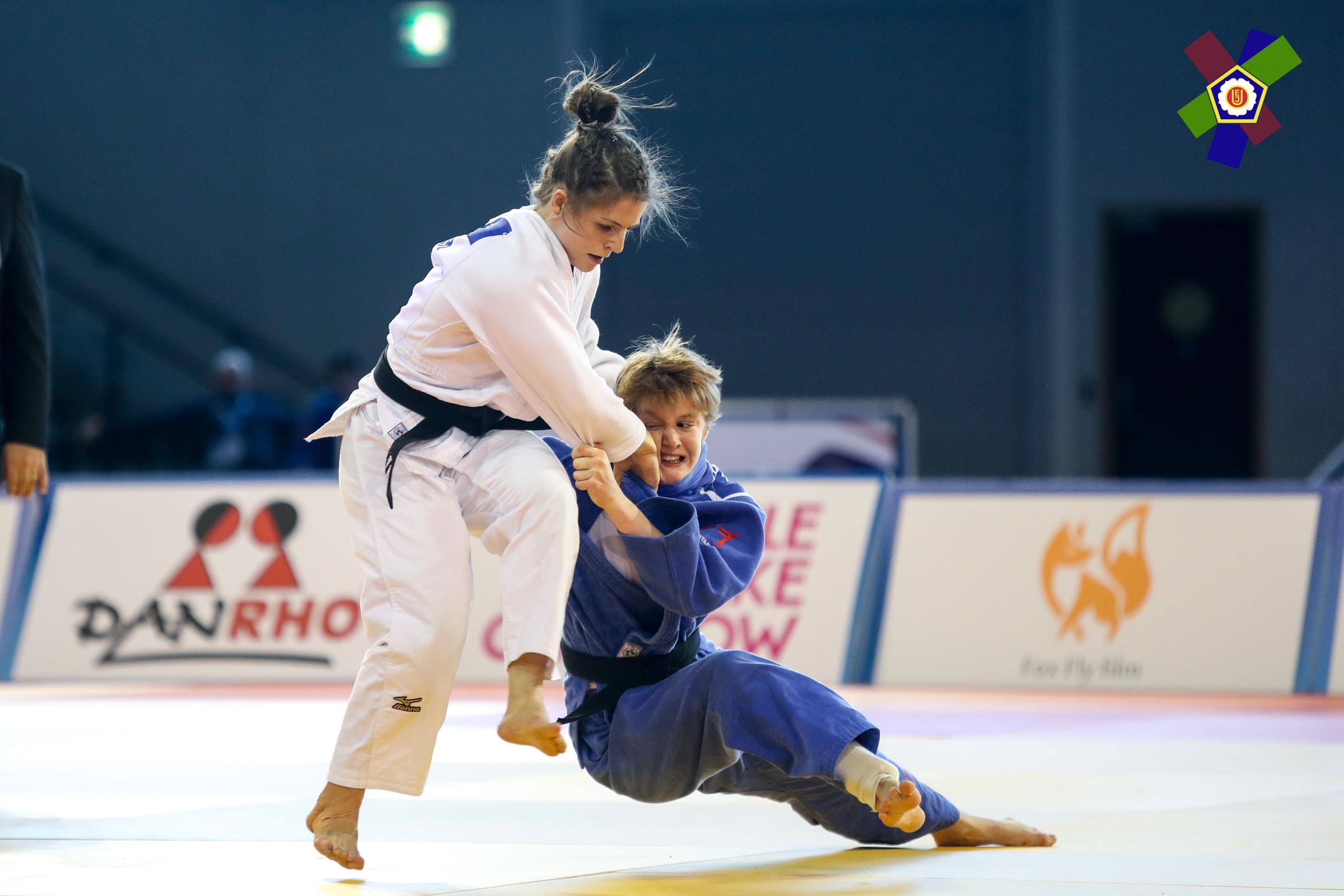 The road to gold was not an easy one for Josie who isn't afraid of a fight, but coming in to the semi final against Malin WILSON (GBR) was unfortunate,
"We are training partners, Malin and I fight all the time, I know she's strong in ne waza and there was a close one with her but I did what I had to do."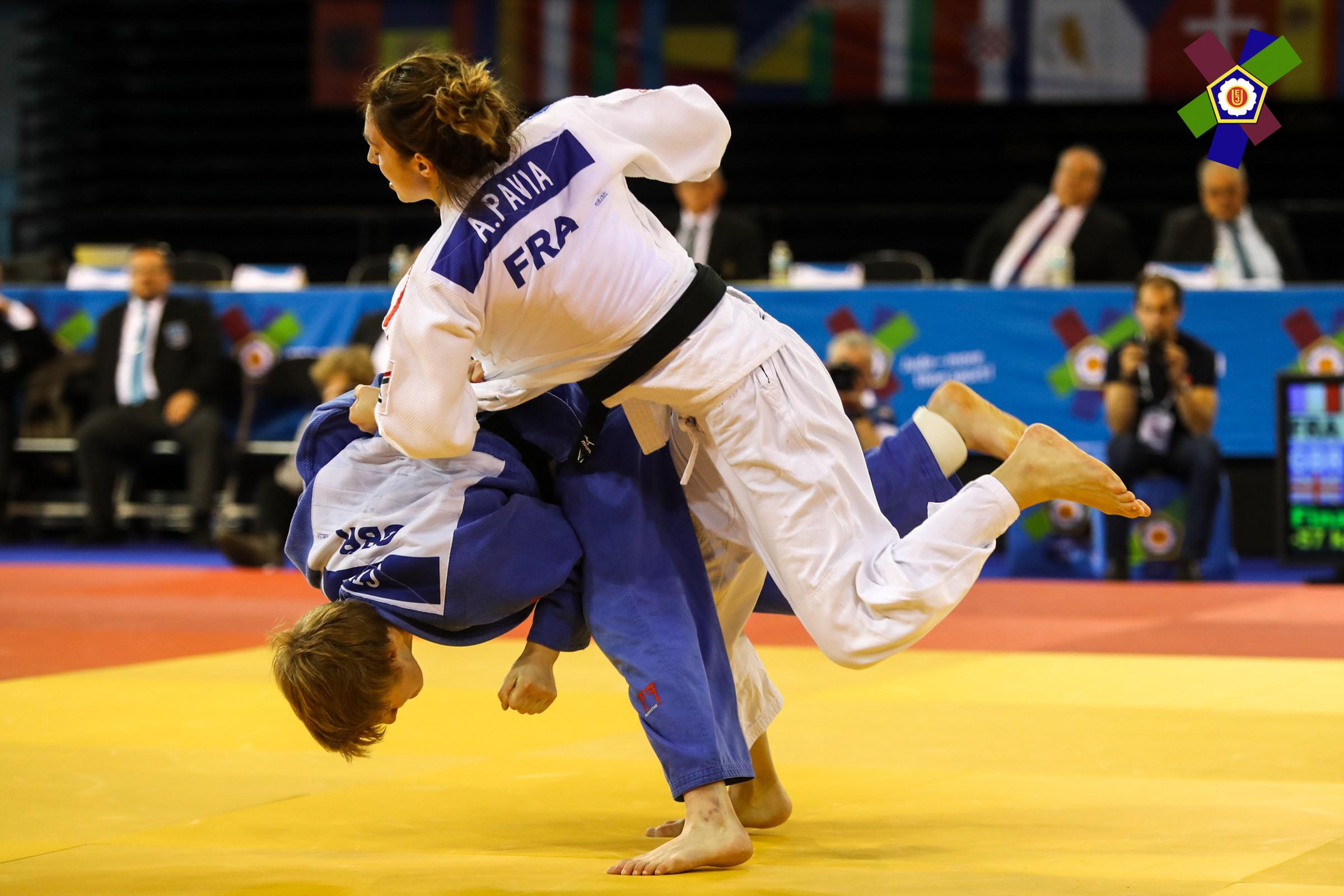 After passing her training partner she was left to face Olympic and World bronze medallist who has recently returned to the competitive stage after some time out. Automne PAVIA (FRA) also had a very strong day, the experienced athlete putting her high level judo to use. The final contest went in to golden score, STEELE two penalties down and fighting to stay in the running for the gold medal. We asked how she felt mentally going in to this fight against such a high level athlete in her first senior tournament,
"It did have a little bit of an effect on me, but it meant there was no pressure for me to do well and I did not want to glorify her too much till the fight was over. I'd watched other people, other British girls fight her today and they'd fought quite well so that gave me confidence that I could do well myself."
The British athlete had a brilliant day, it certainly went her way and she proved her weight in gold on the tatami. It was a strong contest for STEELE, eventually catching PAVIA with a winding, low kata guruma. We can only hope for more for this young woman as she continues on in her judo career.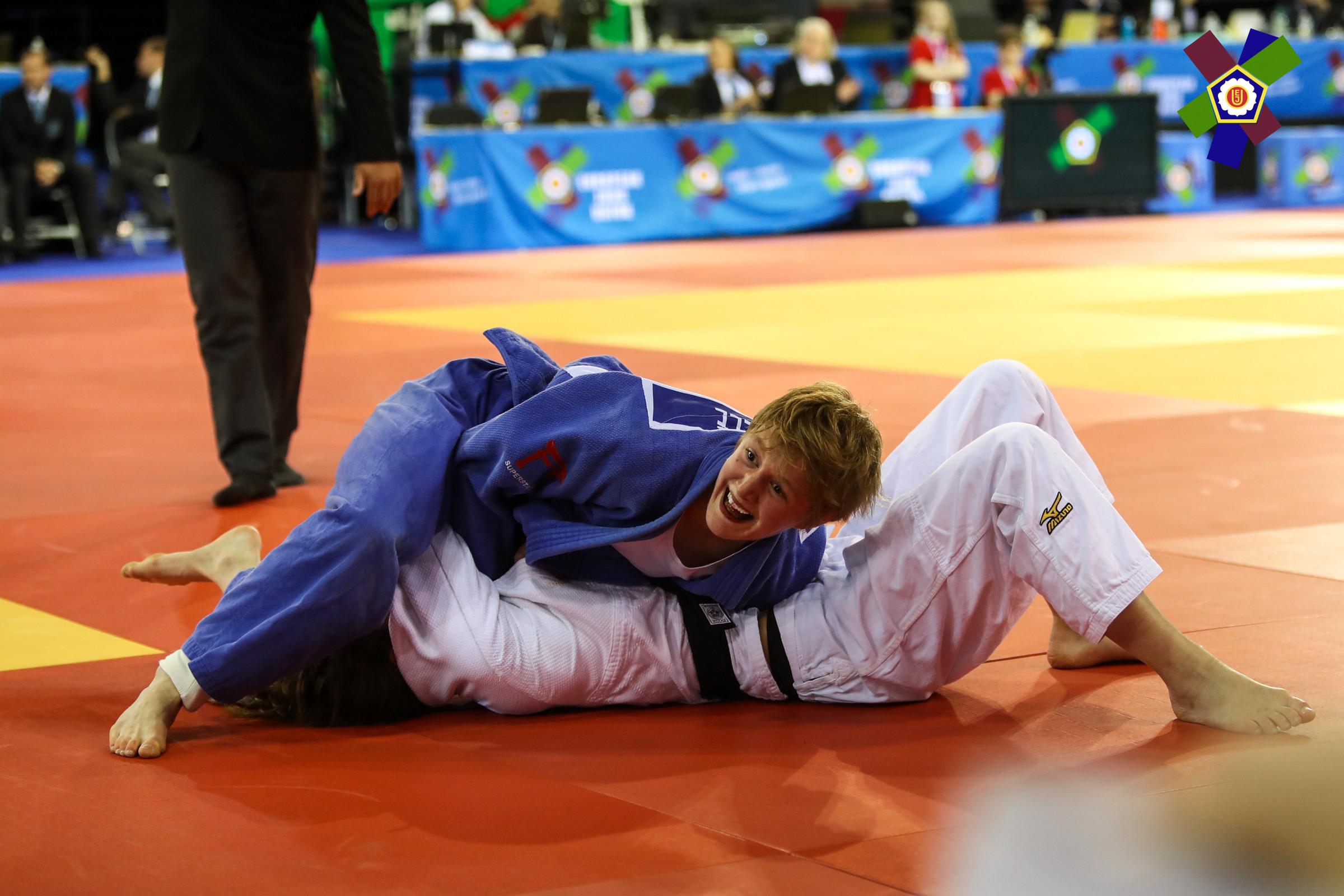 ---
As we have just completed the World Judo Championships a week ago, very few of the world level athletes were in attendance. However, no one can deny Automne PAVIA of France the recognition of her return to the senior circuit after taking time out with her daughter.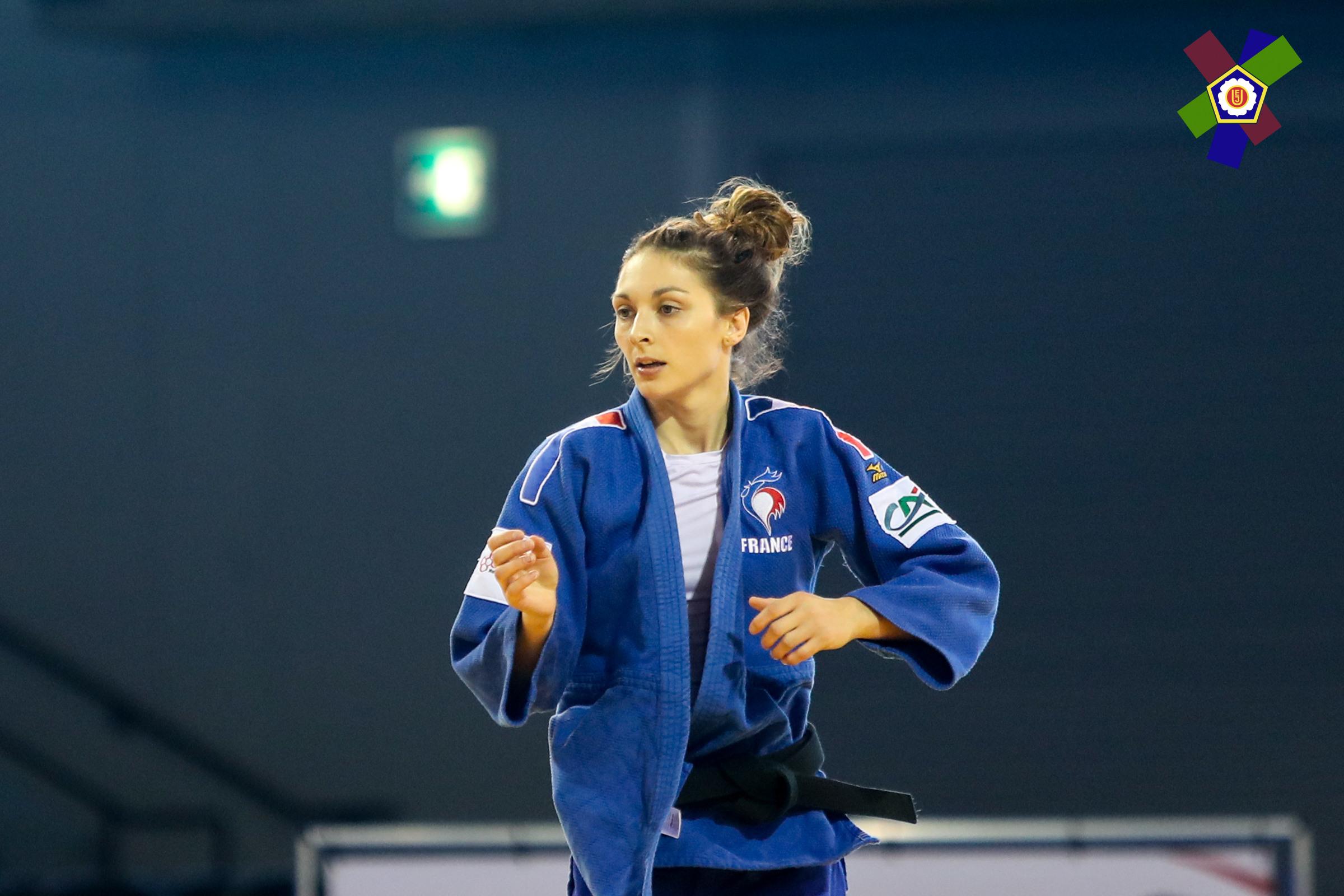 Prior to the World Judo Championships, the International Judo Federation held their first Gender Equity conference. The aim is to make judo more available to women who face gender-related issues that men may not, for example, starting a family. PAVIA joined the determined group of mother-athletes when deciding to focus on her child before returning to the tatami. Talking to her at the end of the day she explained,
"It is hard to come back, I know I need time. I cannot lie I am happy with my life and my daughter, it is not easy dividing the time between training and home life, I think I still need to find an equilibrium. I know that I can do it if I want it, but it is hard to leave her to come to competition and I fought very hard girls today and it is what I need to do."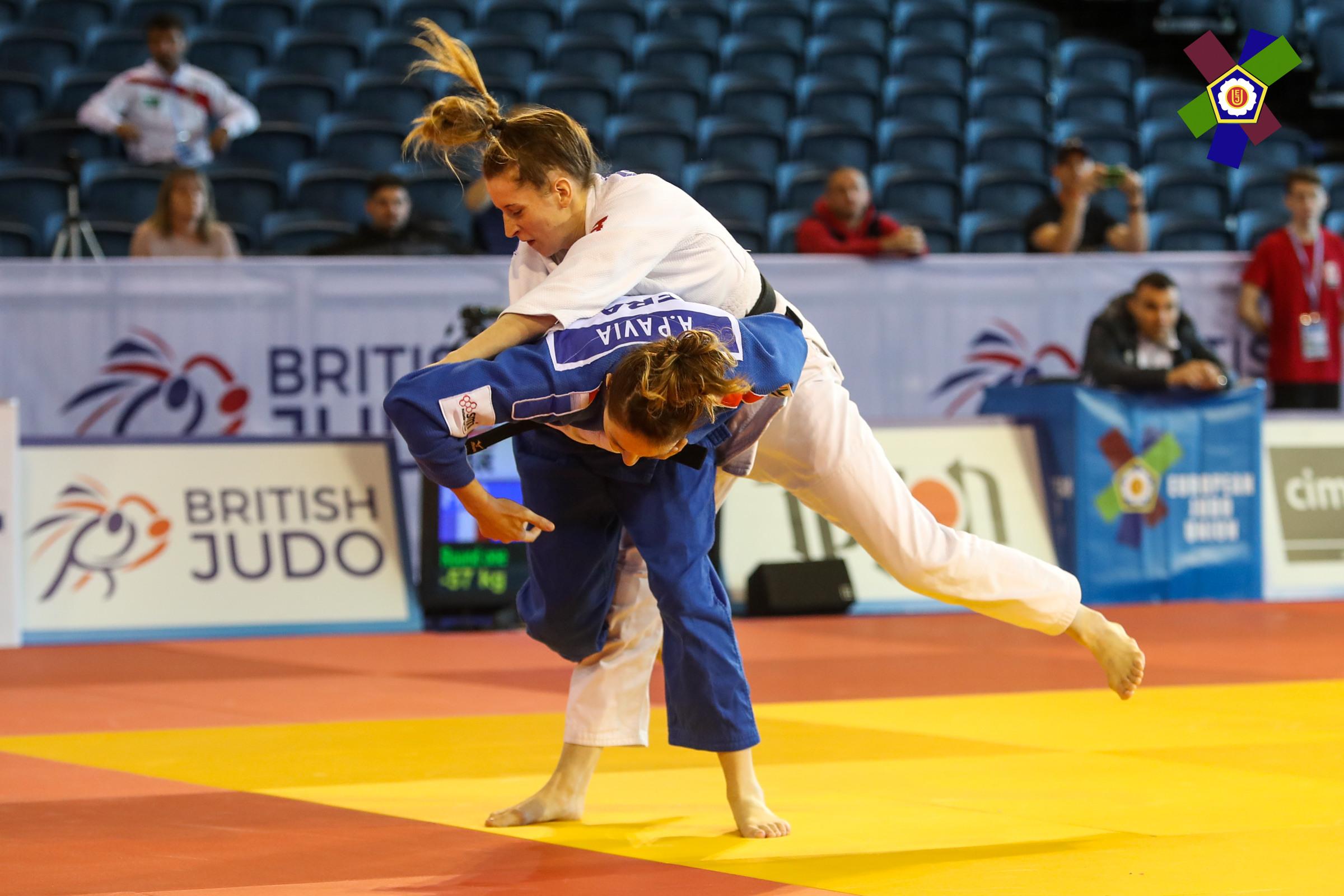 As many will know, the life of an athlete is not an easy one, with lots of sacrifice and dedication to achieve a World or Olympic title. Asking if PAVIA had any words of encouragement for women with families who are finding this difficult, she told us,
"You must really really want this, only 50% is not going to work. It is good to have support, I am lucky, my federation and club support me. My daughter is my motivation."
PAVIA is not short of determination and though she has her World and Olympic medals, her goal is Tokyo, a World Championships final, and of course a gold medal. That is what she planned to have and will remain her goal.
---
After the first day, the four most populated nations in the tournament, France, Great Britain, Germany and Spain topped the medal table and will be looking to keep the top four places. With some strong competitors from other nations in the running tomorrow, and some surprise early exits today, they will be fighting hard for the final win.
---