The first day of competition here in Györ, Hungary, was a testament to the young athletes developing on the international stage in Europe.
-48kg
Junior World bronze medallist, Andrea STOJADINOV (SRB) had a very positive day in the -48kg category, defeating some tough opponents on her way to the final. Displaying a wide range of techniques, including a colossal harai goshi in her semi final against Elizaveta STEPANOVA of Russia, she showed her athletic maturity on the tatami. At only 18 years old, STOJADINOV seemed very collected today as she turned last years silver medal in to gold,
"I didn't have that much pressure on me because it is an older group than the one I usually fight and also it has happened so fast since returning from the World Championships so I felt like it was more like experience for me."
The Serbian athlete's final was against Daria PICHKALEVA (RUS) who had also pulled out all the stops, defeating the number one seed on her way to gold medal contest. No stranger to success, PICHKALEVA has picked up a series of European Cup titles this year including Saarbrucken, Bratislava and Orenburg. The much anticipated final did not leave the spectators disappointed, both young women fighting in a positive manner. STOJADINOV was first to put a score on the board in the opening minute of the contest but the Russian caught up, putting pressure on the Serbian. However, she kept calm and secured a win within the four minute contest time, winning all of her contests on day one by ippon.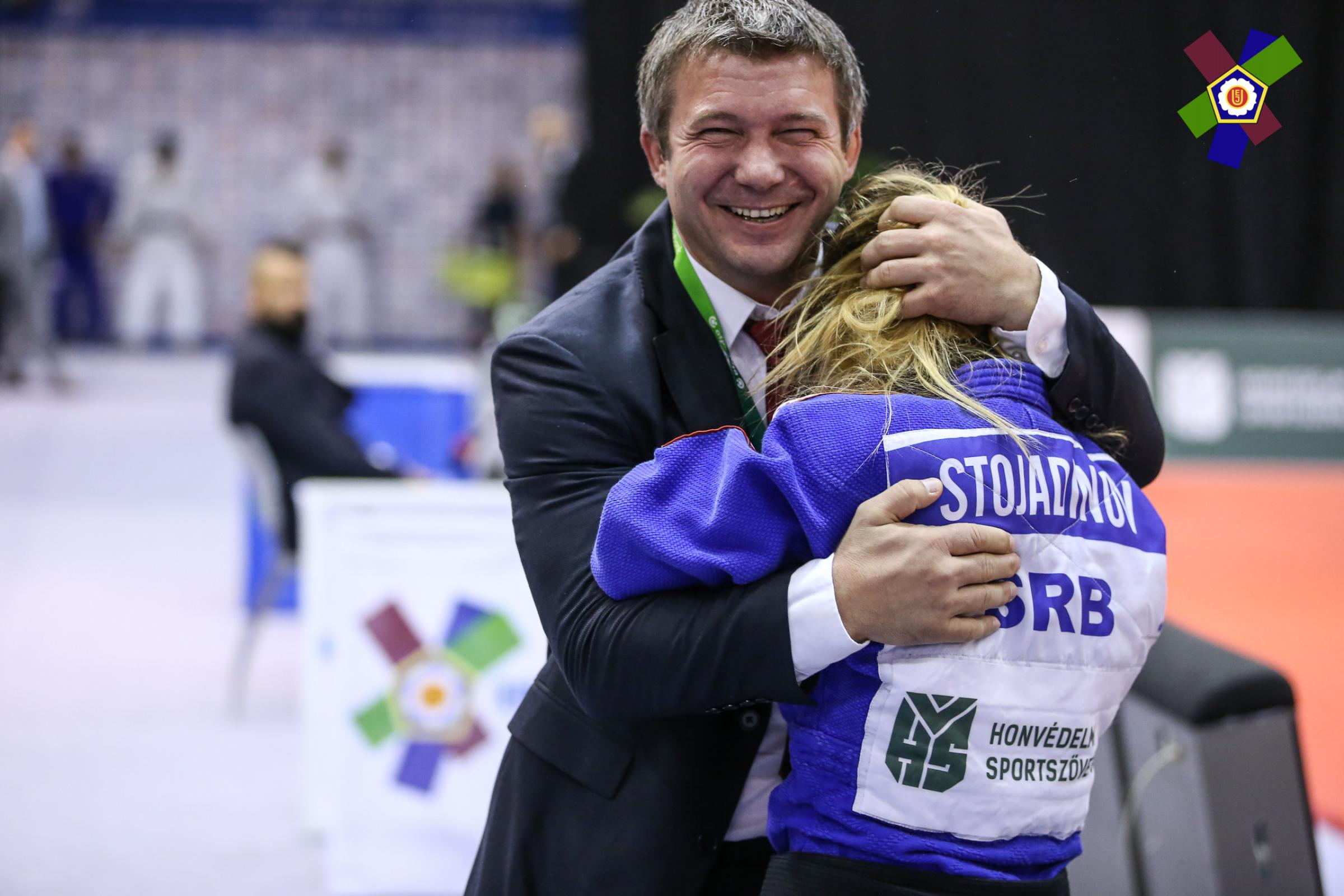 -52kg
Betina TEMELKOVA,originally from Bulgaria, has fought for the Israeli National Team for the past year and a half, raising the flag of Israel on multiple occasions and today heard the national anthem. Regardless of the flag, TEMELKOVA has had a successful junior career, picking up both World and European medals.
The Tashkent Grand Prix gold medallist had a tough road to the final, defeating Mariam JANASHVILI of Georgia and Nina Estefania ESTEO LINNE (ESP). She came up against home nation representative PUPP Reka (HUN) in her fight for the gold medal. The pair battled it out, neither managing to put a score on the board in the first four minutes despite some close techniques. Though difficult, it was clear TEMELKOVA had a plan against the Hungarian and was waiting for the opportune moment so that her technique would be succesful. Her perseverance meant that fifteen seconds in to golden score she threw for waza ari and took the third medal and only gold for Israel on the first day.
The two have met previously, the last occasion was in the team event of the World Championships where PUPP came out on top,
"In the World's I lost to PUPP so it was very important for me to win the final. I train hard with my coaches on my judo and tactics and this helped me to win this time."
The 21 year old was happy with her result but has other goals she must focus on,
"Next week I have the Tashkent Grand Prix and will also compete in The Hague Grand Prix, this was preparation for my senior competitions and I am very happy with my performance today."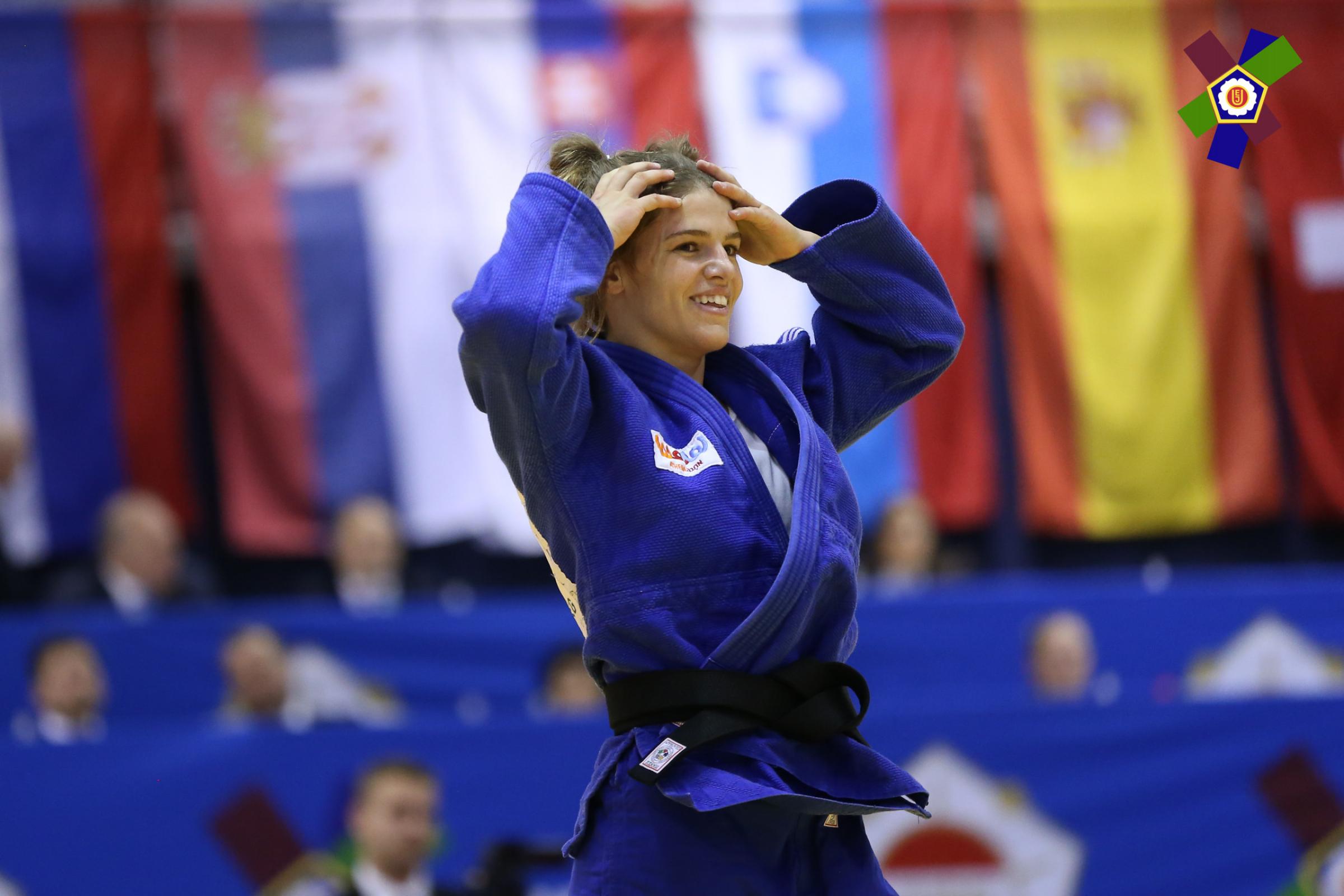 -57kg
Throughout the day, Julia KOWALCZYK (POL) took control of her -57kg category contests. When asking how she felt about her performance today she told us,
"I knew that I can win here, but my first contest was really tough, it was against an athlete from Kosovo (Flaka LOXHA) and we all know that they are really strong in gripping so it was really hard for me, my first fights tend to be very bad because I am really nervous" she laughs.
Though it was a successful tournament for the Polish athlete, she felt that competing last week in the Abu Dhabi Grand Slam had taken its toll. However, KOWALCYSK felt that she couldn't settle for another bronze medal position, her determination carrying her in to the final and to the top of the podium.
The final against Lele NAIRNE (GBR) was certainly a frustrating one for the Polish competitor, the British athlete managing to escape some very dangerous moves in ne waza. NAIRNE stepped up her game this year, taking a bronze in the Orenburg European Cup and taking her place in this final in Gyor. After a flurry of attacks from both athletes, KOWALCYSK used some timely ashi waza to score a waza ari in the final minute. She held on to this score to take her gold medal.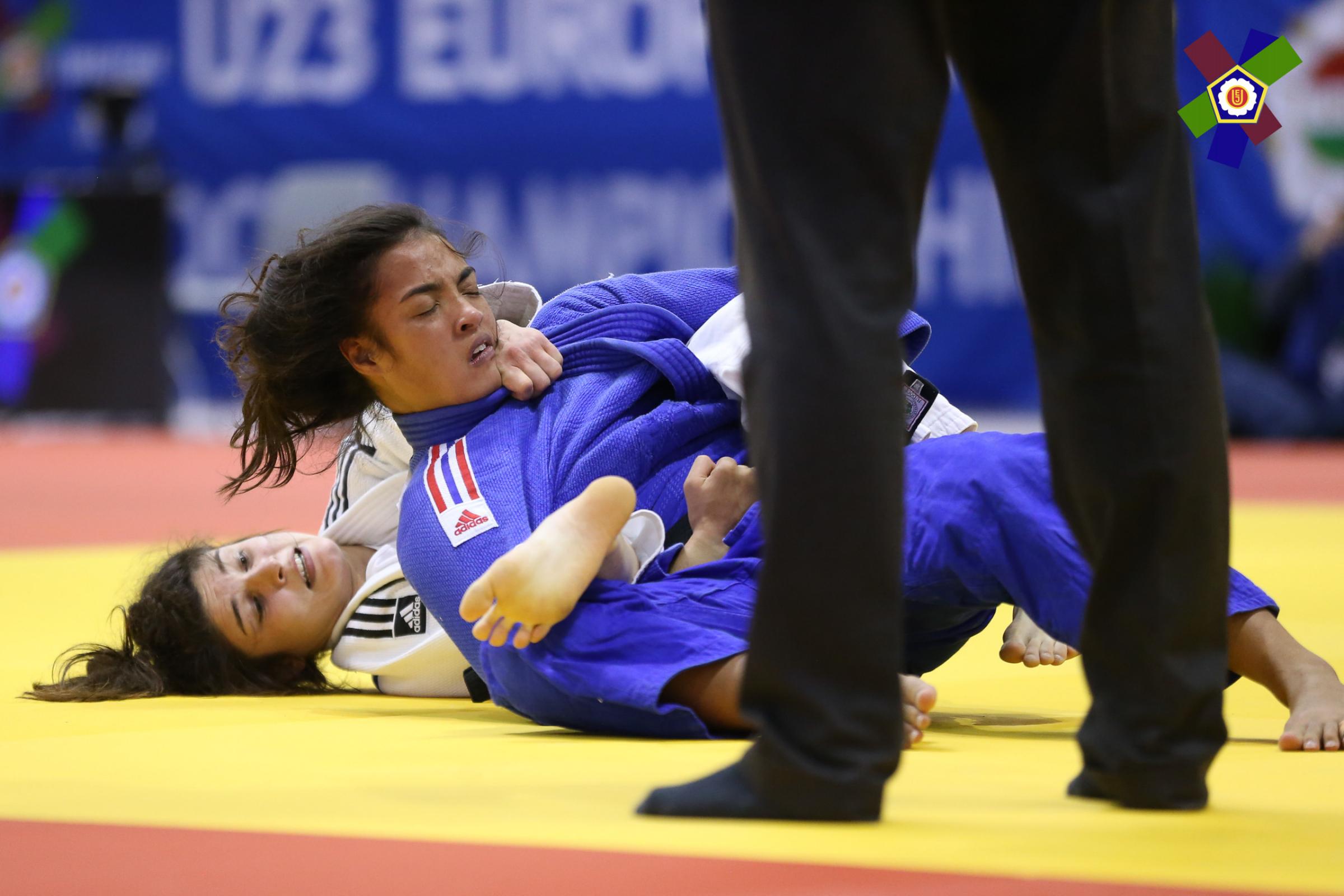 -60kg
The Russian champion, Yago ABULADZE demonstrated wonderfully positive judo today, making it through all four of his contests without conceding a single penalty. He picked up a silver medal last year in the U23 European Championships and much like STOJADINOV in the -48kg, wanted to improve on his results. 2018 has been an incredible development year for the Russian taking a gold medal in the Saarbrucken European Cup as well as a silver medal in Bratislava.
"I am very happy with my result today, I have been able to take part in more competitions this year and achieving the two senior medals has been good for me."
His final was set to be a difficult one, facing the Junior World bronze medallist and favourite in this weight category, Jaba PAPINASHVILI (GEO). Both competitors had an extremely physical day, both with similar styles of fighting. Unfortunately for PAPINASHVILI, he surrendered his equal footing as ABULADZE scored a waza ari that the Georgian could not match. Both athletes were clearly exhausted after this contest but earned their medal positions after an explosive performance throughout the day.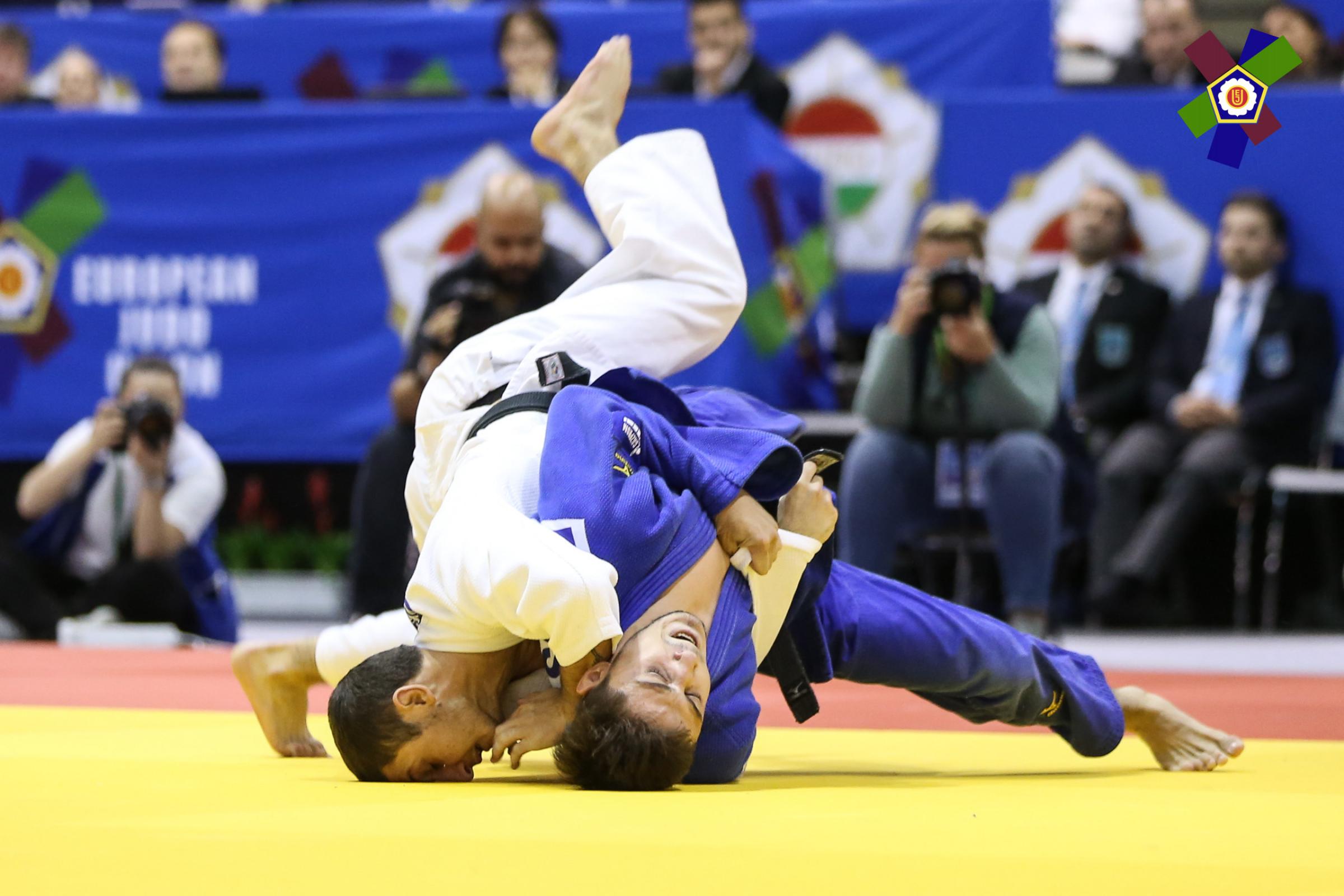 -66kg
The -66kg champion today, Alberto GAITERO MARTIN (ESP) devoured some tough contestants on his road to golden glory despite how he felt coming in to the tournament today,
"I am very happy with my performance, I have been ill recently and did not feel good stepping on the tatami today but I did my best and was successful."
The semi final against Tornike NAGIASHVILI (GEO) was especially difficult. The Georgian athlete was on form today, flying past his opponents with giant techniques, an ura nage in his first round contest drawing attention to his superb skills. However, an experienced GAITERO MARTIN, did not suffer the same fate as his predecessors, a close contest which was decided upon an athlete error, resulting in a disappointing disqualification.
GAITERO MARTIN, an experienced athlete in the senior division also, has collected bronze medals in The Hague and Cancun Grand Prix tournaments, as well as a European Open medal on home soil in Madrid. His final opponent Mirzoiusuf GAFUROV (RUS) also has senior experience, taking the gold in the Bratislava European Cup this year. The Spanish consistently showed off his throwing skills today and was quick to react with a counter attack against the Russian in the final to score a waza ari and take the win and a gold medal for Spain on the first day.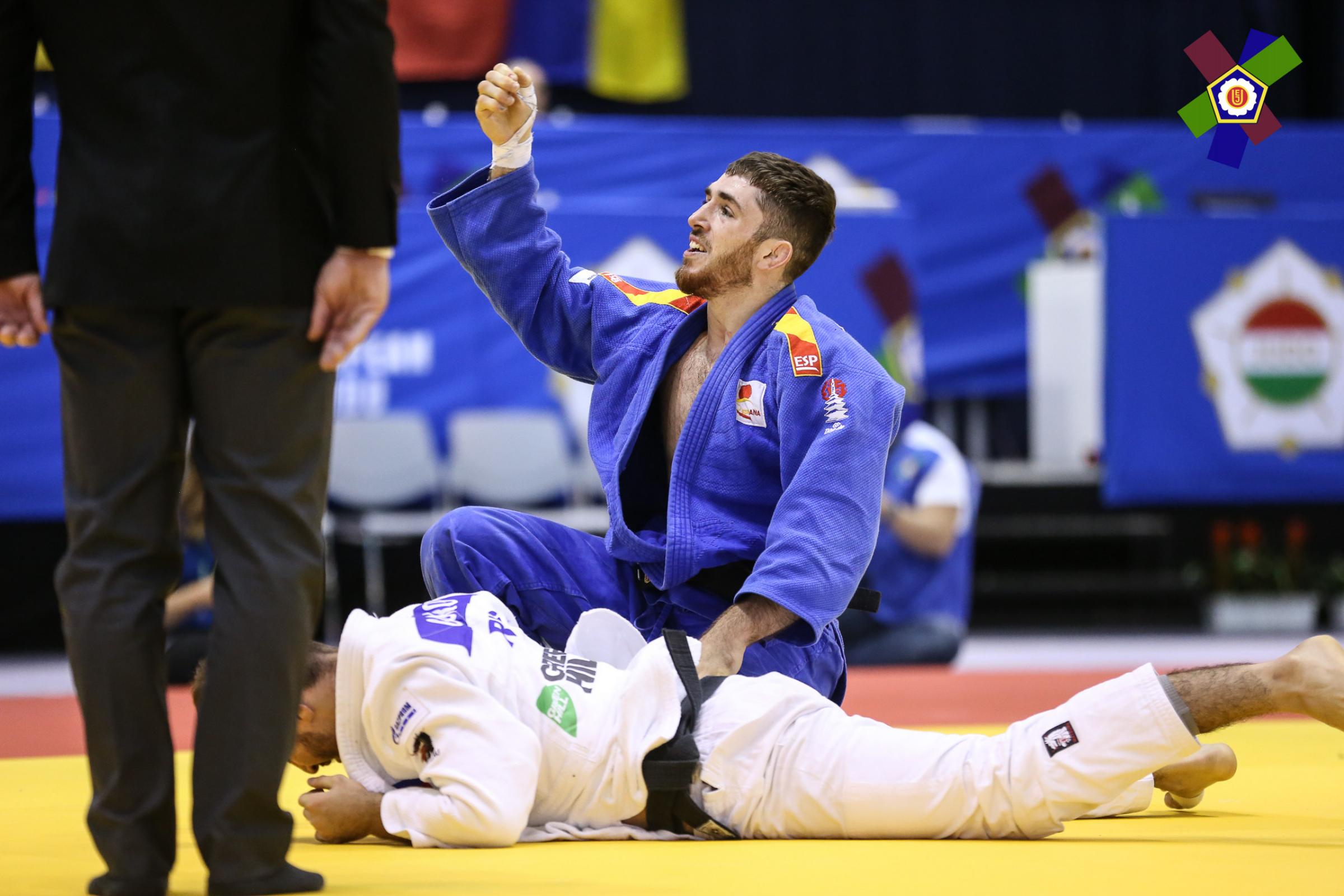 Gold medallist of the -66kg Alberto GAITERO MARTIN (ESP) – Emanuele Di Feliciantonio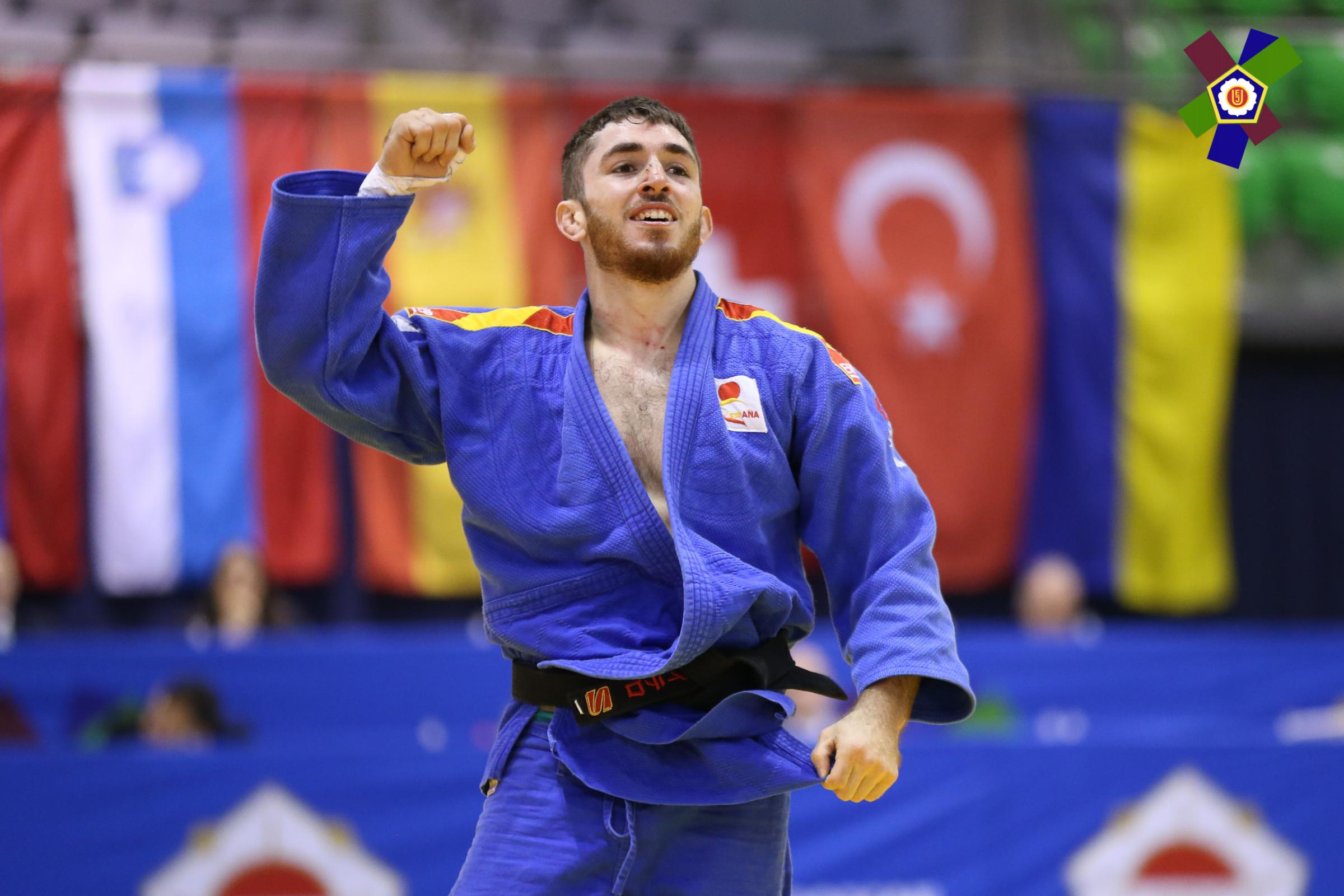 Emanuele Di Feliciantonio
By Thea Cowen, 2nd November 2018
---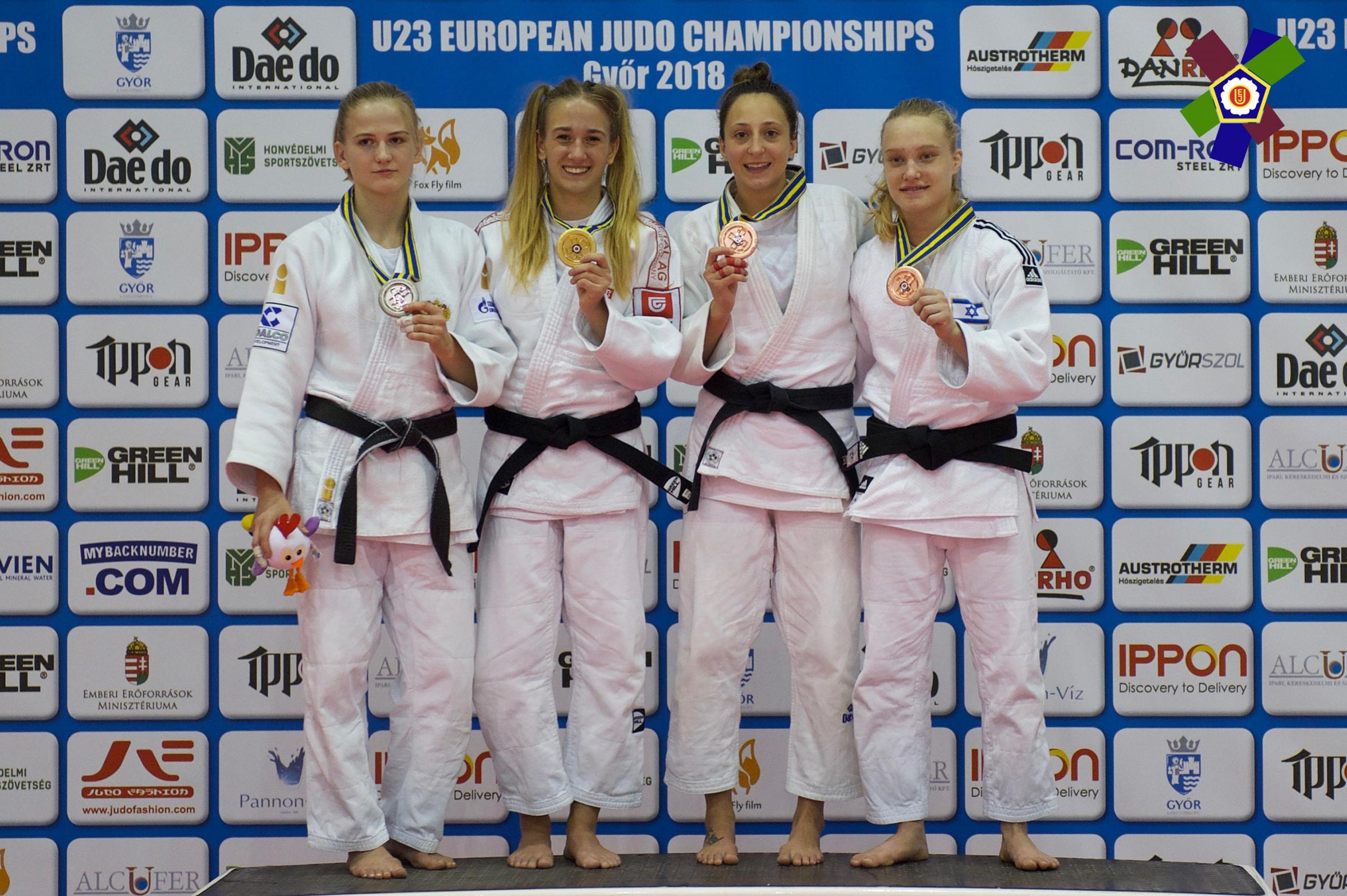 Podium -48 kg 1. STOJADINOV, Andrea (SRB) 2. PICHKALEVA, Daria (RUS) 3. LAPUERTA COMAS, Mireia (ESP) 3. MALCA, Tamar (ISR) – Anna Zelonija
Podium -52 kg 1. TEMELKOVA, Betina (ISR) 2. PUPP, Reka (HUN) 3. PIERUCCI, Giulia (ITA) 3. PLOTNIKOVA, Tatiana (RUS) – Anna Zelonija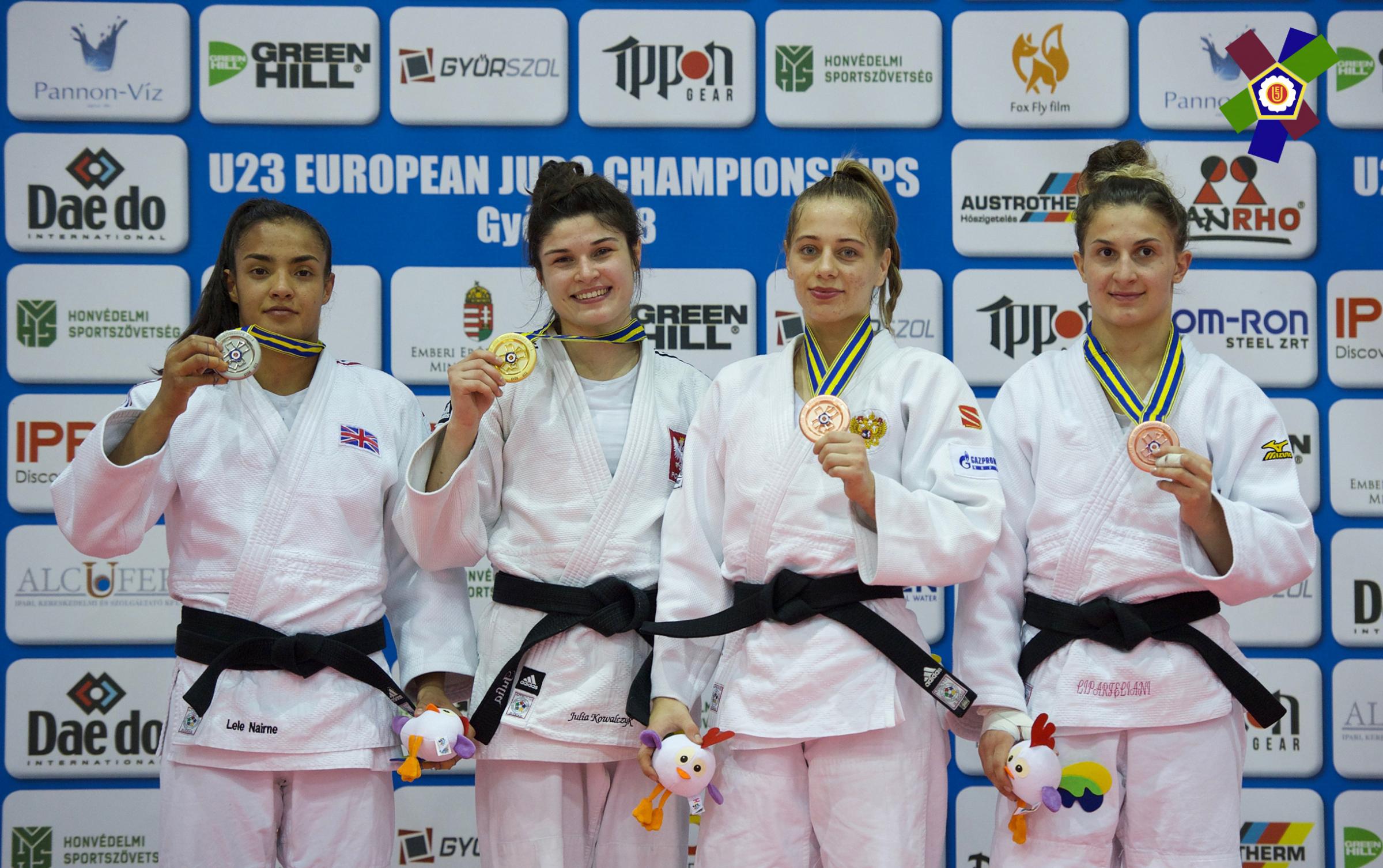 Podium -57 kg 1. KOWALCZYK, Julia (POL) 2. NAIRNE, Lele (GBR) 3. BAIDAK, Viktoriia (RUS) 3. LIPARTELIANI, Eteri (GEO) – Anna Zelonija
Podium -60 kg 1. ABULADZE, Yago (RUS) 2. PAPINASHVILI, Jaba (GEO) 3. DOLGIKH, Ivan (RUS) 3. YELKIYEV, Rashad (AZE) – Anna Zelonija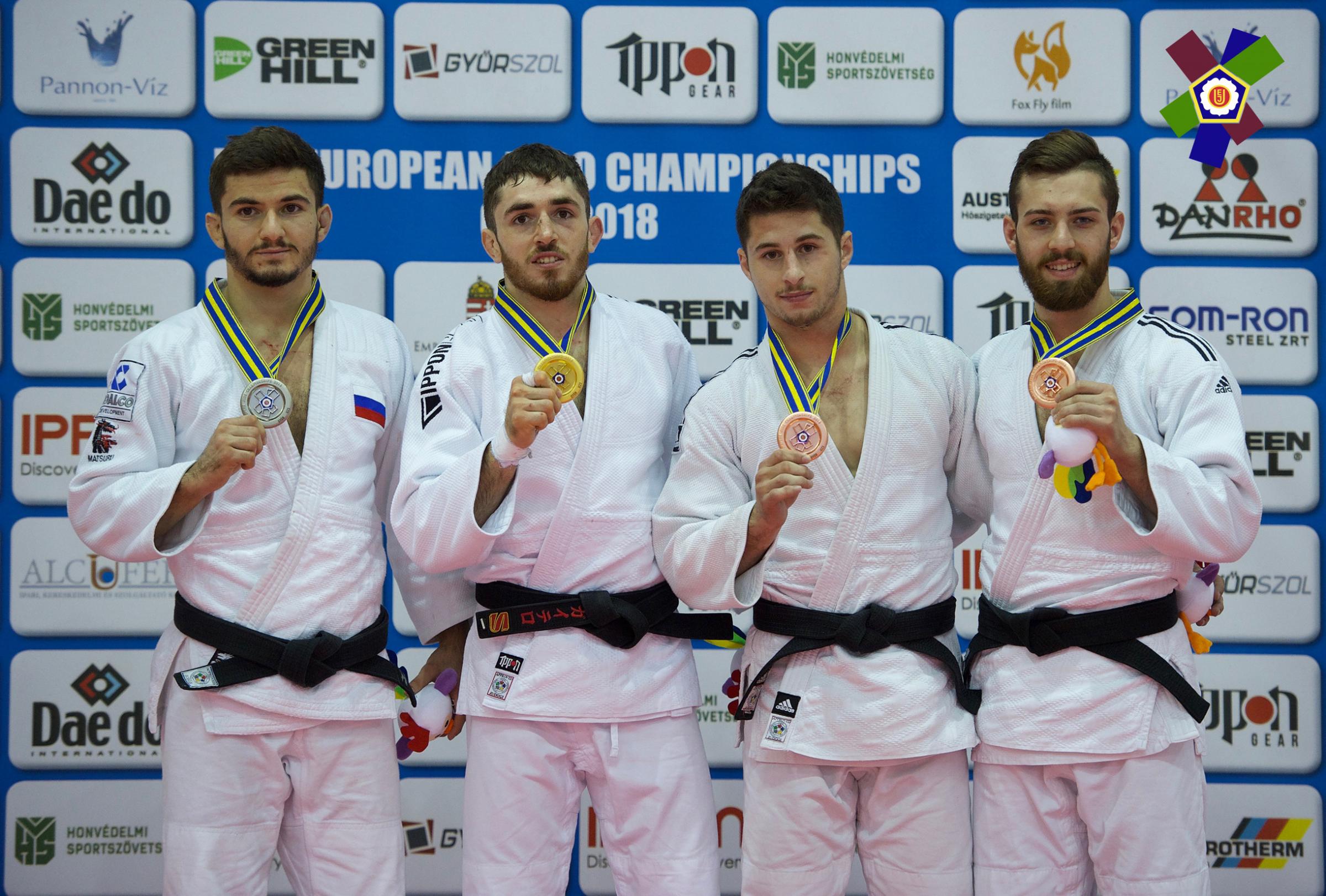 Podium -66 kg 1. GAITERO MARTIN, Alberto (ESP) 2. GAFUROV, Mirzoiusuf (RUS) 3. MENAGED, Yarin (ISR) 3. ZADRO, Petar (BIH)
---