Before any contest started in the final block on day three of the World Judo Championships Doha 2023, we knew that regardless of the result in the -73kg final, history was about to be made.
From neighbouring European nations Manuel LOMBARDO (ITA) and Nils STUMP (SUI) set about their mission for the world title with gumption. They impressed with their respective defeats, especially with Stump defeating HASHIMOTO Soichi (JPN) and making his way to the final with some wonderful ashi waza.
Incredibly, neither Italy or Switzerland have managed to secure a men's world title before today, though both have come close. For the Swiss team, Sergei ASCHWANDEN ('03) and Eric BORN ('93) have silver medals to their name and for the Italians; Ezio GAMBA ('79, '83), Francesco BRUYERE ('05), Matteo MARCONCINI ('17), Christian PARLATI ('22) and today's finalist, Lombardo ('21) all have the silver accolade.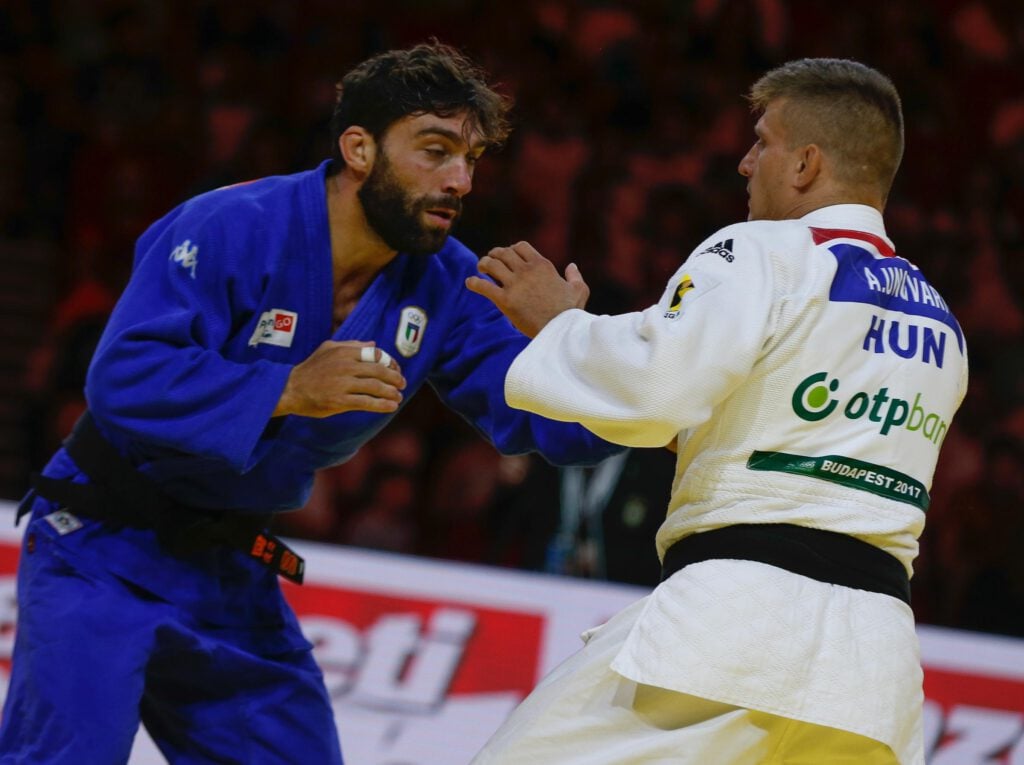 Lombardo stepped out with coach Rafaelle TONIOLO and Stump with Alexei BUDOLIN, both coaches have been working to develop their athletes exponentially. With no previous head to heads on the record, there was no way to know to even make an educated guess at how this would go, and the most exciting aspect is that it could be won with a range of techniques, both in tachi waza and ne waza given their extensive repertoire throughout the day. It was the perfect match, and the worst, as neither could find a way in, playing the waiting game they headed in to golden score. It wasn't a case of who had the better judo, but who would make the mistake.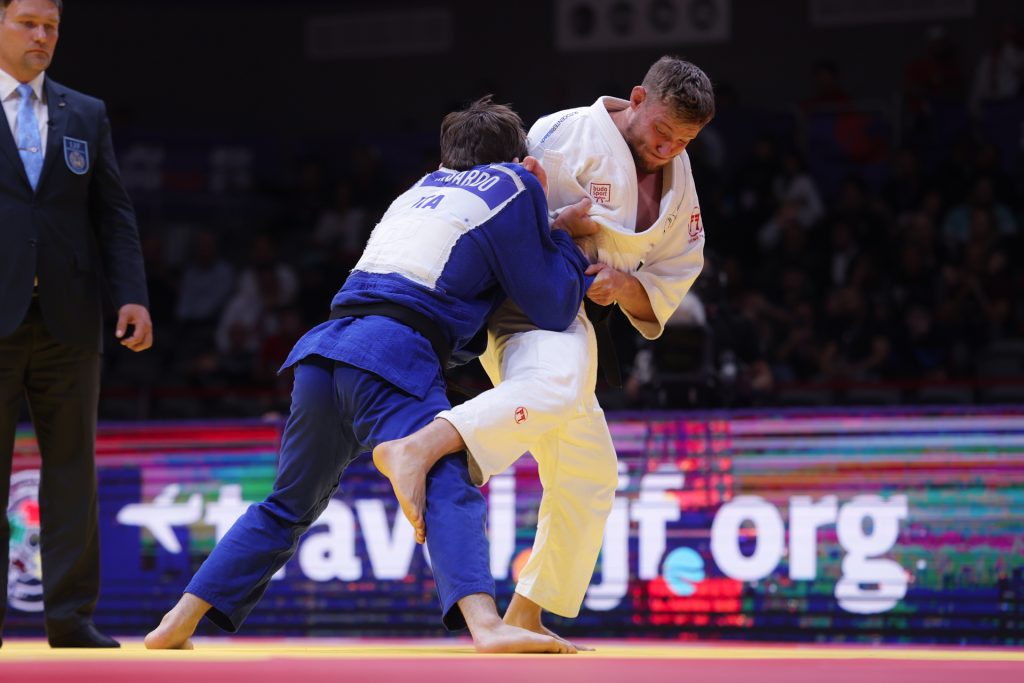 In the end, the mistake came from Lombardo, a strong seoi nage attempt was rendered useless as his head touched the tatami first and resulted in disqualification, awarding Stump with the gold medal and world title. Due to the way in which his medal was won, the celebration was almost non existent, instead he welcomed a congratulations from his coach as he walked off.
President of the Swiss Judo Federation, Aschwanden was of course proud of the result,
Nils progressed from year to year and he won on experience and stability. His performance today was tremendous and it shows with work and confidence you can go very far. The work between Nils and Alexei shows us how important it is to have trust and a good relationship to have big results. Congratulations to Alexei. Hopefully this title will help our sport to develop and gain members, we as a federation have to work on it.
Coach Budolin is very happy with the results his athletes have been achieving across the board, but this is a highlight. Budolin also has a world championship bronze from 2003 competing for Estonia, sharing the podium with Aschwanden, as well as an Olympic bronze in 2000, so he knows what is required be at the top.
Hidayat HEYDAROV (AZE) competed for bronze against Hashimoto but couldn't find himself in the contest against the dominant Japanese and was forced to settle for a fifth place. Next up, one of three Canadians in the final block, Arthur MARGELIDON went up against Murodjon YULDOSHEV (UZB), it was a contest decided on shidos in favour of Yuldoshev.
Unfortunately for Europe, Pan-America and Asia took home the medals in the -57kg category with Christa DEGUCHI (CAN) reclaiming her 2019 world title against FUNAKUBO Haruka (JPN) in just over a minute and a half in a calm yet effective performance. Mongolia's LKHAGVATOGOO Enkhriilen took the first bronze, and the second went to Jessica KLIMKAIT (CAN). The only European to compete in the final block was Hasret BOZKURT (TUR), who managed to defeat two Olympic champions; Nora GJAKOVA (KOS) and Rafaela SILVA (BRA) in her senior world debut.
Judoka
Author: Thea Cowen
---