The first day of the 2018 Junior World Judo Championships ended with Japan winning two of the four gold medals resulting an overall lead of the medal table. Europe managed to bite a piece of the cake too as the other two gold medallists were Daria BILODID of Ukraine and Rovshan ALIYEV of Azerbaijan. All in all today, the total number of eight medals were collected by European judoka. For the winners there was an additional 700 Olympic qualification point also on offer.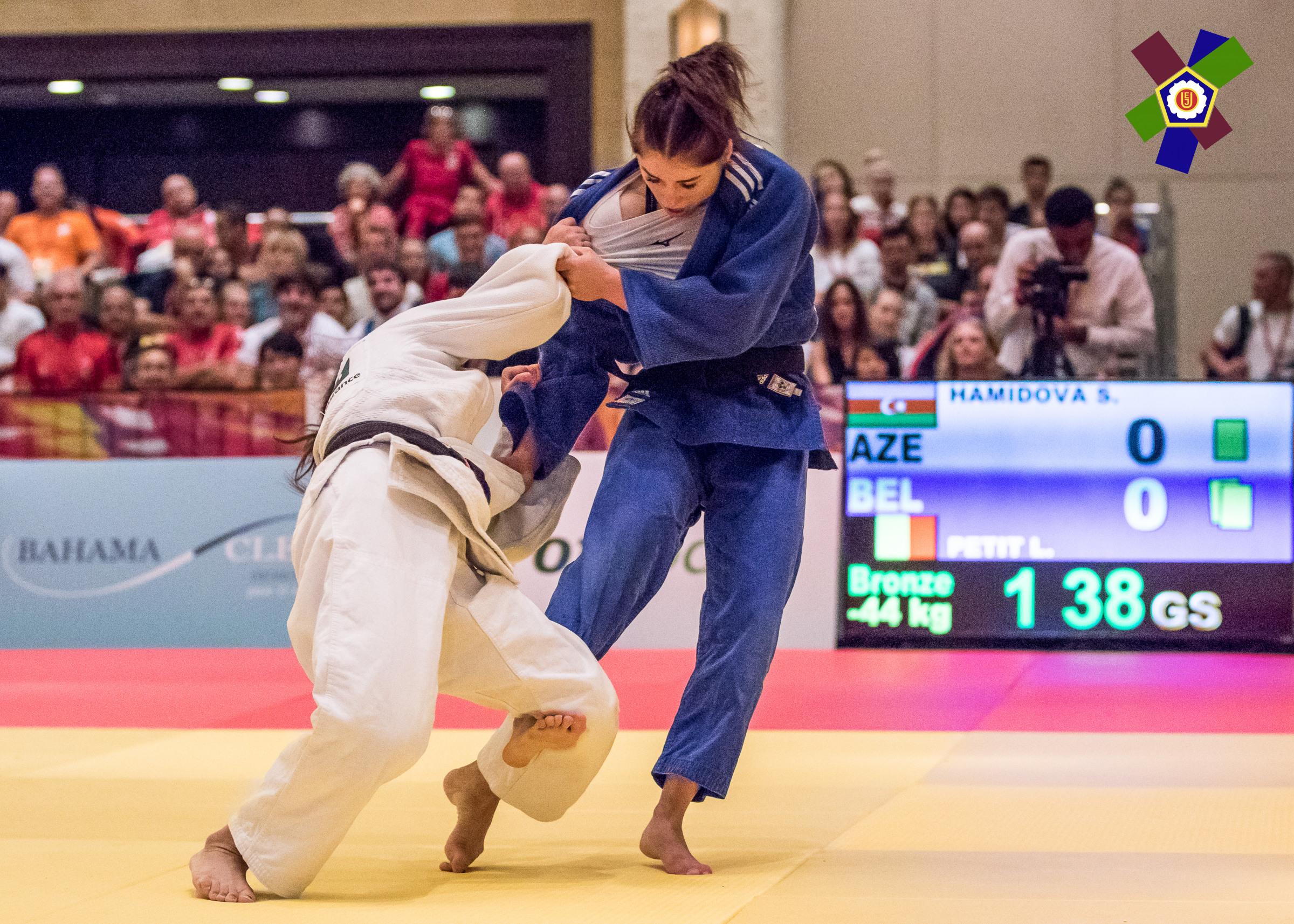 Just as the final block was approaching, the -44kg category bronze medal contest were calling with two chances. After Melanie FRIGOUL of France lost against her Brazilian opponent, Amanda ARREAS, we had an all European bronze medal contest. This saw Shafag HAMIDOVA (AZE) facing current Junior European Champion and 2017 Junior World bronze medallist, Lois PETIT (BEL). The pair last met during the Junior Europeans a few months back where Petit fast finished the battle. Hence, it came as a shock to the Belgium athlete when Hamidova fought her skin off, putting Petit in risk of trailing at multiply occasions. The contest was very tight and had to go into golden score with two to one penalties in favour of Hamidova. It was not until the fourth minutes of extra time that the referee called on for a hansoku-make pointing towards the Azerbaijan judoka. This time around, it took almost 8 minutes, yet, Petit again managed to snatch a spot on the podium of the Junior World Judo Championships. The Belgian judoka expressed her thoughts after the medal ceremony:
"Hamidova studied my judo and learned how I fight. Today she was really strong and difficult to defeat. Although, it was a tough fight I still believed in myself and now I am relieved to win my second bronze medal."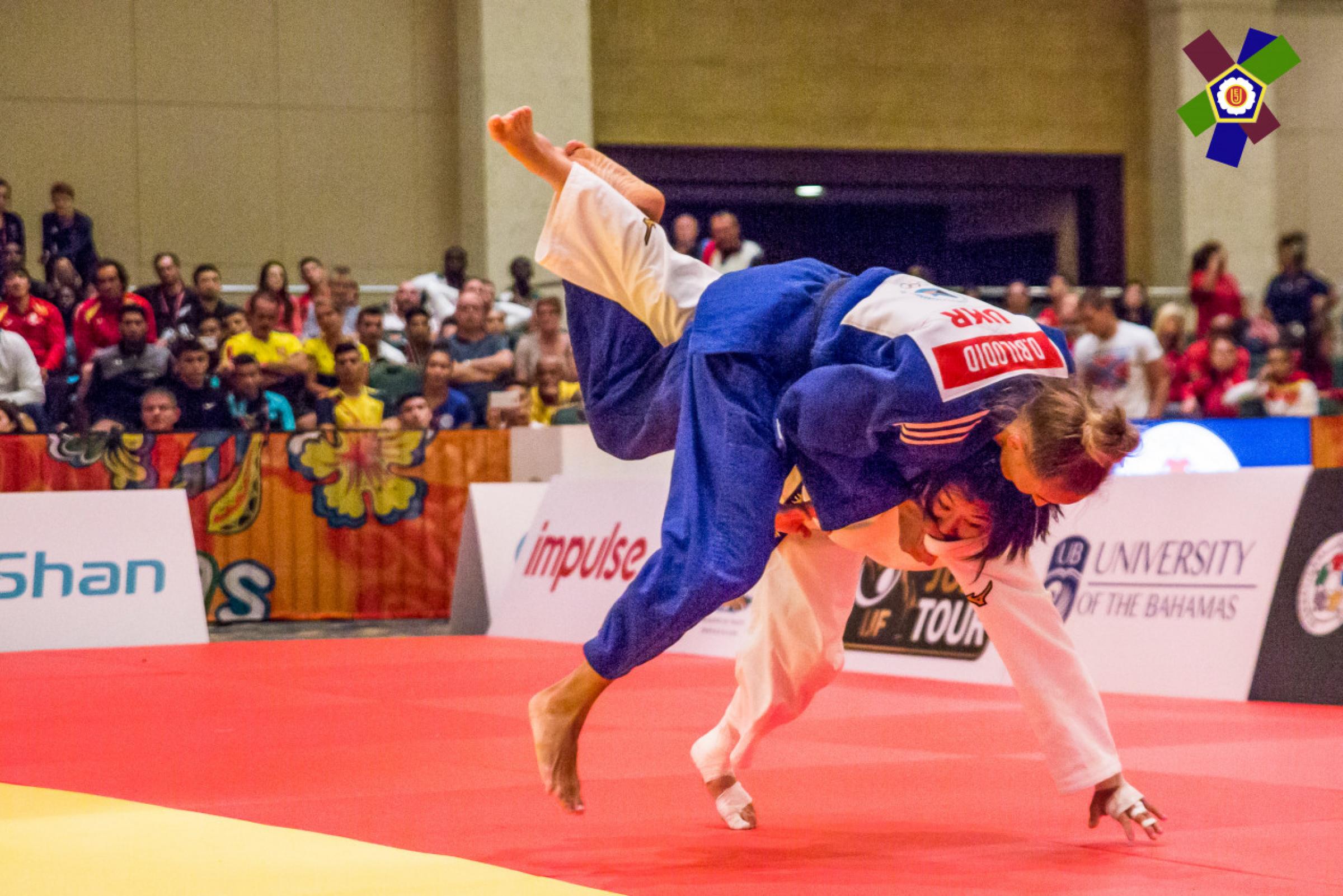 In blue, Daria BILODID (UKR).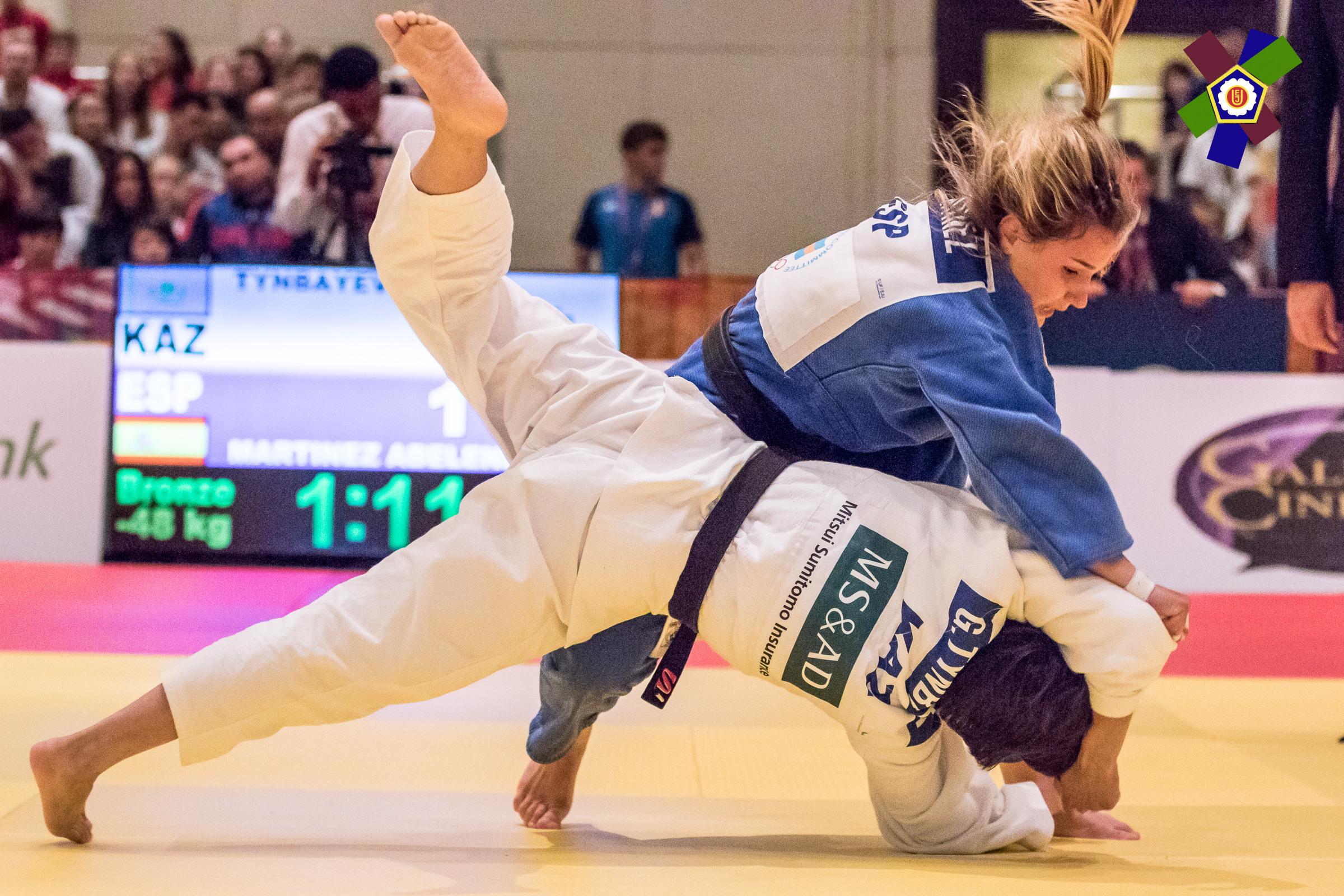 In blue, Laura MARTINEZ ABELENDA (ESP).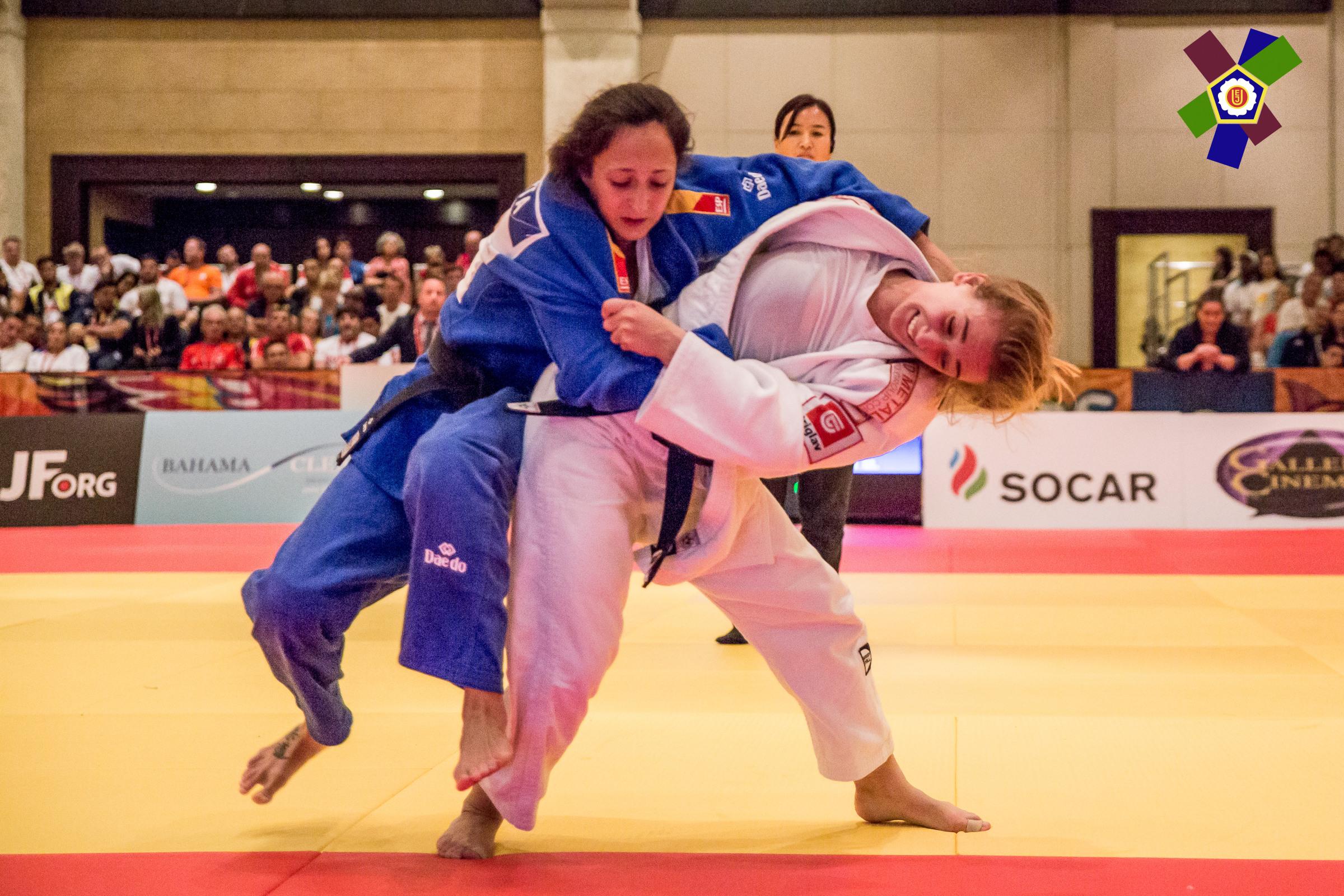 In white, Andrea STOJADINOV (SRB).
World Champion Daria BILODID (UKR) was the ultimate favourite of the -48kg category and with her recently earned red back number she alarmed the rest of the contenders. Bilodid won all of her five contests in style with her signature techniques whilst remaining untouchable throughout the whole day. In the final, she have met YOSHIDA Sara who is the sister of YOSHIDA Tsukasa, -57kg senior World Judo Champion. It was the 7th occasion in a row that Bilodid managed to overcome a Japanese opponent. Now Cadet, Junior and Senior World Champion, Bilodid, spoken about her experience today:
"It is different to fight in Juniors and Seniors. Amongst the elites is almost the same group of people I fight against all the time, so it was, and it is interesting to compete with different athletes at the junior level. It was a new experience, however, I can feel the big difference in compare to the seniors. I wouldn't say I had any difficulties today except the amazing environment as it rather feels like a holiday, not like a big competition. It is overwhelming and relaxing, sometimes over relaxing. This made me nervous at the beginning but by the final, against the Japanese opponent, I managed to be fully focused on my game plan."
Both, Andrea STOJADINOV (SRB) and Laura MARTINEZ ABELENDA (ESP) won bronze in this weight division with top individual performances.
Stojadinov: "It is definitely my best results up to date, I can't believe it. I have support from home everyone was messaging me, my family my club coach, everyone was with me and I gave my best."
Martinez Abelenda: "At the second round and during the semi-final I struggled but luckily during the bronze medal contest I was finally myself again and was able to put a good performance on the mat."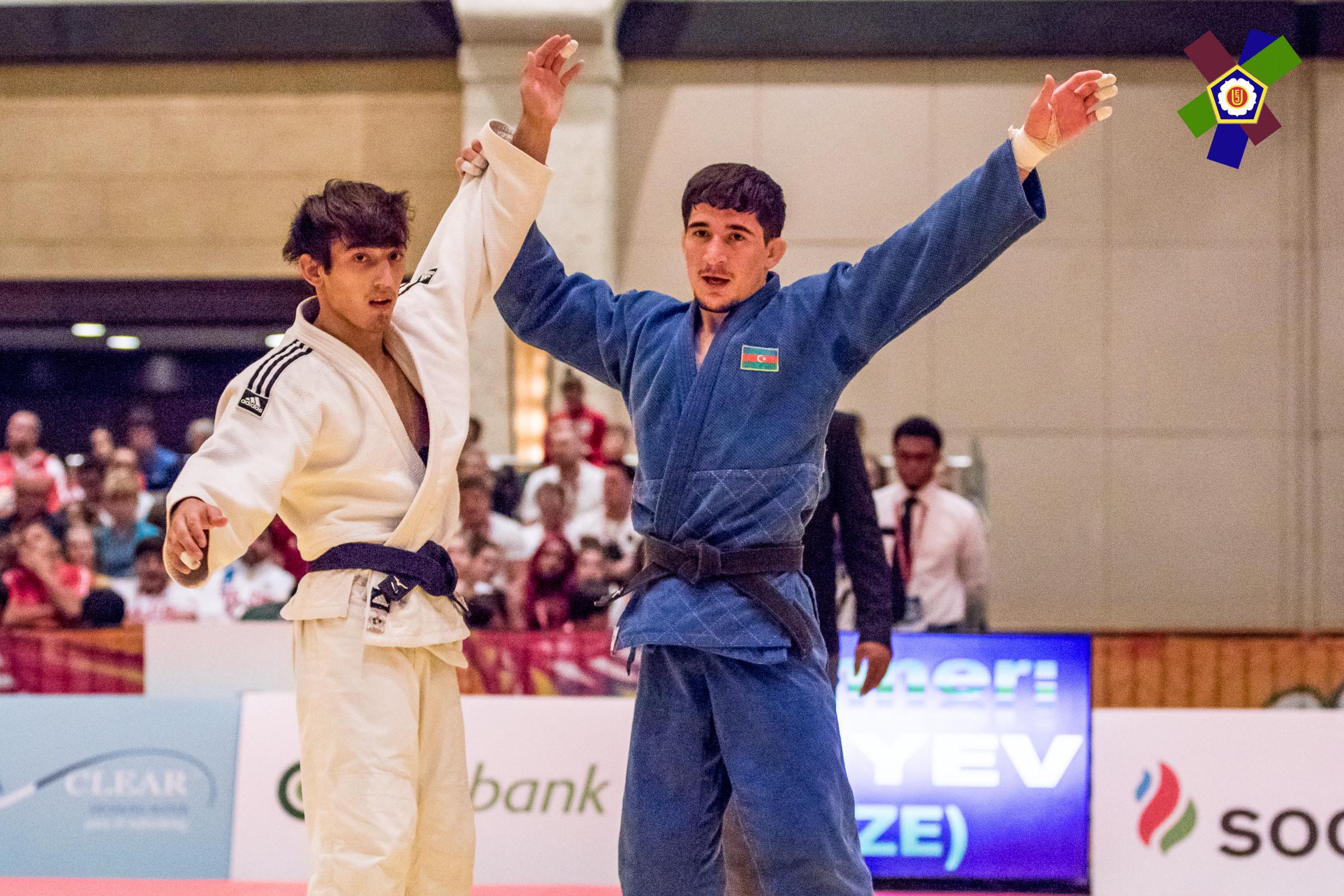 The -55kg category was dominated by the Azerbaijan duo, Rovshan ALIYEV and Balabay AGHAYEV. To indicate their classic talent, they provided with the most exciting final of the day. First to score was Aghayev by a left tai-otoshi within the first 2 minutes of the contest. This was answered by Aliyev with a waza-ari score with only 32 second left to go. It was time to call for golden score where Aliyev implemented his te-waza skills to wrap up the day and addition a Junior World title to his medal collection.
Imam IBRAGIMOV (RUS) also fought exceptionally today, outclassing top seed and current Junior European Champion Dilshot KHALMATOV (UKR) during the second round. For bronze, Ibragimov supposed to face Kubanychbek AIBEK UULU (KGZ) who due to an earlier picked up injury, was unable to contest the Russian judoka for bronze.
Ibragimov: "It was strange to win the medal without winning the actual contest for it. I really wanted to fight for the bronze, it feels incomplete for me."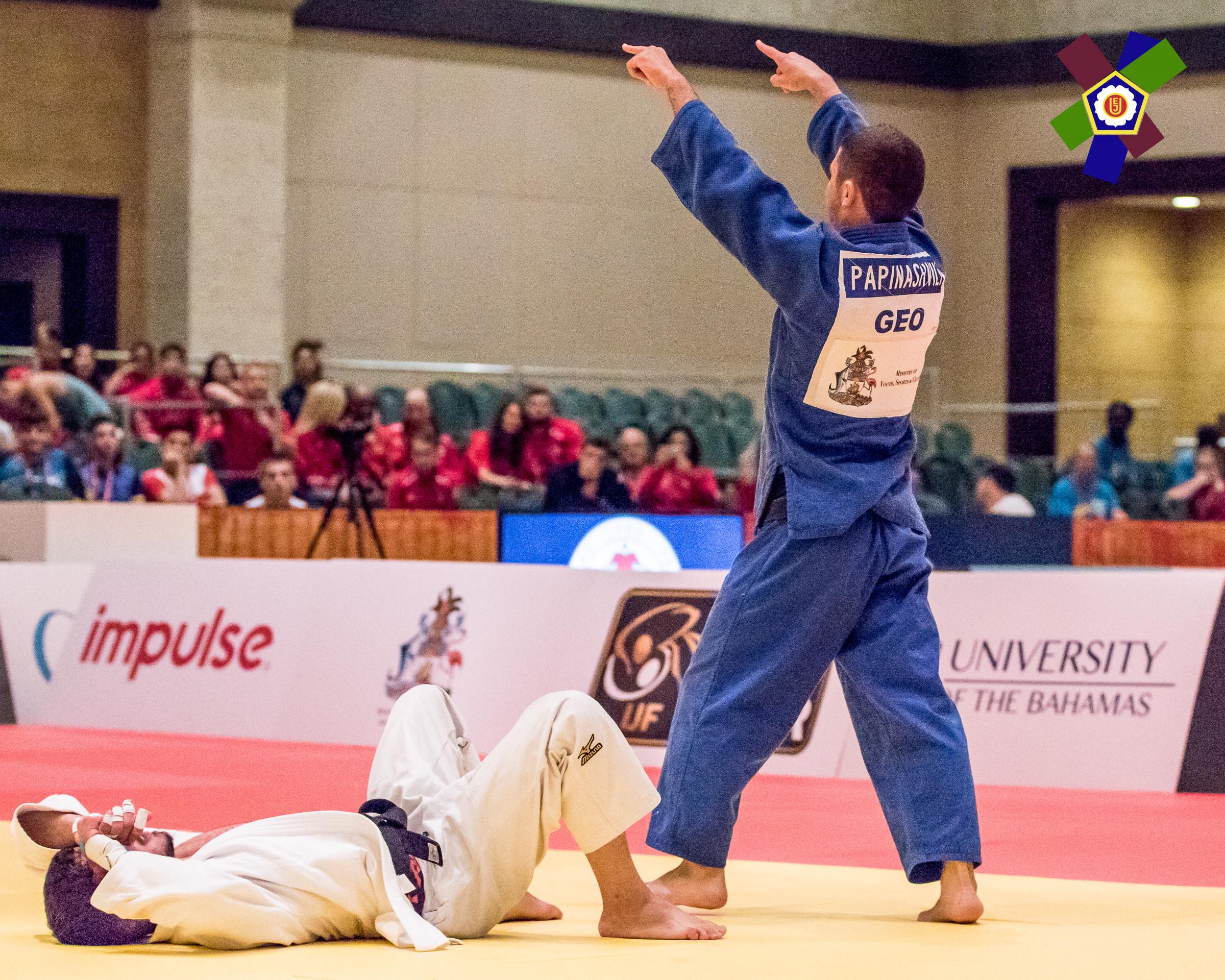 The -60kg category delivered an all Japanese final with the son of the legendary KOGA Toshihiko winning the gold medal. Young KOGA Genki is now Cadet and Junior World Champion and step by step aiming to achieve his father's success. Georgia was celebrating a bronze medal in this weigh division, won by Jaba PAPINASHVILI. Yes indeed, Jaba is the brother of great -60kg Georgian judoka, Amiran PAPINASHVILI. Leaving by examples, Jaba also aims to follow her brother's footsteps. Papinashvili lost against eventual winner, Koga, during the semi-finals than defeated Samet KUMTAS (TUR) for the bronze medal. The young Georgian judoka won the Junior World title last year, however, a weigh division below. This year, he made a clear mark of his presence in the -60kg category. Why the changes?
Papinashvili: "I felt very good today. Gold is of course always the best, but I am satisfied with my bronze medal this time. I want to fight at the Olympic Games and that is why I moved up to the -60kg category."
Day 2 will begin at 11:00am local time. You can follow all actions live online and free via judobase.org. For all other infomration, please visit our social media sites.
---