It is not often that the Super-Heavyweight women's category takes top billing at a Grand Slam. But, for several reasons, the +78kg will attract the attention of judo fans as some of the world's best continue on the road to Tokyo. For some of the 513 athletes (284 men, 229 women) scheduled to participate in Tbilisi it will be about Olympic qualification. For others it is the need for high level competition in preparation for what come July will likely be the biggest event of their judo careers.
Having already collected three Olympic medals, Idalys ORTIZ (CUB) is gearing up for her fourth Olympic Games, and the number one seed very rarely misses the podium. In the opposite half of the draw will be Maria Suelen ALTHEMAN (BRA) who is seeking a place at what would be her third Games. Pressing her strongly for that place is 22-year old Beatriz SOUZA (BRA) who has her own ideas about who should be going to Tokyo. But the fireworks will begin (and probably end) with Romane DICKO (FRA) who has been in devastating form winning her last four IJF Tour events and, in between, the European Championships. Dicko is yet to face Altheman and here in Tbilisi they are drawn in the same half. Looking to toss aside all the above will be WANG Yan (CHN) and XU Shiyan (CHN) neither of whom are seeded. China has collected a medal in the Super-Heavyweight division for women at every Games. One of these will be expected to carry on that tradition and one of these will be expected to medal here in Tbilisi.
DAY ONE
In the -60kg category number one seed Sharafuddin LUTFILLAEV (UZB) will be looking to bounce back after a shock early exit at home in Tashkent earlier this month. Lutfillaev will be extremely hard pressed to find his way to the podium in Tbilisi where, even in the absence of current world champion Lukhumi CHKHVIMIANI (GEO), there will be Georgians aplenty. And should Lutfillaev be fortunate to avoid, or skillful enough to defeat the home athletes, there is always Tornike TSJAKADOEA (NED), Luka MKHEIDZE (FRA) or perhaps Oruj VALIZADA (AZE) to test him in what reads like a Georgian national championships.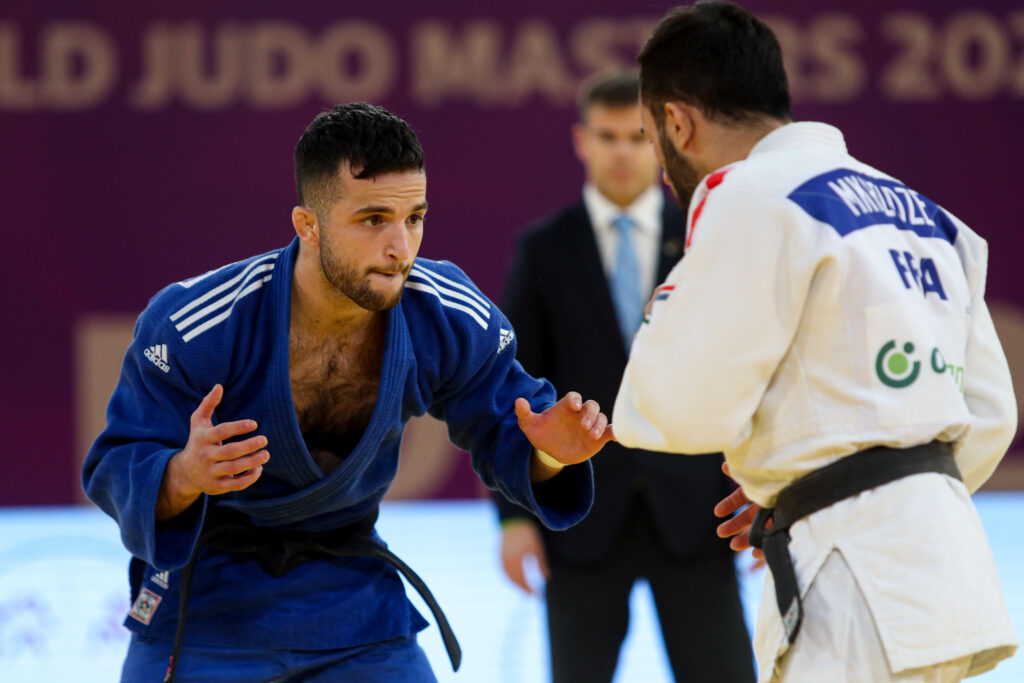 Vazha MARGVELASHVILI (GEO) will start as favourite in the -66kg category where the biggest threat will probably come from GANBOLD Kherlen (MGL) and YONDONPERENLEI Baskhuu (MGL). The battle for the top spot in the category for Russia continues with the appearance of Yakub SHAMILOV (RUS) and Mikhail PULIAEV (RUS) two of four Russians who hold out hopes of qualification. Denis VIERU (MDA) can also be expected to be among the medals here.
The number one seed in the -48kg category is MUNKHBAT Urantsetseg (MGL) fresh from her gold medal winning performance in Tashkent. Lined-up against her will be a group of athletes hungry for places. The internal battles continue between Melanie CLEMENT (FRA) and Shrine BOUKLI (FRA), Milica NIKOLIC (SRB) and Andrea STOJADINOV (SRB) as well as Julia FIGUEROA (ESP) and Laura MARTINEZ (ESP). Hoping to avoid the carnage will be Marusa STANGAR (SLO) and Catarina COSTA (POR).
Odette GIUFFRIDA (ITA) is the number seed in the -52kg category where she looks to have the beating of the field. Astride GNETO (FRA) is seeded number two. Chelsea GILES (GBR) will be hoping that she can maintain the momentum that took her to her first ever Grand Slam gold medal a little over a month ago in Tel Aviv. Mariam JANASHVILI (GEO) and Tetiana LEVYTSKA-SHUKVANI (GEO) carry any reasonable hope that the hosts have of grabbing a medal here.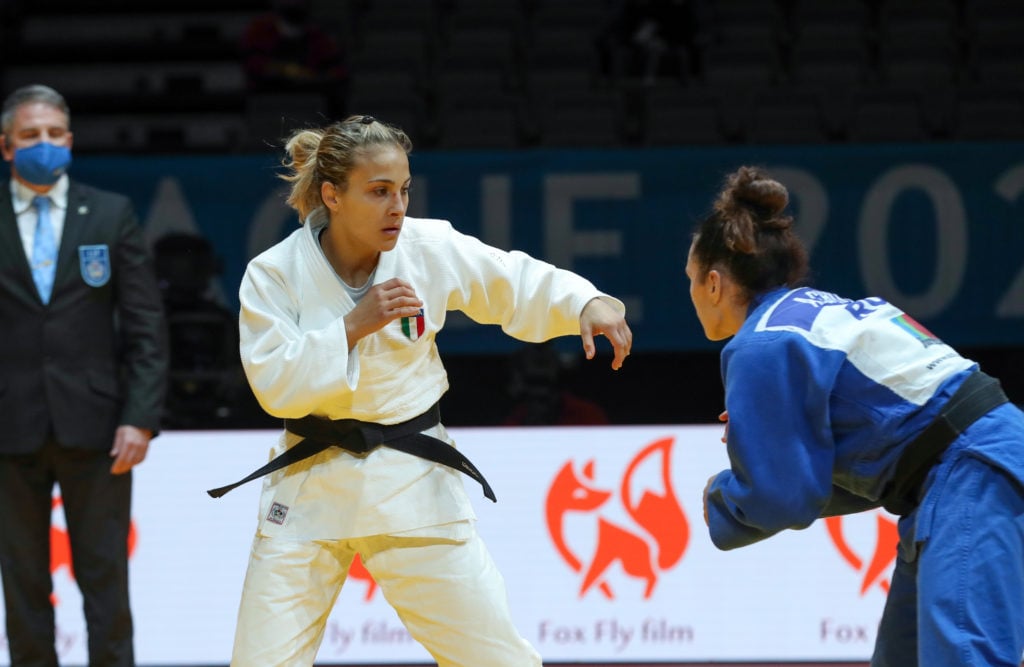 An impressive 37 athletes will do battle in the -57kg category where current world champion Crista DEGUCHI (CAN) is the number one seed. There is on paper a strong enough group to give Deguchi some stiff opposition, but that will require them to be at their best. Deguchi is a class act and, if at her best, the Canadian will surely be too strong even for the likes of Sarah Leonie CYSIQUE (FRA), Nora GJAKOVA (KOS) and DORJSUREN Sumiya (MGL). Look out too for Eteri LIPARTELIANI (GEO) and Daria MEZHETSKAIA (RUS).
DAY TWO
The timing could be perfect for 2012 Olympic champion Lasha SHAVDATUASHVILI (GEO). To be able to compete at home should prove a real advantage and the Georgian will also be drawn away from Akil GJAKOVA (KOS) and TSEND-OCHIR Tsogtbaatar (MGL) both of whom have defeated Shavdatuashvili twice. Arthur MARGELIDON (CAN) is the number one seed.
Georgian man of the moment is current European champion at -81kg category Tato GRIGALASHVILI (GEO) from whom much will be expected. Alan KHUBETSOV (RUS) can give himself a major boost with a good result here whilst Sami CHOUCHI (BEL) and Anri EGUTIDZE (POR) look set to perform. Three-time world medalist Antoine VALOIS-FORTIER (CAN) is the most experienced of a strong Canadian team and it will be difficult to keep him off the podium.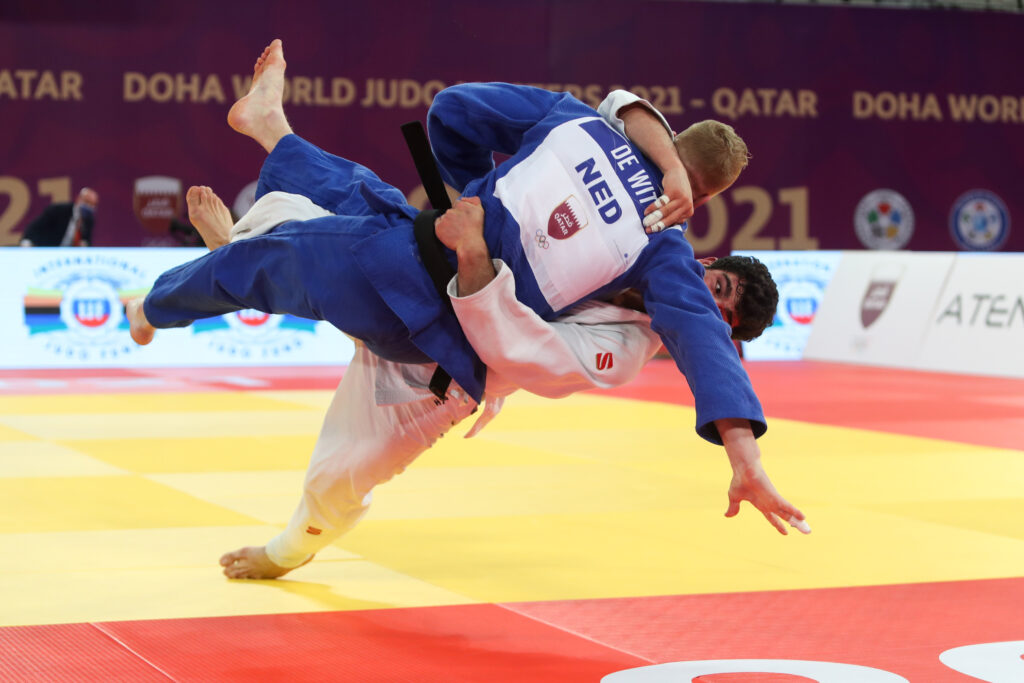 The -63kg category sees only two of the top eight seeds coming from Europe. There is considerable strength outside of that top eight and it is perfectly possible that the medals will go mostly to unseeded athletes. Magadalena KRSSAKOVA (AUT) is seeded number four whilst Daria DAVYDOVA (RUS) is seeded number six. YANG Junxia (CHN) and TANG Jing (CHN) are both unseeded and will prove difficult opponents.
Current world champion Marie Eve GAHIE (FRA) and number two seed Margaux PINOT (FRA) renew their struggle for supremacy at the top of the WRL where only a few points separate the pair. The chasing pack includes Michaela POLLERES (AUT), Gemma HOWELL (GBR) and the German duo of Giovanna SCOCCIMARRO (GER) and Miriam BUTKEREIT (GER).
DAY THREE
In one of the largest categories (44 athletes) the -90kg category provides an opportunity for non-seeded athletes to avoid the top eight. It also means that we are likely to witness some giant-slaying. Depending on his mood, we may yet see some sparkle from former world champion Avtandili TCHRIKISHVILI (GEO) whilst Marcus NYMAN (SWE) will need to take advantage of his lofty seeding position of number four. Ivan Felipe SILVA MORALES (CUB) is the number one seed.
Current world champion Jorge FONSECA (POR) must be asking himself when will he experience that gold medal winning feeling again. Since winning the world championships in 2019 Fonseca has picked up one IJF Tour bronze medal from five events. Things look a little different for Toma NIKIFOROV (BEL) who on his 19thattempt managed to win a Grand Slam when he took gold in Tashkent earlier this month. The Belgian is seeded here and will be looking to continue his rise up the ranking list. Young guns Onise SANEBLIDZE (GEO) and Ilia SULAMANIDZE (GEO) will be leading the charge for the Georgians.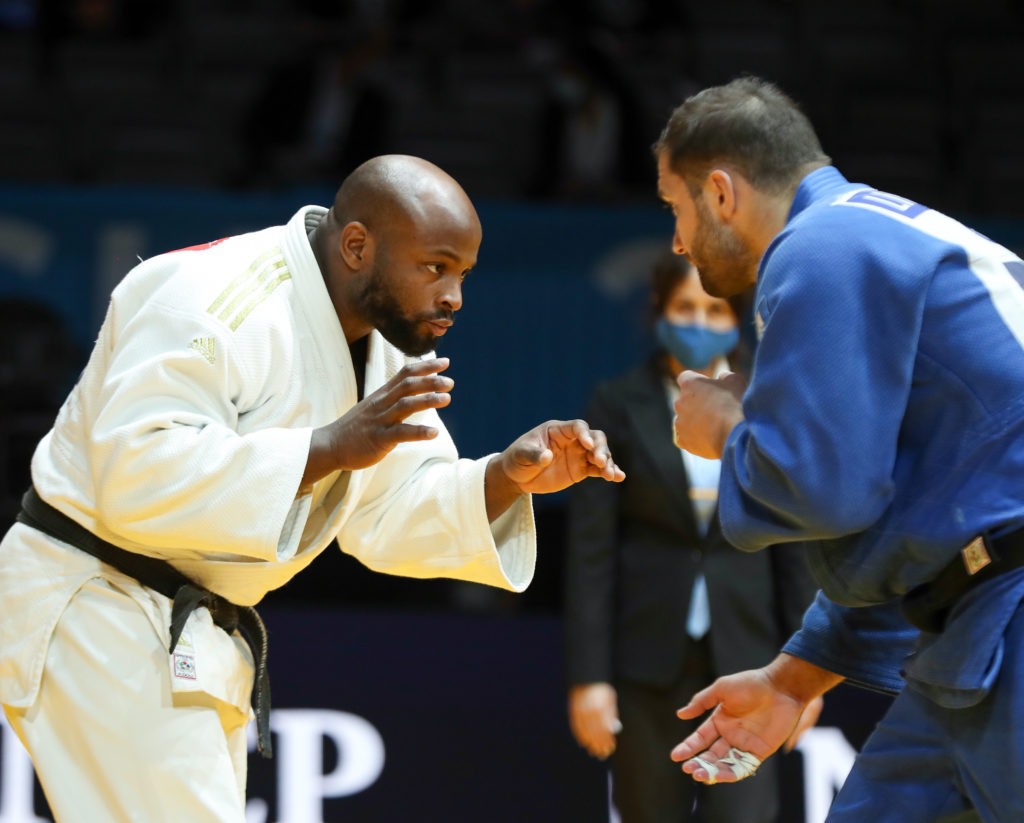 Already a double Grand Slam gold medal winner Gela ZAALISHVILI (GEO) is set to steal the show in the +100kg category despite the fact that he is not number one seed. That privilege goes to Rafael Silva (BRA) who was winning Grand Slam medals when Zaalashvili was still in junior school. Only a gold medal performance form Zaalashvili will do here. In the absence of former world champion Guram TUSHISHVILI (GEO), The 21-year old Zaalashvili has to impress. Look out too for Ushangi KOKAURI (AZE), Vladut SIMONESCU (ROU) and an outside pick Johannes FREY (GER) anyone of whom could step up to the podium.
France are able to roll out another of their big-guns this time in the shape of current world champion at -78kg Madeleine MALONGA (FRA) who sits comfortably at the top of the WRL The Germans still have their hands full with the choice between Anna Maria WAGNER (GER) and Luise MALZAHN (GER) and there is one place that separates Aleksandra BABINTSEVE (RUS) and Antonina SHMELEVA (RUS). Look out too for Loriana KUKA (KOS) and Bernadette GRAF (AUT).
Judoka
Author: Sheldon Franco Rooks
---