Udo Quellmalz is Olympic Champion 1996 and two times World Champion. He is part of the IJF supervisors and was working at the Olympic Games in Tokyo. We spoke with the 54-year old Judoka.
Udo Quellmalz
1967 born in Leipzig, Germany

Olympic Games
Gold medal 1996 Atlanta -65kg
Bronze medal 1992 Barcelona -65kg
World Championships
Gold medal 1991 Barcelona -65kg
Gold medal 1995 Chiba -65kg
Silver medal 1989 Belgrade -65kg
Bronze medal 1993 Hamilton -65kg

Career
1998 – 2004 -British Judo Performance Director
2004 -2008 Teaching and Coaching in Bavaria
2008 – 2012 Director Head Coach for the Austrian Judo Federation 
2012 -2017 Sport teacher International Schools in Katar, Kazakstan and Germany
2017 – 2019 Athletics Director and Physical Education Teacher in Inter. School Leipzig
2018 – 2020- Sport Director Saxonia Judo Federation
2021 – Club Coach Judo Club Leipzig
You are working in the IJF as a supervisor. Please explain your function as a supervisor and how do you work.
Our job is it that to make fair judgements and the right player leaves the tatami as a winner. We have a video setup from different sides to see controversial situations. For example did a player land on the side to score Waza-ari. Sometimes the referee shows the video sign to ask for a decision and sometimes we interrupt if we change decisions based on video evidence. In our team in Tokyo were the three referee directors Mr. Lascau, Mr. Jeon, Mr Bagdasarov and myself as IJF referee supervisor. Our decision is final based on video evidence.
How big was the pressure as a supervisor?
I felt a lot of pressure as I have been at 7 Olympics as player or coach, I remember very well how much Olympic results mean for players, coaches and nations. On the other hand Judo was very popular in Tokyo with high profile politicians. For example the French President, Mongolian president and also IOC president just to name a few.
Can you remember on some tricky situations?
Yes, there were a few situations and there will be complicated situation in future. It is the nature of Judo as a complex and evolving sport.
Regarding refereeing what was good and what can be better in the future?
I think that the rightful players left the tatami as winners. For my personal taste too many fights went into golden score. I like to see fights be decided with positive scores and not with penalties. Some fights were too long. As a Judo expert you may appreciate it but as a TV zapper without judo knowledge were long golden score fights can be boring to watch. Federations and national coaches could submit their suggestions about possible rule changes to IJF referee commission.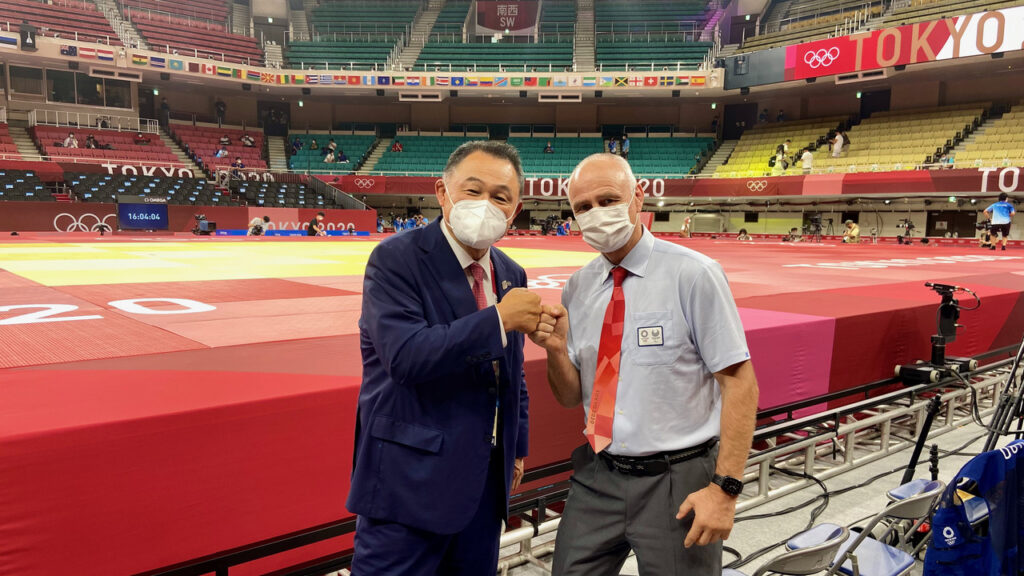 Let us talk about the Olympic Games in Tokyo. What was your most remarkable moment?
Personally the best moments was to meet again old friends, former rivals and coaching colleges who I know already decades …
As a supervisor it was for me a special moment when judo legend and Olympic Committee president Mr. Yamashita Yasuhiro told me that he found the performance of the referee team very good during the Olympic Games.
Do you remember our most emotional moment in Tokyo?
There were a few emotional moments, one was the joint photo "old" champions 25 years ago on the exact date 25 July 1996 with the new champions.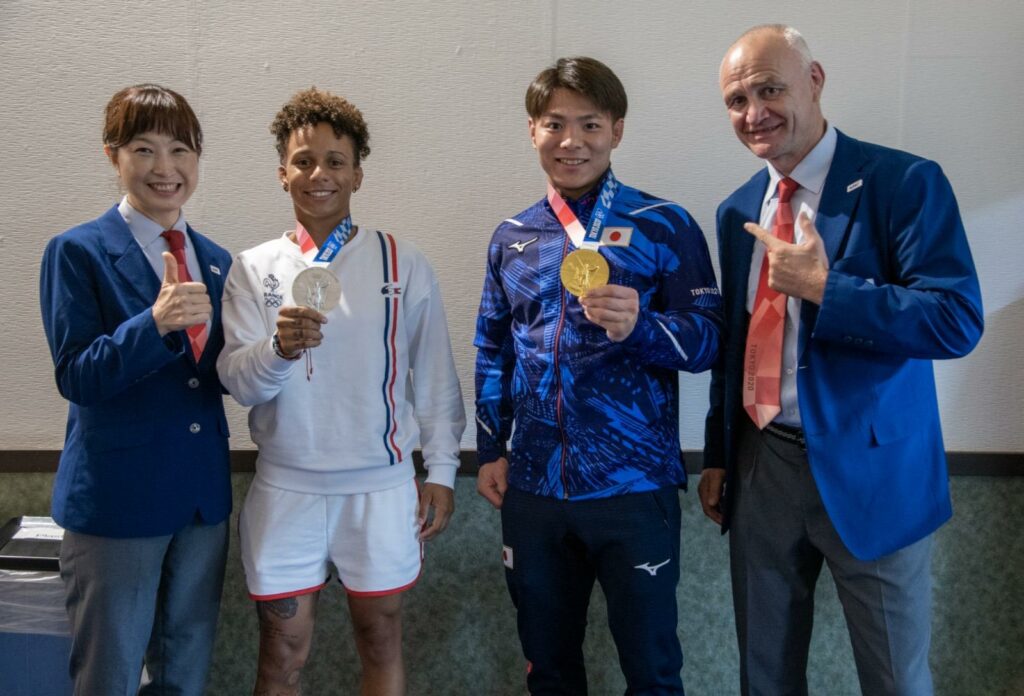 Another emotional moment was when Sebastian Seidl (-66kg) for the German team won the deciding match for bronze in the mixed team event on the last day. I was his PE teacher in the school in Abendsberg when Sebi was 10th grade.
You as an Olympic Champion how did you notice the premier of the team event?
I think the Mixed team event was phantastic. It was a special atmosphere with some big surprises and unpredicted outcomes. It was loud even without spectators, just imagine if the Nippon Budokan would have been full with spectators. That is gonna be huge again in Paris in three years…
Judoka
Author: Sören Starke
---