Hasret BOZKURT from Turkey won the girl's -57kg category. While Bozkurt had some previous success at European Cup level this year, she is not very well known in Europe in her category. Her most recent European Cup win was in Antalya, Turkey, her homeland, enabled her to come as the number two seed at today's event.
"The gold medal in Antalya (Cadet Cup) was very important for me and gave me the motivation for this championship. It was my first big medal and it gave me the right self confidence for today."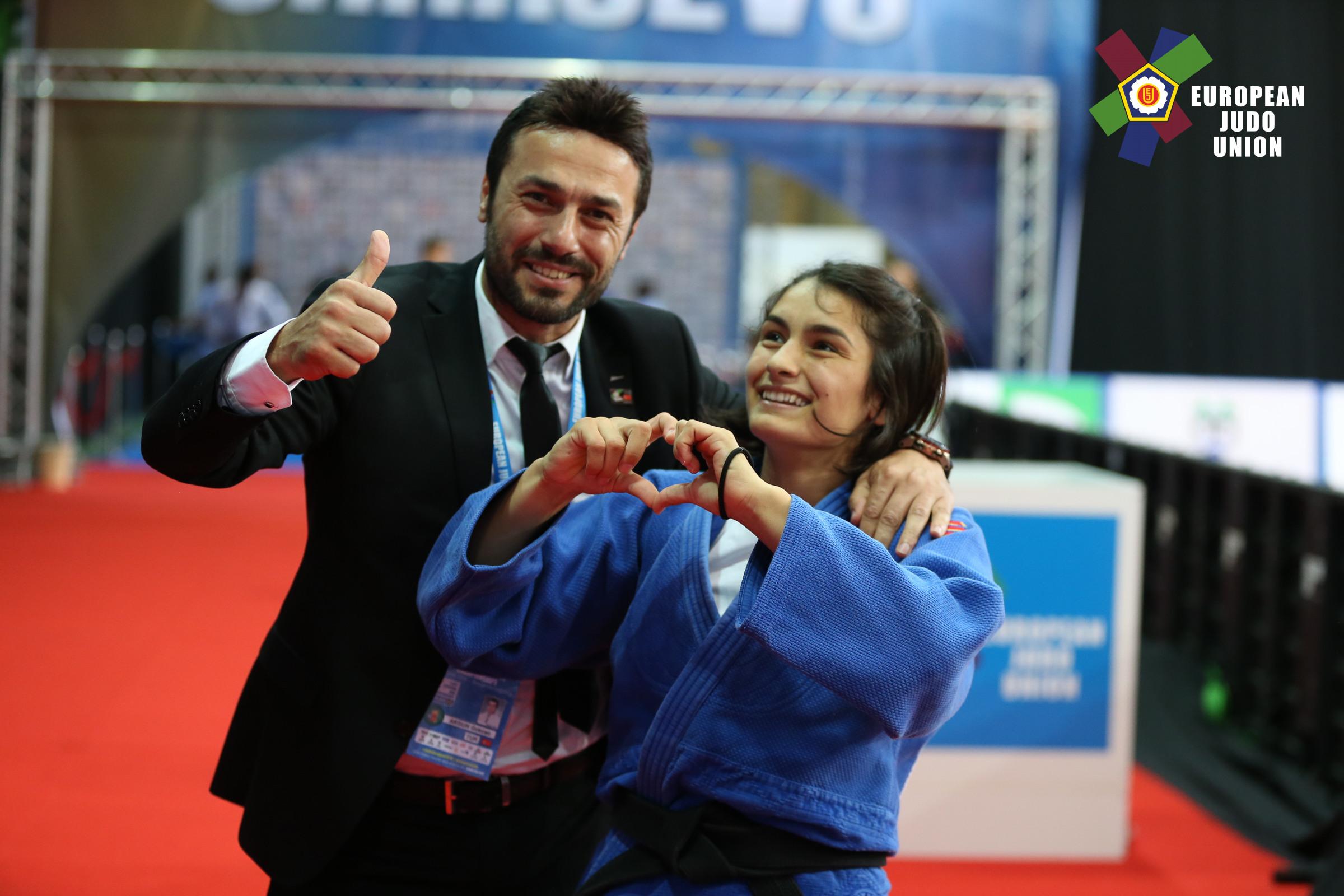 Being a relatively unknown player has its advantages and can surprise opponents.
"Unfortunately I couldn't compete in the last years Cadet European Championships because of some different injuries I had. For this year I was very well prepared for this competition, I am pleased with the result, but for me it was my first step and for sure you can expect more from me in the future."
Bozkurt threw Alice PEREIRA (Portugal) in the first match with sasae-tsurikomi-ashi for waza-ari, and soon followed with ura-nage for ippon. In her second fight Bozkurt came strong to throw Joanne VAN LIESHOUT (Netherlands) with koshi-guruma that turned into uchi-mata for ippon.
"I was a little bit nervous or I could say respectful of my opponent, although I did have a clear strategy for the fight. I had previously lost against her [VAN LIESHOUT] in Teplice, but in the following training camp after the competition I managed to practice with her and found out what throws I can do. From this I knew that I can beat her and I did it today."
In the semi-final, Bozhurt avenged her earlier defeat to Lisa GRABNER (Austria). In the opening of the match Bozhurt wasted no time to throw Grabner for ippon with another koshi-guruma in six seconds.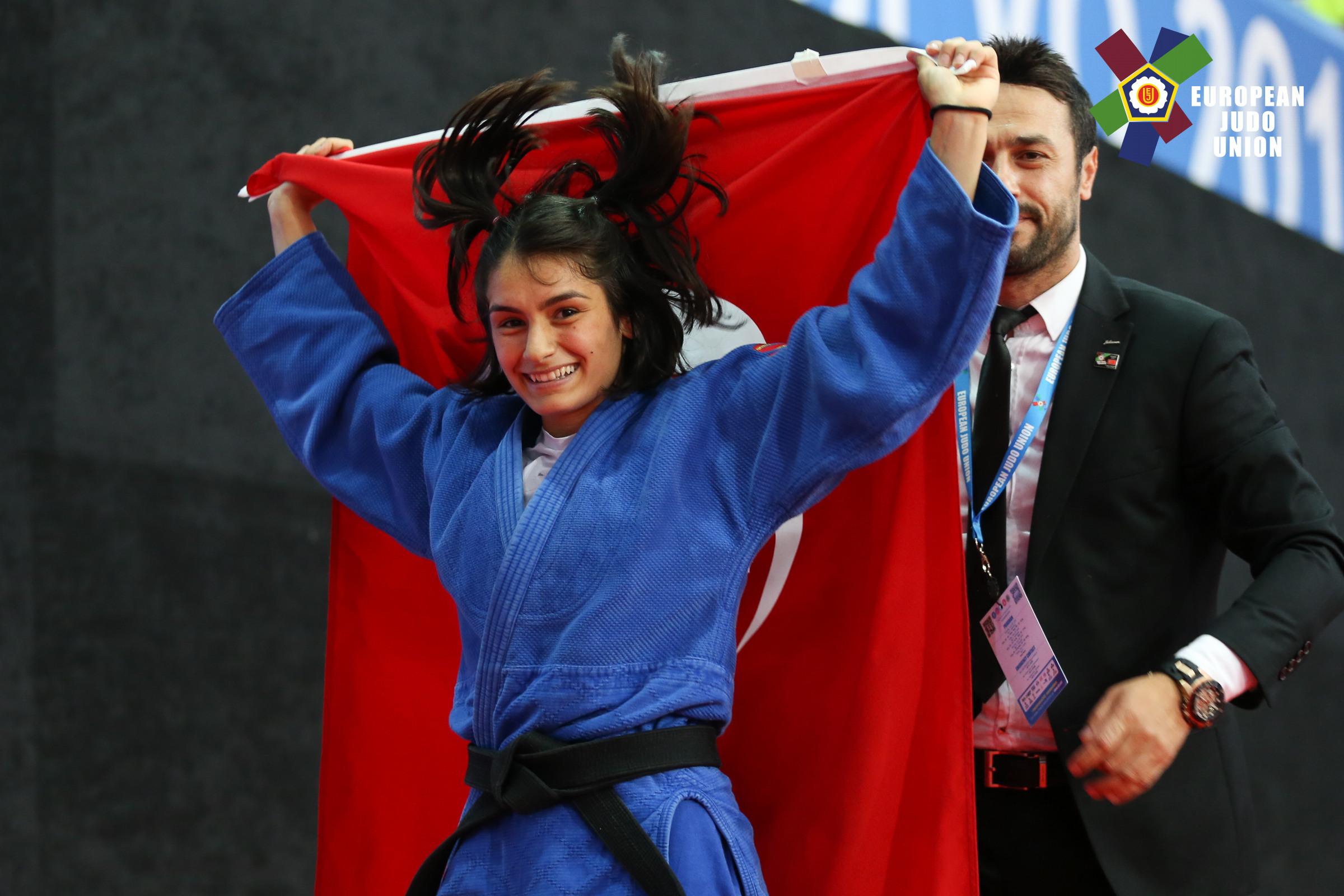 Her longest match was in the final against the current European Cadet Champion, and the number one seed Lara CVJETKO (Croatia). Against a much taller Cvjetko, taking an outside arm grip, Bozkurt confidently came in for uchi-mata and secured the win after one minute.
"Normally I go to bed at midnight, but yesterday I went to bed at 9PM with the thoughts to be European Champion and I woke this morning with the same thoughts. I was full of motivation and I had this feeling to win the gold medal today."
The second day of the 2018 Cadet European Judo Championships concluded the girl's -52 kg, -57 kg, -63 kg; and boy's -66 kg and -73 kg weight categories. Russia remains at the top the medal table with five gold, two silver and one bronze medal, followed by Turkey (one gold, one silver and four bronze), the Netherlands (one gold and three bronze) and Romania (one gold and two bronze) to take the top four spots.
---
Podium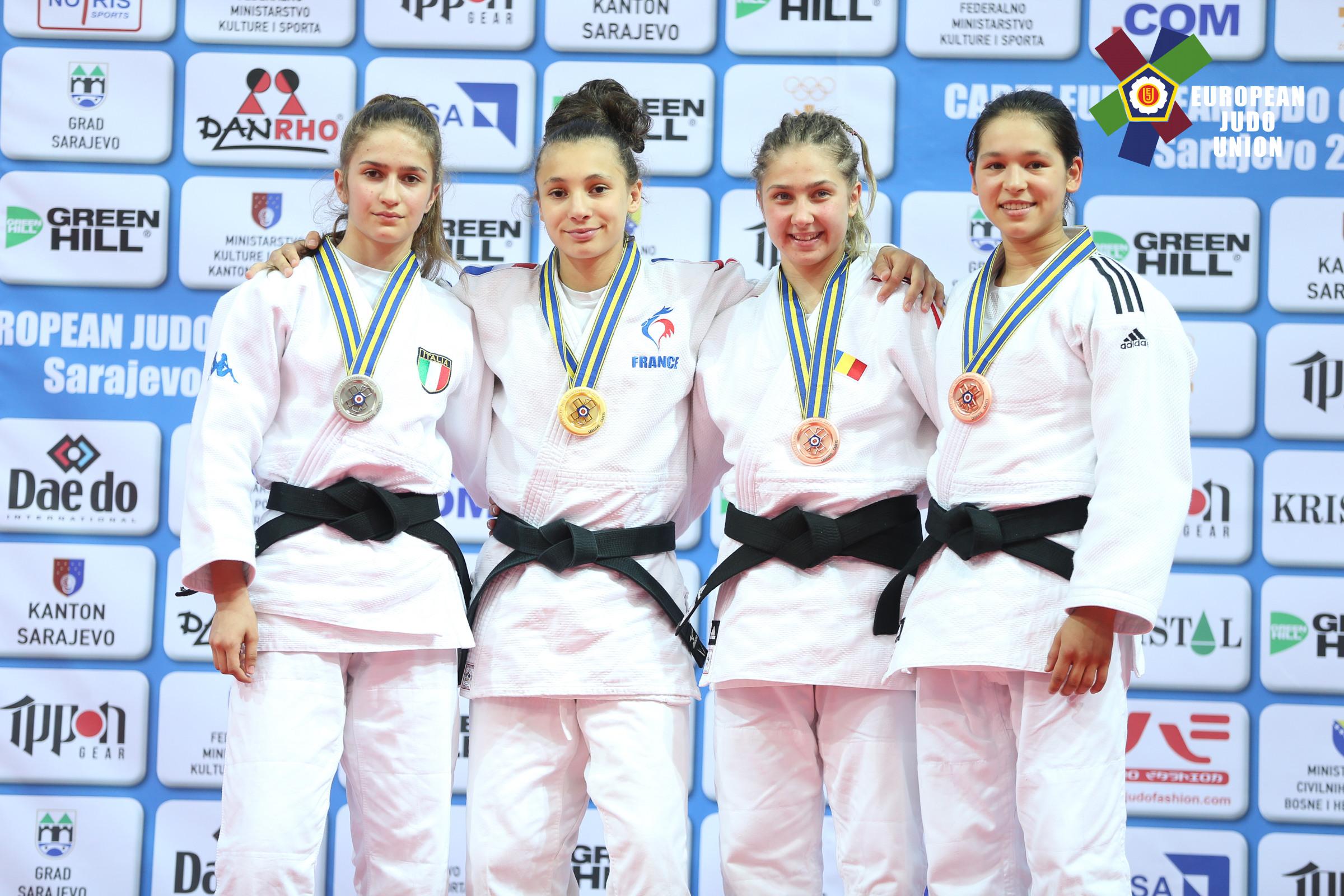 Podium Cadet European Judo Championships -52 kg MOKDAR, Faiza (FRA) TONIOLO, Veronica (ITA) PASCA, Alexandra (ROU) LO-A-NJOE, Dewy (NED) #JudoSarajevo2018 #champion #europeanjudo – Emanuele Di Feliciantonio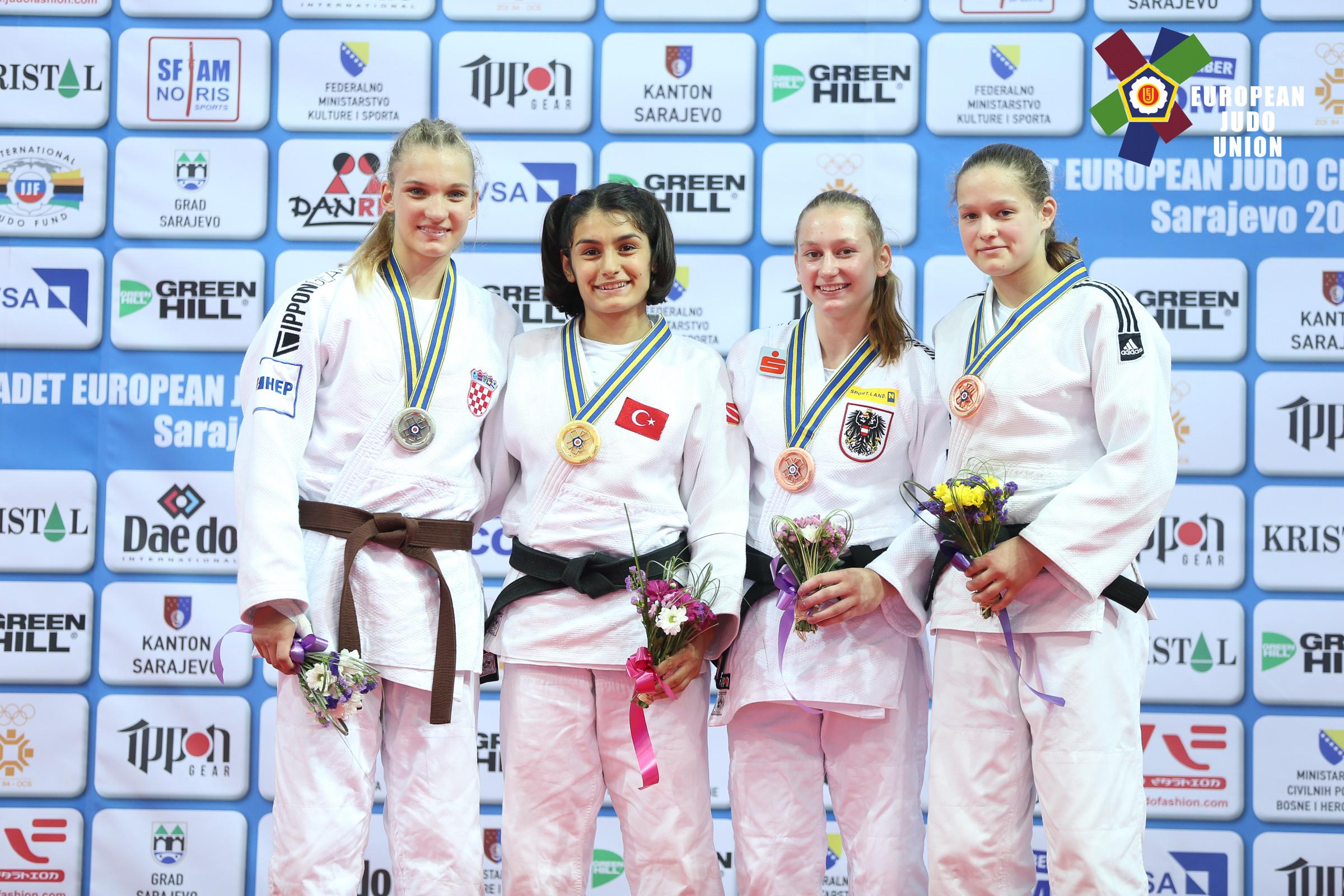 Podium Cadet European Judo Championships -57 kg BOZKURT, Hasret (TUR) CVJETKO, Lara (CRO) GRABNER, Lisa (AUT) VAN LIESHOUT, Joanne (NED) – Emanuele Di Feliciantonio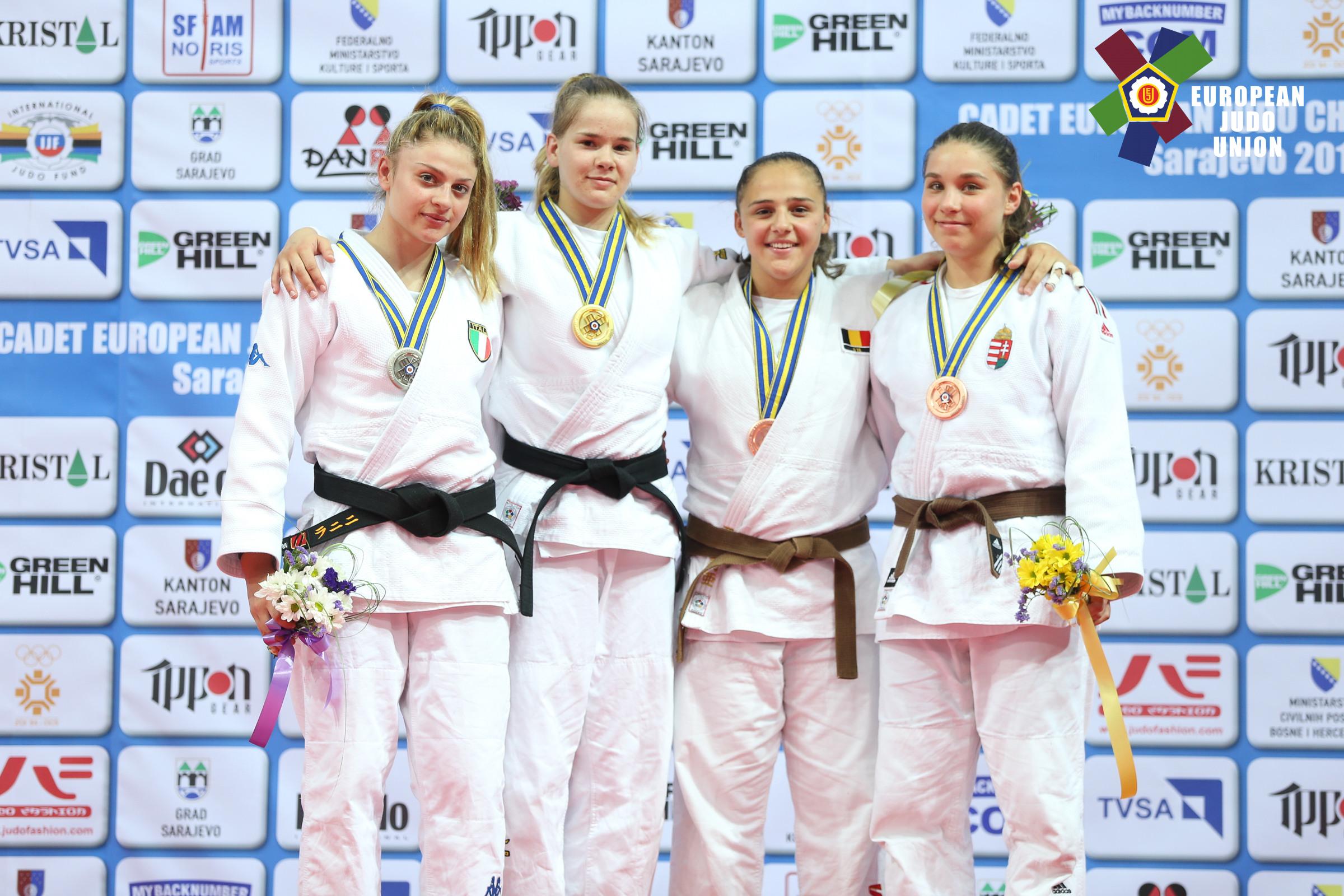 Podium Cadet European Judo Championships -63 kg VISSER, Marin (NED) LANINI, Martina (ITA) CORRAO, Alessia (BEL) OZBAS, Szofi (HUN) – Emanuele Di Feliciantonio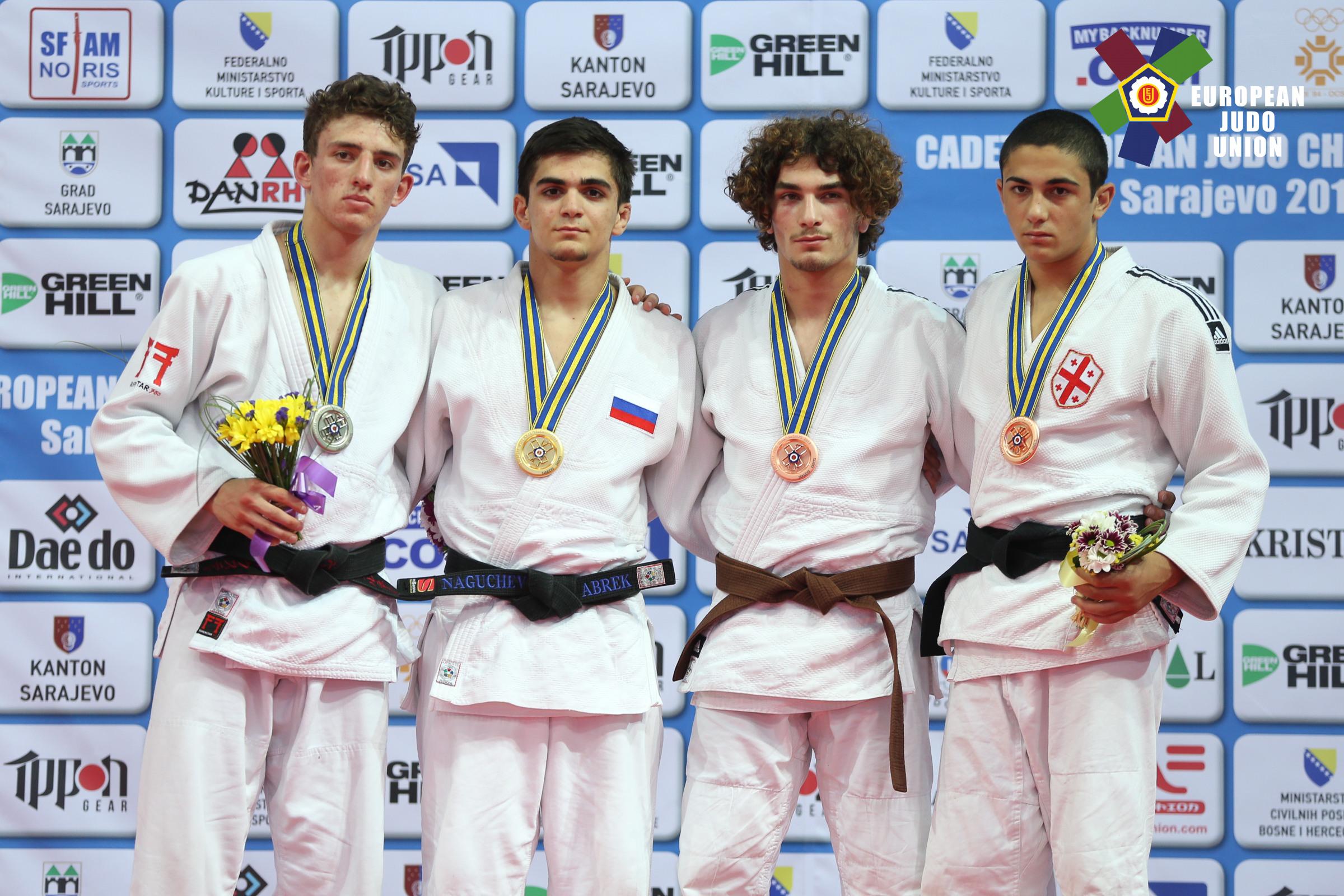 Podium Cadet European Judo Championships -66 kg NAGUCHEV, Abrek (RUS) PENA INSAUSTI, Javier(ESP) JASHARI, Hamza (MKD) KAPANADZE, Luka (GEO) – Emanuele Di Feliciantonio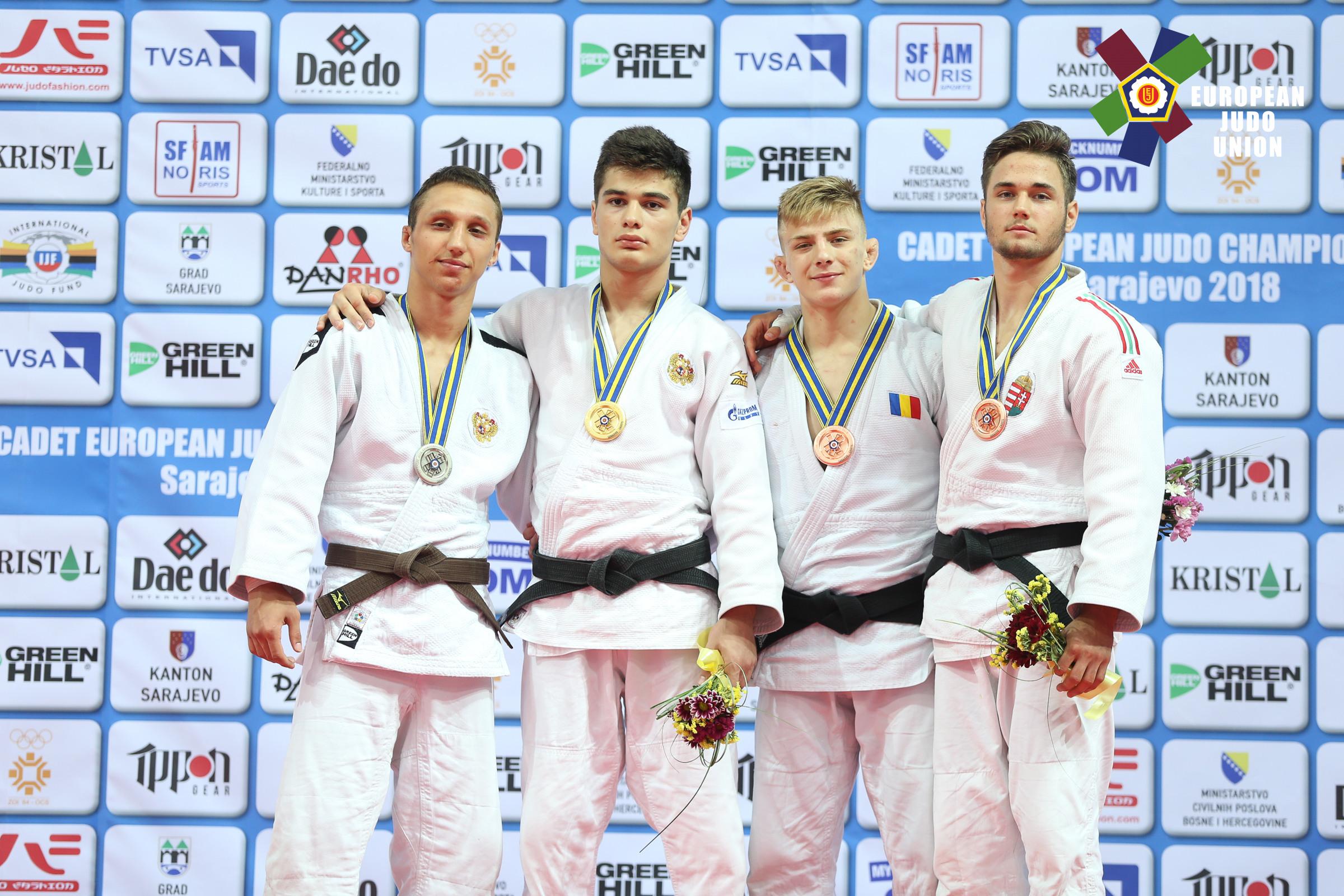 Podium Cadet European Judo Championships -73 kg SULEIMANOV, Ibragimgadzhi (RUS) TALUNIN, Igor (RUS) SULCA, Adrian (ROU) NERPEL, Gergely (HUN) – Emanuele Di Feliciantonio
Judoka
---