The third and final day of the Abu Dhabi Grand Slam saw Inal TASOEV (RUS) make his IJF World Tour Grand Slam debut. Having won gold at his first Grand Prix (Antalya, April) he continued to impress by taking the gold medal in the +100kg category in spectacular fashion. Facing current -100kg Olympic champion Lukas KRPALEK (CZE) in the final, Tasoev reacted with lightning speed to a ko soto gake attempt by the Czech hero, countering with his own o uchi gari for ippon in only four seconds! Whether Krpalek's attack was pre-determined or simply attempted opportunism, Tasoev demonstrated that he has an inherent feeling for the sport, the art, for judo. He joins an ever-increasing list of contenders for "Teddy's Crown," for, despite Georgia's Guram Tushishvili having won the recent world championships, the search for someone to topple the French legend continues. Russia may just have introduced the next challenger.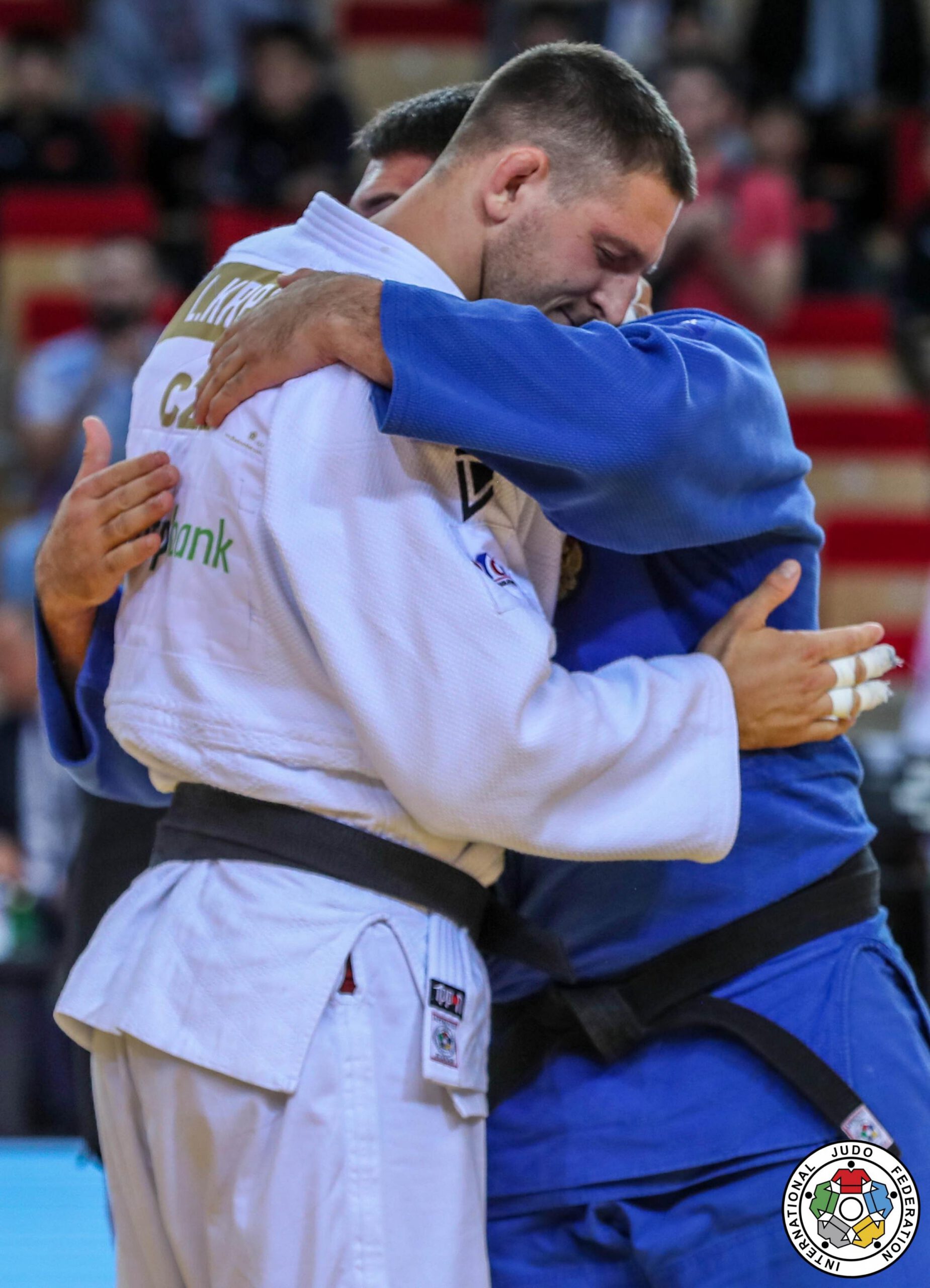 When asked about the importance of his win in Abu Dhabi Tasoev said,
"It was my first Grand Prix, so I really did not expect to win, especially as there were some very experienced athletes here. Once I made it to the final I realised that I would be competing against Lukas Krpalek. My coach spoke with me, we watched some videos during the break and that was as much preparation that could be done before I had to face him. I will join the rest of the team now for a training camp in Sochi. But I am not sure where I will compete next until I speak with the coaching staff."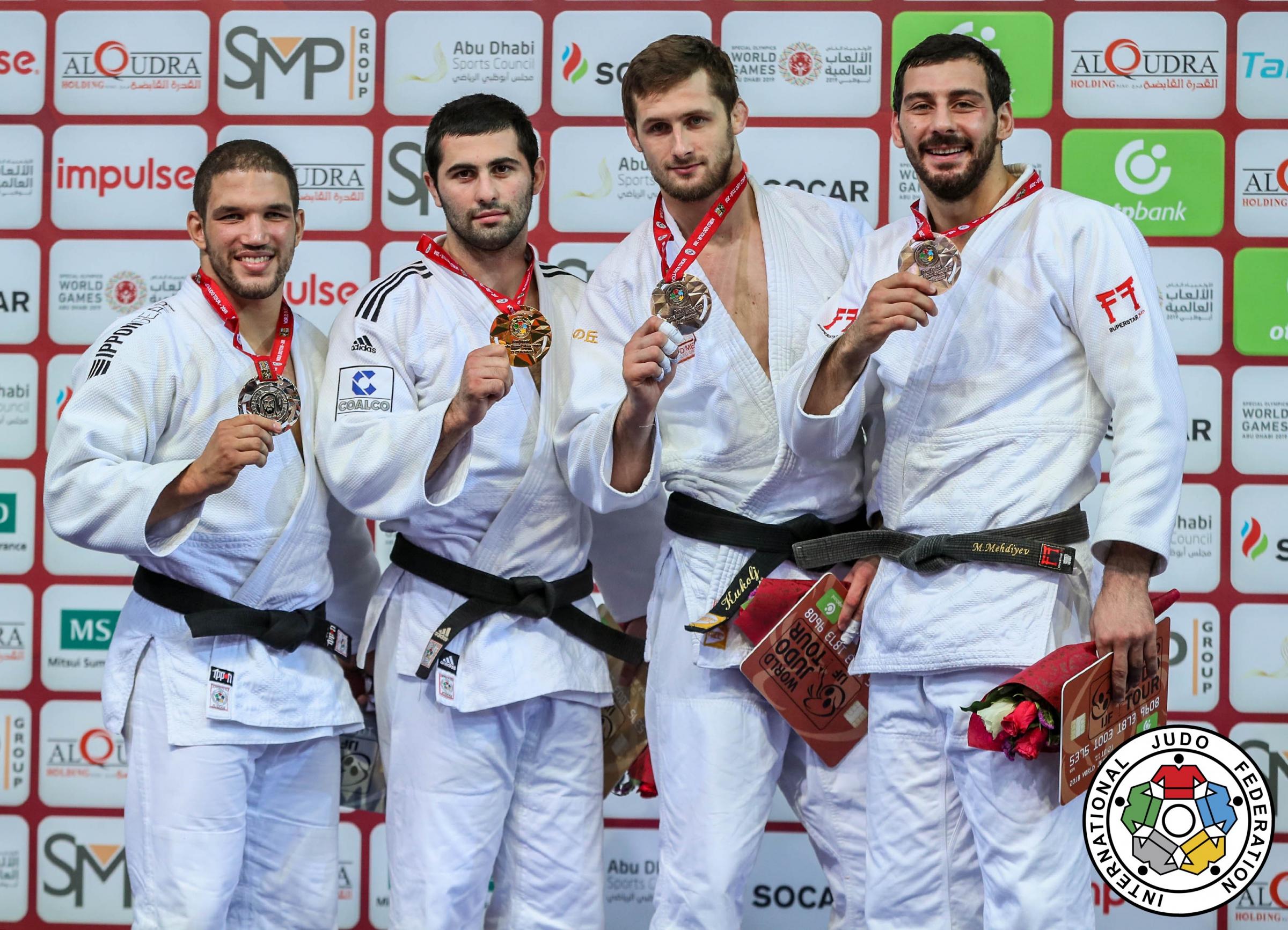 Podium -90 kg 1. IGOLNIKOV, Mikhail (RUS) 2. TOTH, Krisztian (HUN) 3. KUKOLJ, Aleksandar (SRB) 3. MEHDIYEV, Mammadali (AZE)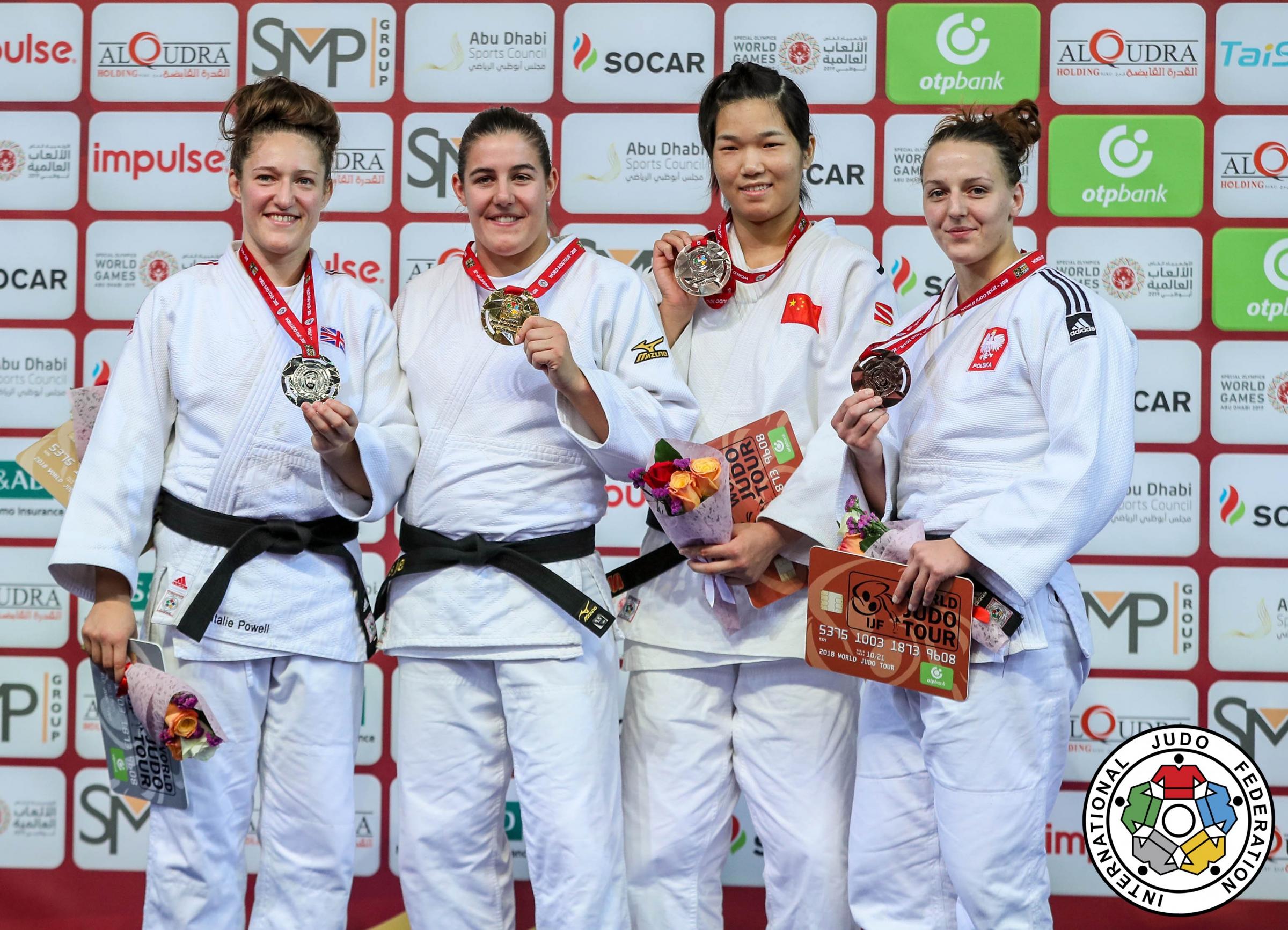 Podium -78 kg 1. STEENHUIS, Guusje (NED) 2. POWELL, Natalie (GBR) 3. MA, Zhenzhao (CHN) 3. PACUT, Beata (POL)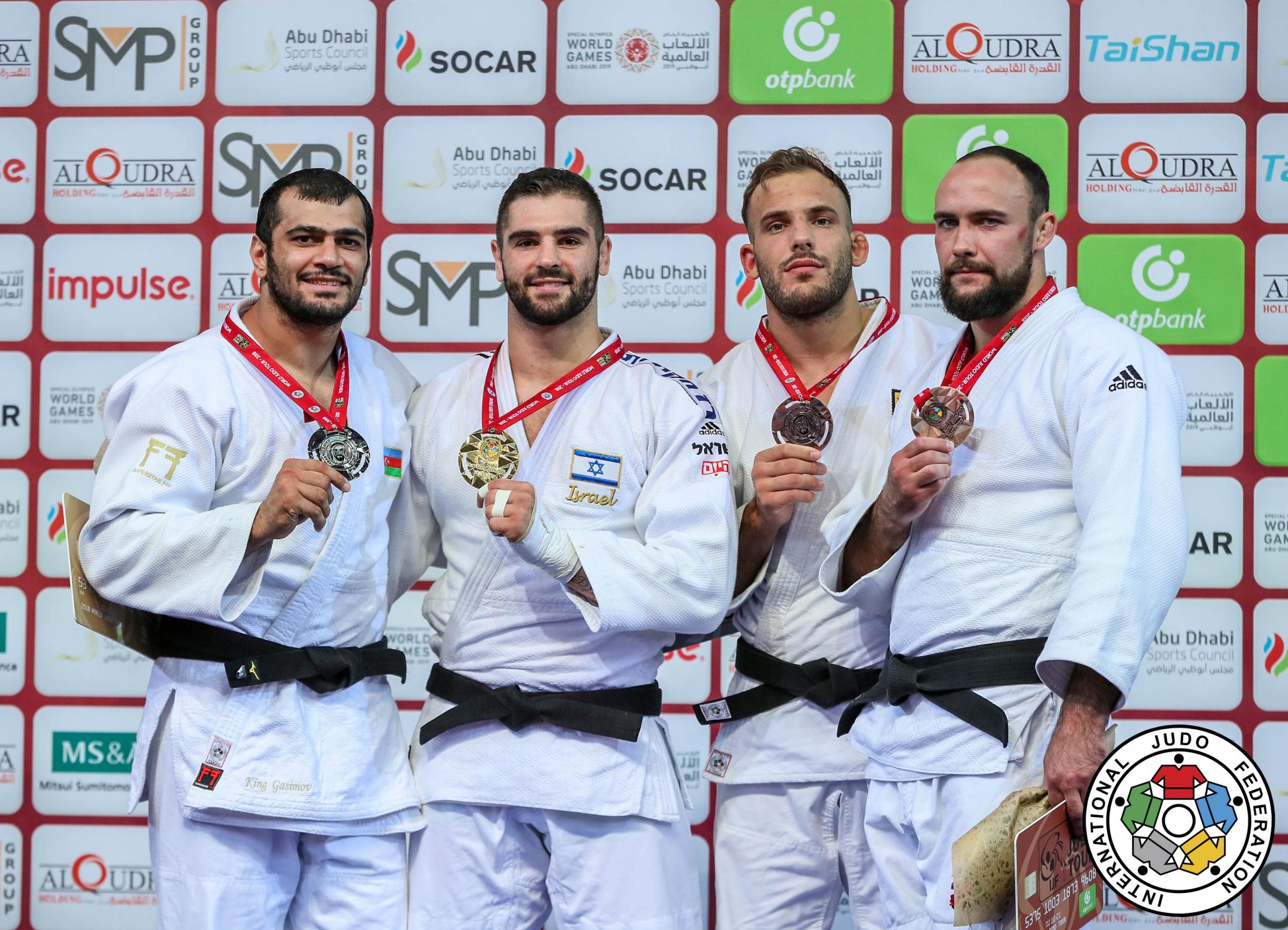 Podium -100 kg 1. PALTCHIK, Peter (ISR) 2. GASIMOV, Elmar (AZE) 3. BORODAVKO, Jevgenijs (LAT) 3. FREY, Karl-Richard (GER)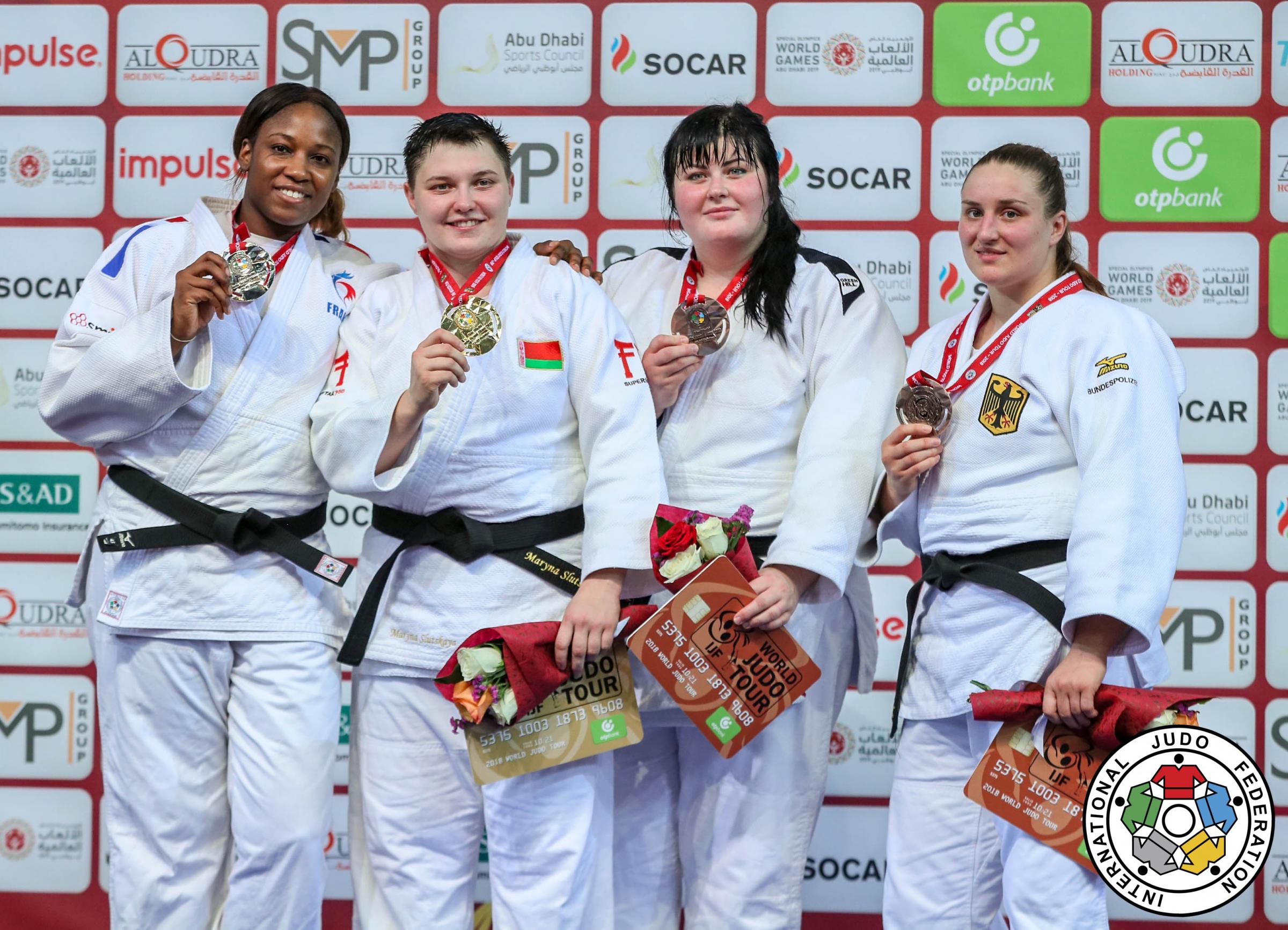 Podium +78 kg 1. SLUTSKAYA, Maryna (BLR) 2. M BAIRO, Anne Fatoumata (FRA) 3. KINDZERSKA, Iryna (AZE) 3. WEISS, Carolin (GER)
Podium +100 kg 1. TASOEV, Inal (RUS) 2. KRPALEK, Lukas (CZE) 3. GROL, Henk (NED) 3. KRAKOVETSKII, Iurii (KGZ)
There was a bronze medal too for Henk GROL (NED).
In the -90kg category the gold medal went to Mikhail IGOLNIKOV (IRUS) when he defeated TOTH Krisztian (HUN). There were bronze medals too for Aleksander KUKOLJ (SRB) and Mammadali MEHDIYEV (AZE).
In the -100kg category there was a first ever grand slam gold medal for Peter PALTCHIK (ISR) when he defeated Elmar GASIMOV (AZE). There were bronze medals too for Karl Richard FREY (GER) and Jevgenijs BORODAVKO (LAT).
In the final of the -78kg category Guusje STEENHUIS (NED) won the gold medal when she defeated Natalie POWELL (GBR). There was a bronze medal too for Beata PACUT (POL).
In the +78kg the gold medal was won by Maryna SLUTSKAYA (BLR) when she defeated Anne Fatoumata M BAIRO (FRA). There were bronze medals too for Iryna KINDZERSKA (AZE) and Carolin WEISS (GER).
---