For France, celebrations are already going ahead with an all-French -78kg final and for their hero Teddy RINER to be back on form and fighting for his sixth Paris Grand Slam title, as is Audrey TCHEUMEO.
Tato GRIGALASHVILI (GEO) seems unable to do any wrong and is now going in to his third Paris Grand Slam final in a row. Though he didn't manage to swipe the title on the first two occasions, losing out to FUJIWARA Sotaro and SASAKI Takeshi of Japan. The Georgian has become world and masters champion since then and truly earned his place on top of the category, a Paris gold would be yet another highlight but he comes up against the unexpected Timo CAVELIUS (GER). For the world ranked 88, this is his first grand slam final.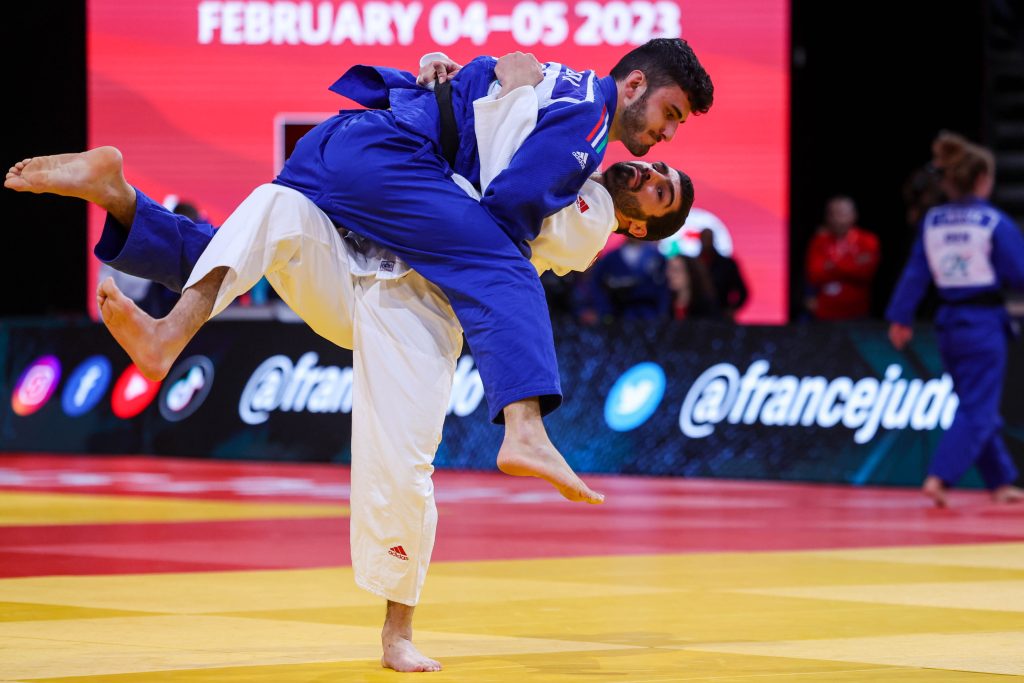 Barbara MATIC (CRO) has been carrying the weight of two world championships on her shoulders and although she has been staying on top, today the underdog, Ai TSUNODA ROUSTANT (ESP) controlled the semi final of the -70kg category.
The 20 year old is the current junior world and European champion but has already found herself in one grand slam final, taking silver in Tbilisi. It was clearly an emotional win for her Paris debut, but now she will face Marie Eve GAHIE (FRA) for the gold. Of course battling the current world champion is one thing, but Gahie has her own senior world achievements, as well as home advantage.
For the number one seed of the -90kg category Luka MAISURADZE (GEO), it was over 10 minutes of golden score when the crowd were on their feet cheering for a score in his semi final, however after a replay there was evidence of a high dive, and so Azerbaijan's Murad FATIYEV will compete for gold. Fatiyev has three grand slam bronze medals but it's his first final and will go up against former world champion Noel VAN T END (NED) who seems to have found his stride once again.
For the French, there will be celebration no matter the result of the -78kg category, as five-time Paris Grand Slam winner and double Olympic medallist, Audrey TCHEUMEO will go head to head with Chloe BUTTIGIEG. The younger of the two is having the best day of her career, with her previous medals coming from continental opens and cups.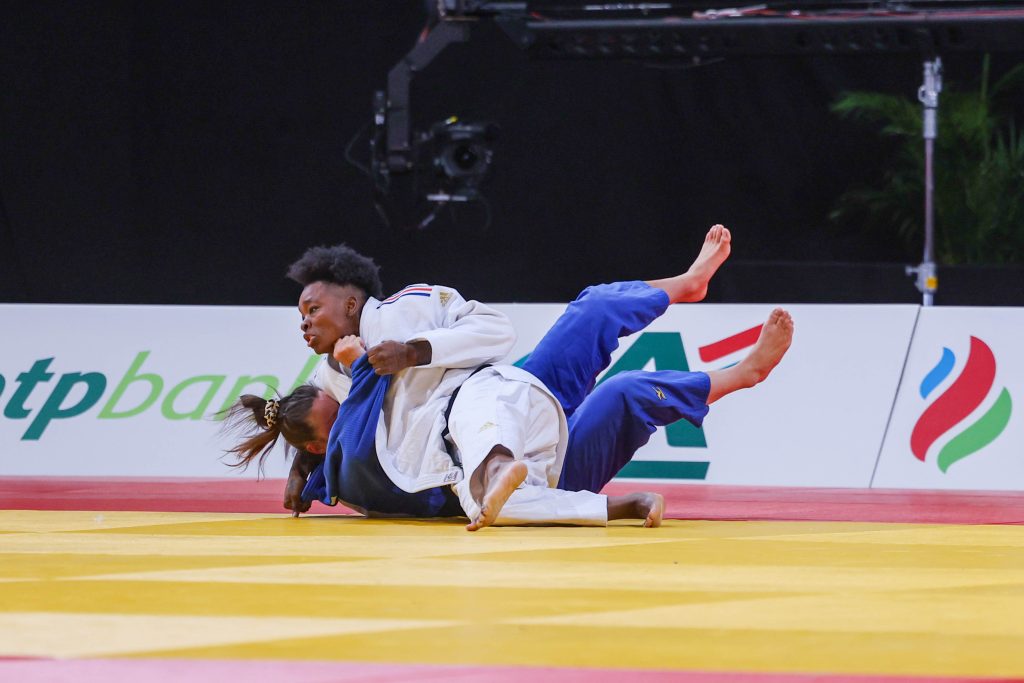 Team Netherlands are in for a chance of a double gold win, -90kg Van T End will be joined by Michael KORREL in the -100kg category. It was a tremendous head to head between the Dutchman Korrel and double European champion Toma NIKIFOROV (BEL), but conditioning looked to be the difference as Nikiforov tired. The number one seed was prepared for a tough day and finally will compete with Dzhafar KOSTOEV (UAE) for his second Paris Grand Slam title.
In an incredible turn of events, the top three French seeds were unable to find places in the semi finals however both Julia TOLOFUA  and Romane DICKO will compete for bronze medals.
Of course for many in the Accor Arena, the highlight is Teddy RINER. He will face OTA Hyoga (JPN) in the final, the Tokyo Grand Slam winner is lacking in comparison with experience but his conquests today show he is more than ready, defeating number one seed Guram TUSHISHVILI (GEO) earlier in the day. For a moment it looked a bit shaky for Frenchman Riner, with his semi final opponent Alisher YUSUPOV (UZB), waza ari scores were given to both and then taken away during the contest and unfortunately it finished in the way of shidos but a win is a win for this French crowd and now the Bercy will come alive for the finals of day two.
Judoka
Author: Thea Cowen
---