The IJF Tour is moving swiftly now and we are heading to Tel Aviv, Israel for their second grand slam since it's promotion from grand prix status in 2021. President of the Israel Judo Association, Mr Moshe Ponte
Last year we met here under restrictions of COVID 19, and we managed to produce with all our partners and with the amazing stuff of the IJF, a spectacular event. However, something was missing – the great Israeli judo fans. This year, the fans are back, and I'm very happy about that.

During all this tough time of COVID 19, sport is a ray of light and hope, a place where people can come together and share their passions.
Embers of the Paris Grand Slam are still glowing for some of the French athletes who didn't quite grab their golden success, Dicko included. A stunning final between both herself and TOMITA Wakaba (JPN) ended in favour of the Japanese but she won't hold on to that and is focussed on the gold in Israel. In the same boat is 2019 world champion, Madeleine MALONGA who finished in bronze medal position in the -78kg category.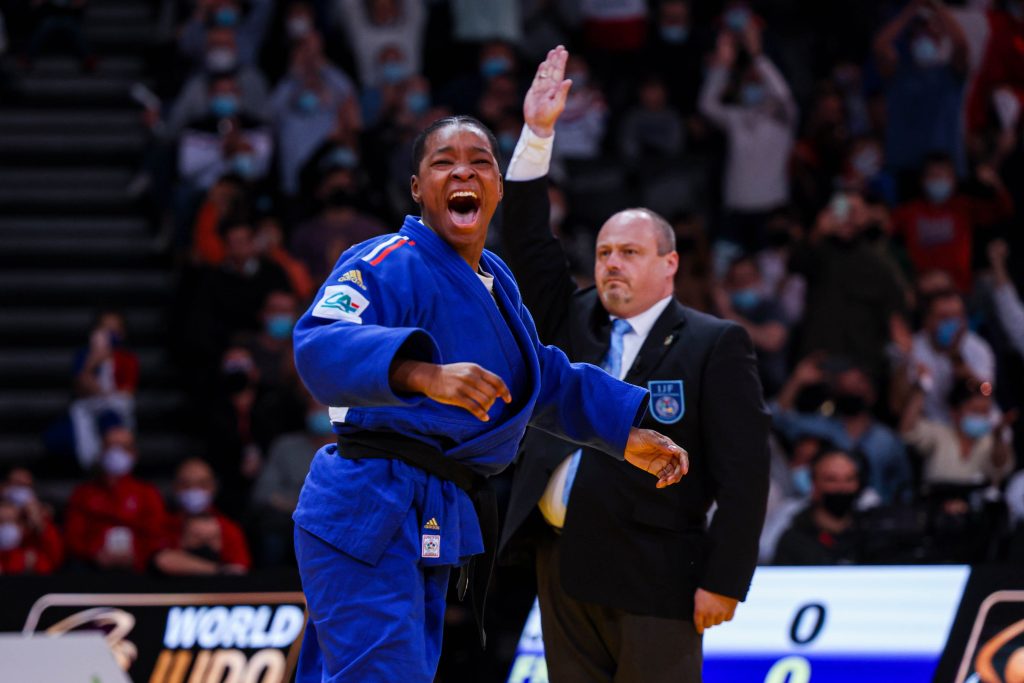 Incredibly, Audrey TCHEUMEO (FRA) is fighting back in full force. The 2012 and 2016 Olympic medallist has seen an opportunity to compete as an Olympian on home soil and so the chase begins. With a bronze and silver in her collection, the allure of finally taking the Olympic title will be so great and now she is already at #14 in the WRL, France will once again have a tough choice on their hands come 2024.
Many may have been disappointed not to see Clarisse AGBEGNENOU (FRA) competing in front of her home crowd but since the tournament she announced that she will be starting a family in only a few months but has every intention to be representing the red white and blue in Paris 2024.
Of course the home nation have a strong entry of 45 athletes and with a strong, knowledgable crowd behind them they will have the home advantage. A few included in this selection are Peter PALTCHIK, Timna NELSON LEVY, Raz HERSHKO, Gefen PRIMO, Inbar LANIR, Sagi MUKI, Tal FLICKER, as well as cadet and junior sensation Kerem PRIMO.
Paltchik is very keen to get on the tatami on home soil,
I am actually very very excited to compete in the Tel Aviv Grand Slam, I think for an Israeli fighter its the most exiting tournament in the whole tour and after the Paris Grand Slam almost two weeks ago, I was very motivated. I didn't get the result I wanted, I wanted the gold medal and after a bit of drama in the final, I'm coming to my next tournament very motivating, very hungry and I want the gold medal. So I hope to take my title again from 2020 here in Tel Aviv.
Expectations will be high for them to succeed at home but they have some strong competition with many of Europe and the worlds top fighters showing face. With qualification starting in May, these athletes will want to feel in peak condition to start collecting those all-important points and jump up the WRL. This will extremely important for the athletes who have changed categories, this weekend alone we see KARAKAS Hedwig (HUN) and Elisavet TELTSIDOU (GRE) entered in new categories, whether this is a one-off we shall have to wait and see.
The three-day event will begin on Thursday 17th of February with the lightest weight categories. All streaming will be available at live.ijf.org.
Judoka
Author: Thea Cowen
---