It is a bittersweet start to the final block today, we celebrate a fantastically organised event here in Jerusalem but we say goodbye to the athletes until we start up again in 2023, but let's talk about the three titles earned today as well as the 35 medal-haul in total for our continental union.
First up are the -90kg athletes and Europe's first chance of a medal was Luka MAISURADZE (GEO) against the current world champion Davlat BOBONOV (UZB). It was a great head to head but sadly ended with hansoku-make from the Uzbek athlete, one of the clearer head dives, and Maisuradze claiming the first bronze. It could have been a double claim for the Georgian team with Beka GVINIASHVILI (GEO) up next against Rafael MACEDO (BRA) but it was a beautiful ashi guruma from Macedo which sent Gviniashvili over for ippon.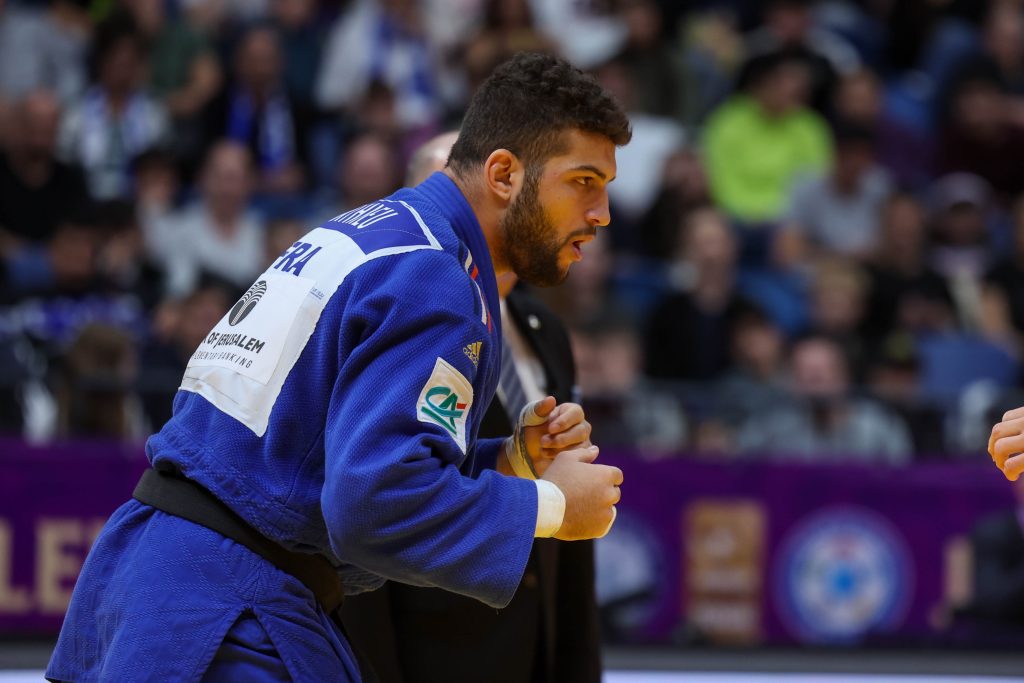 One of the stars of the day was Alexis MATHIEU (FRA). Ranked #26, he wasn't necessarily on anyones radar but he surely will be now. In his preliminaries he ousted TOTH Krsiztian (HUN) as well as both of the Georgians to take his place in the final against MURAO Sanshiro (JPN). However the Japanese had an edge and his two waza ari scores gave him the Masters title. In fact this was the first IJF World Tour medal for Mathieu and after his efforts today, we're sure it won't be his last. 
Madeleine MALONGA (FRA) and Guusje STEENHUIS (NED) in the -78kg category know each other very well. The pair are highly ranked and the constant back and forth has seen them in a stalemate on occasion, one of those being today as both ceded two shidos. Steenhuis came close with a switch from uchi mata in to ko uchi gari but Malonga managed to escape. Instead, and unfortunately, it ended with Malonga picking up the final shido for passivity as the Dutch piled on the pressure with an onslaught of attacks.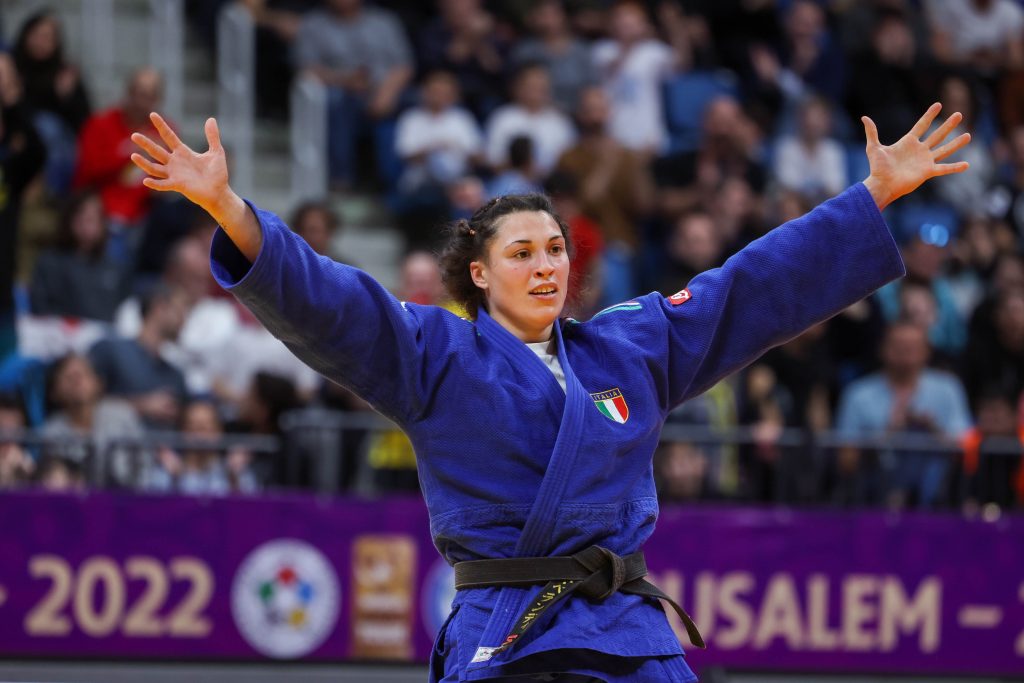 Though France couldn't take the bronze medal with Malonga, their second athlete, Audrey TCHEUMEO (FRA) had already claimed one with her place in the final against Alice BELLANDI (ITA). Tcheumeo was desperately seeking this gold, having previously taken silver and bronze medals at this invitational but Bellandi has arrived in her new category and is taking over. Though they both had two shidos, the Italian made her move, and scored waza ari with o soto gari which led her to the gold. 
I don't know how to describe this feeling, it's an explosion of emotions. If I am honest, I didn't feel really good in my first three contests, like I was sleeping but I was confident and knew my work would beat them so I trusted and believed in myself. I felt really nervous for the final, because never before, not even in training camps have I fought her before, I know she has good judo and good kumi kata so this made me nervous and she is the type that is difficult for me. I felt more confident during the fight and now I feel super. I think this is my place, I want more and I feel I can have it so I'm happy my work is… working!
Before the first -100kg bronze contest started, you'd have been mistaken for thinking a win had already been acquired but the Israeli spectators were simply welcoming their first medal potential, Peter PALTCHIK (ISR). A score against Toma NIKIFOROV (BEL) rose the roof but little mistakes were creeping up and he was issued with two penalties, as was the Belgian. However a change in dynamic in the contest saw a third shido go to Nikiforov in the final few seconds and of course the crowd went wild for their athlete.
Zelym KOTSOIEV (AZE) and Dzhafar KOSTOEV (UAE) went at it for the next bronze, and both were explosive in their approach, scoring a waza ari a piece but in the end, osae komi brought Kotsoeiv his second Masters medal in as many years.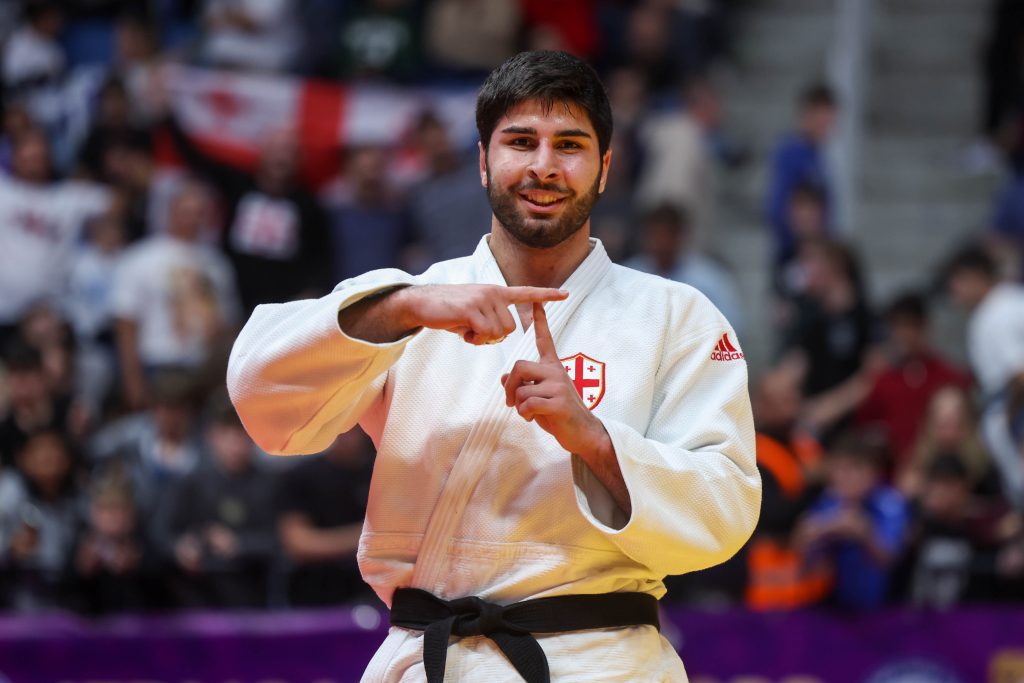 Ilia SULAMANIDZE (GEO) came in to the Masters event with nothing to lose and Simeon CATHARINA (NED) hoping to better his result from Doha 2021, already the Dutch managed this by fighting his way to the final block. This gold medal contest felt like a slow burner, though the Georgian was attacking, they fell short of a score as Catharina seemed to dominate in strength but also picked up two shidos for passivity. In the final minute and with two shidos adding pressure Catharina came to life and a contested score almost came to pass but instead the match went in to golden score. 
At this point they really came to life, a couple of clinches had the crowds on their feet but ultimately a third shido went to Catharina and Sulamanidze finished the year on top. It was a hard road to the final, especially against the home favourite, Paltchik but the Georgian was grateful for the contests today, 
I feel amazing, I am so proud for this result and to be the Masters gold medal winner. I want to thank everyone, who I fought today, Peter Paltchik is such a strong athlete and judoka, and this atmosphere is amazing to fight in, thank you again.
Once again the arena exploded for Raz HERSHKO (ISR) in the +78kg category as she walked out to face Lea FONTAINE (FRA) in a tactical game of shidos. Both picked up two but the third went to Fontaine for passivity. Next up, Olympic champion SONE Akira (JPN) against Kayra SAYIT (TUR) and it was the same shido fate but this time in favour of the Japanese.
Yesterday Tato GRIGALASHVILI (GEO) boasted a collection of 2022 titles; European, World and Masters, but today it was time for Romane DICKO (FRA) to do the same. Notably, the pair also defended their 2021 Masters titles.
It was a wonderful result for France to have the three entries in the final block, regardless of Fontaine's loss, but a super story for the 2021 junior world champion, Coralie HAYME (FRA), battling past the current Olympic champion as well as Hershko to be in the final against her world champion team mate. In the final minute, Dicko scored to complete her 2022 collection but was happy to be sharing the podium with Hayme, and mentioned that they were even missing world bronze medallist Julia TOLOFUA in the +78kg category when discussing the strength of the women here!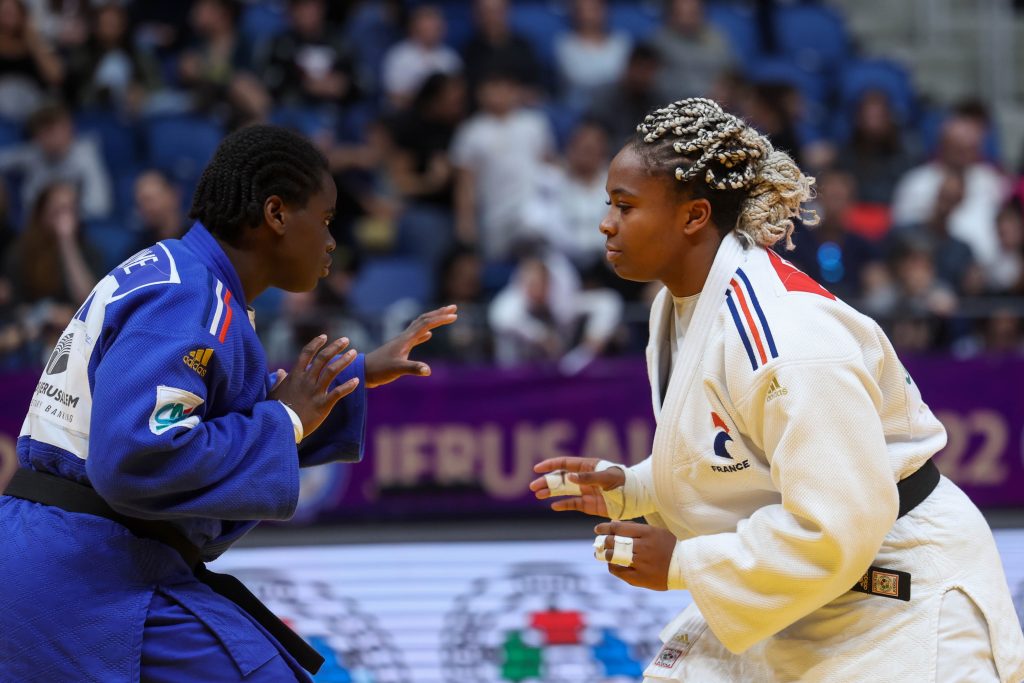 I did my best and I won today so I am so happy, and to end the year with gold is great. I am feeling very proud of myself now because last year I lost in the Olympic Games and my goal was to do better this year and I am finishing with the European, world and Masters title which I have defended, I can't wait for next year!
---
Coralie is an amazing judoka, she came here today as an outsider and ended up in the final. I hope she is happy because she did so well, she fought against really tough judoka and is such a great judoka herself, I hope she will do really well in the competitions next year as well.
In the final block only Jur SPIJKERS (NED) was present from Europe and he gave KAGUERA Kokoro (JPN) a run for his money but in the last seconds, the Japanese scored waza ari with ashi waza. 
-90kg Podium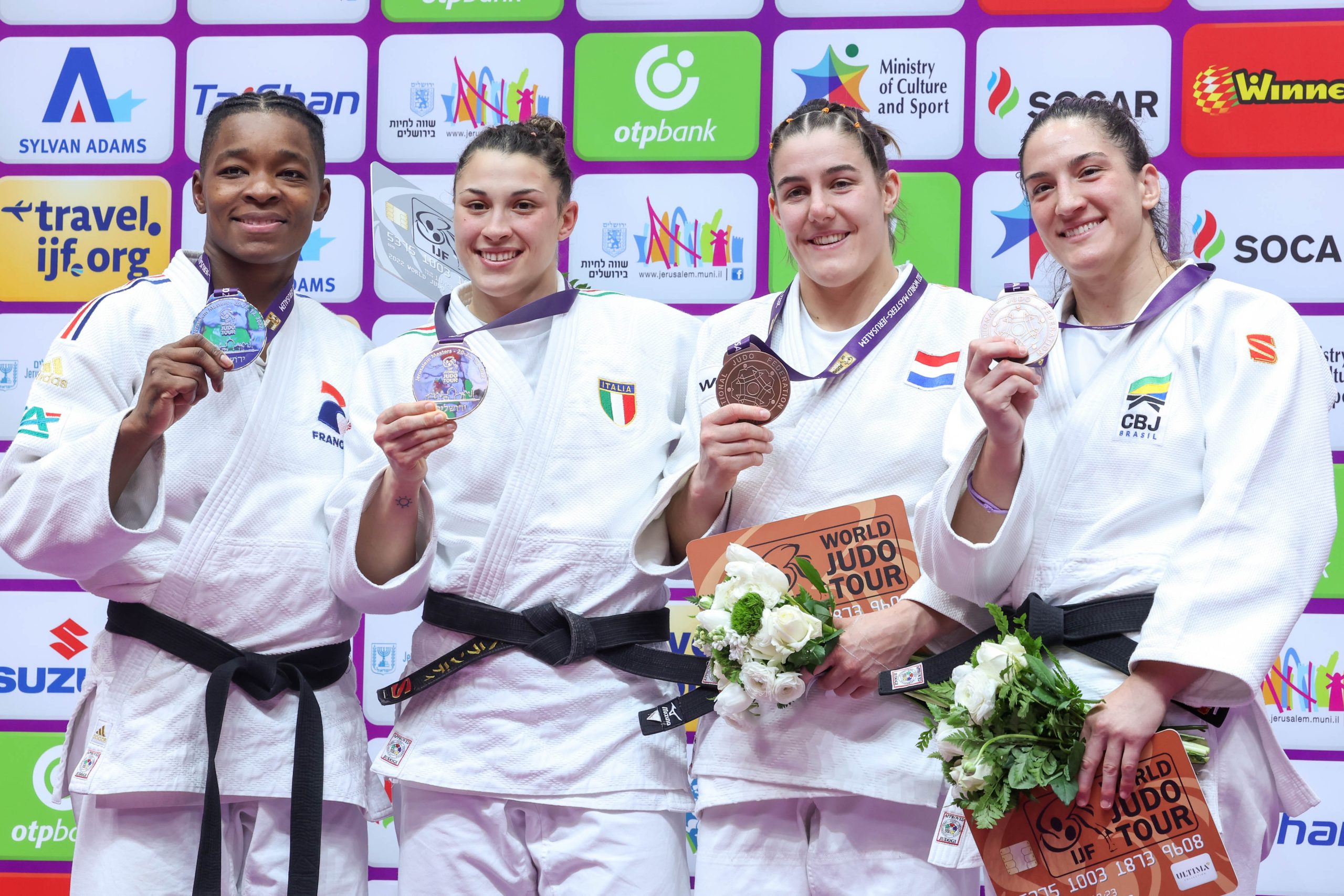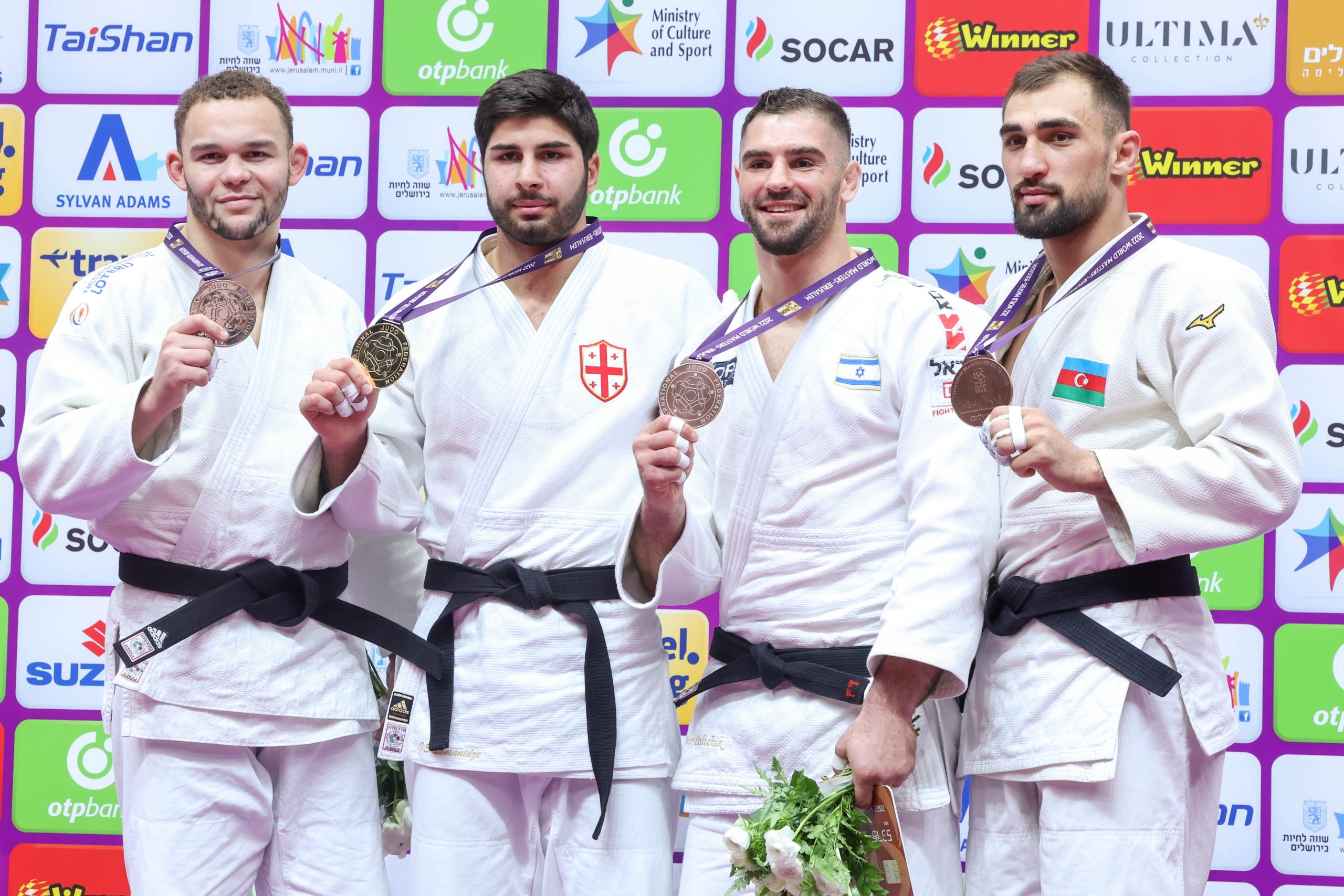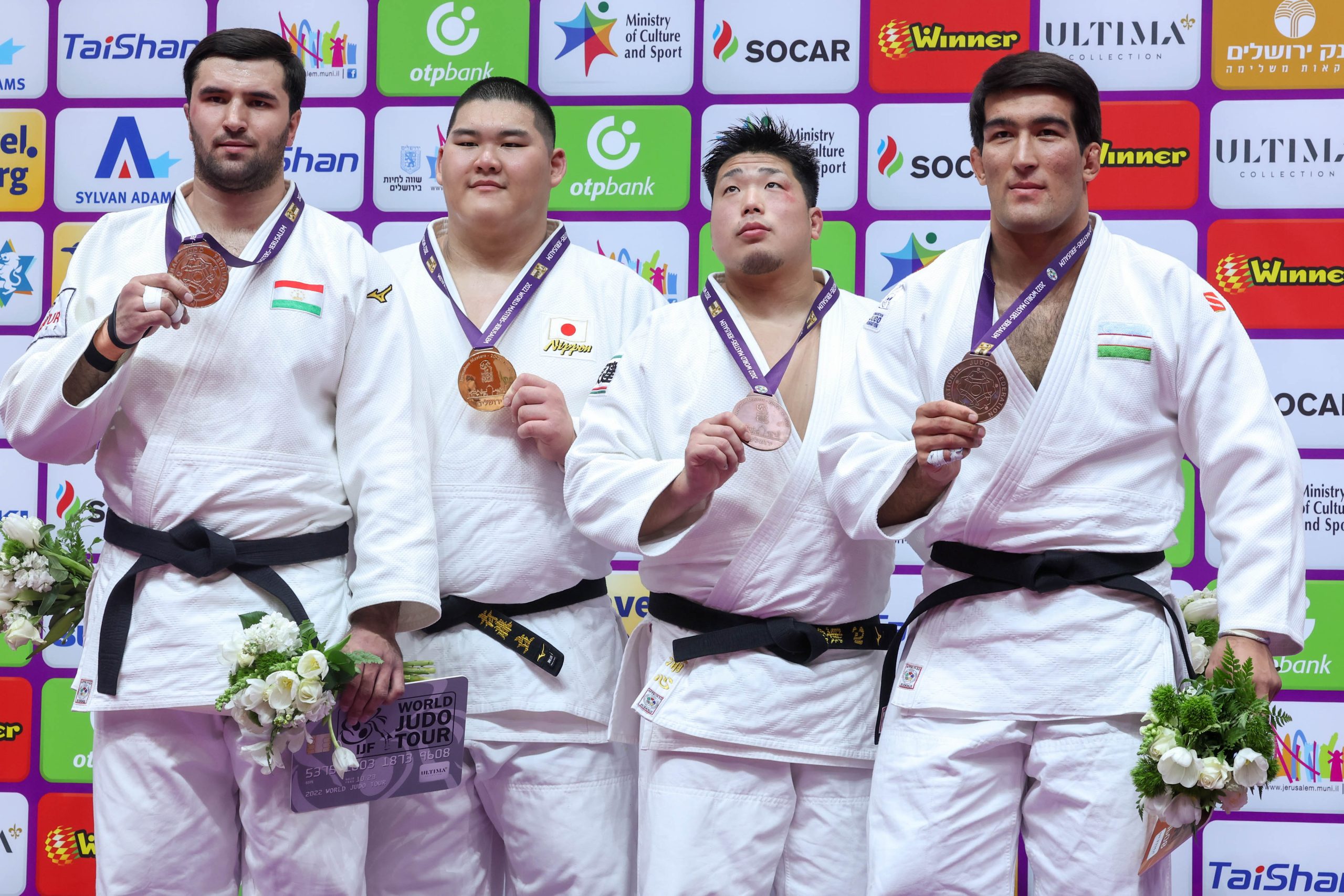 That's it. The year is over and a new, fresh season will begin in 2023. Congratulations to all of the medallists as well as those that qualified for one of the greatest tournaments on the tour.
Judoka
Author: Thea Cowen
---