Over 1000 judoka are spending their week in Mittersill to build a solid foundation for the hectic year ahead. Amongst World and Olympic champions, there are other familiar faces. For some, it is not only the first camp of the year but also the first camp in many years. Undoubtedly, injury is part of the package when speaking of the term, elite athlete. Both GERCSAK Szabina (HUN) and Anna BERNHOLM (SWE) are on the mend to regain their acknowledgment in the -70kg category.
Hungary's first ever YOG winner in judo marked her name in the -70kg category when winning bronze at the Havana Grand Prix in 2015. Up to 2019, her journey included a wide board of medal tallies, including double U23 European gold, IJF World Tour collection and a bronze from the 2016 Europeans. The route was clear for her towards Tokyo 2020, however, in 2019 a tough decision had to be made;
I had problems with my back for years and it has got to a point where I needed operation. The doctor made it clear at the time that if I don't do it then, the situation can get to the point where I won't be able to stand on the mat, should I qualify for the Olympic Games. I was desperate to get to Tokyo but life decided otherwise.
What happened?
I had problems with my spine cartilage, and they needed to screw together the vertebra of the spine. After the operation I was first on bedrest and then it took 8 months of rehabilitation to be able to do judo again. Prior to the operation, there were times I was struggling to walk and needed to sit down even after a few steps.
Following this operation, Gercsak managed to return to competition and strike for gold immediately at the European Open in Luxembourg. Little did she know that it would be the last for a while.
It was the end of the year, and my back was still playing up. It hit me there and then, the year was over. It was at this point I questioned whether I want to continue or not. At times, I was in a very dark place in my head. Yet, I was desperate to go to Tokyo and that is what kept me alive.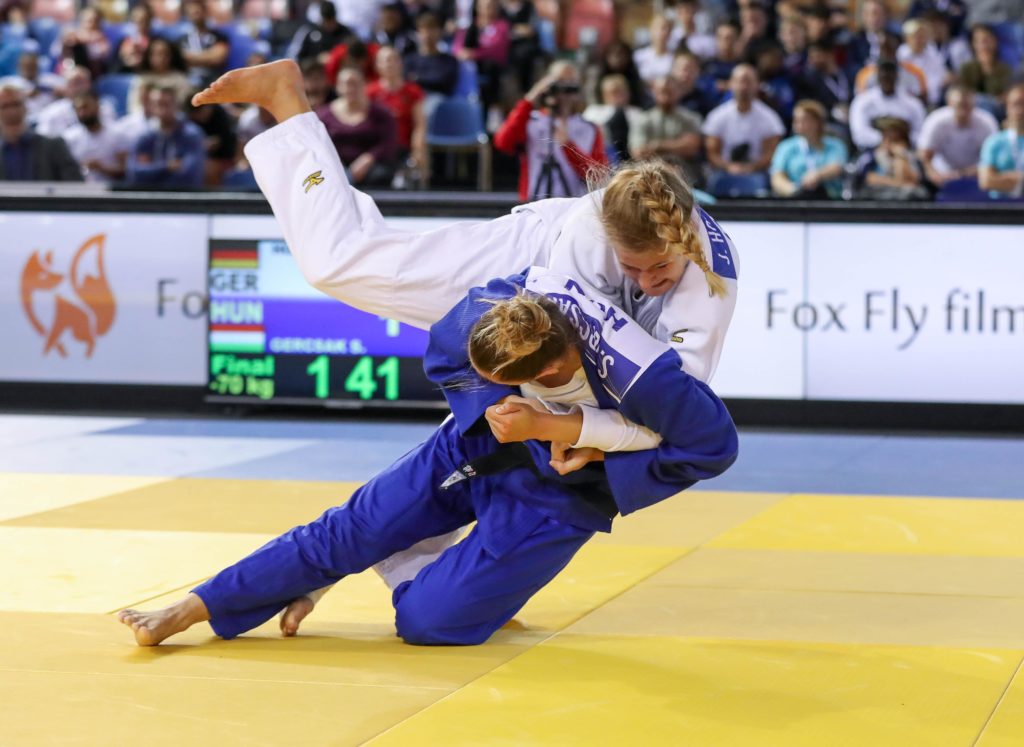 The first half of 2020, Gercsak was able to focus on her training and full recovery, both physically and mentally. The first Grand Slam at the back of pandemic was held on home soil, and Gercsak was ready and pain free.
Not long before the Grand Slam, I tore a muscle at training. This, again, took me 3 months to recover and immediately wrapped up my 2020 too.
Going into 2021, the year of the Olympic Games, her last chance to qualify meant she needed to deliver a top performance at the World Championships. Gercsak, once again, fell.
Following the World Championships, I had to have knee surgery and to be honest, looking back, it was the better of the worst as I missed out on qualifying. At least, I was focusing on recovery and not on the emotional pain. I was finally able to compete in Portugal last year, where I won silver. I thought, this is it. I am ready for Paris. Of course, I was too ambitious and ended up having another knee surgery.
Despite the regular hospital visits, Gercsak admitted the past year was harder mentally and emotionally then physically. Mittersill OTC is her first international training camp since, and once again, she is pain free. Gercsak will return to Portugal in hopes of repeating last years results. Certainly not what followed. Still, the road to Paris is long…
The goal is Paris, however, I was so desperate for Tokyo, I learned my lesson. This time around, I will take it step by step, day by day and appreciate the journey with an open mind.
Gercsak was not the only one who had to overcome surgery as 2019 European Games bronze medallist, Anna Bernholm was also forced to take a break. Bernholm suffered an ACL injury during the 2020 Paris Grand Slam, where she claimed bronze. Although she was able to postpone her operation, she needed to be on constant alert.
I really needed to focus on a good balance in respect to which tournament I go to, hence I only attended Ekaterinburg. Fortunately, I did well there, however I knew my focus must remain on training and on my knee.
Bernholm managed to hold it together until Tokyo, which she describes as a disappointing performance, but does not fault her knee for it. Following the summer games, multiple IJF world tour medallist, Bernholm, took a break to be with her family and decided to go ahead with the operation. Today, she trusts to be fully back in the game whilst focusing on her first tournament, the Portugal Grand Prix.
I had a strong rehab and here I am now. Although, I still do physiotherapy for my leg, I am back on the tatami and it is fun to be in Mittersill again, the atmosphere is good. The goal is clear: Paris 2024. I am hoping this year will turn out better for me and go upwards on the ranking. I did not let the injury disturb me or think that I fell back too far. I know it is a long journey, but I understand it. I am excited to compete with the ambitions of winning Grand Prix and Grand Slam medals again whilst seeking to qualify for the Olympic Games.
Author: Szandra Szogedi
---