Portuguese Judo has consistently produced talented judoka since the late 80's, most recent to make their marks are 2019 World Champion Jorge Fonseca and silver medallist, Barbara Timo. Their current national team certainly isn't in short supply with a range of European, World and Olympic medals.
It wasn't always like this, and for EJU Sports Director Catarina Rodrigues, there wasn't an abundance of role models who she could aspire to be like and developed in a much different environment than the one we are all used to now.
I started judo in primary school, following the tradition of my mother's family. Later I started practicing in my club, Ginásio Clube Português. Judo is much more popular in Portugal now than back in the 90's. Portugal had a medal in European Juniors in 1967 but had to wait 24 years for the next medals in big international events; Filipa Cavalleri took a silver medal at the Juniors Europeans 1991. But since that medal, it started to be much more common to get medals at junior and senior level in Europeans and World Championships.

To be honest while growing up I did not have any athlete I can say I considered as a role model. My role models in judo were my coaches and older training partners. Later in the national team, my teammates, our generation, both male and female, was the one that started to get consistent international results.
Though many of us involved in the organisation started on the tatami at a young age and found our way in to the competitive world, there is always a moment that it changes from a fun hobby to a serious passion. Catarina found this happened as a junior when she found herself in an incredible position that simply wouldn't happen with todays qualification processes.
It is difficult to choose the moment I realised it was a passion of mine. The first time I was selected to the national team was to take part at the Junior World Championships in Dijon, France in 1989. Back then I went to a World Championships without any specific preparation or international experience. Now that is impossible and even makes me appreciate all the paths our sport has taken since then. This Junior Worlds might be the moment I realised I wanted to go there again, to the big stage and be more focused on my judo training. Later my passion turned into a profession and now judo is still a big part of my life, and most importantly, I still love it.
Both judo and the experiences that were gained from being an international athlete have clearly had a great and positive impact on Catarina's life, the way she lives on a day-to-day basis and her current role. It started as a hobby, developed in to a passion as an athlete and went on to influence her education, later finishing her studies in Sport Management and setting herself up to work in the arena, but off the tatami.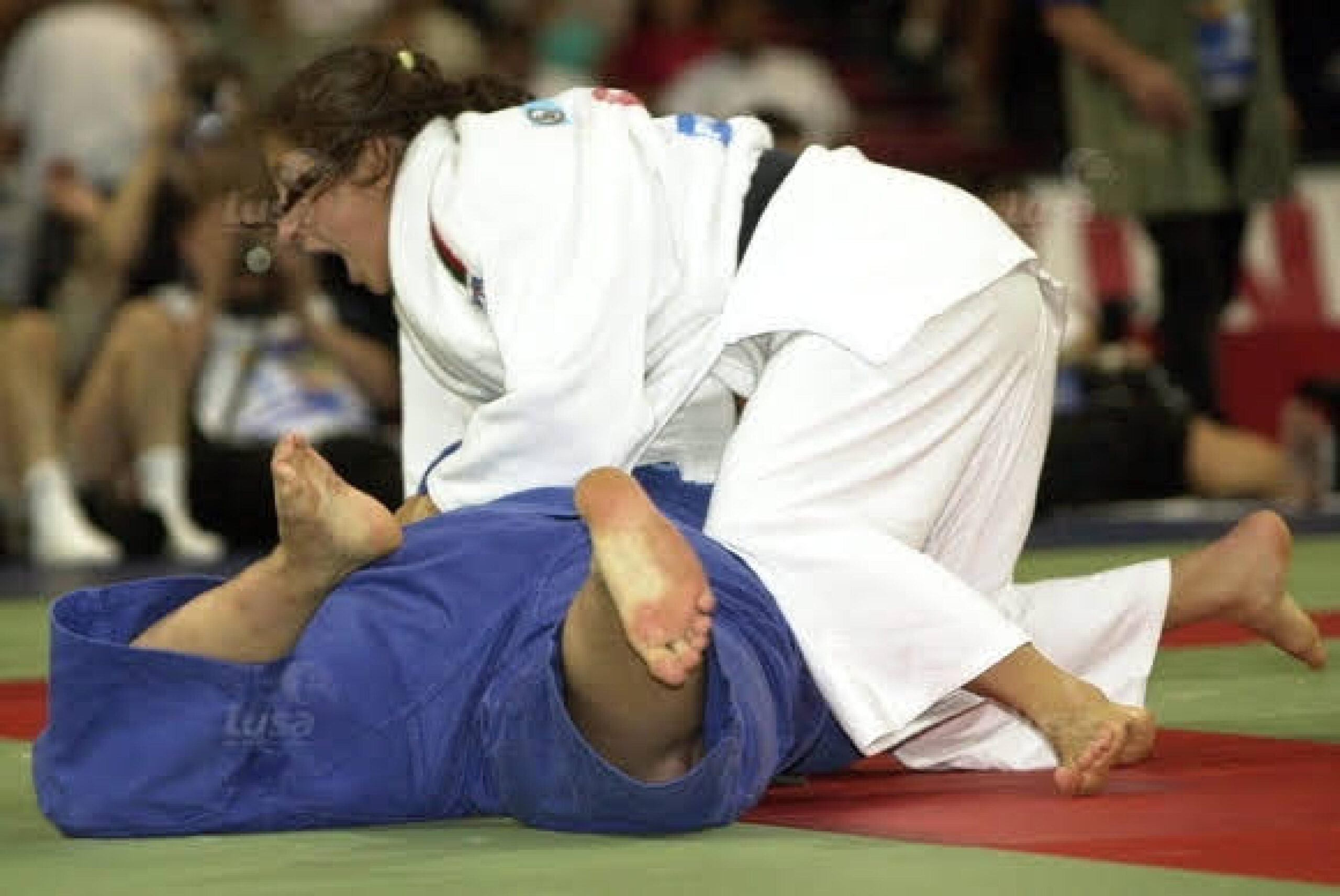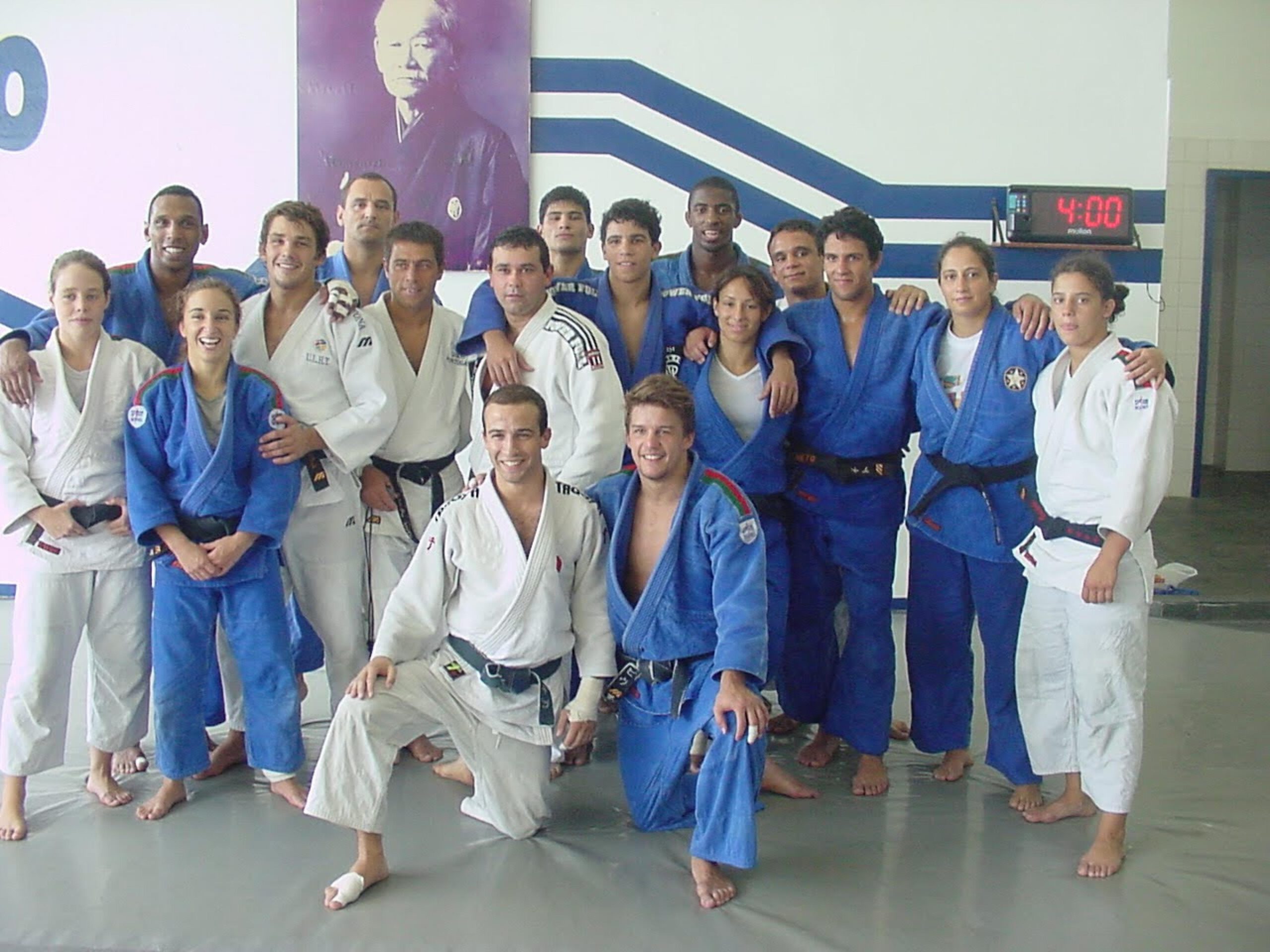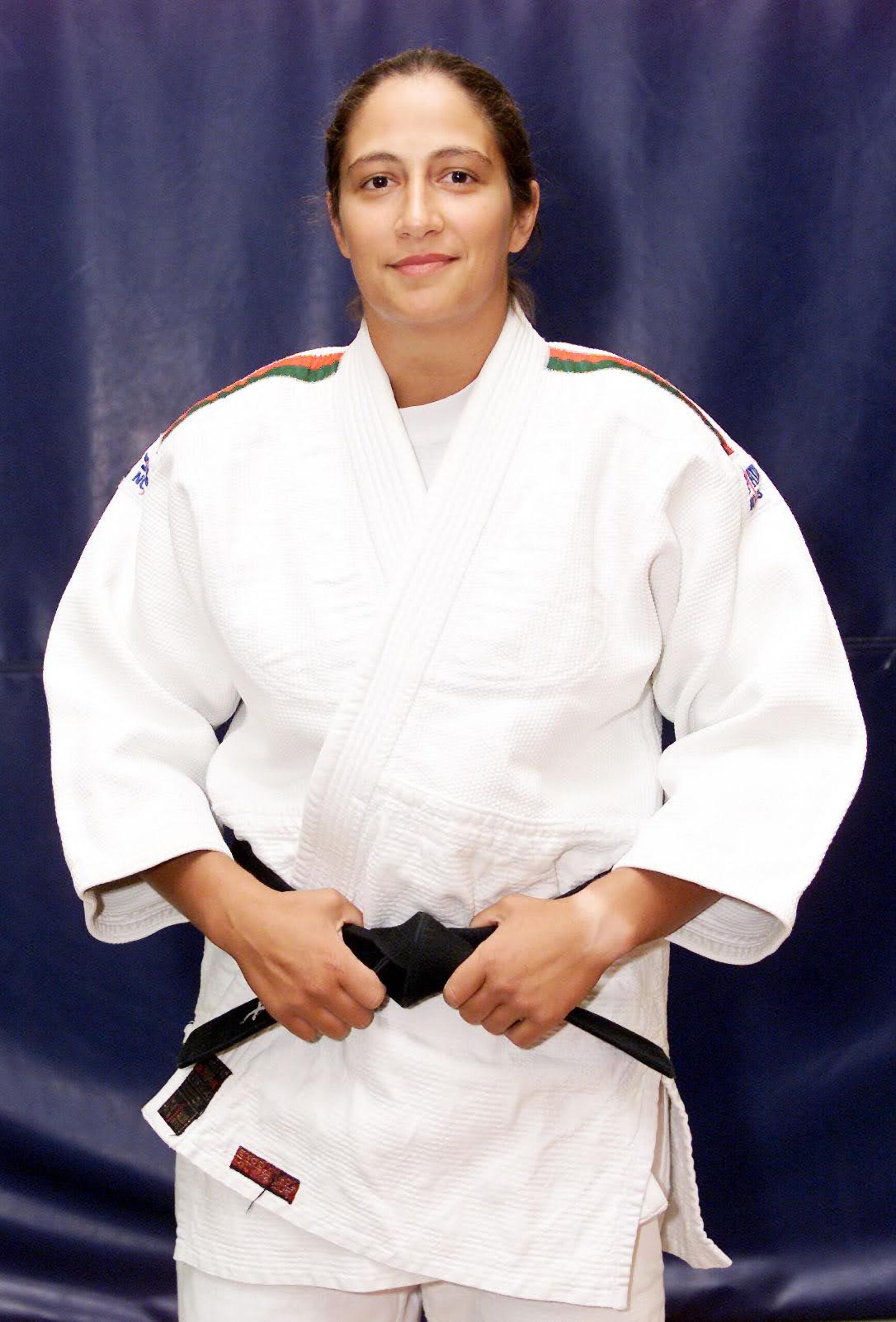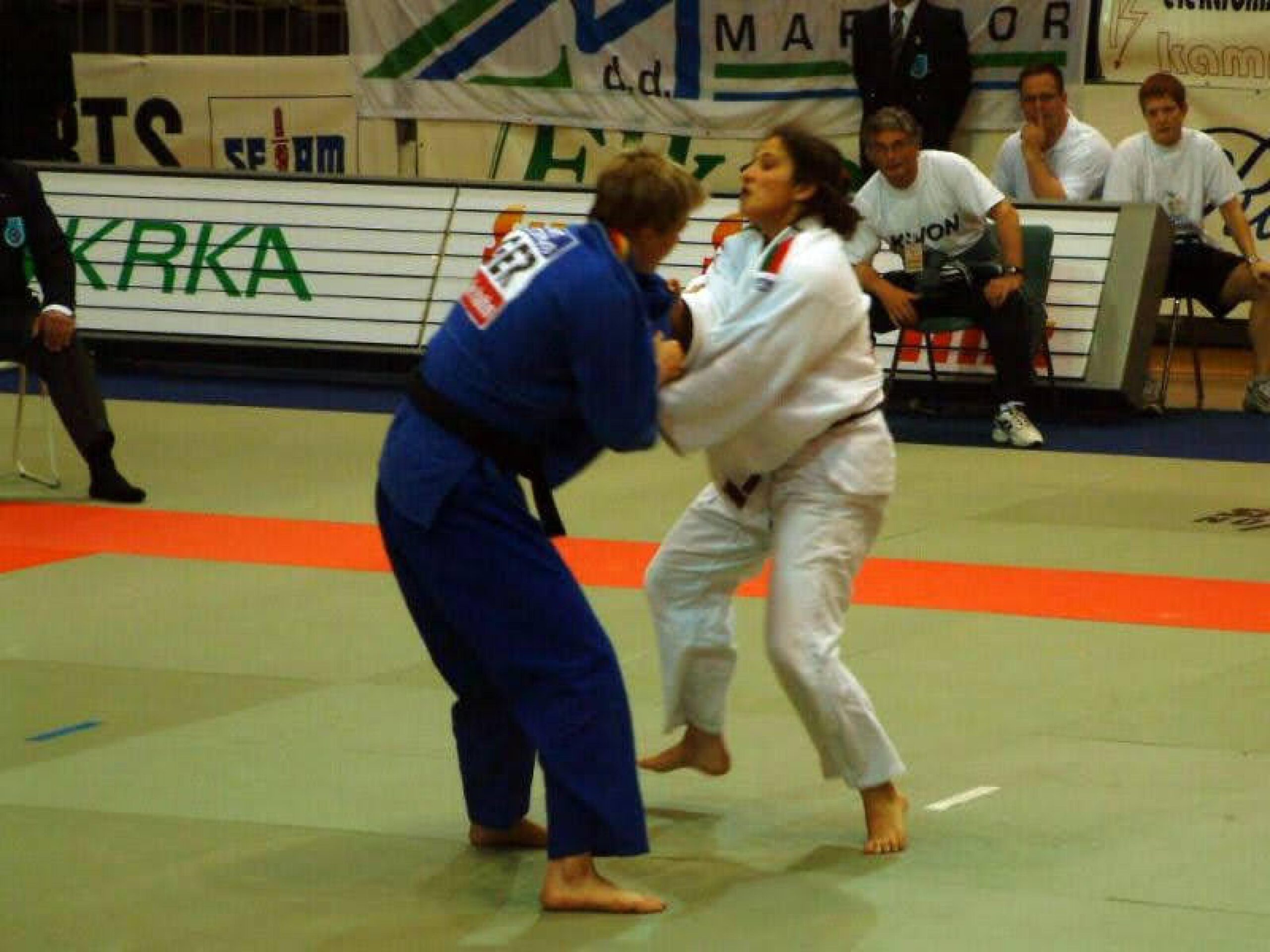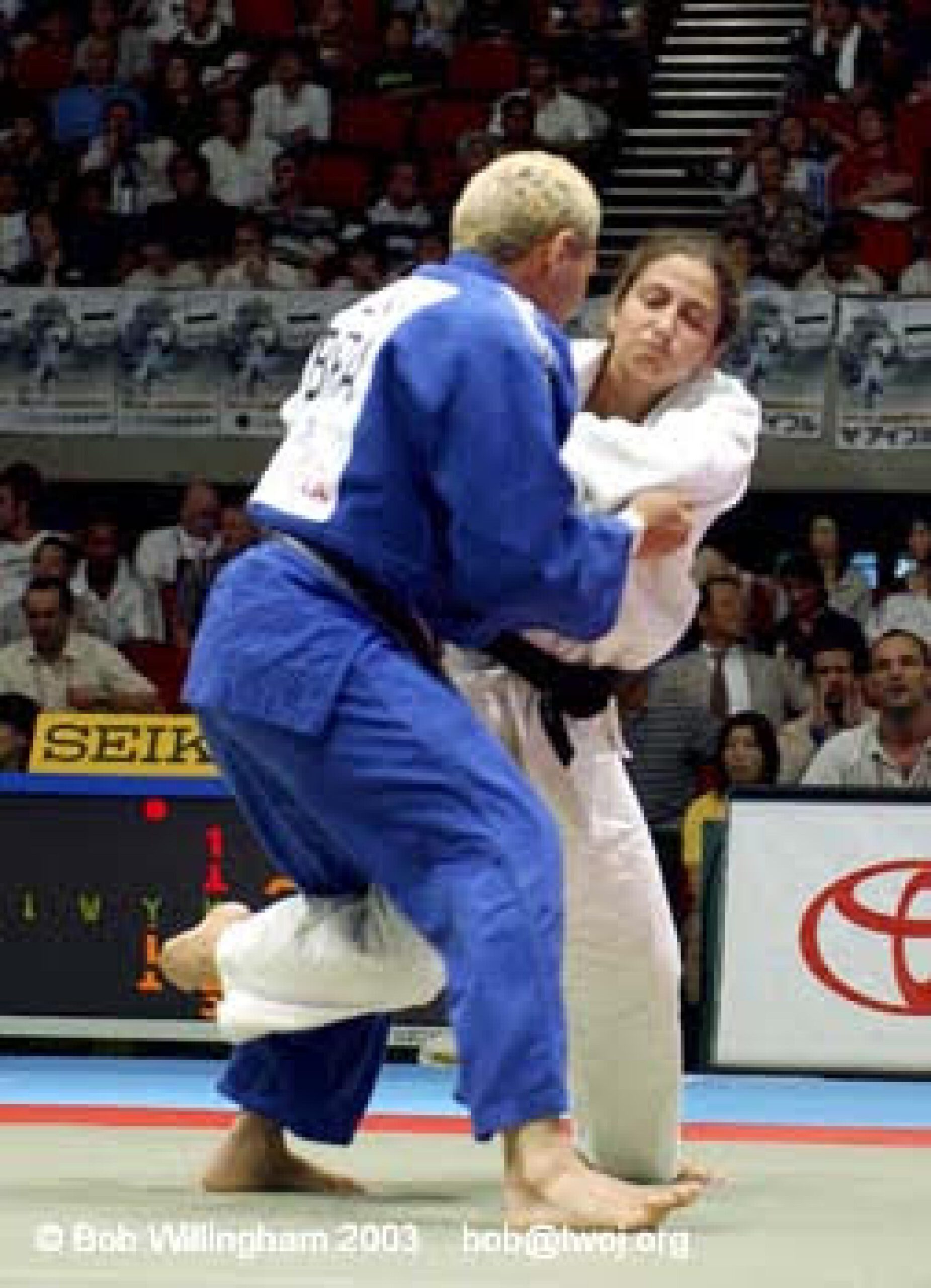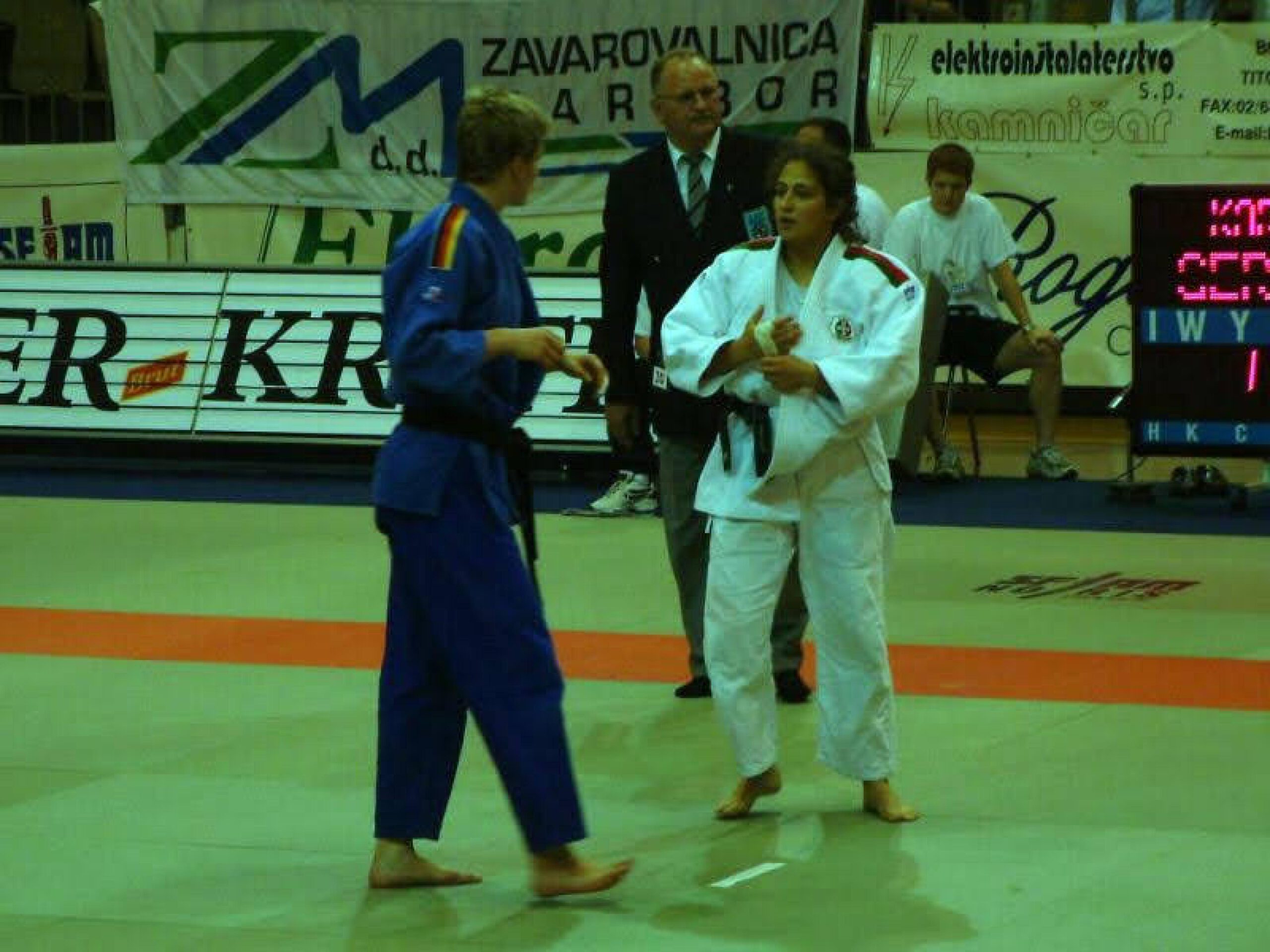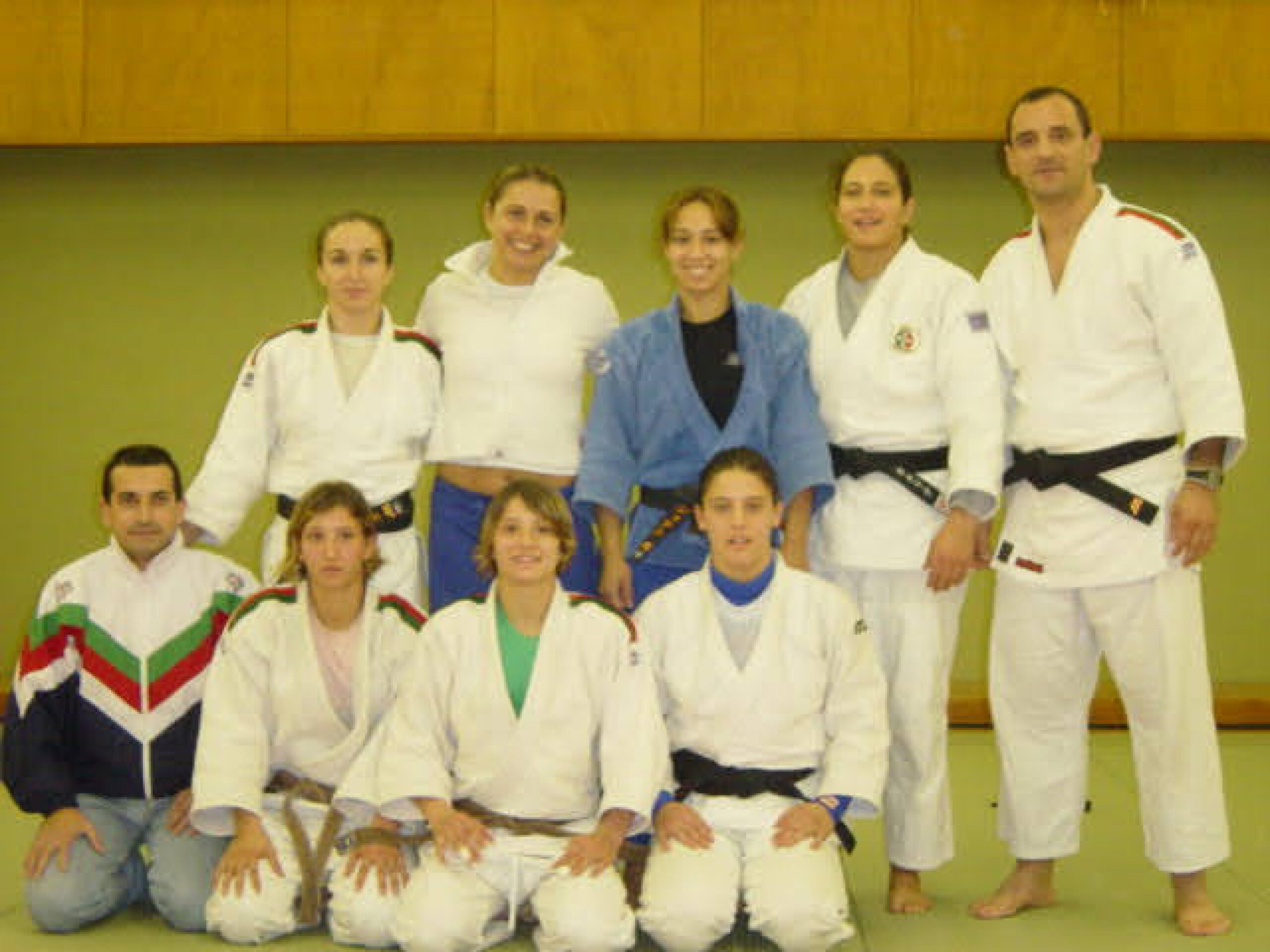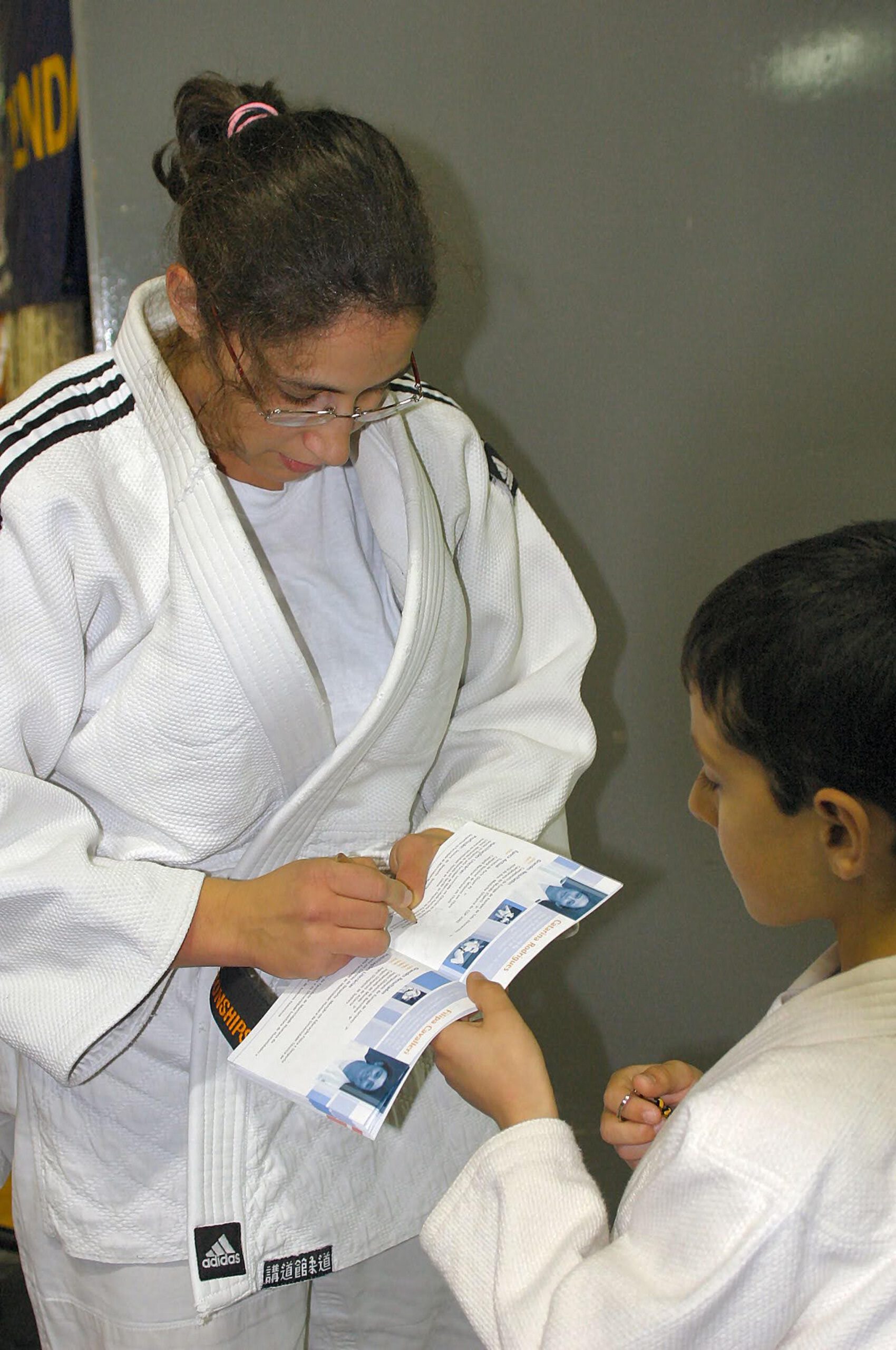 Admittedly, Catarina can say she was a good athlete but was missing a big result, but in 2001 it all changed.
I had been on the International Tour since 1993, when I took part in my first A-Tournament (later World Cups, Grand Prix and Grand Slams). I had won medals in A Tournaments, fought in European semi finals and bronze fights, beating some of the top ladies in my weight division but never got to be on the podium at a European or Worlds Championships until 2001. It probably happened when I was not expecting it any more.

In 2000 I took the decision to continue my career as an athlete with two conditions: I would not lose weight anymore and I would start to be more focused on my professional career in sport management. I wanted to have my mind clean from diets, so I moved from -70kg to -78kg. I never passed the 75kg mark but my judo style fits well with taller and bigger girls so I ended up getting my best sport results after changing categories. I had a good start of the year in 2001, I won the Prague World Cup and went to the European Championships in Paris with good hopes for a medal. I got only 7th place, but while walking back to the hotel after my competition with my national coach Antonio Matias, we decided I would take part in the Open category – the Open category was included in European Championships and World Championships on the last day of the event.

I enjoyed the Paris experience and later in the year during the Munich World Championship 2001, I decided to compete in both -78kg and Open Category. I ended up getting bronze in the Open category fighting against really big and heavy girls throughout the day. It has been a while since I thought about that day, I guess I had an almost perfect day, I remember I felt really motivated and relaxed. I won against Carmen Chala (ECU) in my first fight, afterwards I beat one of the top athletes from -78kg, Anastasia Matrosova (UKR) both by ippon. This win really gave me confidence for my quarter-final contest against one of the biggest athletes I ever faced, Erdene-Ochir Dolgormaa (MGL). Again, I managed to do dynamic and tactical judo to reach the semi-final stage.
Despite a great morning and having true belief in herself that it could be her day, she had a disappointing semi final against Karina Bryant (GBR), stating it may have been her worst fight ever, which left her with little recovery time, to mentally gain her position back in the competition. It can often be difficult to come back from a semi final loss, entering the fight on a low, against your opponent who has battled their way through the repechage, competing for the bronze medal on the back of a win. This bronze medal fight just happened to be against the home favourite, triple European Champion, Katia Gerber (GER).
I was determined not to miss this chance and I prepared myself mentally for a very demanding fight against a strong opponent who had almost doubled my weight. I was lucky enough to throw her by ippon in just 14 seconds, bringing home an important medal to Portugal, on the last day of this World Championships. This medal had good media coverage in Portugal and I was awarded with the 'Athlete of the Year' Prize from the Portuguese Olympic Committee that year. This result was important for my motivation and confidence to keep going for a couple more years (until 2005). My transition from athlete to sport management was smooth and I honestly do not think about those years as an athlete very often. I was lucky enough to find another path that keeps me motivated in the professional side of life.

Still, I considered that the fact I had an athlete career really helps me in my professional performance. I started to work in the Portuguese Judo Federation while I was still competing. I studied Sport Management and was invited to organise the Federation's sport events and often I'm told "you still think as an athlete when you plan the events". For me this came as a compliment, as the athletes are the main actors of any sport events and athlete service should always be one of the priorities of any organiser.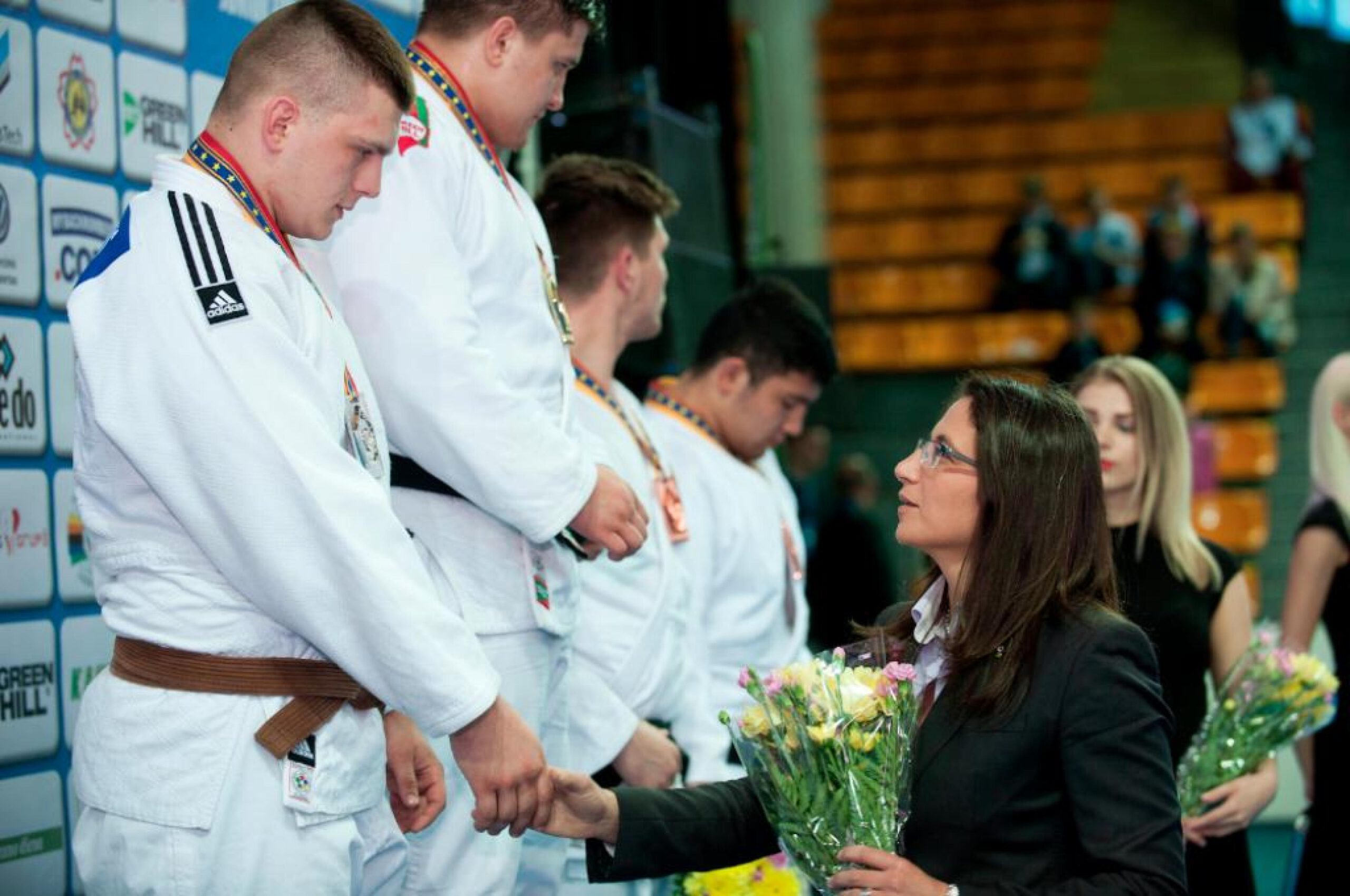 Following her organisation of the 2008 European Championships in Lisbon, Catarina was invited by the EJU to work with them as a Sport Commission member and took up this role in 2009. At this time the EJU was setting up their tour and required a reliable Sport Commission team to create the standard for organisation and performance. Three years later, Catarina was a candidate to become EJU Sports Director and was elected in to the role, and part of the Executive Committee, later re-elected in 2016.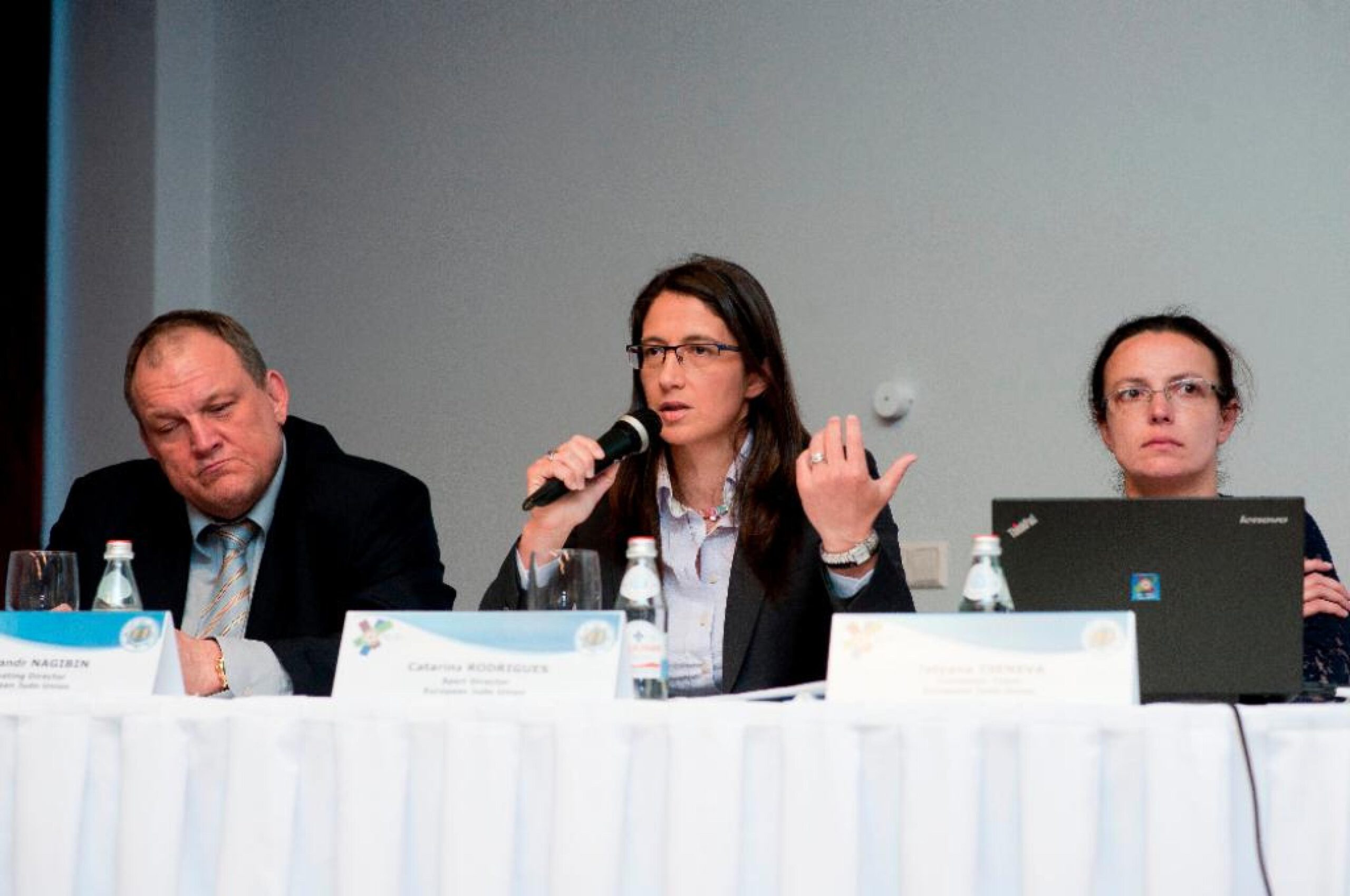 She believes that the European Judo Union always stands out as a strong and dynamic continental union. With the implementation of the sports delegates, EJU branding within the marketing strategy and the addition of the refereeing commission in every competition, it has allowed the organisation to reach the standard we have now.
Under professional leadership, it is always striving to improve, to have high standard organisation level and innovate on new event formats. I can name a few good examples such as the Golden League, Olympic Training Centres and the Judo Festival. Being part of President Sergey Soloveychik's team is both an honour and a big responsibility I try to live up to. As part of the EJU sports team, led by Vice President Michal Vachun, our goal is to develop European judo as a whole, to contribute to the growth of European athletes and coaches, with the ultimate goal of having the best possible results in each Olympic Games.

To do that we have to create and coordinate different "tools" that allow us to support EJU National Federations, such as an appropriate calendar, high quality events, good training conditions, seminars, development programmes, among others. I consider myself lucky to be part of the EJU team and have the opportunity to work with such professional and prestigious colleagues, and in the same way contribute to the development of European Judo.
Due to the 2020 pandemic, international competition was brought to an abrupt standstill in March, with competition after competition being cancelled to protect from the spread of disease. Though national authorities were providing guidance for safe practice, the Portuguese Judo Federation made the decision to recommend that clubs ceased from training.
While the situation was developing, the Portuguese National Federation and medical team started to work on the return plan, putting in place a protocol of 5 phases spread over time, always in close contact with National Health Authorities. For the occasion of the first national training camp after lockdown, the Federation tested all athletes and staff members. This was the reason why the two Covid-19 positive cases were discovered – World Champion, Jorge Fonseca and U23 European Championship bronze medallist, Wilsa Gomes – still before the 1st training session.

Both athletes were asymptomatic and followed all the health authorities' protocols. The Portuguese Media gave great attention to these positive tests, but in the end Judo was reported as an example of a professional and well managed sport. The entire Portuguese Judo family supported these two athletes and are happy for their healthy return to the tatami.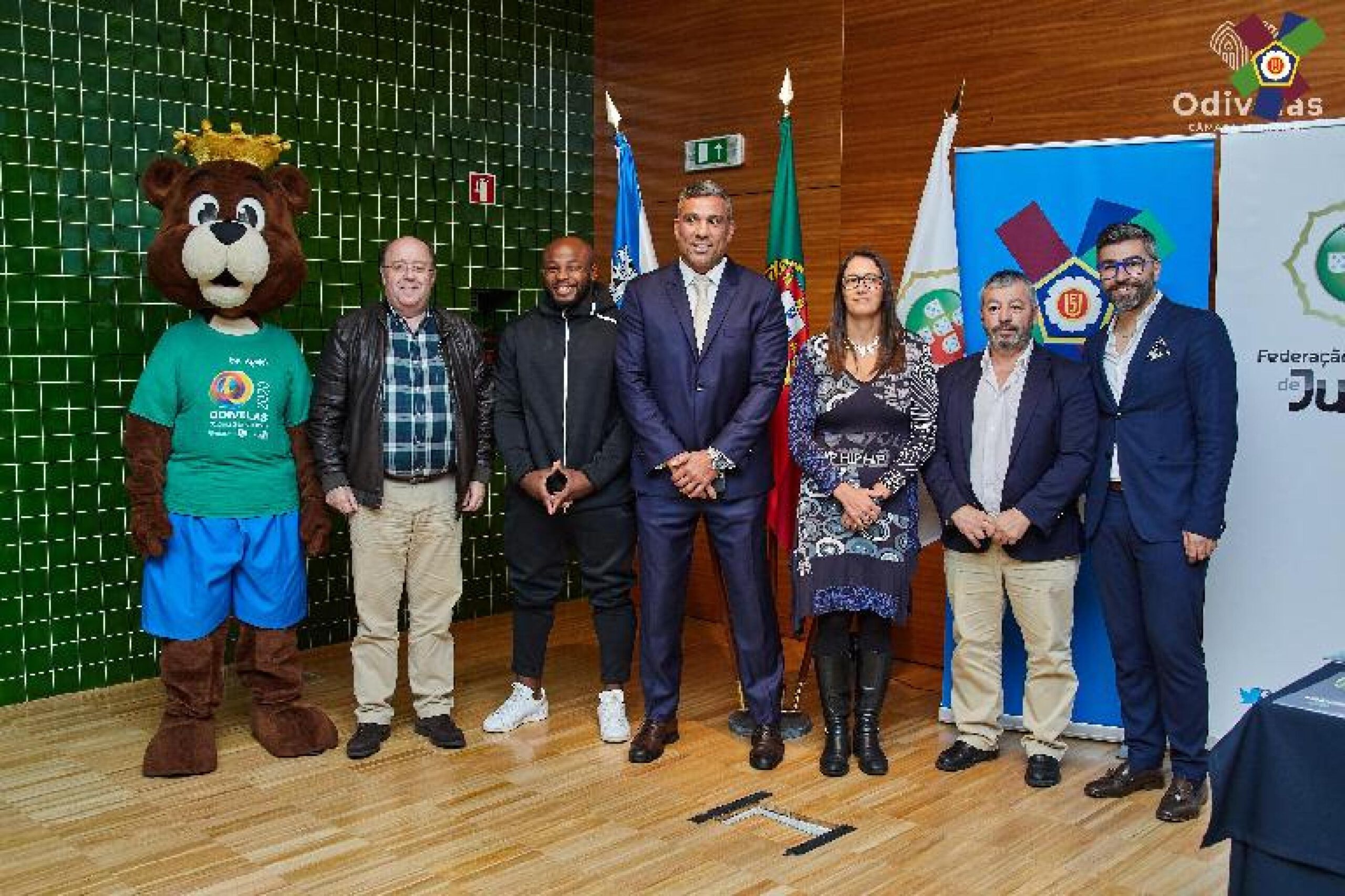 Though there is a national and international responsibility to act on this, it allows the individual to reflect on their ability to cope in, what for us, is unprecedented times. It is likely that we will not endure this again in our lifetime but judo has proven to help.

Many Judo values help us in these challenging times; to be resilient and disciplined. Also to have values to serve and help as a community member. Personally it helped me to be positive, to be disciplined and have healthy routines while working from home.
Hopefully we will be welcoming athletes back to the competition tatami in the not so distant future in preparation for the Olympic Games in Tokyo 2021, under the great guidance of our Sports Directors, including that of our esteemed colleague, Catarina.
Author: Thea Cowen
---