This week, 'Through the Keyhole' looks in to the life of a former World Champion, national coach, bodyguard to the stars and current Vice President of the European Judo Union, Jane Bridge.
Stepping on the tatami in Bolton, United Kingdom in 1970 at the age of 10, Jane was first introduced to a sport that would ultimately shape her life. Her club, Otanikwai was a member of the British Judo Council, and welcomed Jane and her three brothers, but only she persevered. Her mother and father both had an interest in judo but life got in the way of continuous practice, her fate was sealed almost twenty years prior when her parents met and were spectators of 'professional wrestling'.
She took my father along, and he told me that he was astonished to see my mother, a shy, quiet girl, becoming so animated whilst watching the matches. He finally decided to explain to her that it was all rigged. From that day she never returned and looked for something more 'real'.

My dad was working in a factory at the time and my mum was a weaver. And somehow they got to know a guy who knew some judo. They went along to where he 'taught' in the local community centre in Bury. There was a canvas cover over some sand bags, and the small group had a book, 'Teach Yourself Judo'.
A mere six years later, a sixteen year-old Jane took her first European title in Vienna, Austria, and she believes this accomplishment gave her the most pleasure. She held the record for youngest European Champion up until 1991 where Zsuzsa Nagy (HUN) took the -61kg title at fifteen.
I'd done a couple of international competitions beforehand, and I was the best in Britain but wasn't sure how I measured up to other European ladies, especially the French. I beat the French woman in the preliminaries and then in the final – there was a different system than now – both times with different techniques. The French coach approached Roy (Inman) and said they wanted to buy me, Roy told them I wasn't for sale!
Of course, taking three European titles was very impressive, but it wasn't only Europe that Jane conquered. The first ever women's World Championships were held in New York in 1980, a significant event, that although at the time gave only feelings of relief, was to pave the way for Jane and women in judo. The pressure to succeed was great as she was favourite and given that she was part of the innovative British women's team and her past endeavours on the international circuit. The team performed well and the -48kg title holder was celebrated to an even higher standard.
At the time we didn't think of ourselves as pioneers. We were a small group of girls/women who moved down to London to train with the national coach at the time, Roy Inman. He organised accommodation and training facilities so we could train 'full time' as a team. I became the first ever British judoka (men or women) to become World Champion. I also received a special prize for the best technician from the Japanese Embassy in New York. I still have it, it's a silver apple representing New York – the 'big apple'.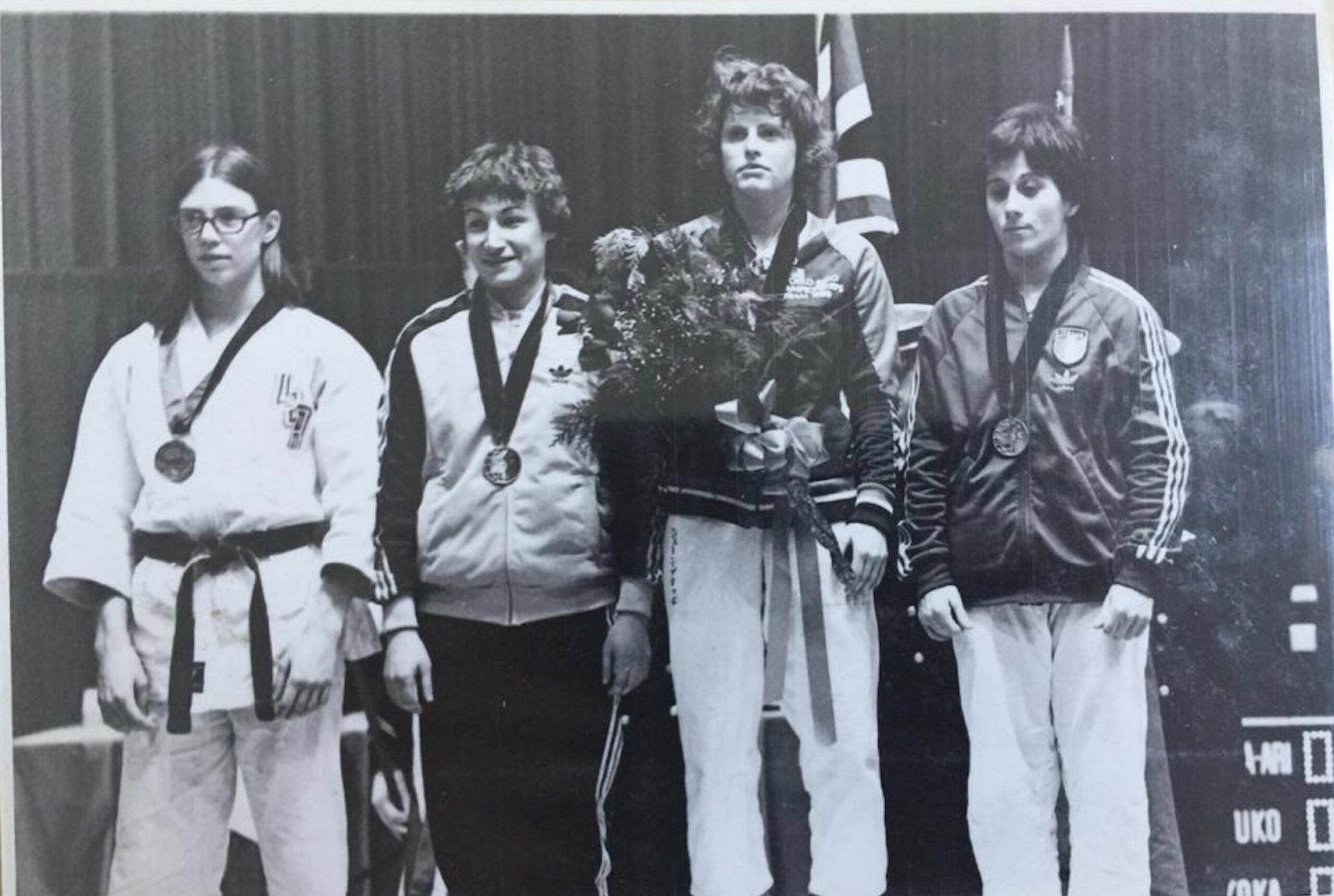 It is easy to reflect and realise that she was a part of the beginning of women's international judo. Though the current standard is exceptional with the likes of Majlinda Kelmendi and Daria Bilodid who hold records of their own, Jane still sees room for improvement.
I feel very proud of that and I am always looking at ways to improve all conditions of women in judo although at the same time I have a very tough regard upon women's judo. I think the top ladies are amazing, when I see contests between the likes of Kelmendi, Abe, Bilodid, Bouchard, Agbegnenou, I am so proud of them. But then I can get really disappointed – and upset – when I see some women still 'flopping and dropping' as we used to call it when I was competing. It's so important that women show that they are capable of amazing judo – and I know we are!
This 'amazing judo' comes at a price, with the EJU Vice President recognising the changes in women's judo, the intensity of training increasing to match the rigorous competitive programme of the IJF, admiring the toughness and grit required of these women.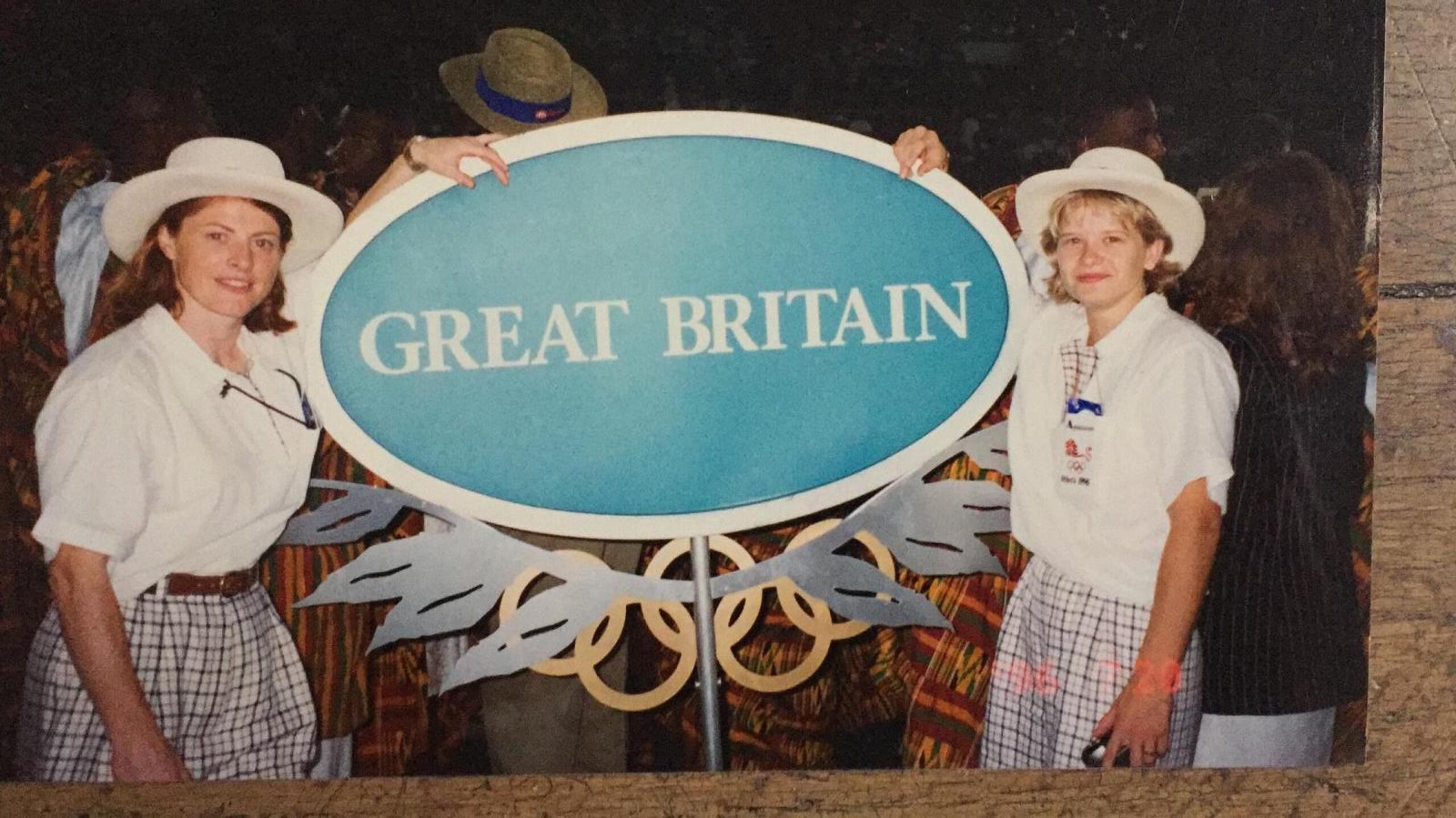 The second feather to Jane's cap was British Judo Coach, her first experience began at the end of her competitive career when invited by Roy Inman to support him during training and competition, and due to her recent retirement could offer more hands on advice. The return to British Judo was for the Atlanta Olympic Games in 1996, when Jane was already rooted in France.
I used these connections to bring some of the athletes to Paris to train, although I moved back over to Great Britain for the preparation. I had some great experiences with very hard working, talented ladies like Nicola Fairbrother, Joyce Heron, Sharon Rendle, Diane Bell, Kate Howey, Chloe Cowen, Michelle Rogers, Rowena Sweatman, Cheryl Peel, Debbie Allan just to name a few. It was a great experience and one I will never forget. I remember seeing Ray Charles singing in the village and me having my photo taken with Linford Christie just before he failed his final 100m having two false starts. I remember also certain historical finals such as Bouras vs Koga and Sun-Hui Kye vs Tani.
Jane was also recruited for the London Olympic Games while working as a teaching fellow at the University of Bath. Working alongside eventual medallists, Gemma Gibbons and Karina Bryant as well as the other team members; Gemma Howell, Sally Conway, Sarah Clark and Sophie Cox.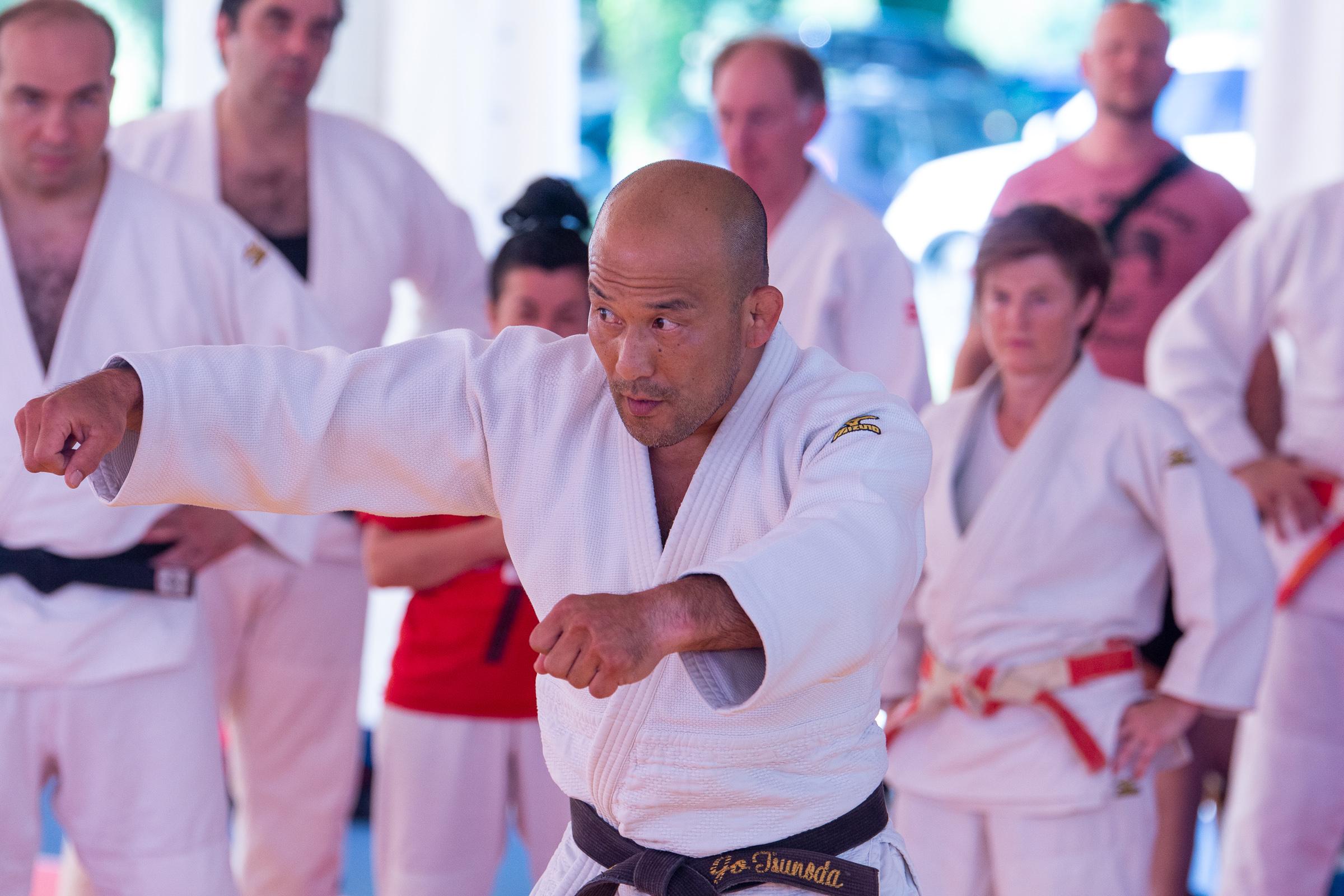 I was also in a team of great managers and coaches such as Margaret Hicks, Patrick Roux, Karen Roberts, Go Tsunoda and of course the future coach to the men's national team of Brazil, Yuko (then) Nakano.
The term, 'small but mighty' has never been more applicable. Simply to look at Jane Bridge is very deceiving with her petite frame, but this -48kg World and European Champion became a bodyguard for some of the most well known and loved silver screen heroes including Sylvester Stallone and Alain Delon. She may not be the obvious first choice for this stereotypically male role, but Jane never had a complaint; her experience competing at a high level trained her mind to manage these instinctive situations.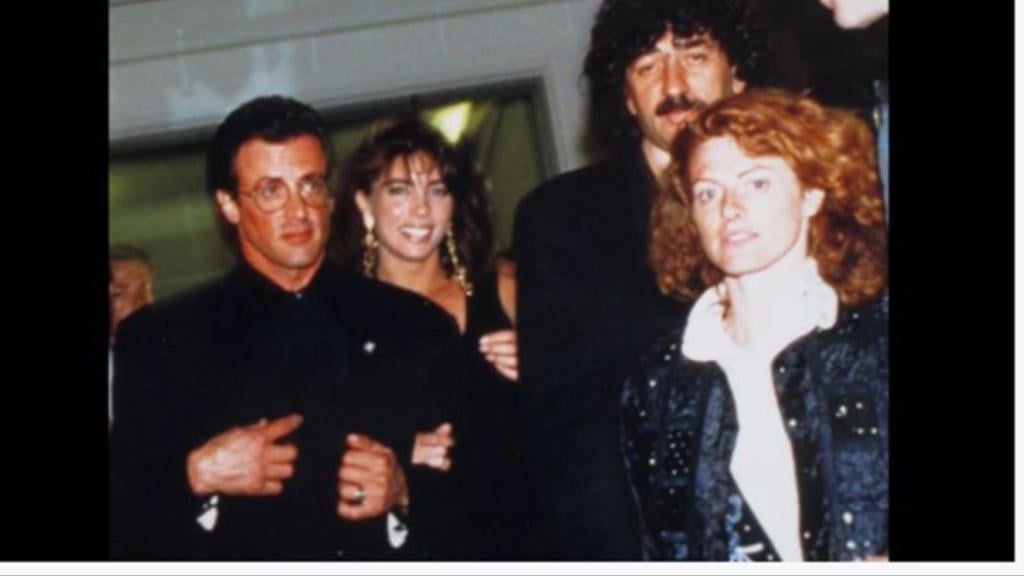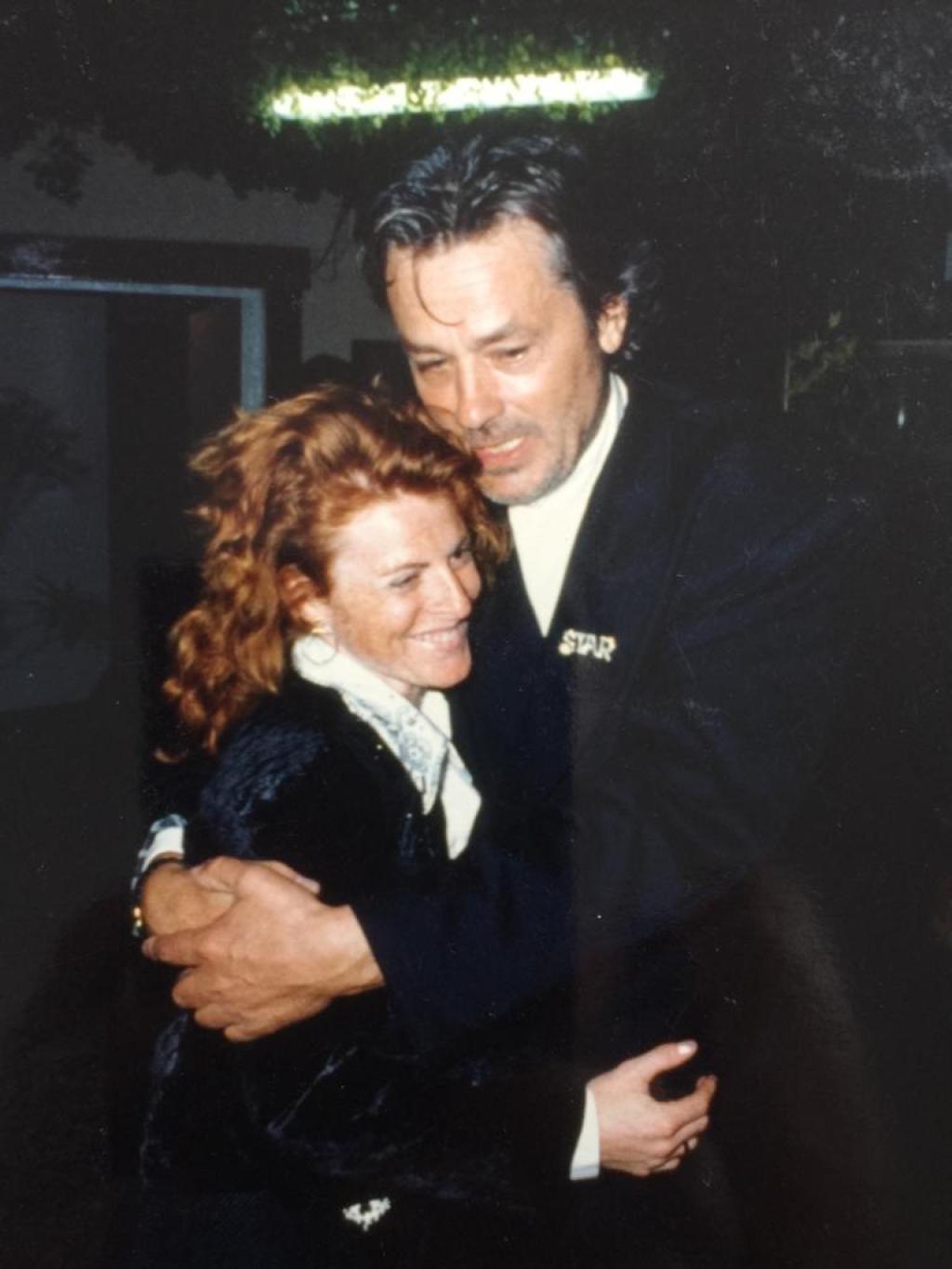 I was also bodyguard to Robert Redford – he was my favourite. Reactions were mixed. In countries like Israel and the States using women wasn't unusual, they counted on discretion rather than dissuasion. Other countries had different reactions but the company I worked for always informed them that they had the intention to put in a woman on certain missions. I never had a complaint and all my missions went well. I remember a couple of times in Paris and at the Cannes film festival where I had to react to some situations I surprised myself by reacting quickly and efficiently and only afterwards feeling the stress of the situation.
Despite her tremendous wealth of experience with British Judo, she believes she owes the bulk of coaching and teaching experience to the environment in France in which she evolved.
The level of judo, both cultural and technical is much higher than in a lot of other countries that I have visited. I was lucky enough to be in contact with excellent pedagogues such as Katanishi sensei, Hagiwara sensei, Patrick Roux, but also many other coaches less known but with very high levels of teaching and knowledge of judo. Each time I step on the mat I live a new experience. I also went through the French judo diploma system which was useful from a different point of view. I was teaching every day in my judo club for 20 years with children of four years old to 60. This is one of the best experiences one can have to improve experiences and teaching methods. If you can teach in a club, the different public, you can manage the high level athletes.

I also coached in some high level successful clubs in France (Judo Club Maisons Allfort and Peugeot Mulhouse) where I had some great experiences with wonderful athletes like Amina Abdellatif, Margaux Pinot, Lucille Duport, Marielle Pruvost, Cindy Huber, Caroline Lantoine, Aurélie Javault again to name just a few.
In 2016, Jane began working with the European Judo Union and her expertise is welcomed in multiple roles as Vice President. Firstly, she is the VP for Education. The purpose of this position is to develop judo within Europe in areas of Judo in School and development of coach education. A main source of education is the annual Judo Festival which is now based in Porec, Croatia. It's a very important event on the calendar and the education department ensures quality of teaching and atmosphere for the kids and families that come from all over Europe.
Kodokan Kata Seminar during the Judo Festival 2019. – Starke Sören
World Class athletes attended the Special Needs Seminar during the Judo Festival 2019. – Starke Sören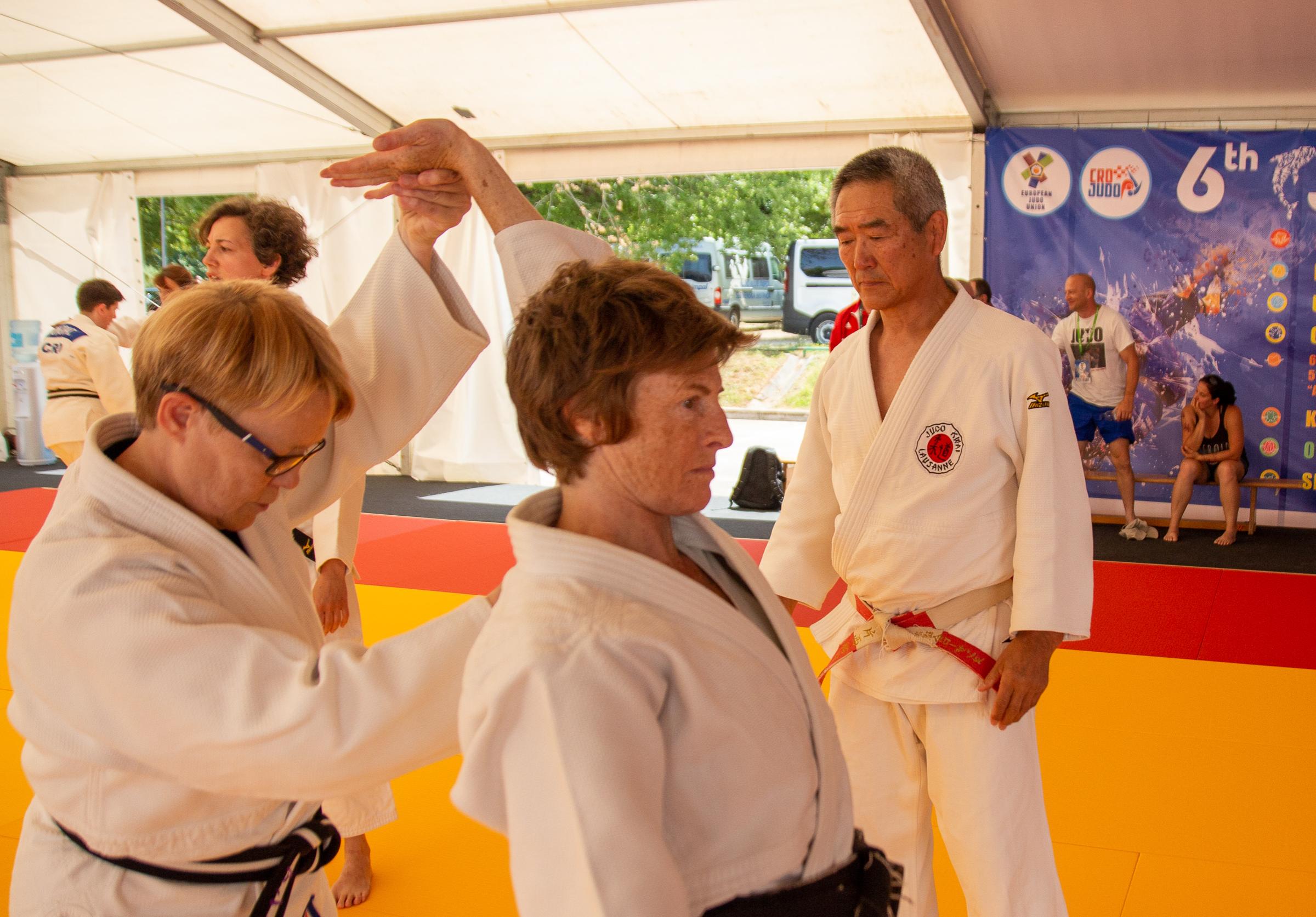 Kodokan Kata Seminar at the Judo Festival 2019. – Starke Sören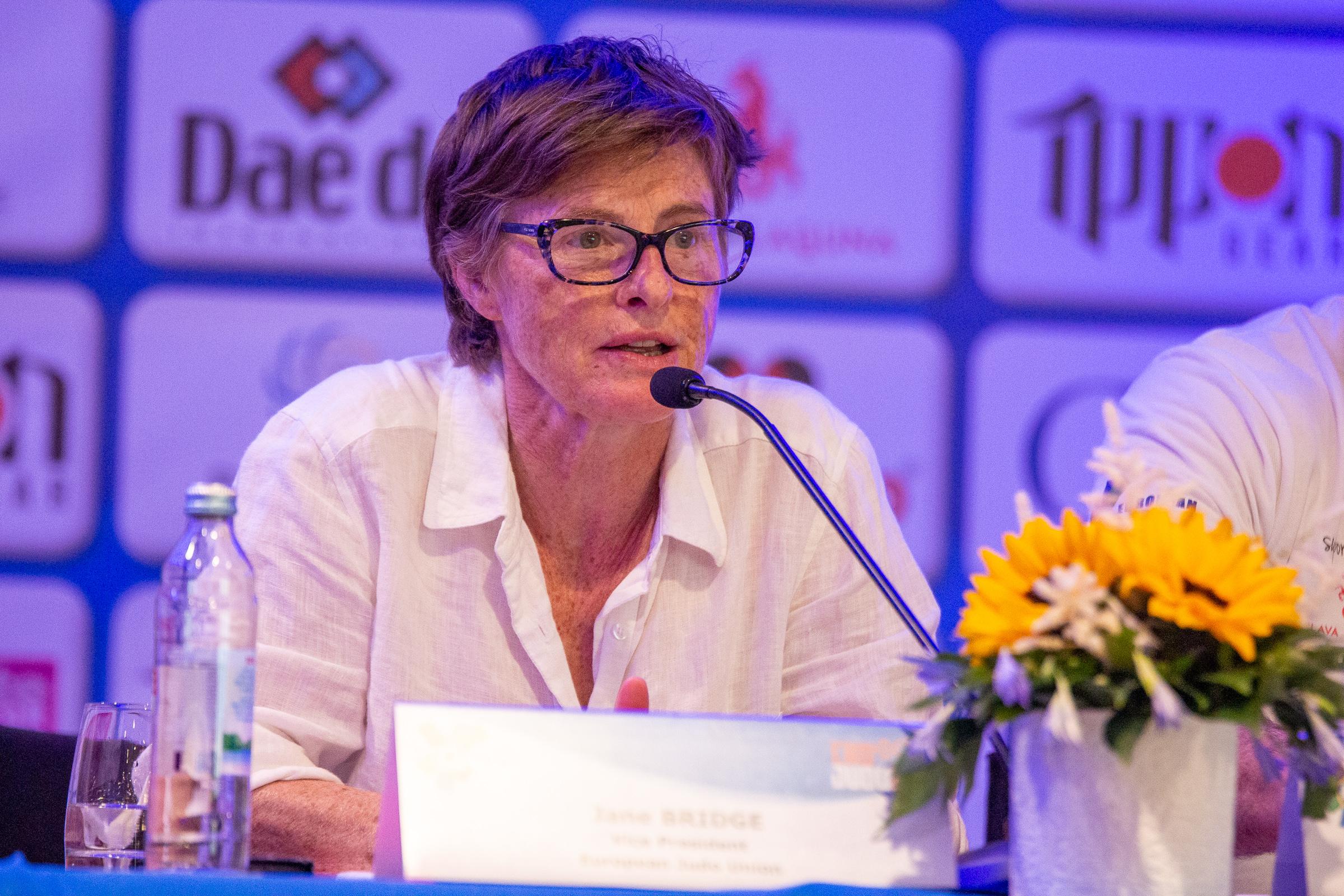 Jane speaking at the 6th European Judo Science and Research Symposium, 5th Scientific and Professional Conference 'Applicable Research in Judo'. – Starke Sören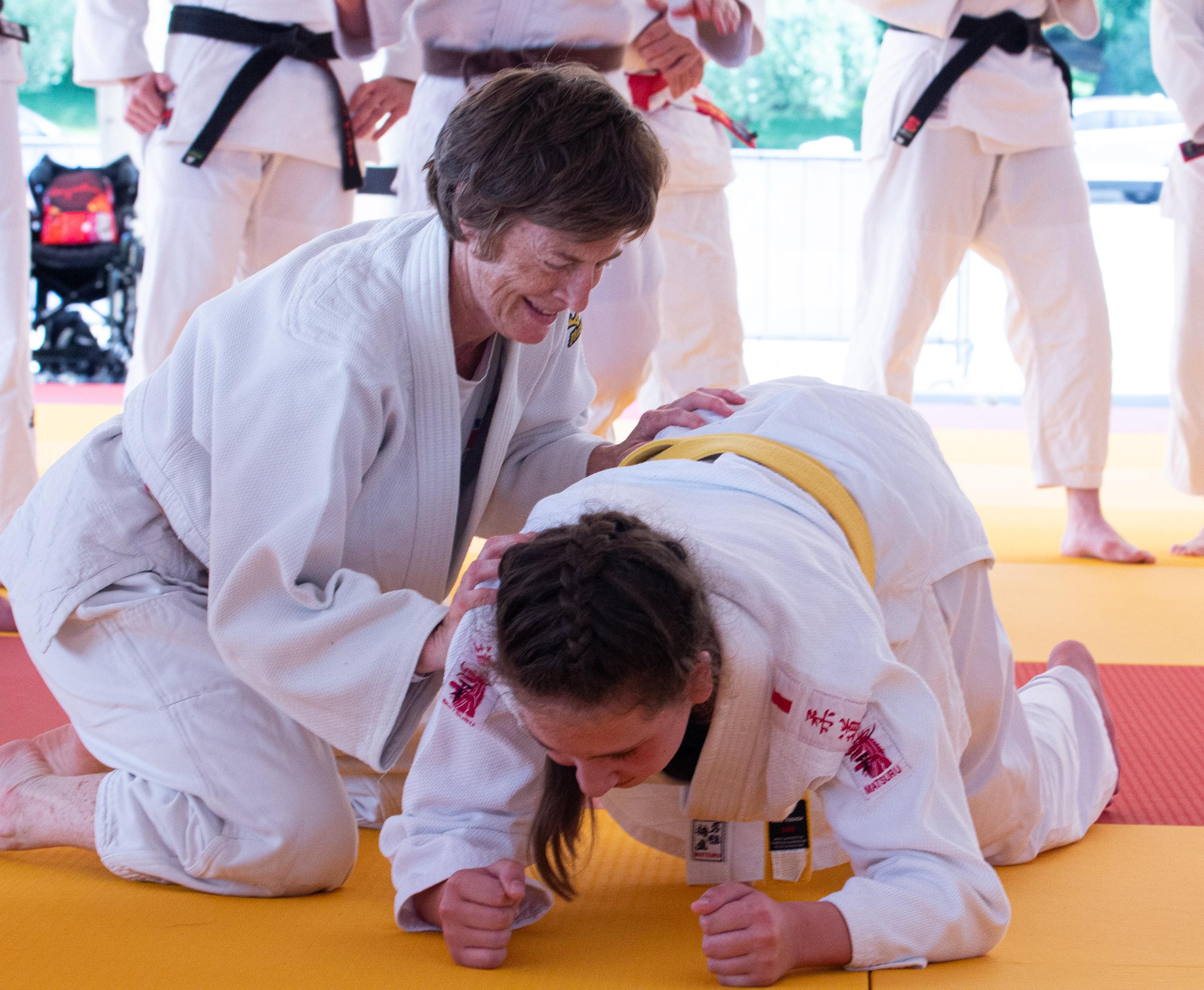 Jane taking part in the Special Needs Seminar. "When I can add something to them through a technical point, a precision, an anecdote then it's been a great day in the office for me." – Starke Sören
We are very proud of the pedagogy videos on the IJF App and the Improve Your Club program that was started by Ezio Gamba in 2013. I also have the responsibility to develop the practice of kata and the Kata European Championships. We have already expanded the participation of this competition by creating cadet, junior and special needs categories. We also organise a 'Kodokan Kata Seminar' every year at the Judo Festival in Porec.

Another big responsibility is to introduce the judo community to the teachings and doctrines of Jigoro Kano and the values of judo. We published some texts from Jigoro Kano on the EJU website during covid. These texts had never been translated before so we were very proud also to be able to publish them on the website.
The list of accomplishments is extensive for this branch of the EJU, which also oversees the Veteran community, endeavouring to make the European Championship a great event, which in fact included a mixed team event two years ago.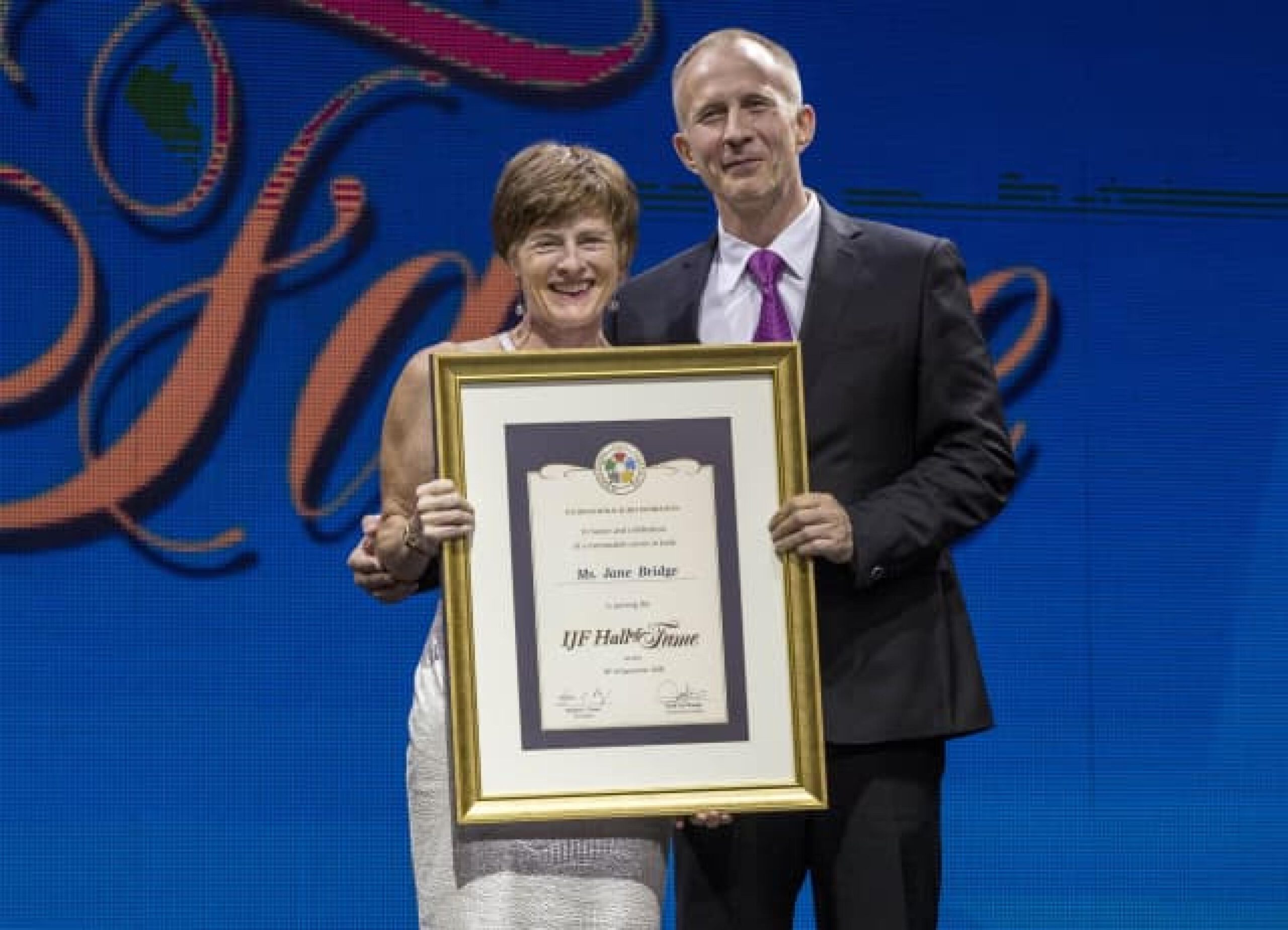 The work and accomplishments, from being a pioneer of women's judo to this present day was commended by being inducted in to the IJF Hall of Fame in 2018 during the Baku World Championships.
It was indeed a great honour for me. Recognition from one's peers is important and even though I'm quite a private and modest person we all like to feel that we are appreciated for what we are doing or have done. It was also a fantastic evening organised in Baku by the IJF and I was really happy to have it presented to me by Mr Soloveychik, President of EJU. I was also happy to see old faces and great champions and now to be part of them in the Hall of Fame. My son, Joseph, could also attend so it was great to share with him things about my past before he was born.
Unfortunately the world has been struck by this unprecedented disease that is Covid19.
During this time we have seen many communities adapt to the situation. Judo made a massive adaptation because we are a contact sport and we need contact with many people to practice our sport. We saw many adaptations with lessons online, tandoku renshu programmes, outside training, festival online, YouTube videos, challenges, and the list goes on. I know for me it brought me closer to some of my judo friends, we called, zoomed, WhatsApped, much more than we would have usually. The isolation brought us together. I was alone during the isolation but my judo friends helped keep me sane for the duration.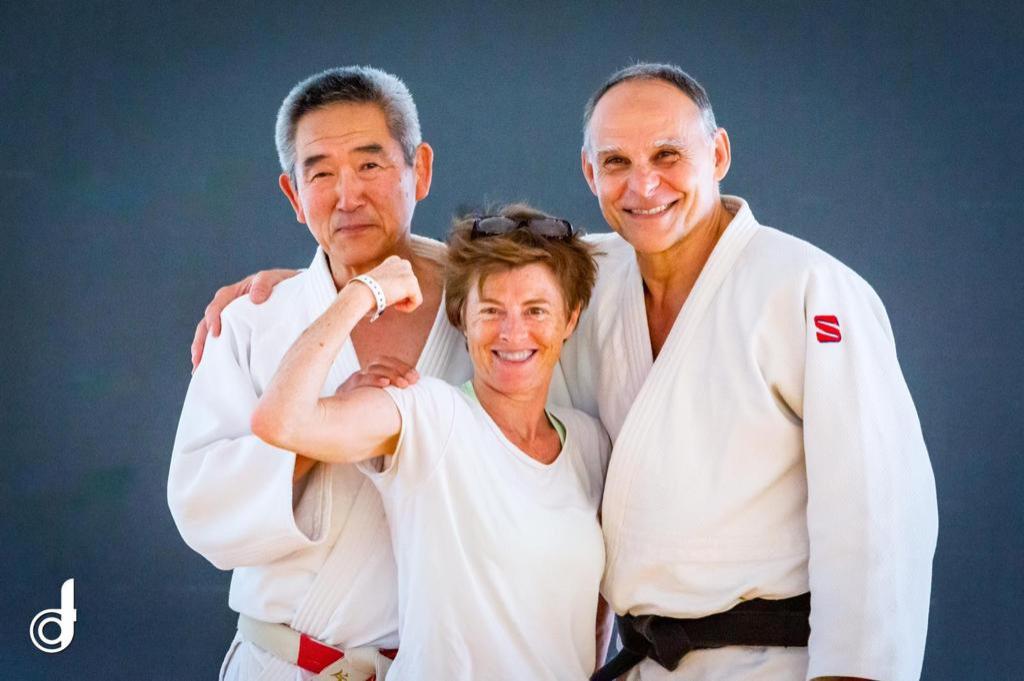 Looking at how judo has impacted Jane's life, not just during the pandemic, her relationships and experiences have altered her world for the better and shaped her in to the person she is. As many judoka find, relationships change over time and believe it is due to the core values of the sport which carry over in to our day to day existence.
Judo has given me friends all over the world. I feel at home in so many places because of the quality of these people that judo has introduced me too. Judo has given me the possibility to travel to many countries and to witness different ways of living, behaving and thinking which in turn has helped me to be tolerant, open minded and it's helped me to widen my visions of how to behave, principles, values. For me acceptance, respect and tolerance of differences is a very important value.

Some of my main rivals have become good friends and I can easily pop over to Stockholm to see my ex rival and now great friend Ann Lof and drink a beer and talk about judo until late hours in the evening. Through teaching judo it has given me the possibility to be in contact with the younger generation. I really admire those that choose to practice judo seriously 'for fun'. Who have been 'bitten' by the bug of the love of judo. When I can add something to them through a technical point, a precision, an anecdote then it's been a great day in the office for me.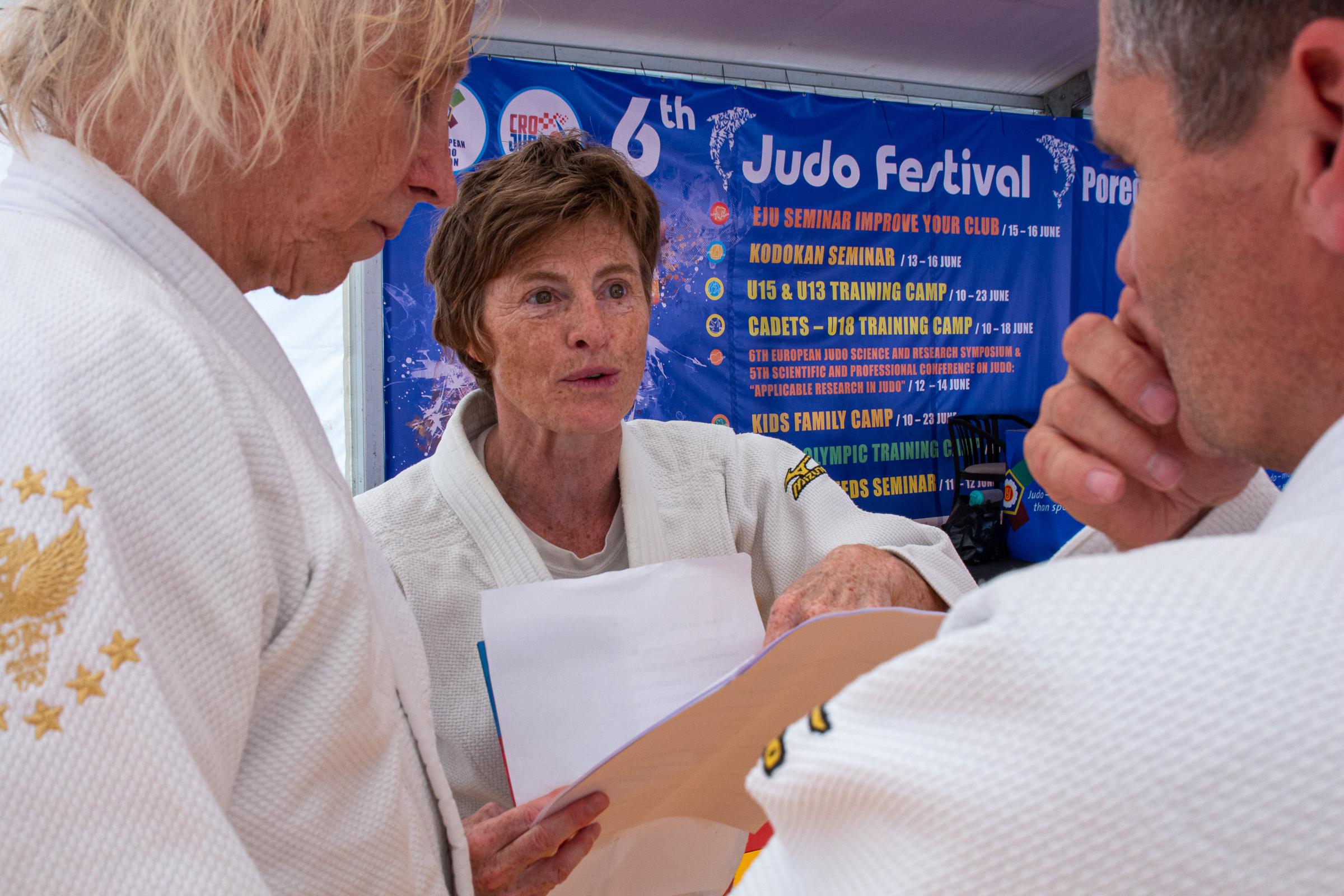 Author: Thea Cowen
---