Vice President Mr Michal Vachun has a mission for the European Judo Union, and in his esteemed position within the organisation, sets about this daily. The impact judo has had on his life is profound, but he didn't step on the tatami as a young child as many judoka do today, but as a young adult during his studies after moving away from home.
Michal was raised in Prostrední Becva, a mountain region on the border of the Czech and Slovak Republics, and after grammar school, followed his older brother to Pardubice and took an apprenticeship in a huge chemical plant, later studying chemistry in secondary school. It was during this period of his life that judo entered.
Close to our boarding school was a judo club where I learned my first ukemi and techniques aged 15. My first judo teacher, Dr Kotva, was totally dedicated to judo values and discipline and I was 'infected' by him for my career.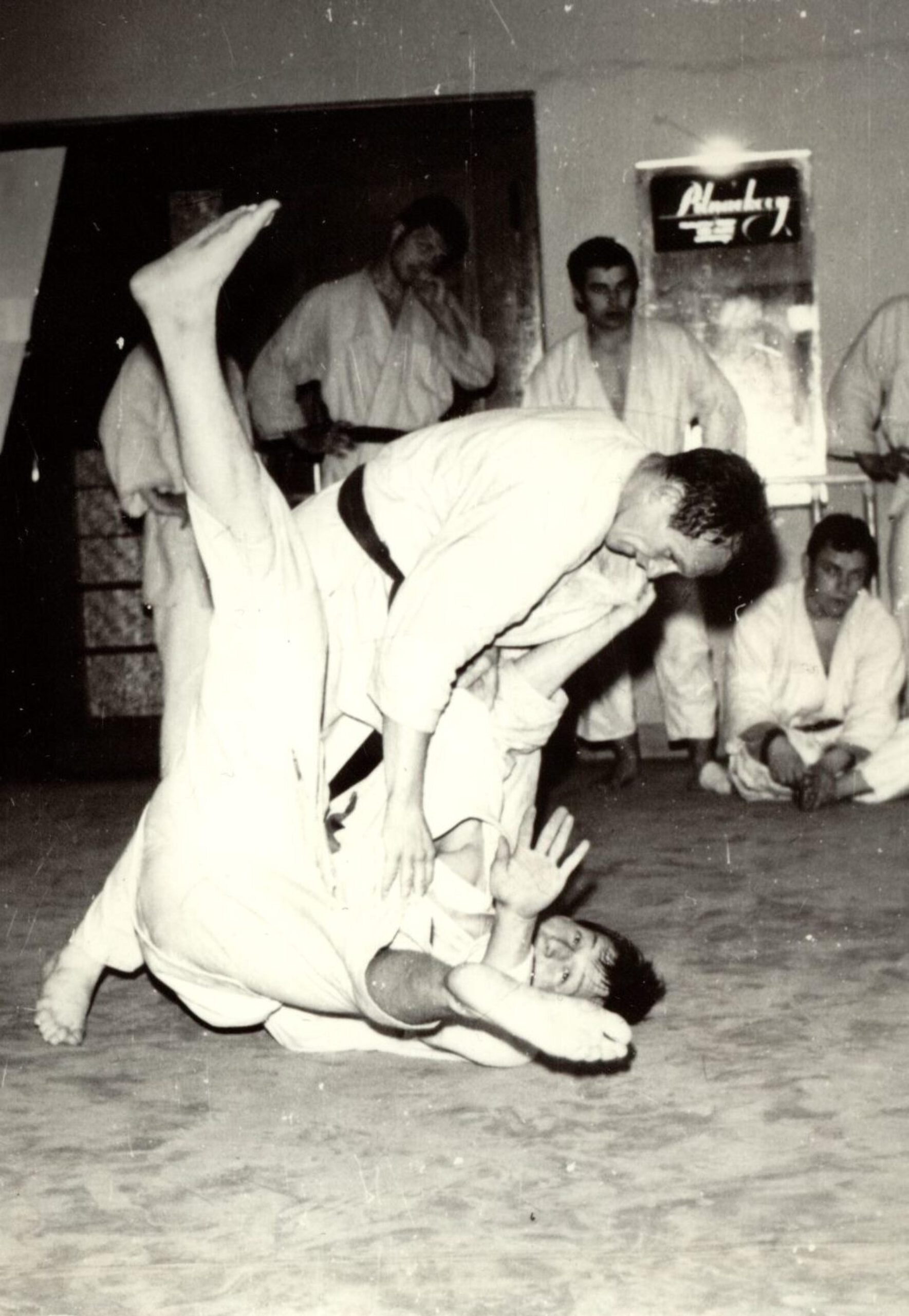 At this age, Michal was still at the cadet level and was both impressed and inspired by the technical excellence of Belgian athlete, Daniel Outelet, after watching him during a team contest between Czechoslovakia and Belgium in Prague, 1961. The memories of these matches are vivid, noting that he dominated the best athletes with an 'elegant' seoi-nage and ashi-waza, techniques which he later adopted as his tokui-waza.
The Kodokan´s Ishiro Abe Sensei led the team of Belgium and also demonstrated breathtaking Nage-No-Kata. These two pieces of beautiful judo affected my early vision of our sport.
Despite sitting his chemistry exams and graduating from this specific school, it was a love for sport that took Michal on his next academic journey, entering the Faculty of Sport and Physical Educations of Charles University in Prague, as well as joining the strong Slavia judo club. Academic achievements aside, sport also features heavily in his family so it comes as little surprise that he was influenced on this path. Impressively, his aunt was captain of the Czechoslovakia volleyball team and his brother was in national team for the kayak sprint.
At University I was inspired in by a multisport environment of elite athletes and professors, then a professional judo teaching/coaching career was a natural continuation after my MA degree in 1969.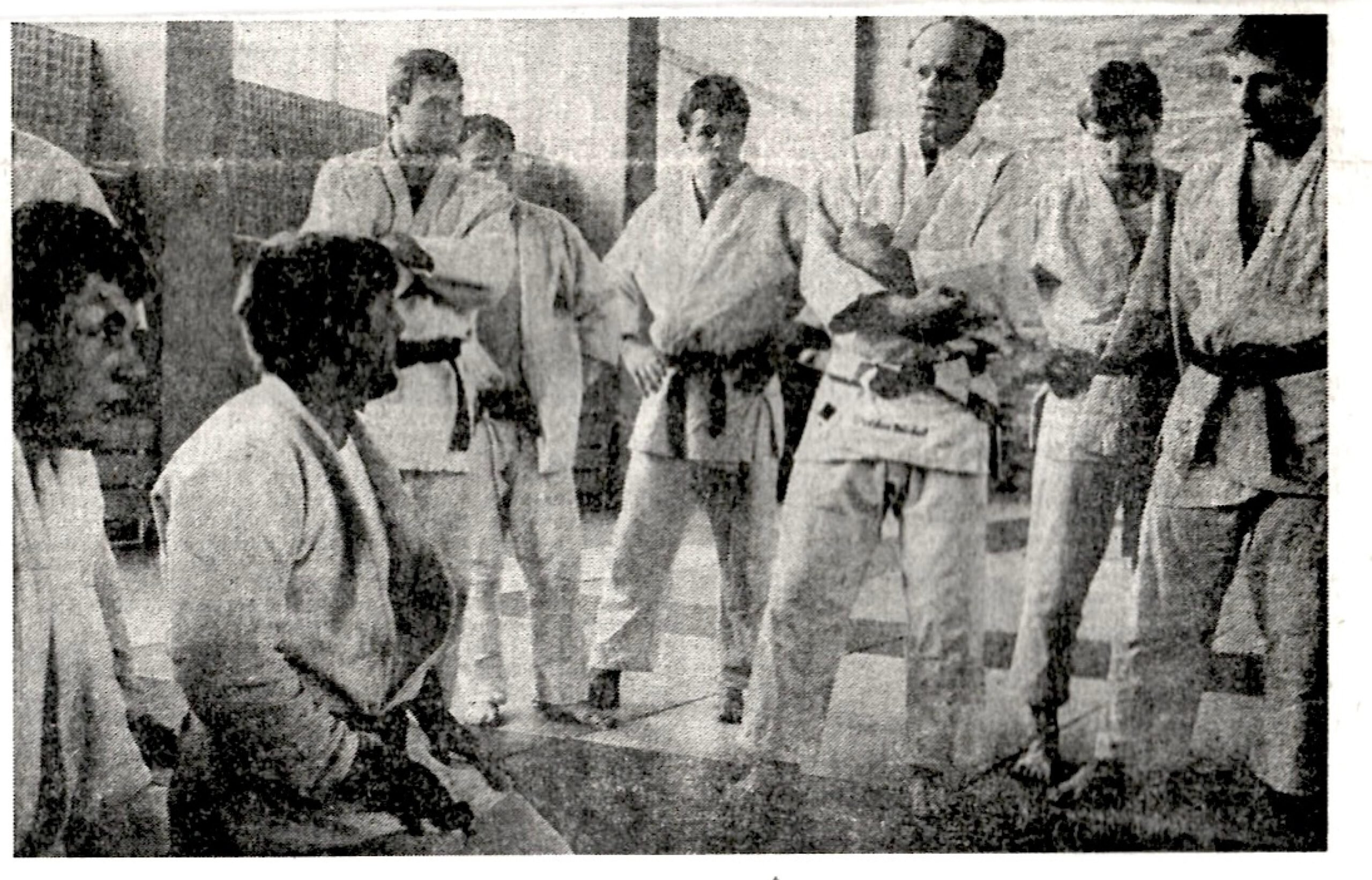 Prior to becoming an exemplary coach, Michal had plentiful achievements of his own. In his home of Czechoslovakia, he was five-time champion, but on an international level took a bronze medal in the 1965 Madrid European Championships in the -70kg category; a bronze in the 1966 World University Championships as well as several others, including a memorable gold in the FSGT tournament in Paris, 1964.
Reflecting back on the European Championships where he took a medal, Michal explains that it was the first time the repechage system was put in to effect. Including his bronze medal contest, he won a total of 4 matches, defeating the Tokyo Olympics silver medallist, Eric Hänni of Switzerland for his place on the podium, only losing out in a narrow fight against Brian Jacks in Great Britain. With such fantastic accolades, there is a particularly special experience Michal humorously recalls.
In November, 1968, the London Budokwai hosted their 50th anniversary at the iconic Royal Albert Hall with Slavia Prague team as guests, I was picked in the line-up against Anton Geesink in his exhibition 'one against ten', I took him of balance – then he nailed me to the mat with osoto-gari -feeling like steel spring until now!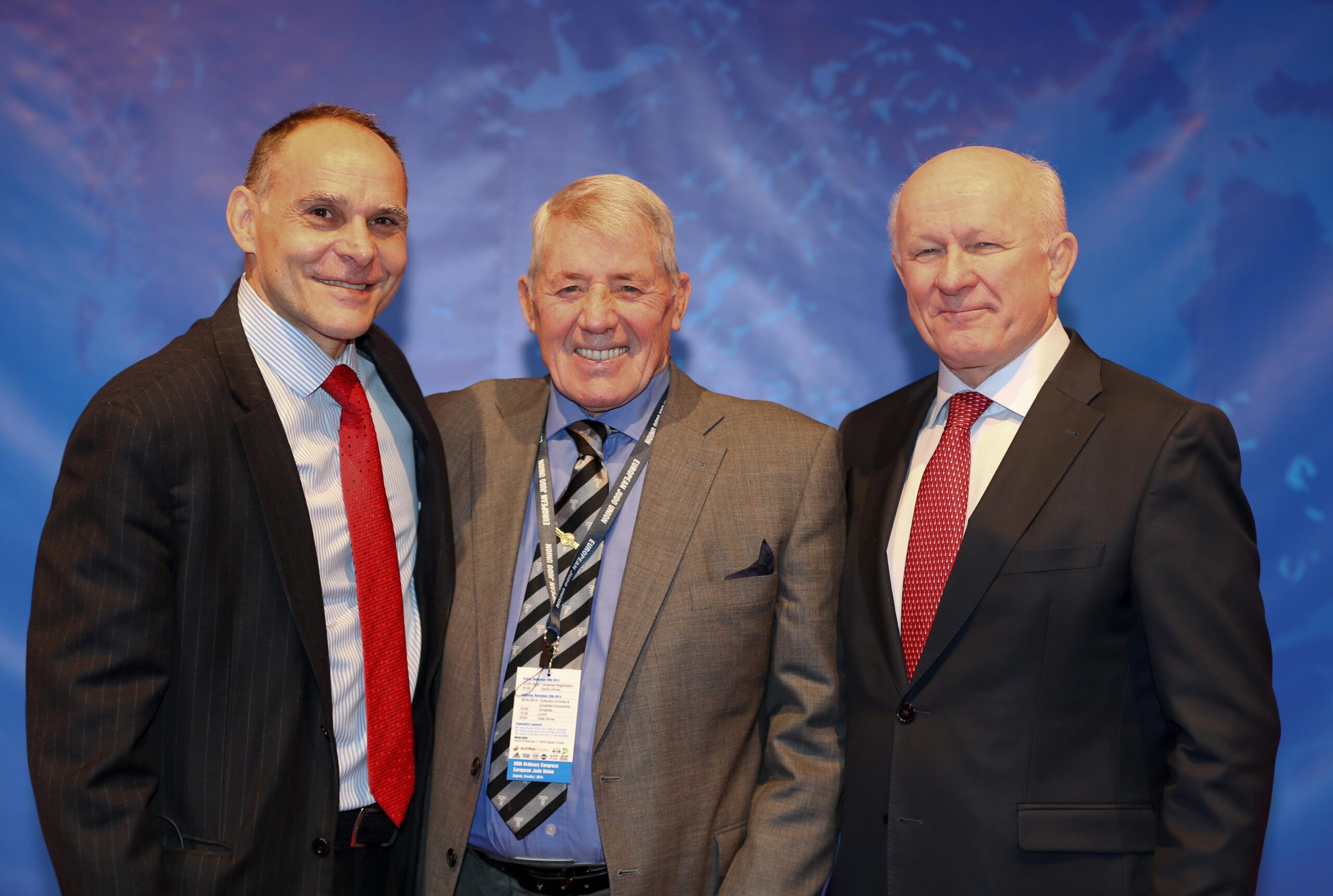 With a wealth of experience as a competitor, he was destined to carry his knowledge to the next generation of athletes and became a coach. In total, he has coached in 5 Olympic Games, 16 World Championships and 36 European Championships for Czechoslovakia, Iceland and Czech Republic. His most successful period was with Czechoslovakia between 1981 and 1988, totalling 12 World and European Championship medals from elite judoka he was honoured to coach; Vladimir Kocman; Jirí Sosna; Pavel Petrikov; Jaroslaw Kriz; Roman Novotny; Stanislav Tuma; Vladimir Barta and Karel Purkert. Unfortunately this was balanced out with a great disappointment; the forced boycott of the 1984 Olympic Games in Los Angeles. Another two challenging missions were between 1973-1975 and 1989-1996, teaching in clubs, University Reykjavik, coaching the national team.
Icelandic judokas were used to modest conditions but with the true fighting spirit of Vikings and devotion to training, reaching memorable success in GSSE, Nordic Championships, Scandinavian Opens and qualifing in the later period for the Barcelona and Atlanta Olympics.

Leader Bjarni Fridriksson, then already bronze medallist from 1984 Olympics, prolonged his career to 5th in the European Championships and 7th in the World Championships in 1989 and with Vernhard Thorleifsson, earning a score of medals in top international tournaments of that time.
Michal makes a relevant point in regards to the attitude of judo,
Judo taught me discipline, to work hard, modesty, respect for your opponent, friendship and other judo values which helped me to follow my dreams but also helped me through some challenging situations in life.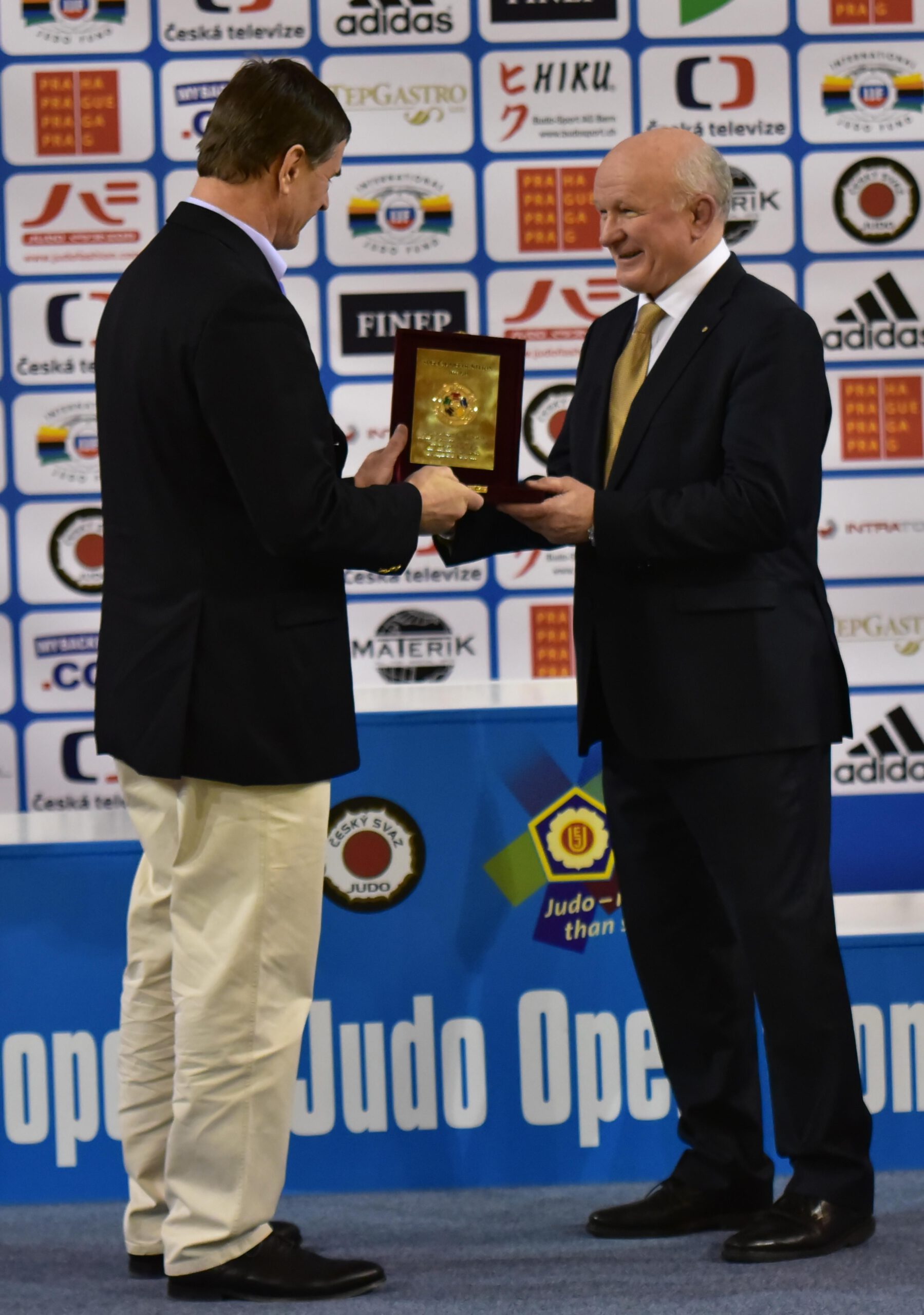 Michal is greatly appreciated for all of his work and dedication to the sport and his country, due to this as well as his contribution to the success of the teams, he was inducted in to the Coaches Hall of Fame of the Czech Olympic Committee in 2017. Twelve years prior to this well-deserved recognition, Michal joined the EJU organisation, initially invited as a Sports Commissioner, progressing to the Sports Director position in 2009.
I was under the direction of the progressively innovative Vice Presidents for Sport; Jean-Luc Rougé; Vladimir Barta and then Daniel Lascau whom I followed in the Vice President position from 2011 until now. From 2012, I was also delegated to the IJF Sport Commission. The role of the EJU sports team in short: effective planning and organisation of competitions and training opportunities from cadet to elite level for preparation of global events such as the Olympic Games and World Championships. Athletes of other continents participate in our events to great extent as well.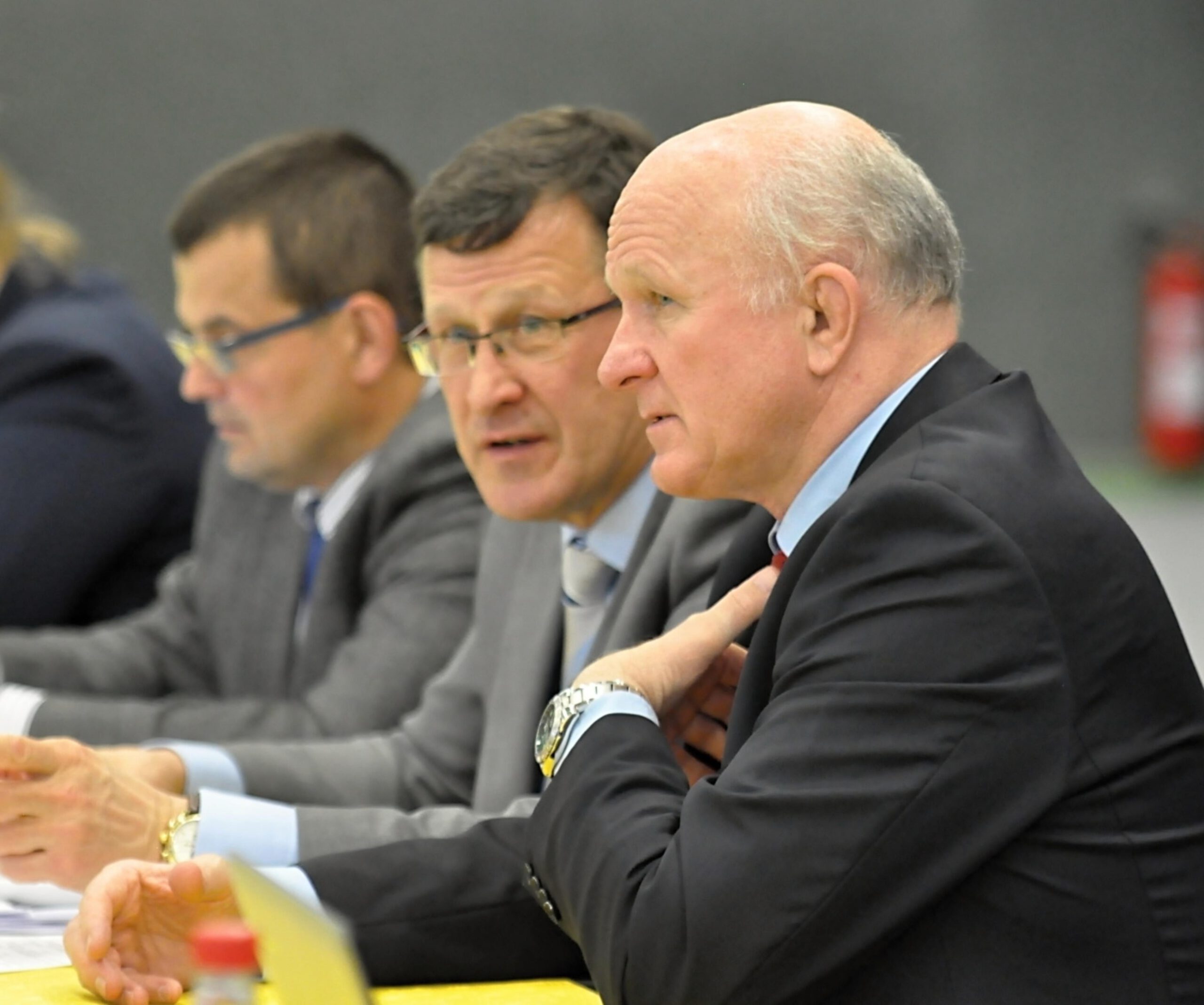 Michal alongside colleague, EJU Refereeing Director, Alexandr Jatskevitch.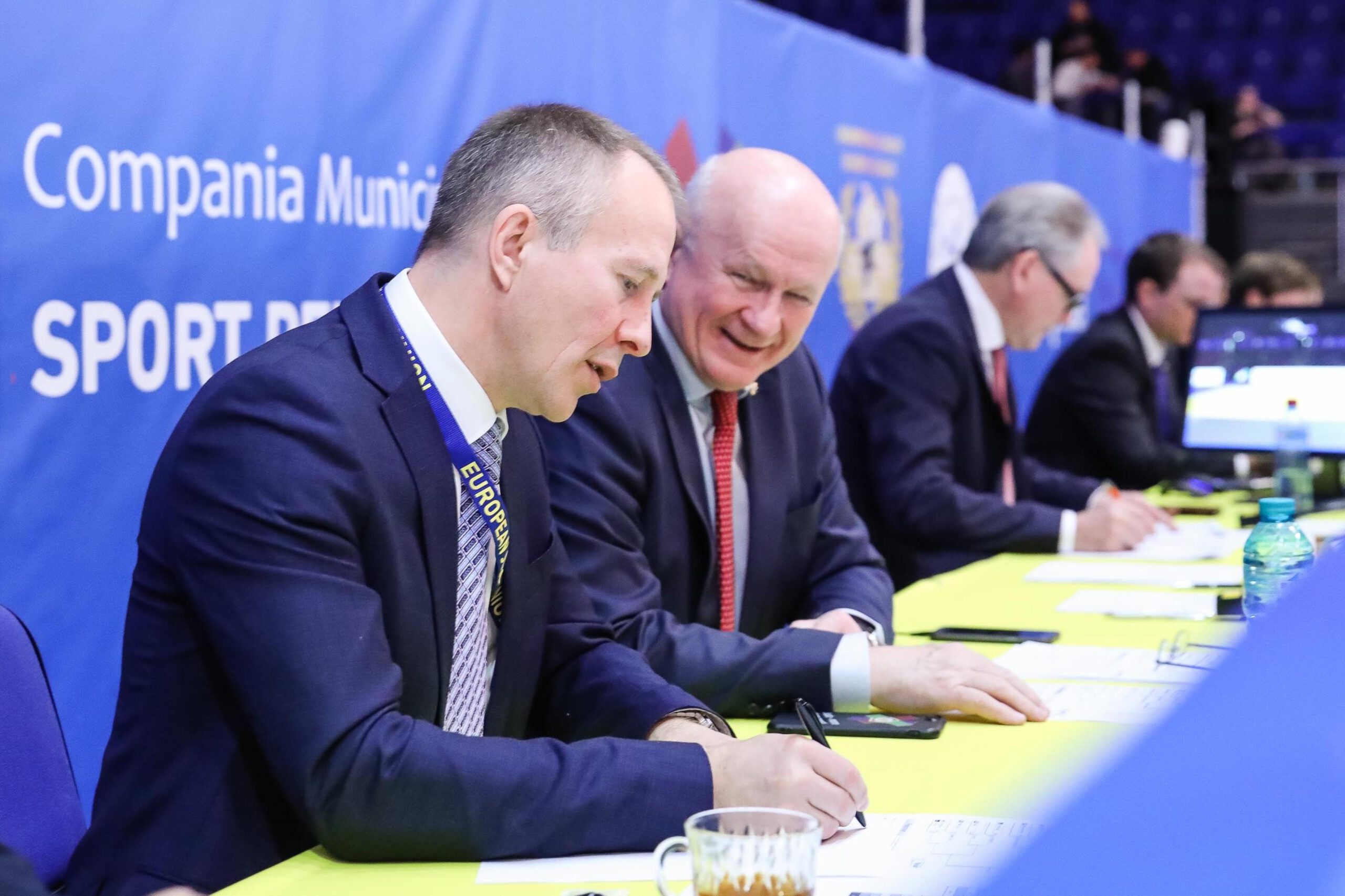 Michal with the EJU President, Mr Sergey Soloveychik.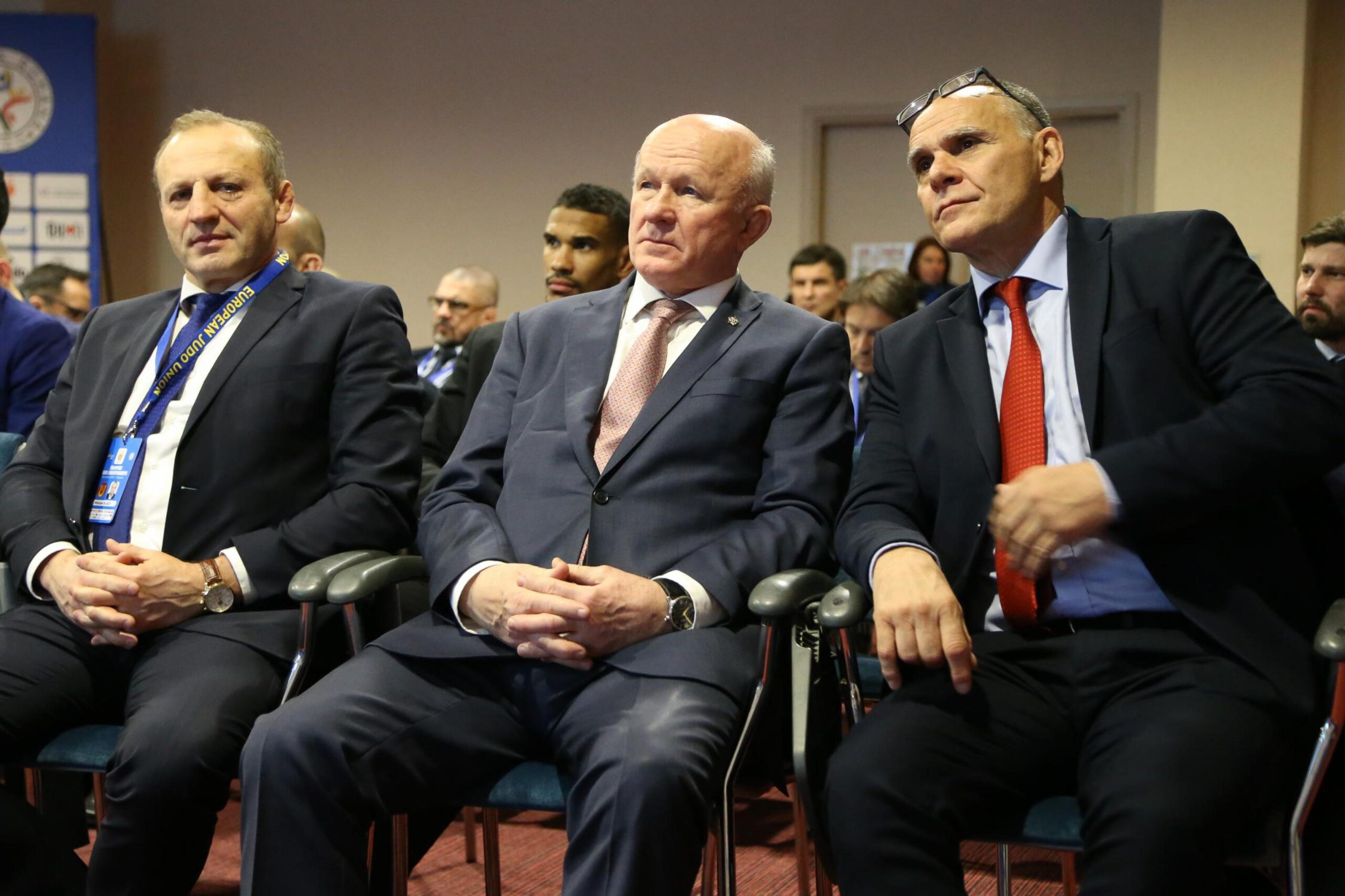 (L to R) Sports Director, Wieslaw Blach; Vice President, Michal Vachun; General Secretary, Ezio Gamba.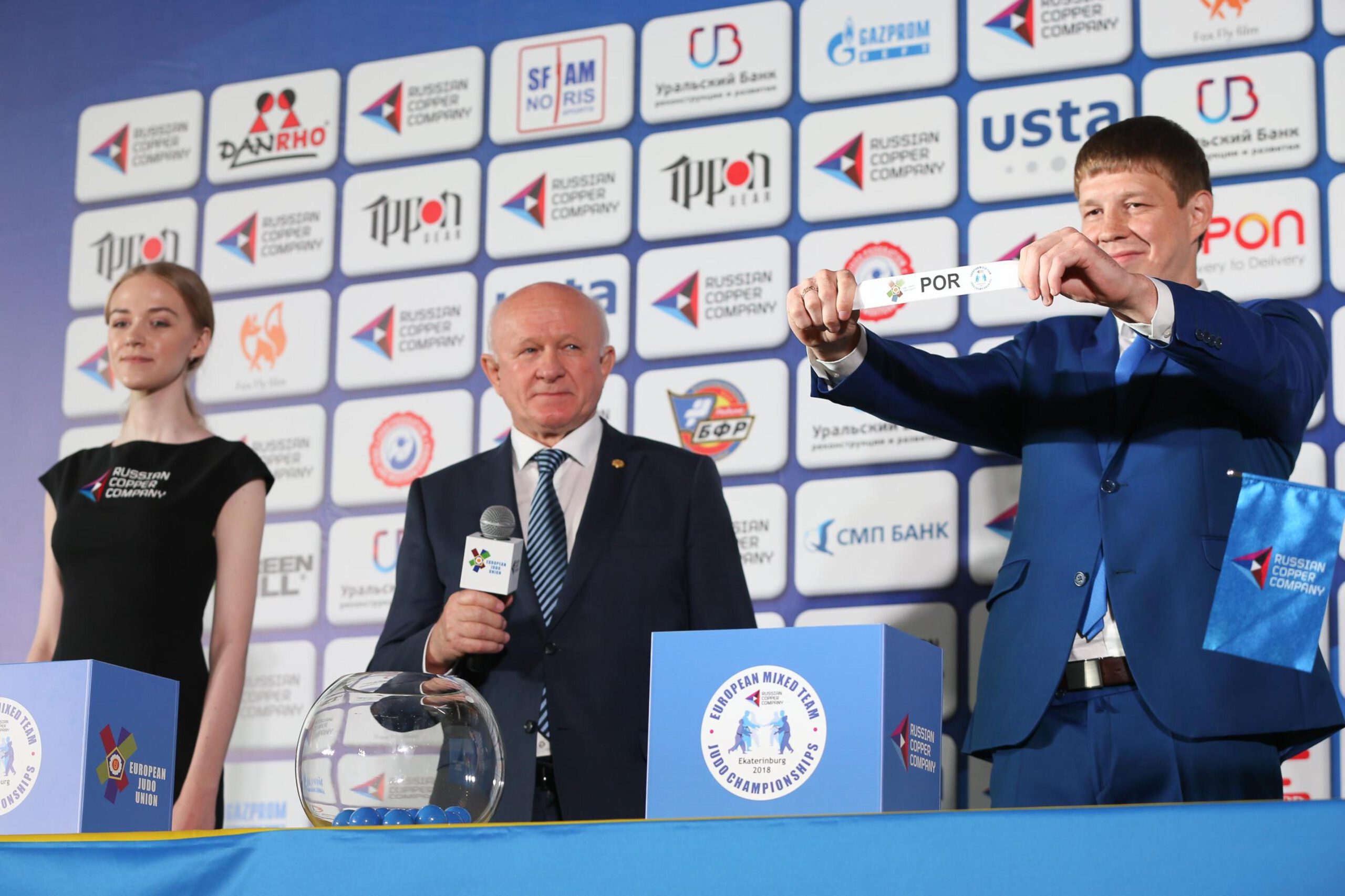 Announcing the draw of the Russian Copper Company European Mixed Team Judo Championships 2018 with World Champion and Olympic medallist, Ivan Nifontov.

With my colleagues, General Secretary Ezio Gamba, four Sport Directors and five Commissioners, Head Office and other EJU departments including IT, Refereeing, Marketing, Media and Medical, we now manage a yearly network of European Championships events at all levels; European Judo Opens,13 Cadet, 13 Junior, 7 Senior European Judo Cups and 8 Olympic Training Centres plus 7 EJU Training Camps. Most importantly, we can rely on the cooperation and support of Presidents of National Federations and their organising teams. Currently our common effort is to restart EJU competitions after lockdown.
Of course, though some countries are gradually lifting restrictions, inevitably the pandemic has taken a significant toll on the judo community, eliminating the ability to train and compete in a physical capacity with other judoka. Comparing the judo situation to 'swimmers in a pool without water', Michal can see how difficult it has been across our continent and of course the world, however, judo as a sport has provided individuals with the strength to pull through.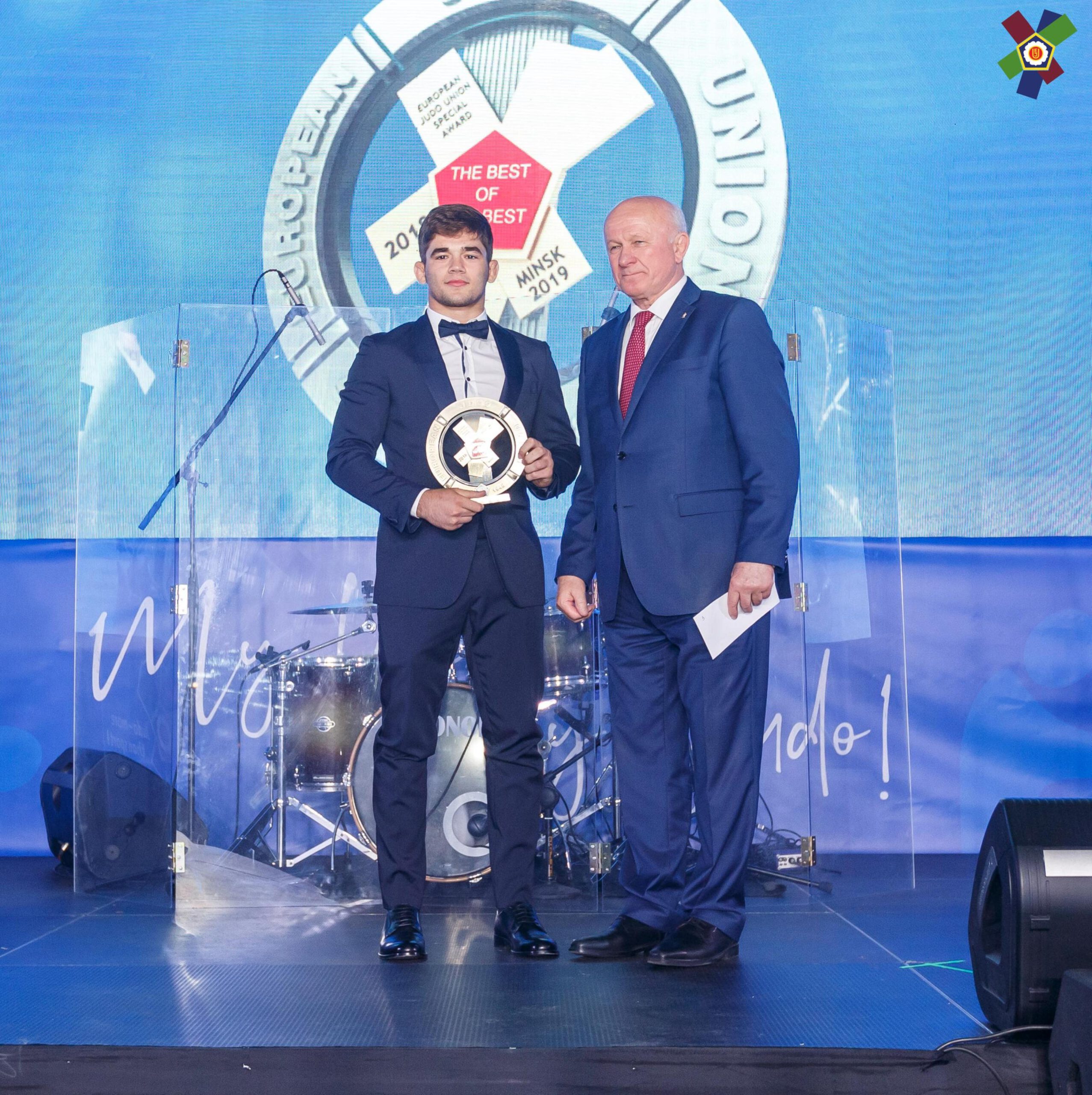 I believe judoka have managed to adapt well to the mental hardship of lockdown, quarantine and isolation, following individual and online club programs, as well as on national and also EJU and IJF levels. They have found support of teachers/coaches and fellow athletes inside training groups of any age and performance. I also believe judoka are used to discipline and patient self control and this could help keep the spirit up in their environment, homes and society in general.

Michal believes that his background as a competitor and experience as a coach was essential for his mission in EJU, but one has to learn and study for his whole life. Education is paramount for our Vice President who also contributed with his own literature, 'Bases of Judo Training', published in three editions 1979-1983 in both Slovakia and the Soviet Union.
At that time, there was not much literature on judo training, nowadays there is a tremendous amount of sport and educational contents for everybody to follow via IJF and EJU media and in scientific sources. We are lucky to enjoy as a judo family the unprecedented era under leadership of Presidents Marius Vizer of the IJF and Sergey Soloveychik of the EJU. Judo has grown to become a high profile sport in the Olympics, a global and European sport arena. I learned from both Presidents that we can never stop our quest for the best presentation of judo and its values. For that challenge I try to spend all my knowledge and experience as athlete and coach.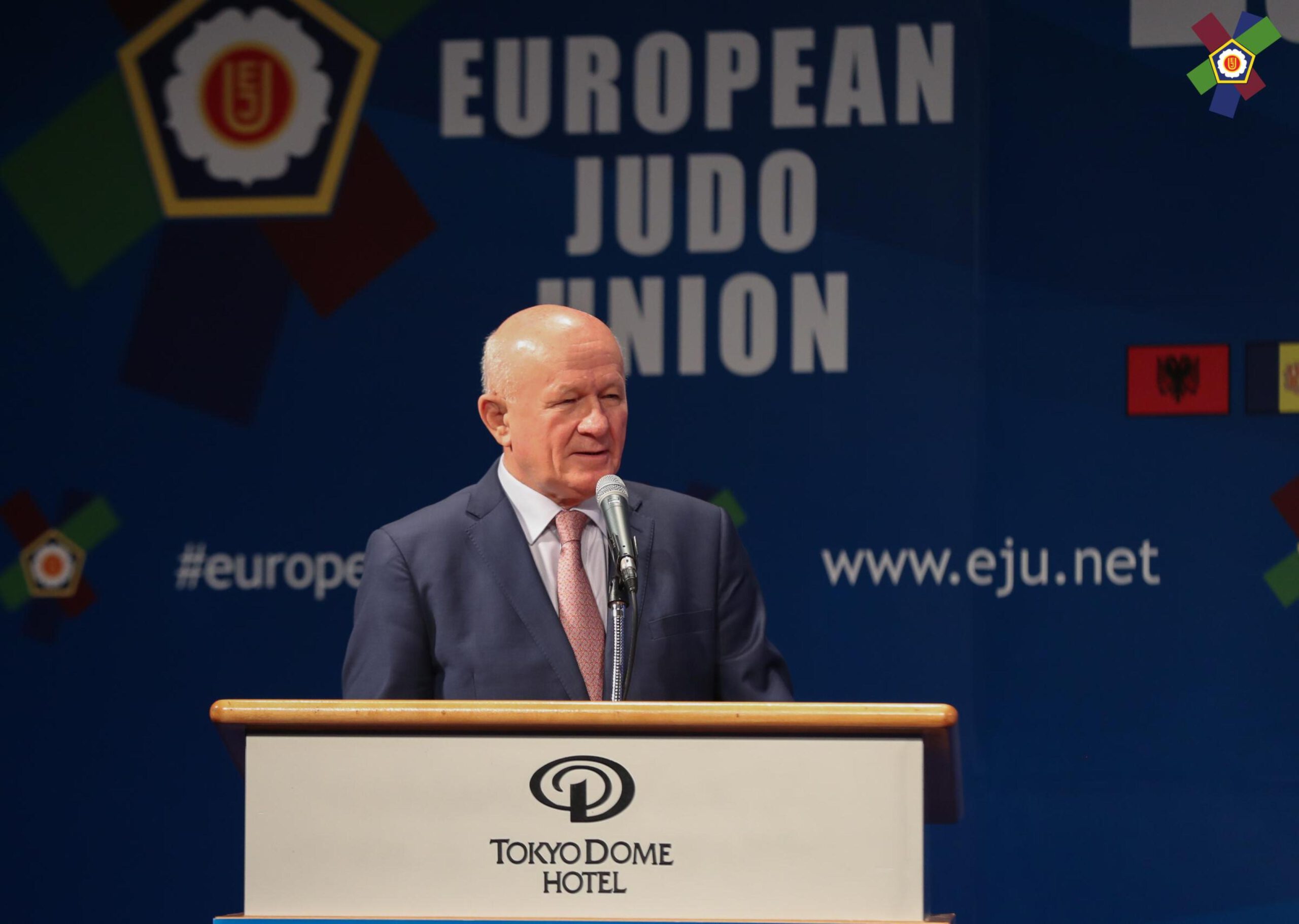 Speaking at the EJU Congress during the World Judo Championships, Tokyo 2019.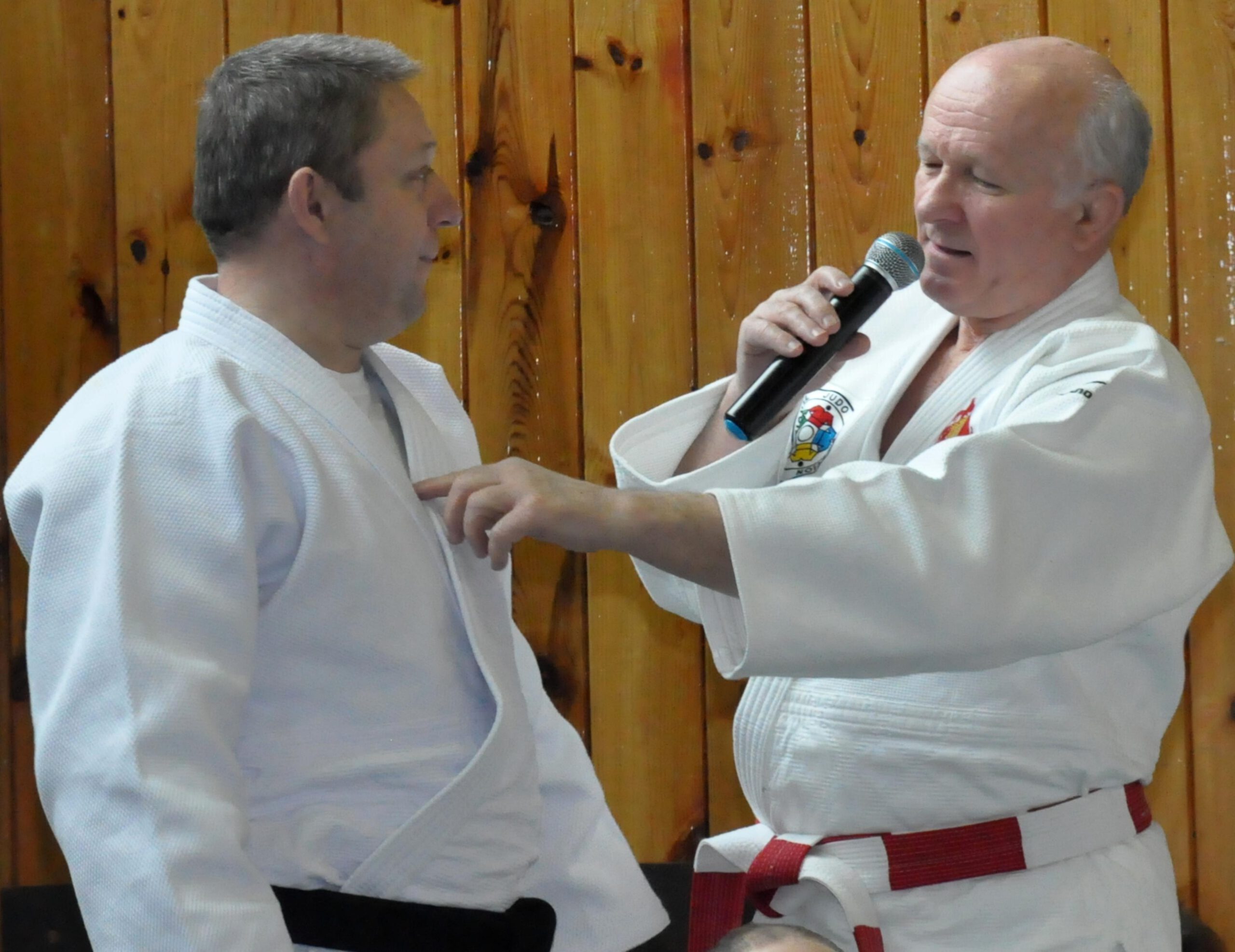 Education is paramount for Michal who released his own literature, 'Bases of Judo Training'.
Author: Thea Cowen
---