The third day of competition at the Suzuki World Championships in Budapest saw Rustam ORUJOV realise his childhood by winning a medal. It brought Europe's tally to eight after Nekoda SMYTHE-DAVIS won the first medal for Great Britain alongside Helene RECEVEAUX who won the first medal for France; both athletes finishing in third place in the -57kg category.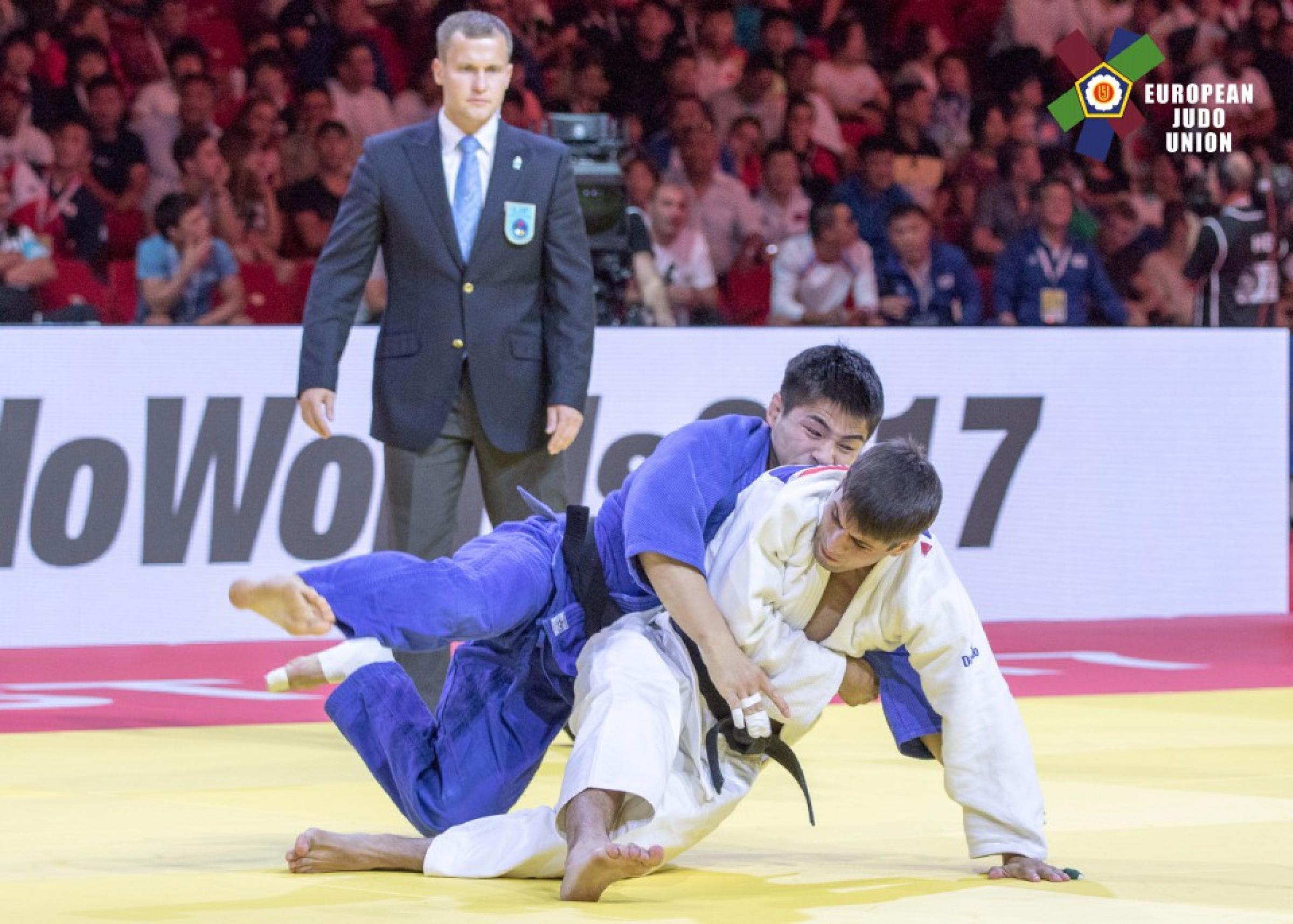 Orujov began the day as number two seed in the -73kg category a position that allowed him to rest up during the first round. In the second round, Orujov overcame Akil GJAKOVA (KOS) whom he twice threw before finishing the contest by juji gatame. Following that, both Pierre DUPRAT (FRA) as well as Behruzi KHOJAZODA (TJK) suffered defeat at the former European Champion, Orujov.
The quarter final saw SAIYINJIRIGALA (CHN) fall to a well-timed harai goshi. During the semi-final, Orujov faced AN Changrim (KOR), to whom he lost twice previously. It appeared for a time as though today would be no different, as An scored first with waza ari from a nicely executed ko uchi o uchi gari combination. Despite falling behind, Orujov came back to prove the better of the two on the day, defeating his Korean opponent by an overwhelming makikomi. The final contest of the day saw the top two seeds, HASHIMOTO Soichi (JPN) and Orujov standing face to face in the final. Hashimoto had overpowered Orujov on the past two occasions. During the normal contest time, it seemed as though Olympic silver medallist, Orujov, was on his way to a World title and until up to the second minute of golden score, he had indeed dominated the contest for the majority of the time with a strong left sided grip on the back of Hashimoto. A pitiful error cost Orujov a possible World title when Hashimoto bounced out and back into the contest area which made Orujov freeze momentarily wondering whether his Japanese opponent should be given a penalty. The moment Orujov chose to cast an eye toward the referee, was when Hashimoto struck with a match ending tai otoshi, throwing the Azerbaijian judoka for waza ari.
Meanwhile, in the -57 kg category, 2016 Olympian, Nekoda SMYTHE-DAVIS (GBR) battled through to the final block as one of the reprechage contenders. LIEN Chen-ling (TPE) suffered a defeat against the British judoka during the repechage. For bronze, Smythe-Davis dominated 2013 World bronze medallist, Miryam ROPER (PAN).
Helene RECEVEAUX (FRA) may have felt that she had taken a back seat for a fairly long time. Today, however, she really proved to be the best of the -57 kg in France. To win the bronze medal, she defeated five-time European Champion, multiple World medallist and Olympic bronze medallist, Telma MONTEIRO (POR).
---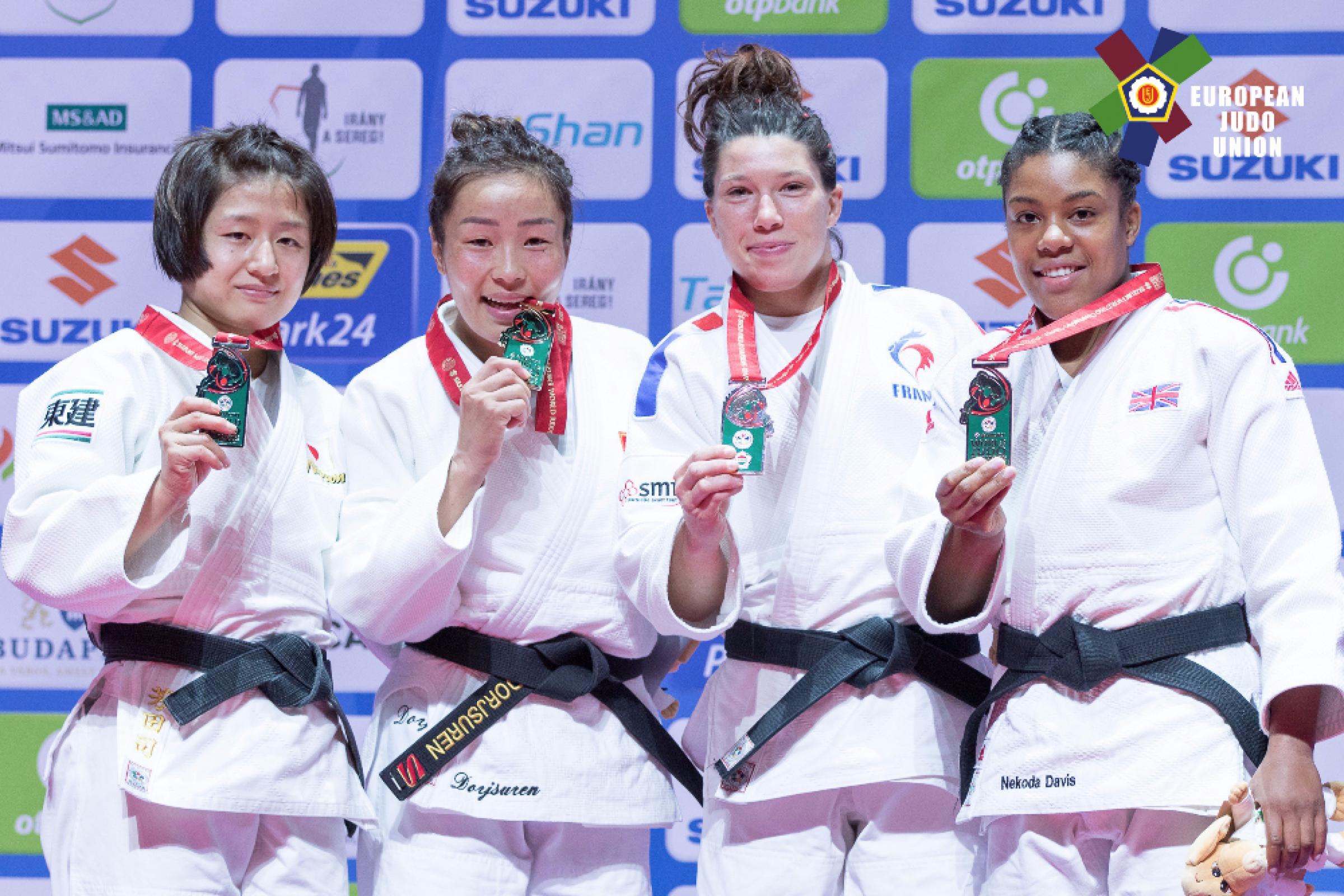 Podium -57kg 1. DORJSUREN, Sumiya (MGL) 2. YOSHIDA, Tsukasa (JPN) 3. RECEVEAUX, Helene (FRA) 3. SMYTHE-DAVIS, Nekoda (GBR) – Rafal Burza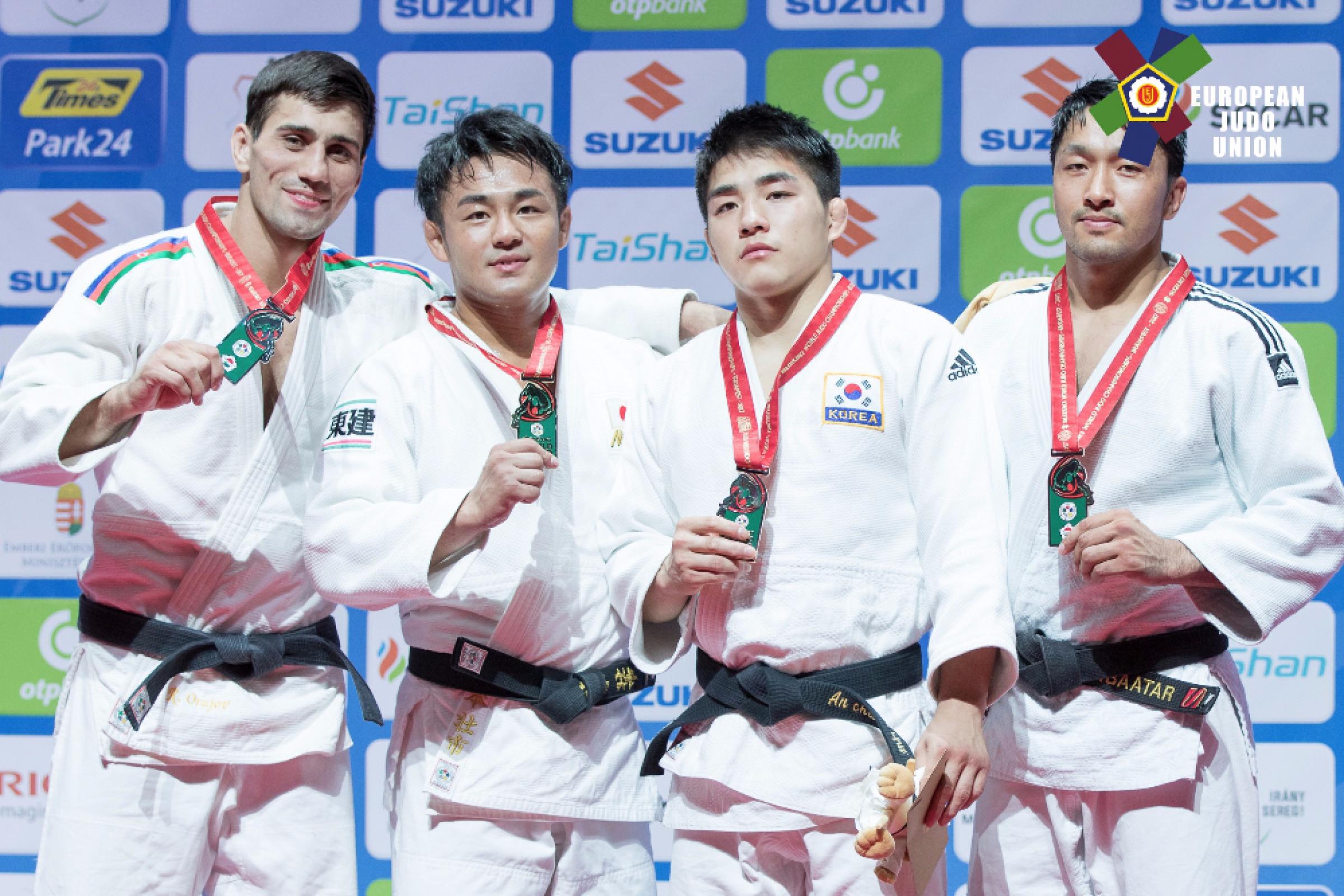 Podium -73kg 1. HASHIMOTO, Soichi (JPN) 2. ORUJOV, Rustam (AZE) 3. AN, Changrim (KOR) 3. GANBAATAR, Odbayar (MGL) – Rafal Burza
Judoka
---