Gori, a town with a little more than 45,000 inhabitants, located at the confluence of the Mtkvari and Greater Liakhvi rivers, 86 km west of the Georgian capital, Tbilisi. In comparison with others maybe it is a small city but for sure is city of great champions, Olympic champions are created here like on a conveyor belt in any serious factory.
There is no need to talk about the tradition of judo in Georgia, the fact that the hall was filled to the last seat speaks for itself, so it was necessary to look over someone else's shoulder from the balcony to see the local heroes such as Lasha SHAVDATUAHSVILI (GEO) or the well-known Teddy RINER (FRA) in action.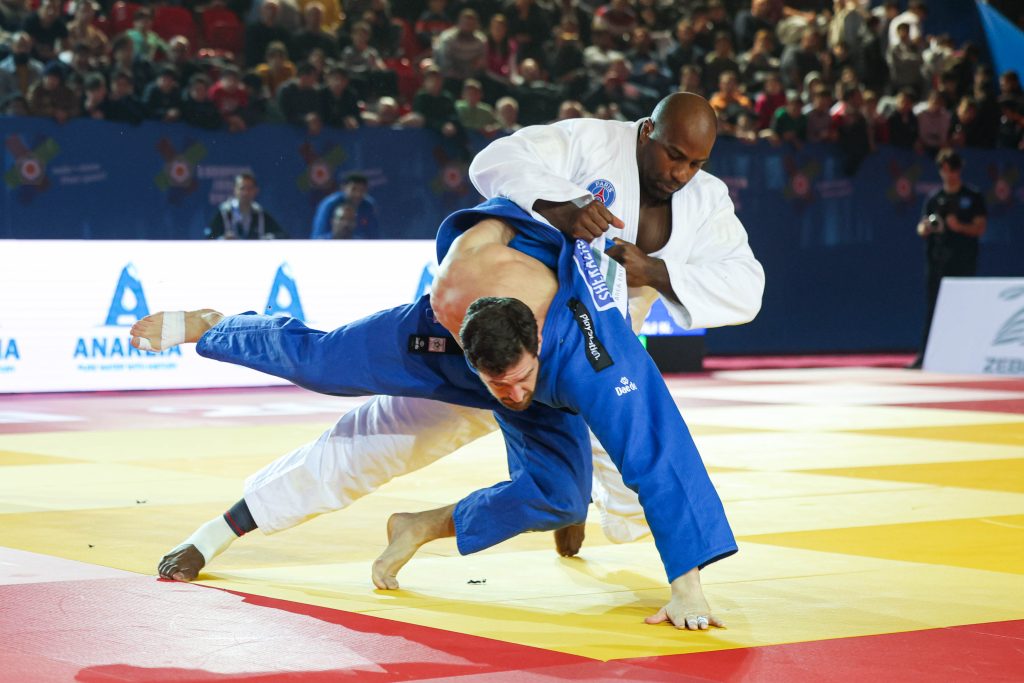 Before the final block began, opening ceremony was held, all in honor of the Olympic winner from 1972, Shota CHOCHISHVILI (GEO), who is also the first winner of a gold medal at the Games for Georgia. EJU President Dr TÓTH he awarded plaques to individuals who have written the history of Georgian Judo.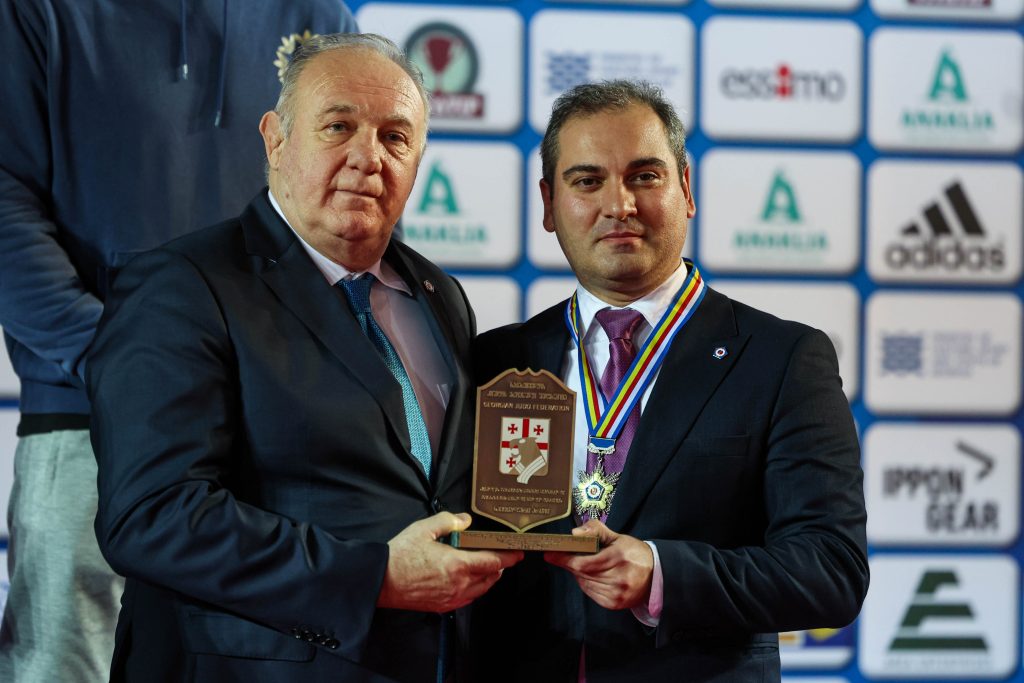 As it usually happens, the charged atmosphere in the team competition, at the end of the season, everyone seemed to be guarding that last spark and not missing their chance to shine at the Champions League.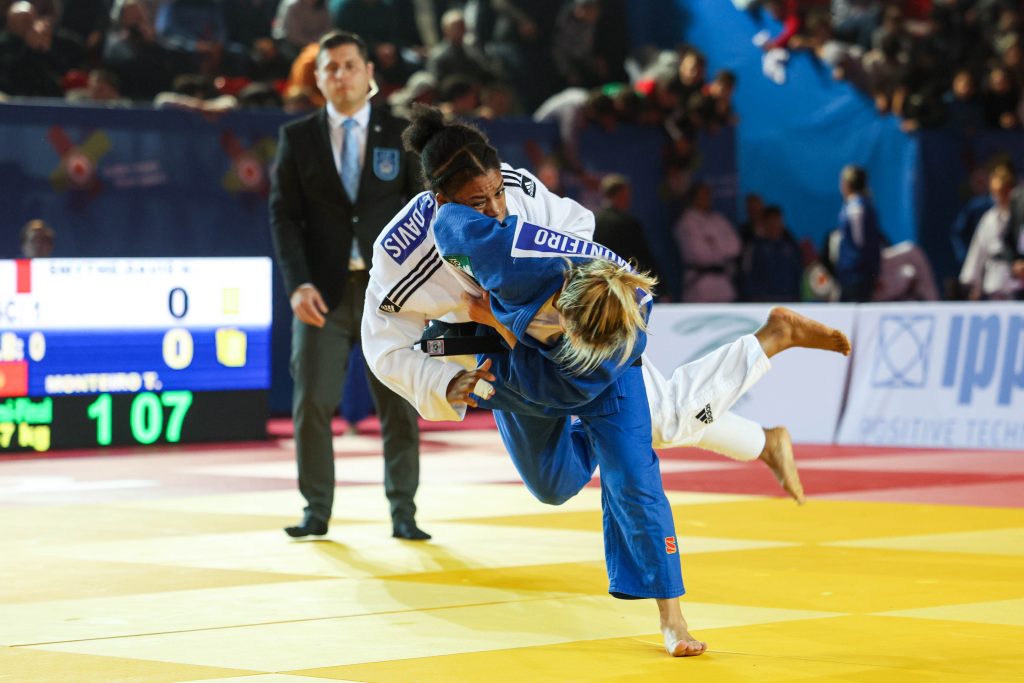 WOMEN'S FINAL: U.S. Orleans Loiret LJJ (FRA) vs Red Star Club De Champigny (FRA)
In the senior women's competition, we had the opportunity to watch the all French final. The U.S. Orleans Loiret LJJ against the Red Star Club De Champigny led by current Olympic champion Clarisse AGBEGNENOU, for whom this is also the first tournament after a long break. Final score was 5:0 for the team U.S. Orleans Loiret LJJ.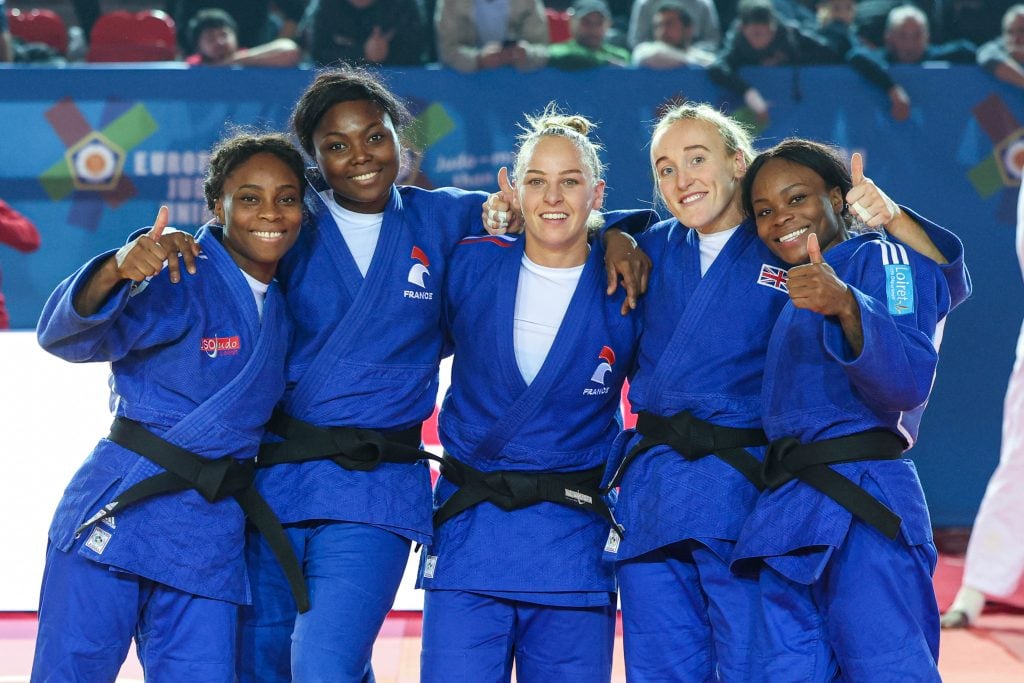 Immediately after the match we had a chance to speak with 2012 London Olympic Games bronze medalist Priscilla GNETO.
We are so happy for the team as we wanted to win so much today and of course we are extremely delighted with our great performance. We always want a gold medal you know, it was a difficult day for us but when we won against PSG we said to each other we fought with the best team here and now anything is possible. Before we came here, our coach (Anthony RODRIGUEZ) said "WE WILL WIN."
Tell us what happened in the warmup area before the finals, was there some motivation speech by coach?
Not really, he just said "You were magnificent all day, so you just need to finish it."
MEN'S FINAL : Red Star (SRB) vs Fighter Tbilisi (GEO)
Of course in the men's competition, a long-awaited treat for local fans, and not easy job for home team Fighter Tbilisi. Georgians faced up last year's finalists RED STAR from Belgrade in the final. Both teams, who had in their roster winners of several world titles. When you look at the paper with the line-ups it's hard to predict results even for the most experienced followers of judo. Final score was 2:3 for the team Fighter Tbilisi.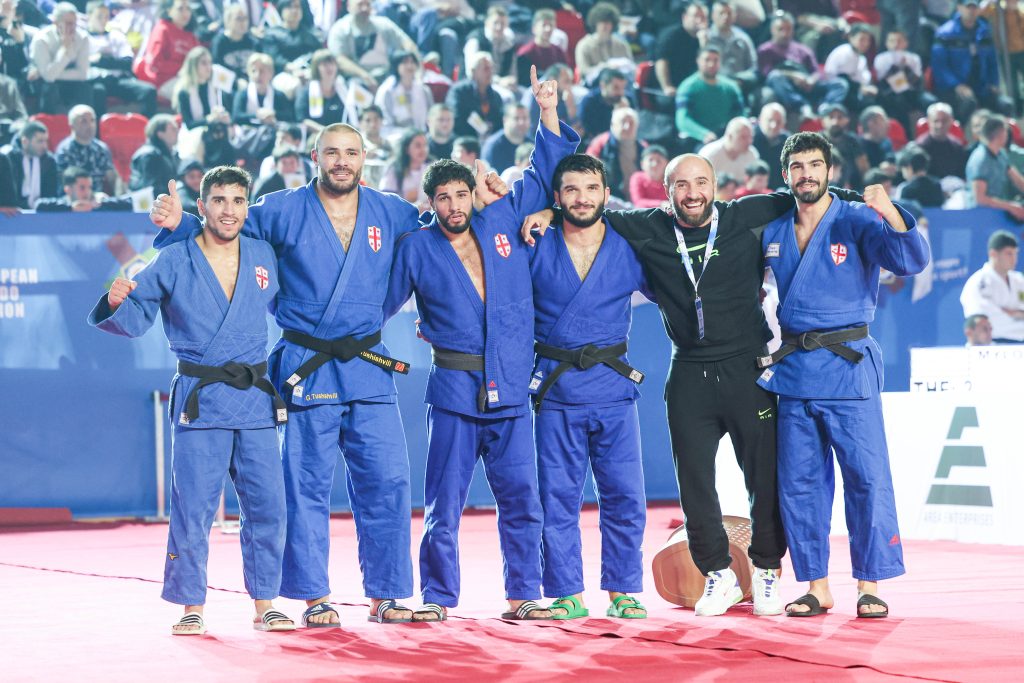 "We are delighted, home crowd, magnificent final match. I would like to thank all the fans which were in the venue all day here with us and motivated us to do win gold medal and trophy here in Georgia."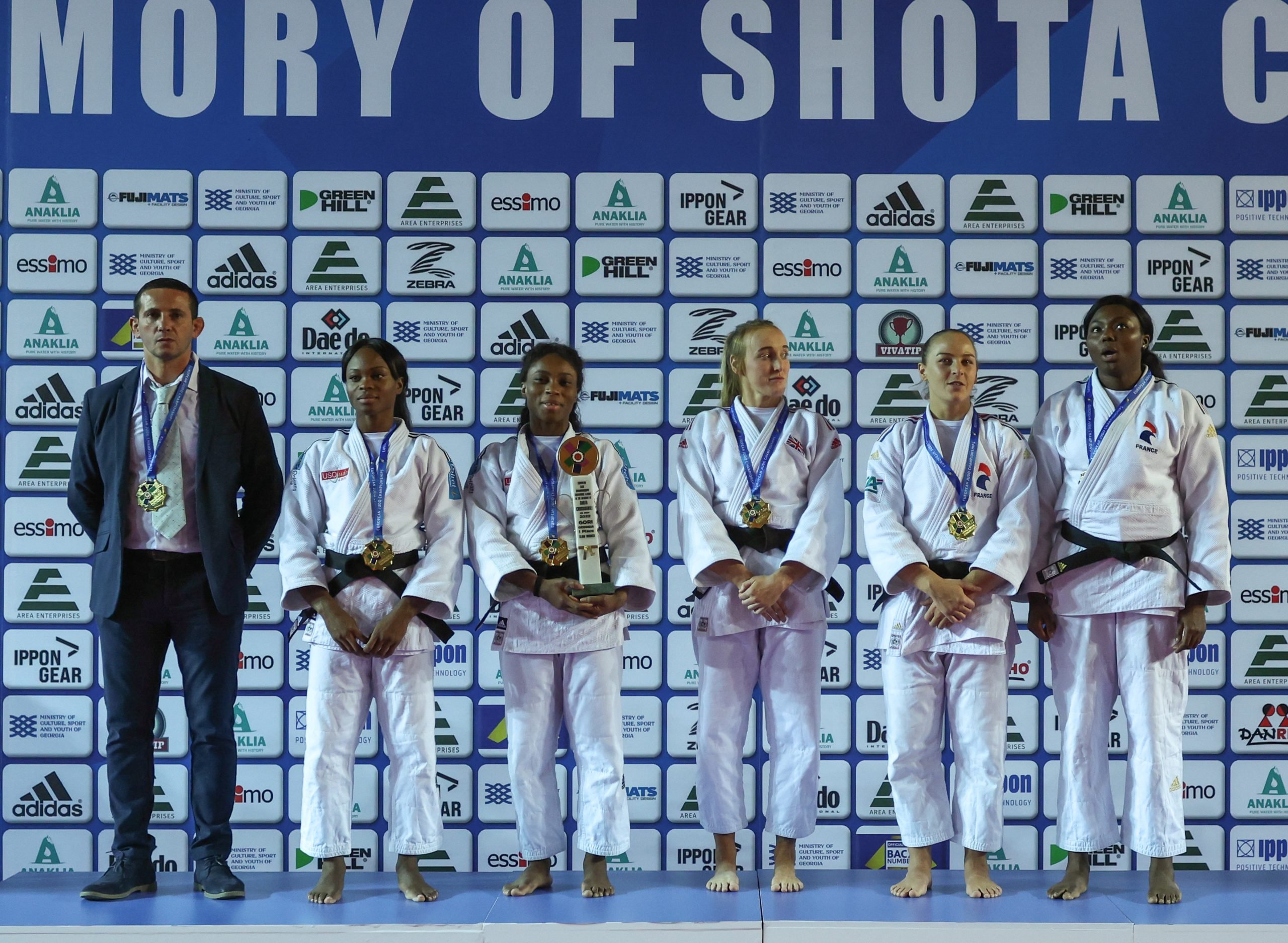 U.S. Orleans Loiret LJJ (FRA)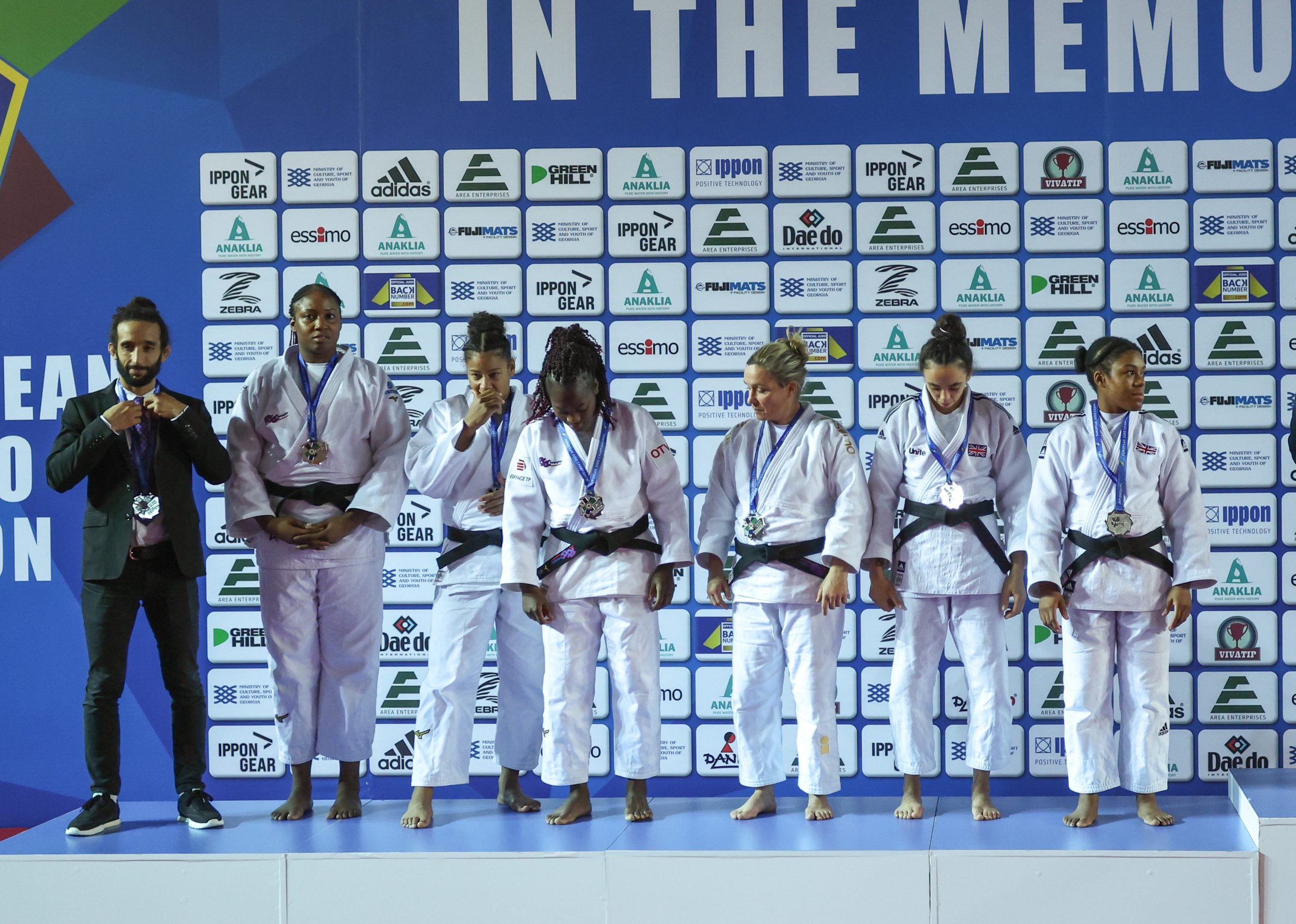 Paris Saint-Germain Judo (FRA)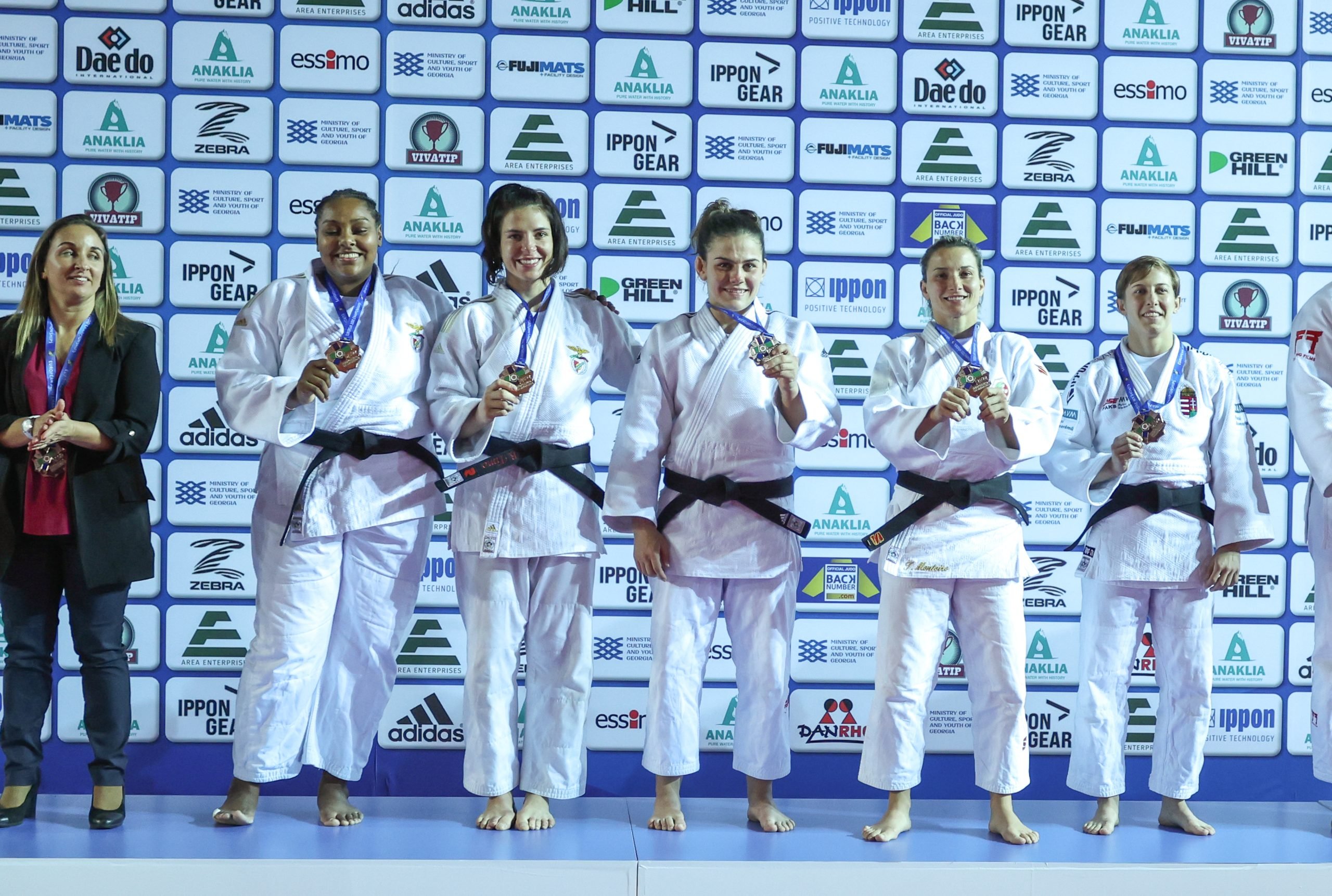 Sport Lisboa e Benfica (POR)
WOMEN'A CLUB LINEUPS
U.S. Orleans Loiret LJJ (FRA): Astride GNETO (FRA), Priscilla GNETO (FRA), Lucy RENSHALL (GBR), Margaux PINOT (FRA), Samah Hawa CAMARA (FRA).
Red Star Champigny (FRA): Chelsie GILES (GBR), Nekoda SMYTHE-DAVIS (GBR), Barbara HAREL (FRA), Clarisse AGBEGNENOU (FRA), Anne Fatoumata M BAIRO (FRA), Fanny Estelle POSVITE (FRA).
Paris Saint-Germain Judo (FRA): Melanie VIEU (FRA), Martha FAWAZ (FRA), Faiza MOKDAR (FRA), Catherine BEAUCHEMIN-PINARD (CAN), Lili NGUYEN (FRA), Juliette DIOLLOT (FRA), Marie Eve GAHIE (FRA), Romane DICKO (FRA).
Sport Lisboa e Benfica (POR): Reka PUPP (HUN), Telma MONTEIRO (POR), Barbara TIMO (POR), Katie-Jemmima YEATS-BROWN (GBR), Rochele NUNES (POR).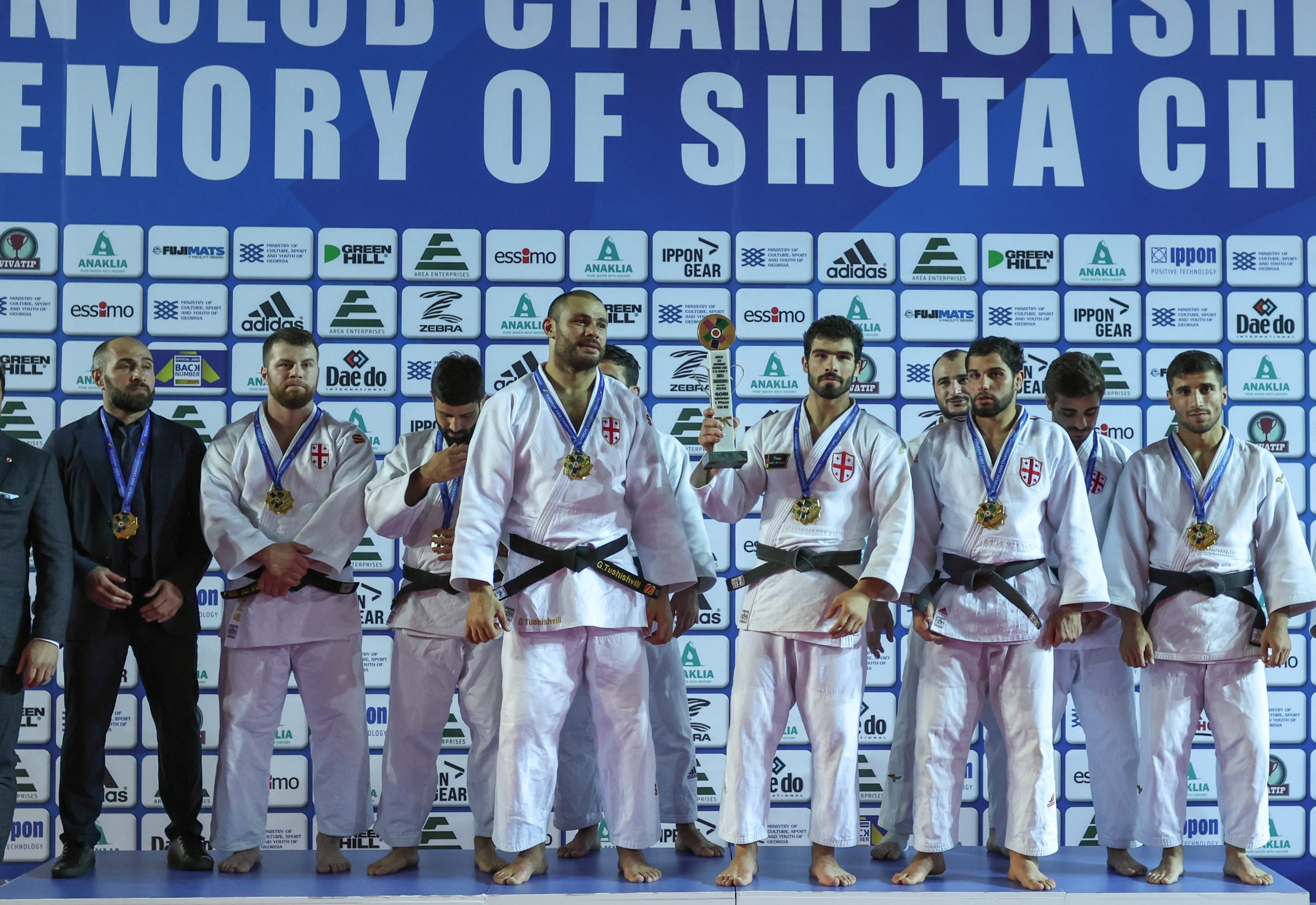 Fighter Tbilisi (GEO)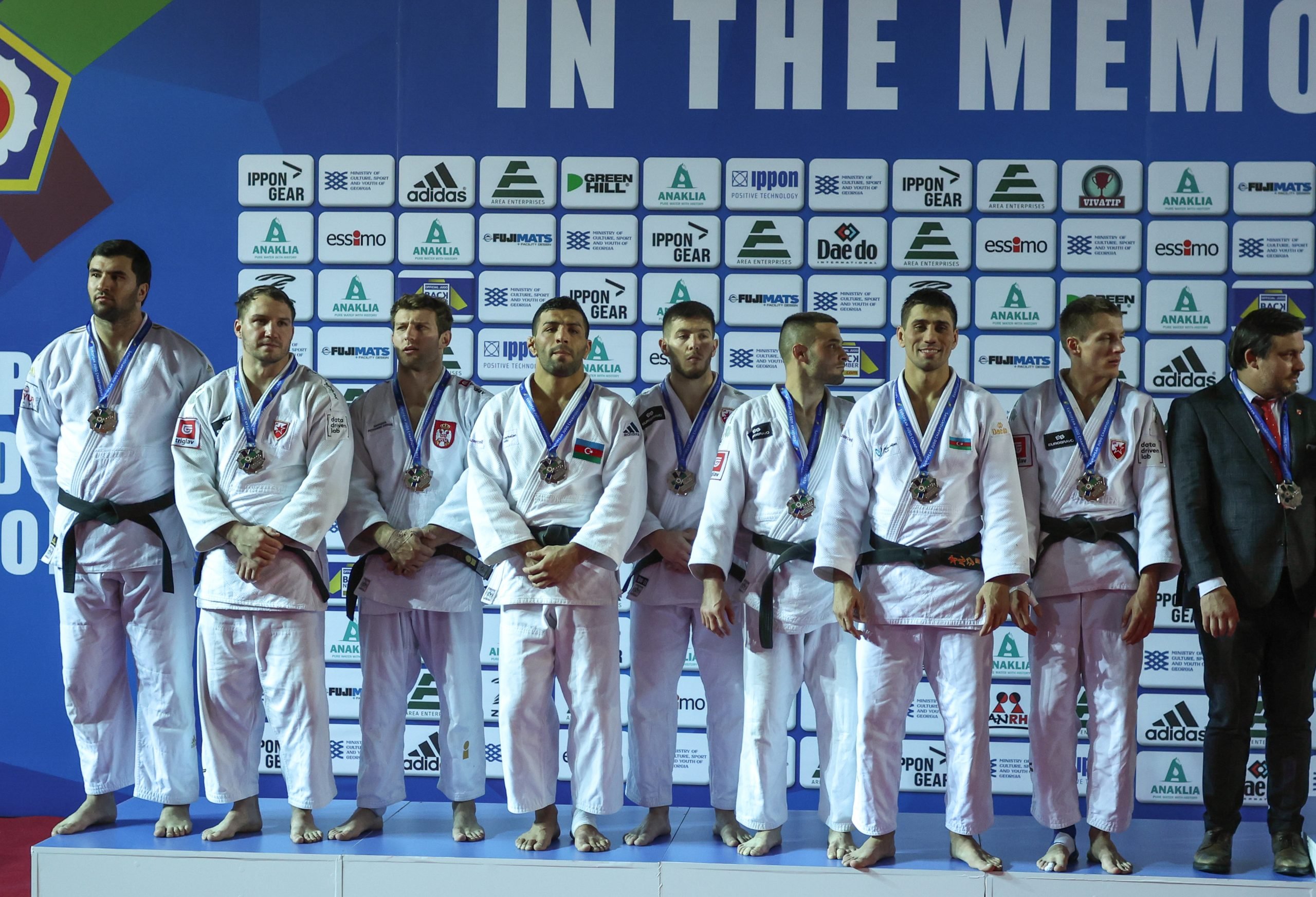 Red Star (SRB)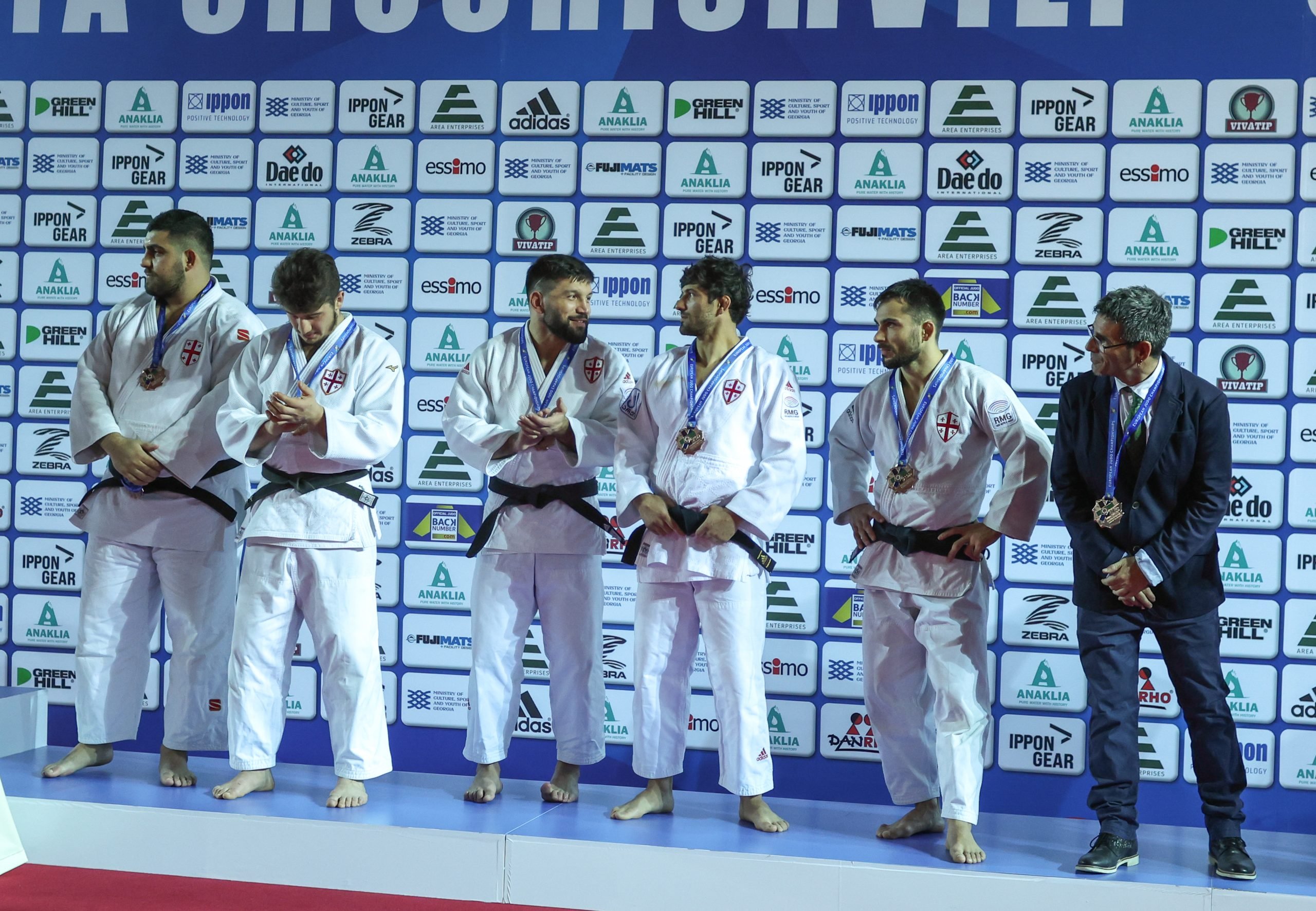 Golden Gori (GEO)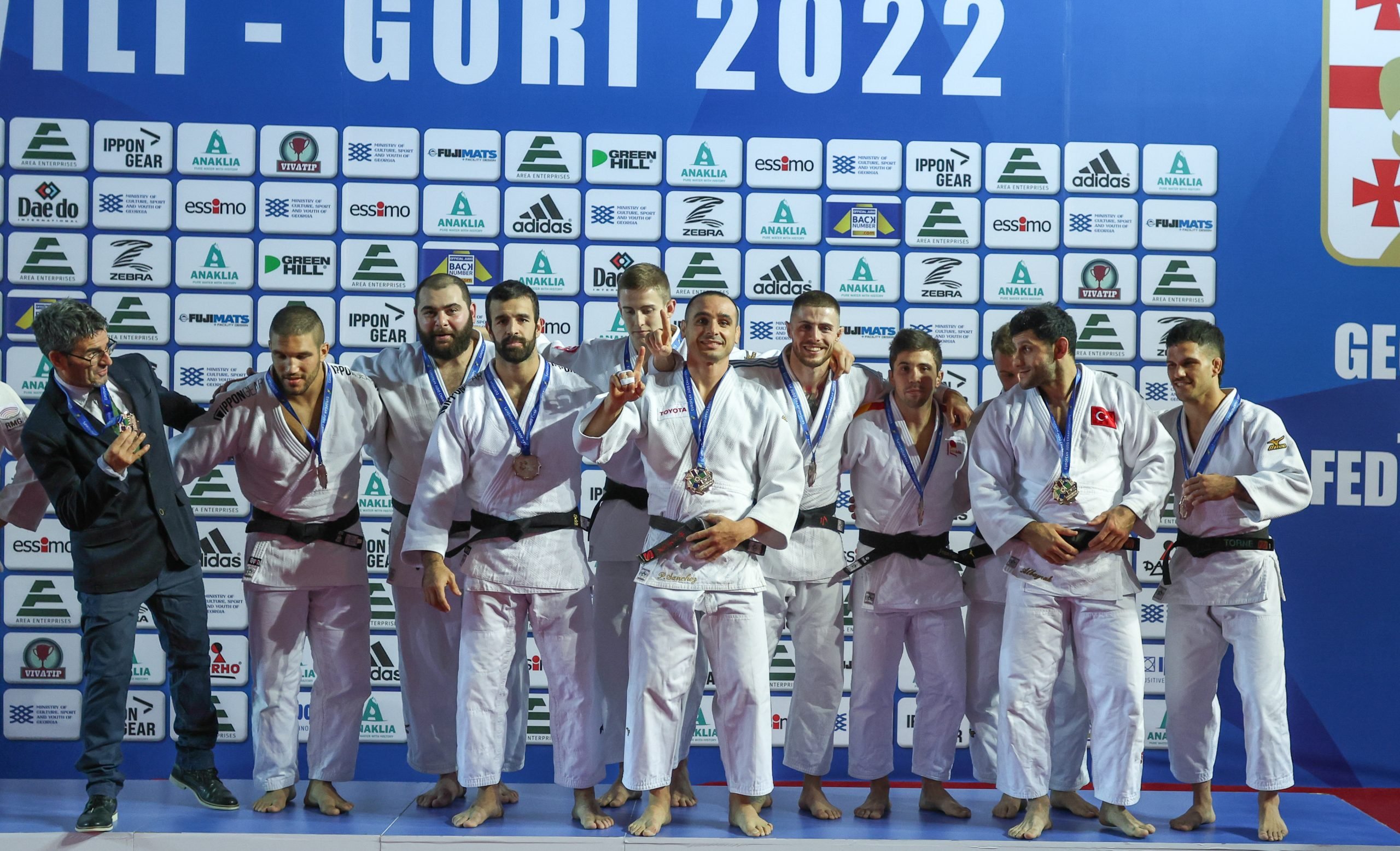 Judo Club Stabia (ESP)
MEN'S CLUB LINEUPS
Fighter Tbilisi (GEO): Bagrati NINIASHVILI (GEO), Giorgi TUTASHVILI (GEO), Giorgi CHKIHELIDZE (GEO), Phridon GIGANI (GEO), Tato GRIGALASHVILI (GEO), Levan GUVAVA (GEO), Ushangi MARGIANI (GEO), Varlam LIPARTELIANI (GEO), Onise SANEBLIDZE (GEO), Guram TUSHISHVILI (GEO).
Red Star (SRB): Strahinja BUNČIĆ (SRB), Filip JOVANOVIĆ (SRB), Rustam ORUJOV (AZE), Saeid MOLLAEI (AZE), Marko ŠARIĆ (SRB), Nemanja MAJDOV (SRB), Bojan DOŠEN (SRB), Temur TAKHIMOV (TJK).
Golden Gori (GEO): Vazha MARGVELASHVILI (GEO), Lasha SHAVDATUASHVILI (GEO), Vladimir AKHALKATSI (GEO), Beka GVINIASHVILI (GEO), Luka MAISURADZE (GEO), Gela ZAALISHVILI (GEO).
Judo Club Stabia (ESP): David GARCIA TORNE (ESP), Francisco GARRIGOS (ESP) , Jose Antonio ARANDA OLALLA (ESP), Salvador CASES ROCA (ESP), Vedat ALBARYAK (TUR), Jose Maria MENDIOLA IZQUIETA (ESP), Pablo SANCHEZ GARCIA MONCO (ESP), Daniel NIETO TRINIDAD (ESP), Krisztian TÓTH (HUN), Levani MATIASHVILI (GEO), Nikoloz SHEREZADISHVILI (ESP).
In the women's bronze medal match between GALATASARAY vs SPORT LISBOA E BENFICA was a record breaking difference in age at the European Club Championships. In the U57kg contest 18-years was the difference today between Ozlem YILDIZ (TUR) and Telma MONTEIRO (POR). The most decorated athlete at European Championships ever, Portuguese MONTEIRO celebrated in golden score.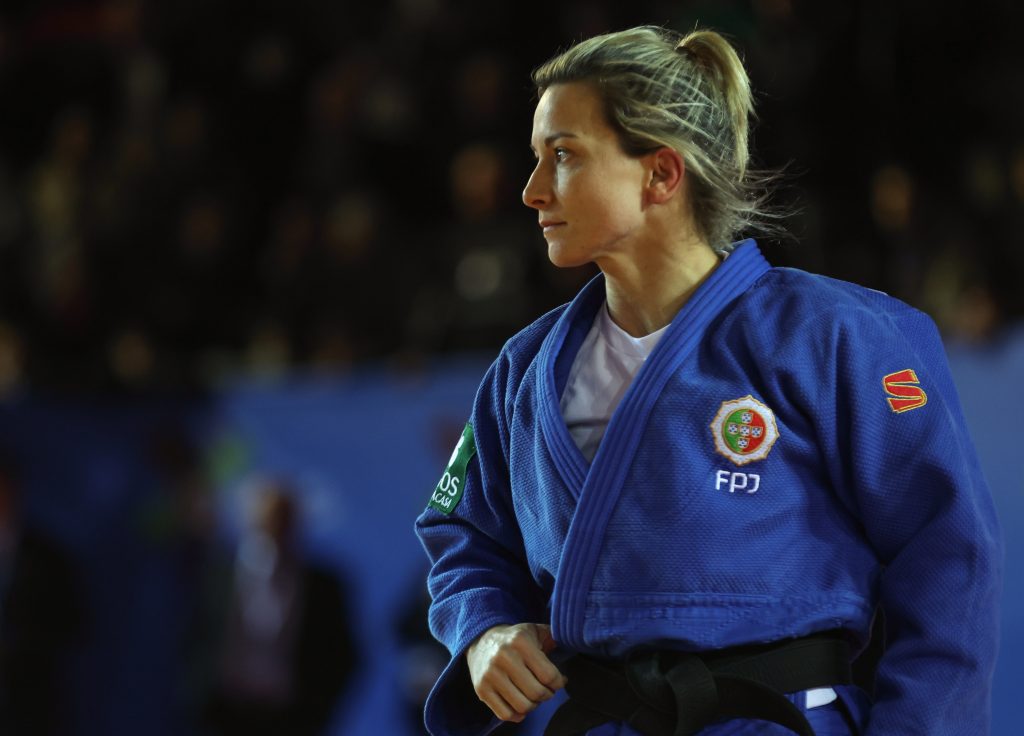 Congratulations to all of the clubs who competed today as the best of the best in Europe. See you next year in Belgrade!
Judoka
Author: Mario Krvavac
---