We were off to an exciting start for the mixed team event of the Cadet European Judo Championships 2022 in Porec, Croatia.
First up were Georgia against Hungary and Azerbaijan against Poland. After some extremely impressive performances, the bronze medals were eventually secured by the nations in the Caucasus region.
Georgia were the initial team to secure their medal, defeating the team of Hungary 4:1. The -81kg category were drawn first and so in stepped Saba GVELESIANI (GEO) and MAJOR Adam (HUN). An early waza ari from the Georgian had Major playing catch up until Gvelesiani jumped in for a devastating harai goshi. Next up to take a win for Georgia was Lizi KVARTSKHAVA, initially struggling against PERLAKI Hanna (HUN) she managed a throw to bring her down and kept her grip to ensure shime waza was applied. A typical technique from the Georgian repertoire was used by Nikoloz ZAALISHVILI, a huge soto makikomi brought down BALOGH Janos (HUN).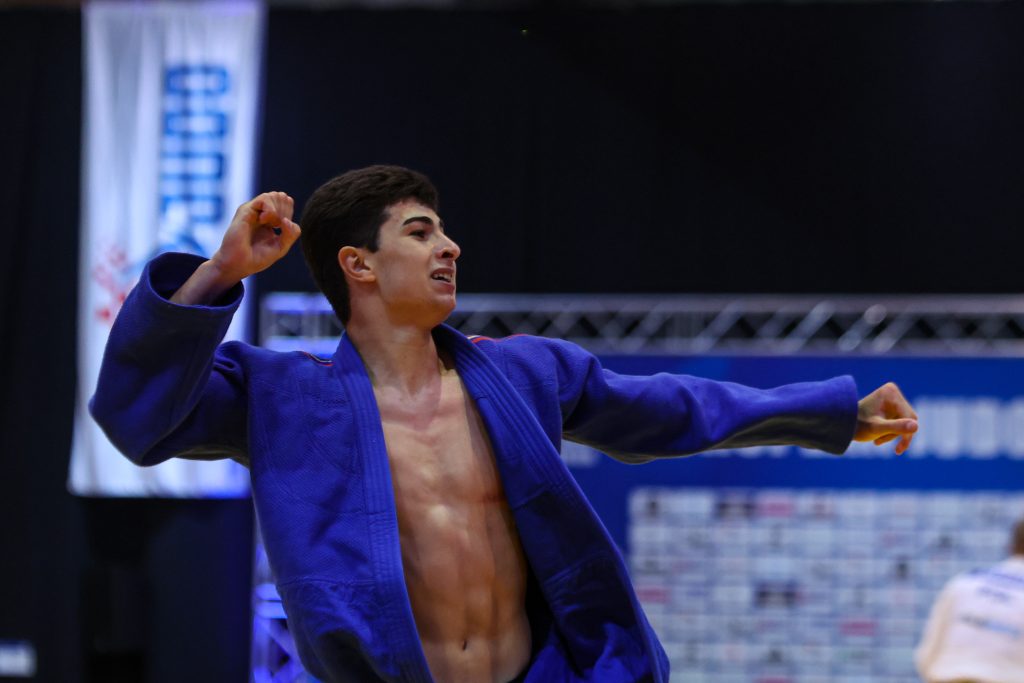 Hungary managed to put one win on the board from VEG Luca in the -48kg category but their joy was short lived as the lighter MAJOR Adam (HUN) suffered at the hands of Davit KEVLISHVILI. Already with a waza ari score, an o soto attack sealed the deal and issued Georgia their bronze.
On the adjoining tatami it looked bleak for the team of Azerbaijan as Poland were leading 2:0 following wins from Fabrycjusz TARKOWSKI and Zuzanna  BANASZEWSKA, but once Ramazan AHMADOV secured the first win for Azerbaijan in the +81kg category, there was a change in the tides and it seems he'd ignited the fire beneath their feet. The -48kg silver medallist this week, Aydan VALIYEVA (AZE) put the team officially back in the game with a second win after securing osae komi against Wiktoria SLAZOK (POL). Nizami IMRANOV (AZE) was quick to react to a weak drop seoi nage and countered his opponent to score ippon, we now sat at 3:2. Finally, Fidan ALIZADA was the hope of Team Azerbaijan, winning against Zuzanna STARCZYNSKA would give them the medal, so in just over a minute of contest time, she threw and transitioned to osae komi winning the bronze.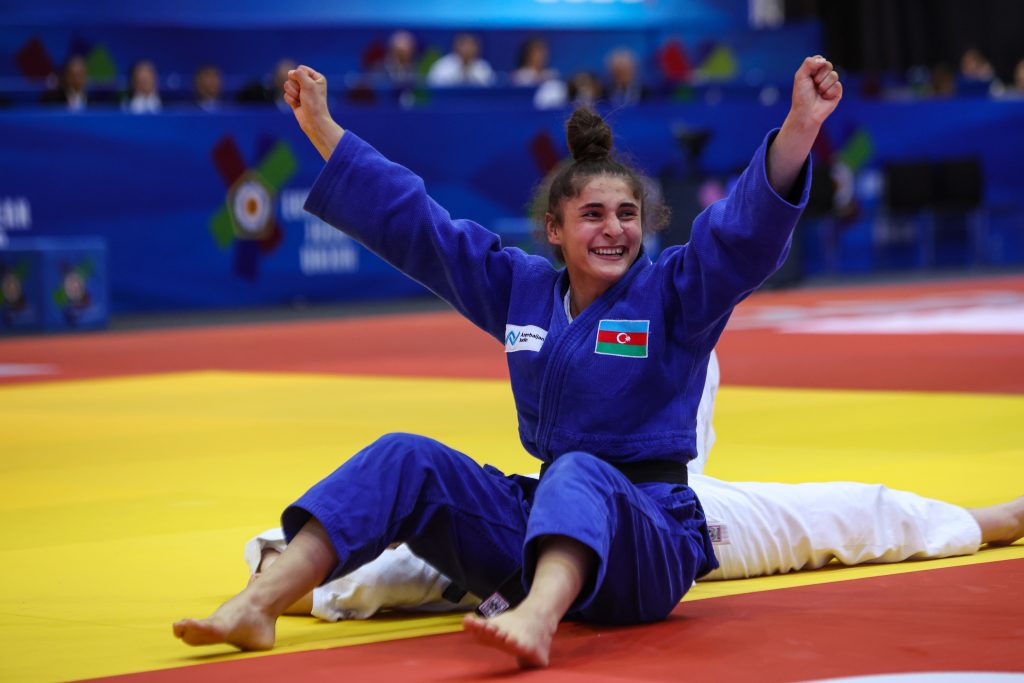 Both teams of Ukraine and France had been very strong today, outperforming the others to reach the final. In this instance, Team Ukraine got right to work and took their first win in the -81kg from Igor TSURKAN against Thomas PUCHLY, some nice ne waza to start the final. In the +63kg match up we had current cadet European champion Grace-Esther MIENANDI LALOU (FRA) and bronze medallist Diana SEMCHENKO. The Ukrainian had actually come in as number one seed but a mistake in the quarter meant she lost out on a place in the final. This time no such mistake would be made! An animated crowd brought it to life and Ukraine took a second point. The entertaining Christian KHOKHLOV worked tirelessly against an agile Matheo AKIANA MONGO (FRA) and demonstrated once again his colossal ura nage, but due to his opponents skills, we had to wait till 2:18 in golden score.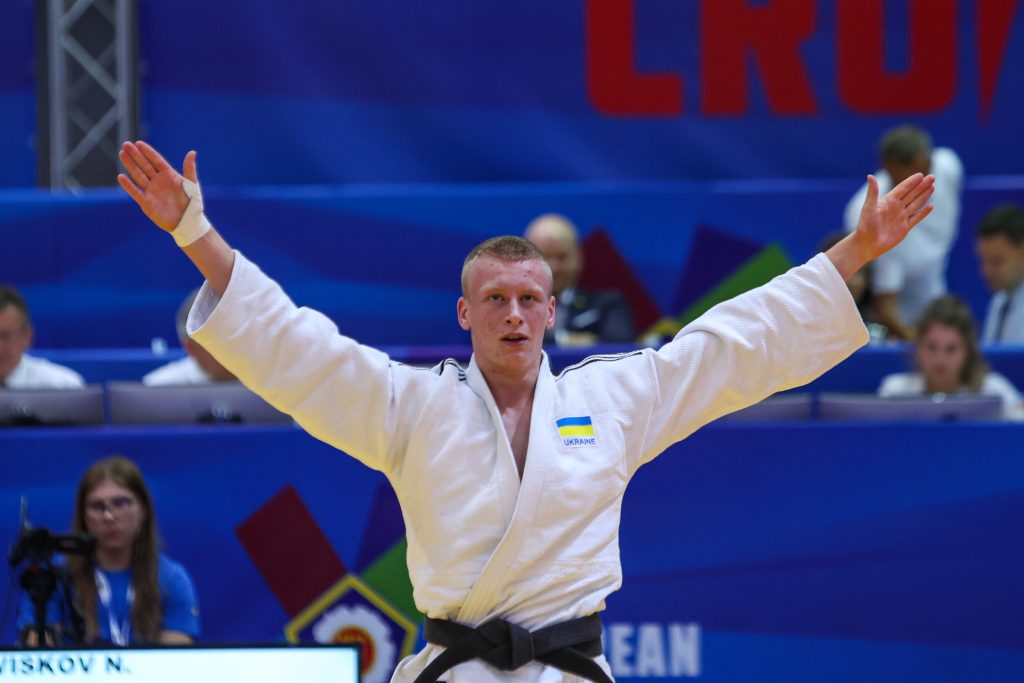 At this point, France were on the rocks but the -48kg Alyssia POULANGE was motivated and she worked away in ne waza for a personal and team win for the French. The elation was short lived however as Nazar VISKOV (UKR) wasted no time in using te waza to bring down opponent for a waza ari score and straight in to a hold.
It was a special win for them today, speaking to coach and 2012 Olympian, Serhiy DREBOT, he was elated for his team and explained why their performances were even more astounding than in their personal rounds.
I am very very happy about these cadets, they are such strong athletes and we realised that they would have a good day and hopefully get good results. Of course, we are struggling right now, but it makes this result even more incredible. Some are living in west Ukraine, some are in Slovenia, Croatia, Spain. It is so hard to create this team feeling when they're all apart but they worked hard and supported each other, considering their situation we could never have asked for a better result. We spoke with them and they understand now what it means to be together and how much stronger it makes you. The win was good anyways but I think they really needed it for themselves, their happiness makes us happy.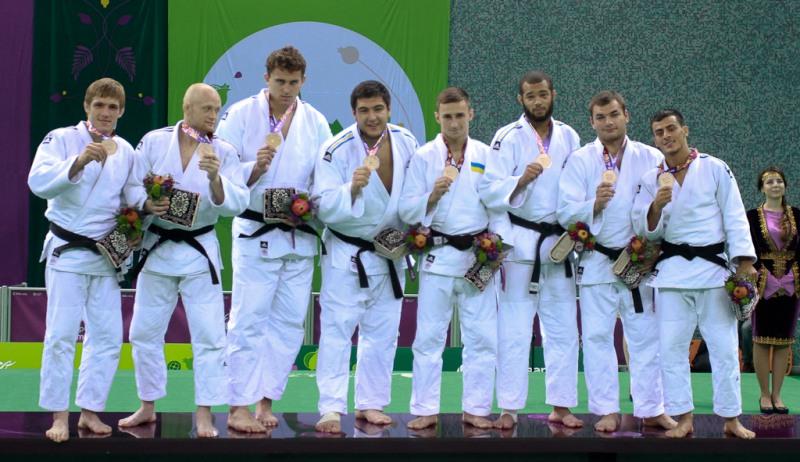 In the last contest, we [Viskov] spoke I told him how strong he is, that he could do it, he could win and he believed in himself. Now we have the gold, it is incredible.
Drebot has plenty of results as a senior but also a cadet European bronze medal so can place himself in their shoes and has been a guiding light for them during this week and especially today.
It has been a sensational four days in Porec and we look forward to seeing most of these young cadets again in Coimbra next year!
Judoka
Author: Thea Cowen
---