It is the golden age of the Ukranian superstar. Daria BILODID has made history today as the youngest World Champion at just 17 years old. Not only that but she has broken the 27 year curse on this category, finally taking a gold medal for Europe in the -48kg category. Though a young athlete herself, she is a role model to other young women around the world.
BILODID's first contest in the second round was against Distria KRASNIQI (KOS). Spectators are used to seeing the Ukrainian athlete end her contests relatively quickly, as she proved in each fight thereafter. The initial fight was much like a warm up, which she needed to get in to her stride. We cannot take away the tremendous effort that KRASNIQI put in as she prevented her opponent from executing her signature technique. The Kosovo representative worked tirelessly on the grips and kuzushi but in the end, BILODID was able to secure a win with a waza ari.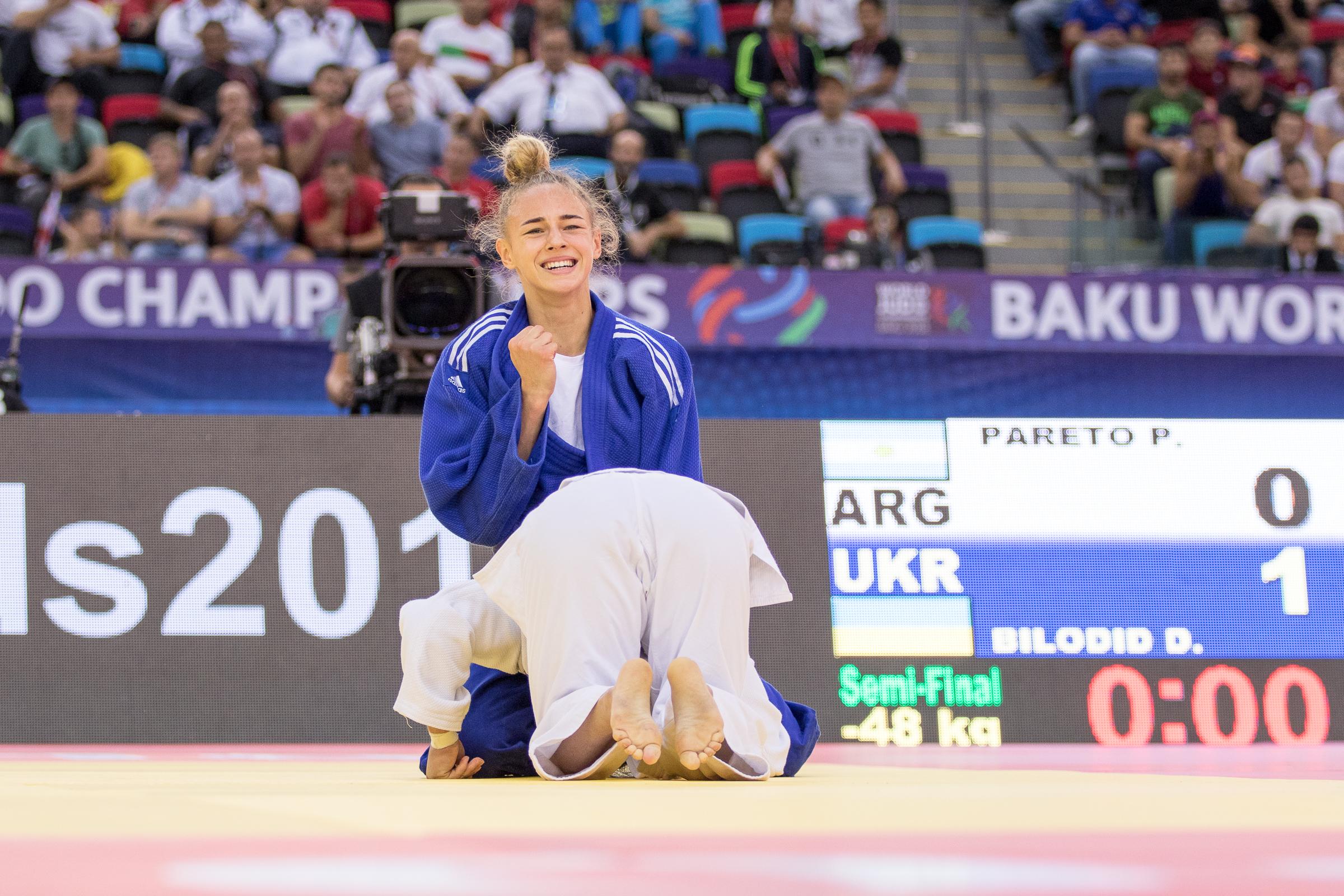 The third round contest against China's XIONG Yao was much more straight forward, using her long limbs to topple her opponent and move in to the quarter final. GALBADRAKH Otgontsetseg (KAZ) stood in the way of the semi final, though she did not pose much of a threat. BILODID quickly used to her height advantage and long reach to get her desired grip before scoring a waza ari from ouchi gari and following swiftly to newaza and in to her inescapable sangaku hold.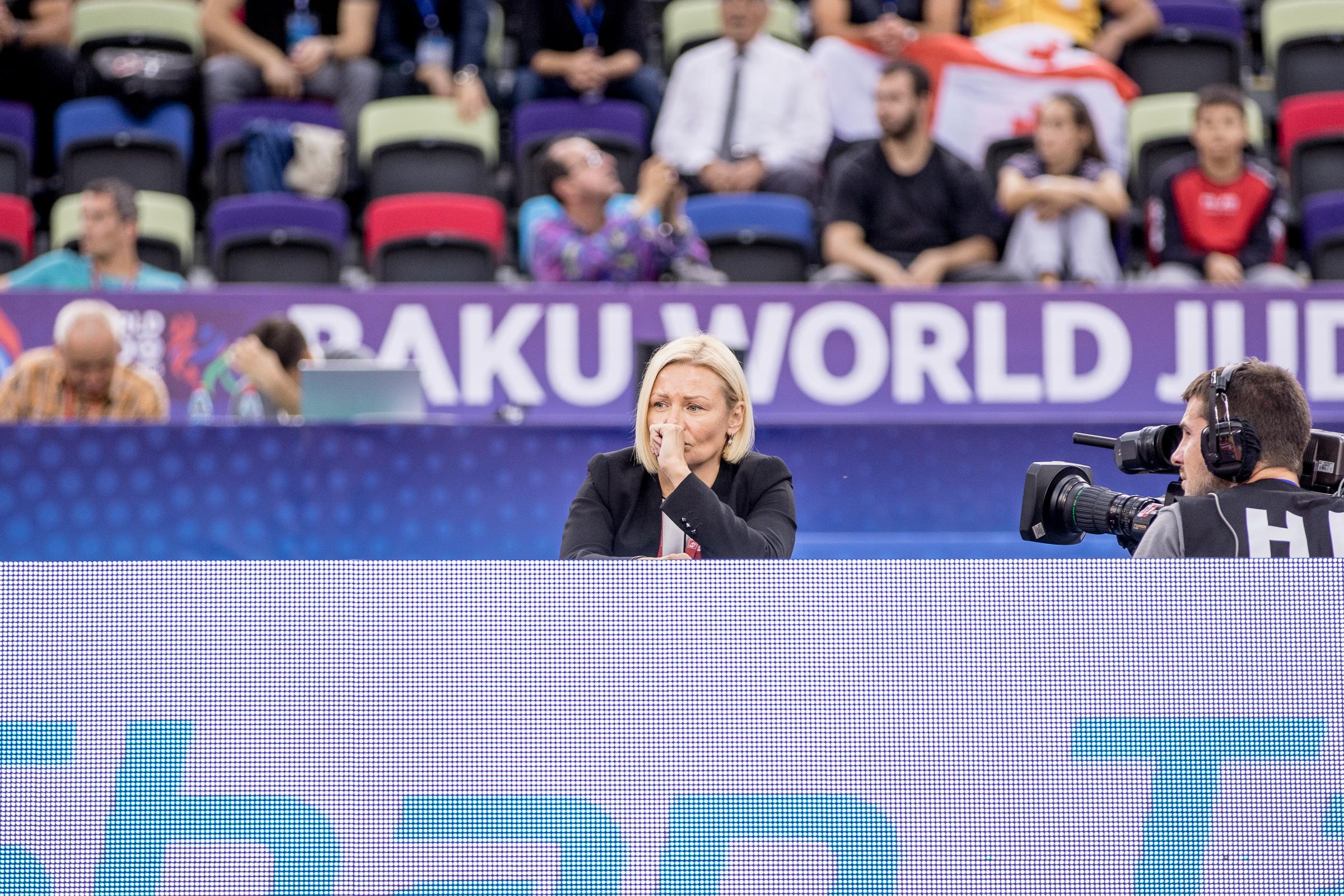 Olympic Champion, Paula PARETO (ARG) met the 17 year old to fight for a place in the final. The Argentinian put on a feisty performance but BILODID stayed calm and composed, following the Argentinians weak drop seoinage attempts in to newaza but the situation was too tight. Eventually her long limbs took over, a solid grip and a huge drive with ouchi gari was all it took to win the contest.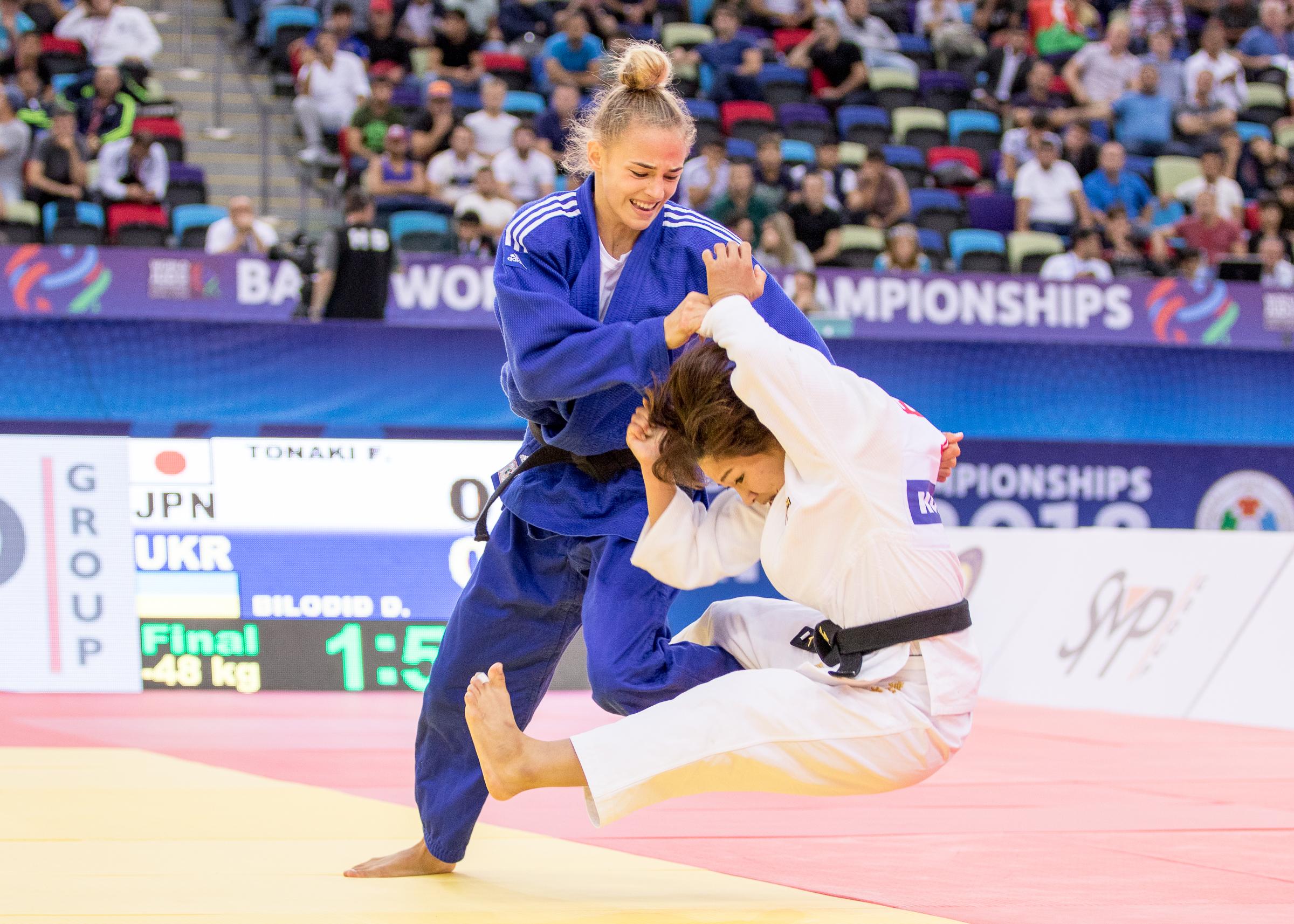 TONAKI Funa (JPN) has suffered defeat at the hands of BILODID twice already this year, and once again, the 2017 World Champion fell at the feet of the Ukrainian athlete. The crowd erupted as they witnessed history being made today. The youngest World Champion clasped her hands over her face, almost in shock, her relentless work and superior talent earning her the prestigious title. Emotionally, she ran off the mat in to the arms of her mother, a truly incredible moment. Daria BILODID displays what it means to be a world class judo athlete, her composure has led her to become the peoples' Champion as she steps on the podium to receive her much deserved gold medal.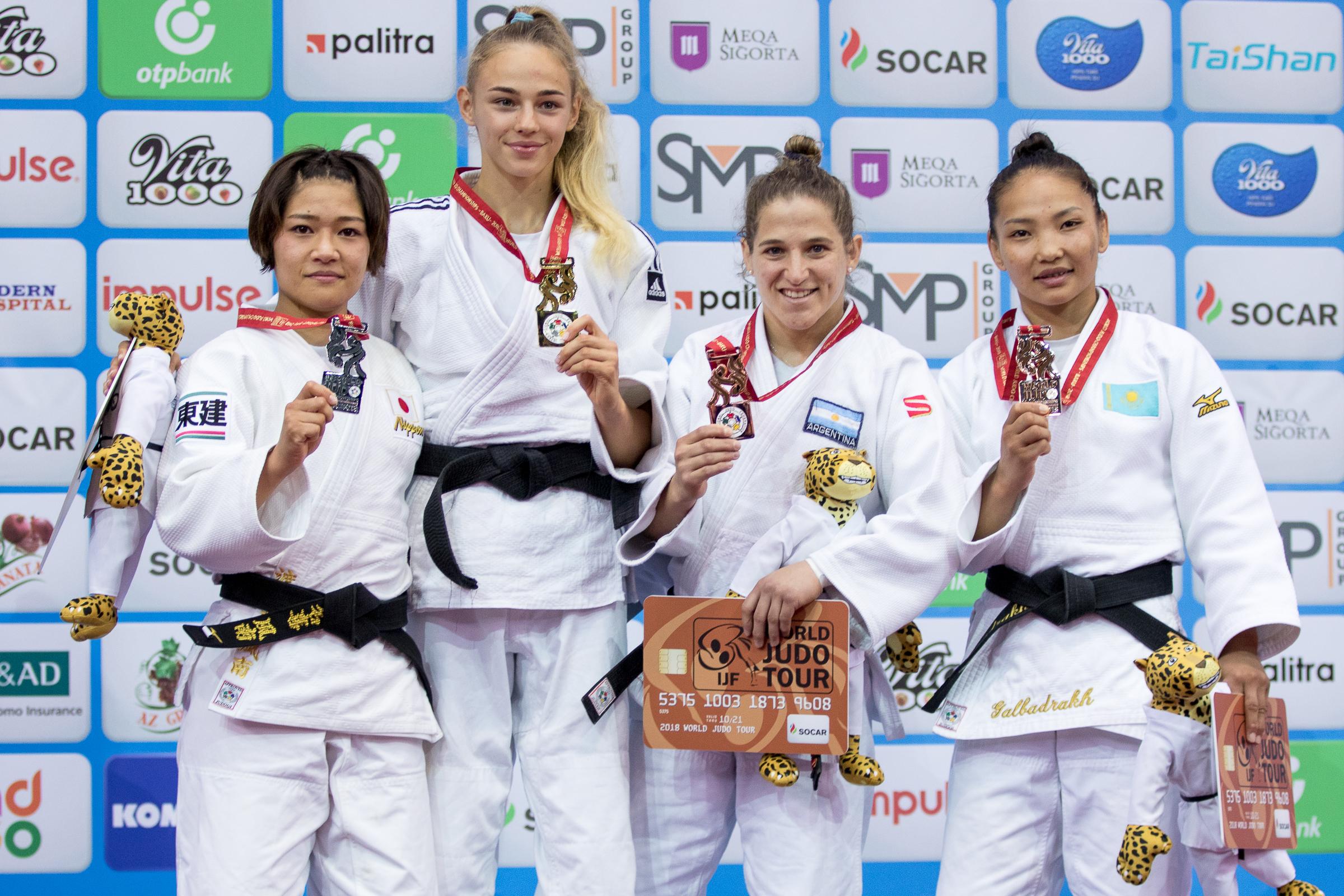 Podium -48 kg 1. BILODID, Daria (UKR) 2. TONAKI, Funa (JPN) 3. PARETO, Paula (ARG) 3. GALBADRAKH, Otgontsetseg (KAZ) – Rafal Burza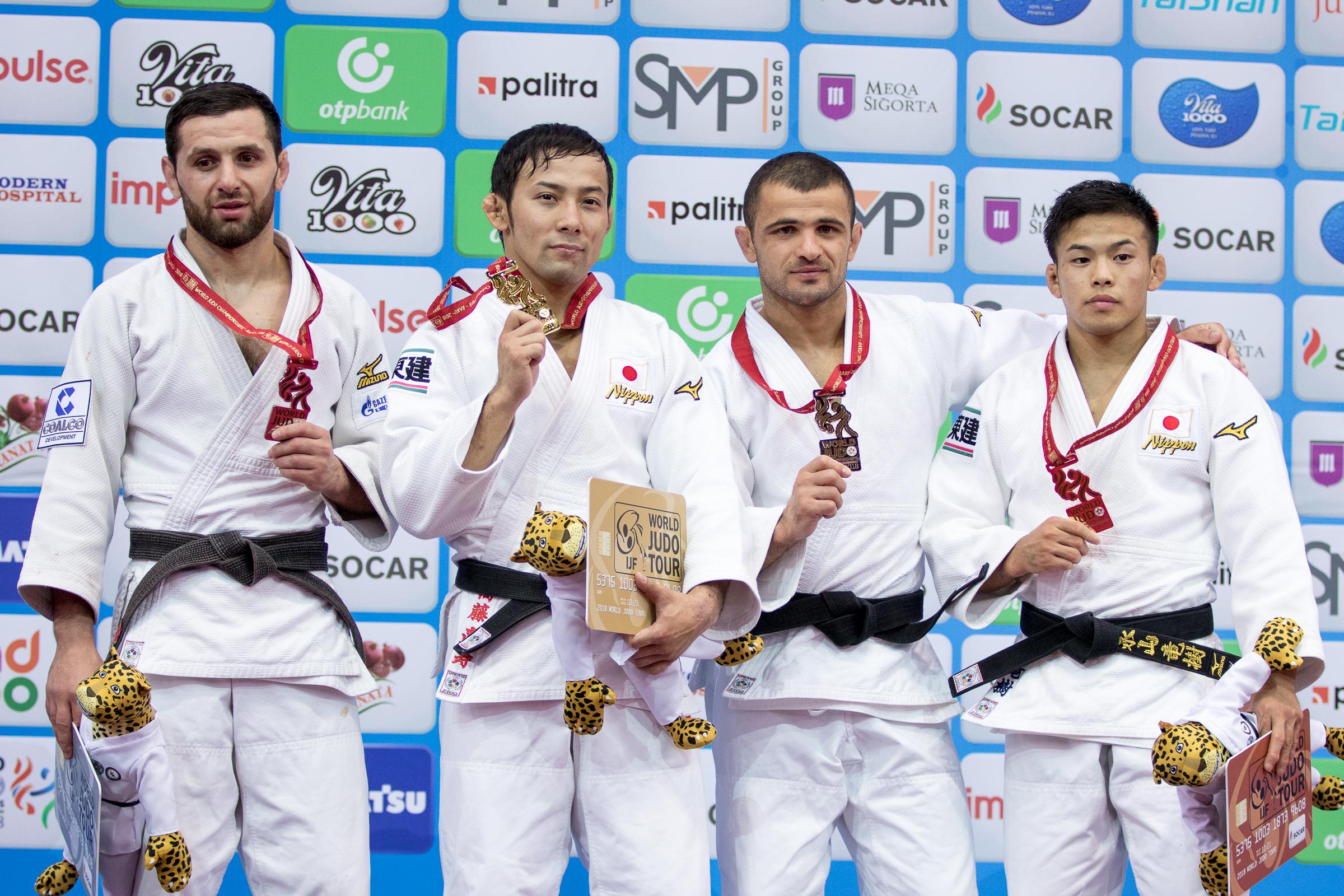 Podium -60 kg 1. TAKATO, Naohisa (JPN) 2. MSHVIDOBADZE, Robert (RUS) 3. PAPINASHVILI, Amiran (GEO) 3. NAGAYAMA, Ryuju (JPN) – Rafal Burza
WR #2, European Champion, Robert MSHVIDOBADZE (RUS) started his preliminaries in round two against Md Jomir Uddin RONY (BAN) securing a win early in the contest. The next contest against Luka MKHEIDZE (FRA) proved much more difficult as they had similar styles of fighting. The French athlete could not however, get the better of the Russian despite the close contest. Similarly, German competitor Moritz PLAFKY put in a fantastic attempt but could not get past the number 2 seed. The quarter final against LEE Harim (KOR) went in to golden score and was won on penalties, though the contest was hard fought, the strength of the Russian stopped LEE in his tracks.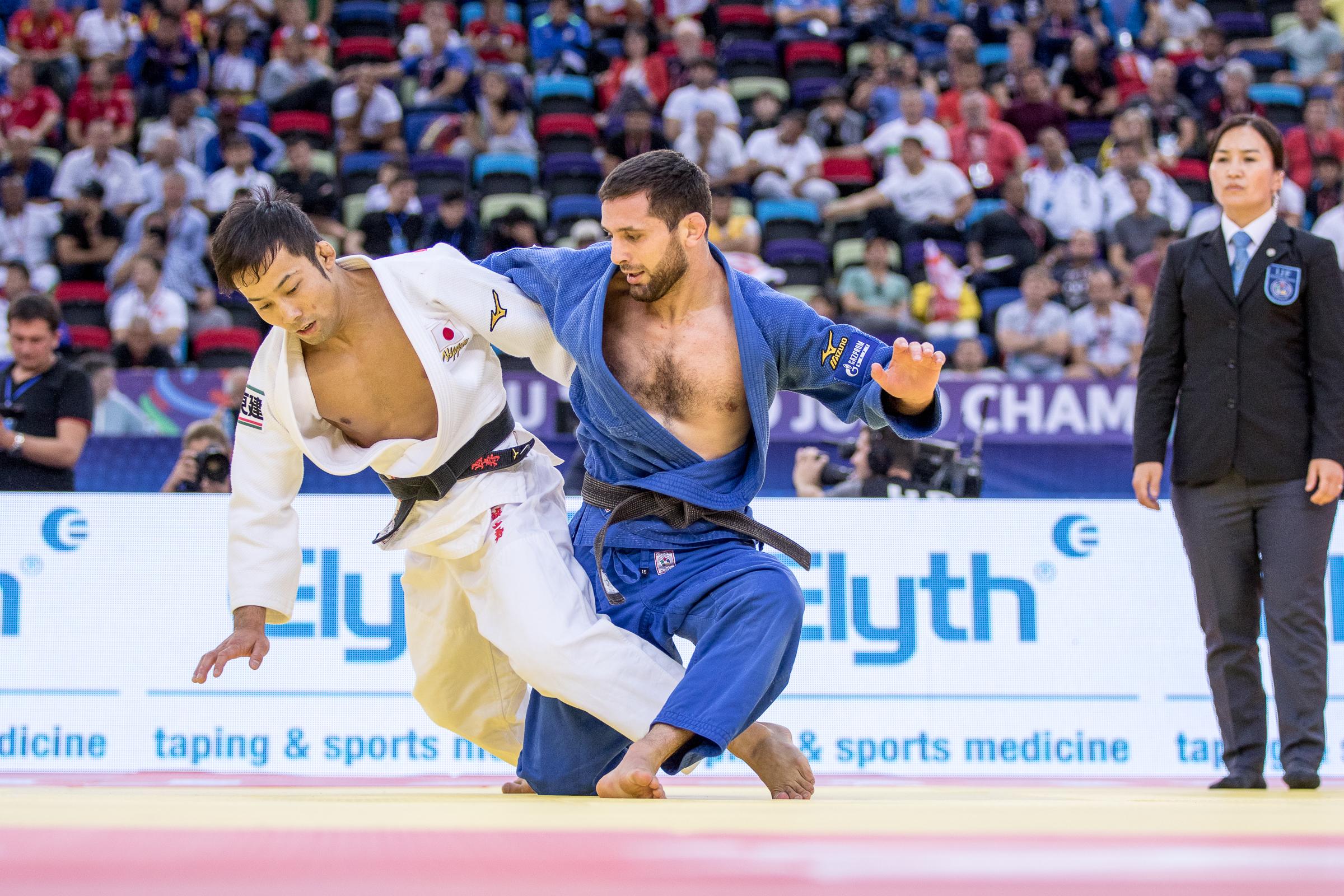 The semi final against Amiran PAPINASHVILI of Georgia was much anticipated by the Russian and Georgian spectators as they have come out in their hoards. Georgia-born MSHVIDOBADZE moved to Russia at the age of 21 with his coach – who just happens to be his father – as he felt he would have a better chance of qualification. PAPINASHVILI put a waza ari on the score board early on in the contest forcing MSHVIDOBADZE to step up to the plate after experiencing defeat on multiple occasions against this opponent. With two seconds on the clock it looked to be the Georgian's win but with one final push the Russian changed the record and attacked to even the score. When asked how he managed to keep his composure so close to the end of the contest he explained,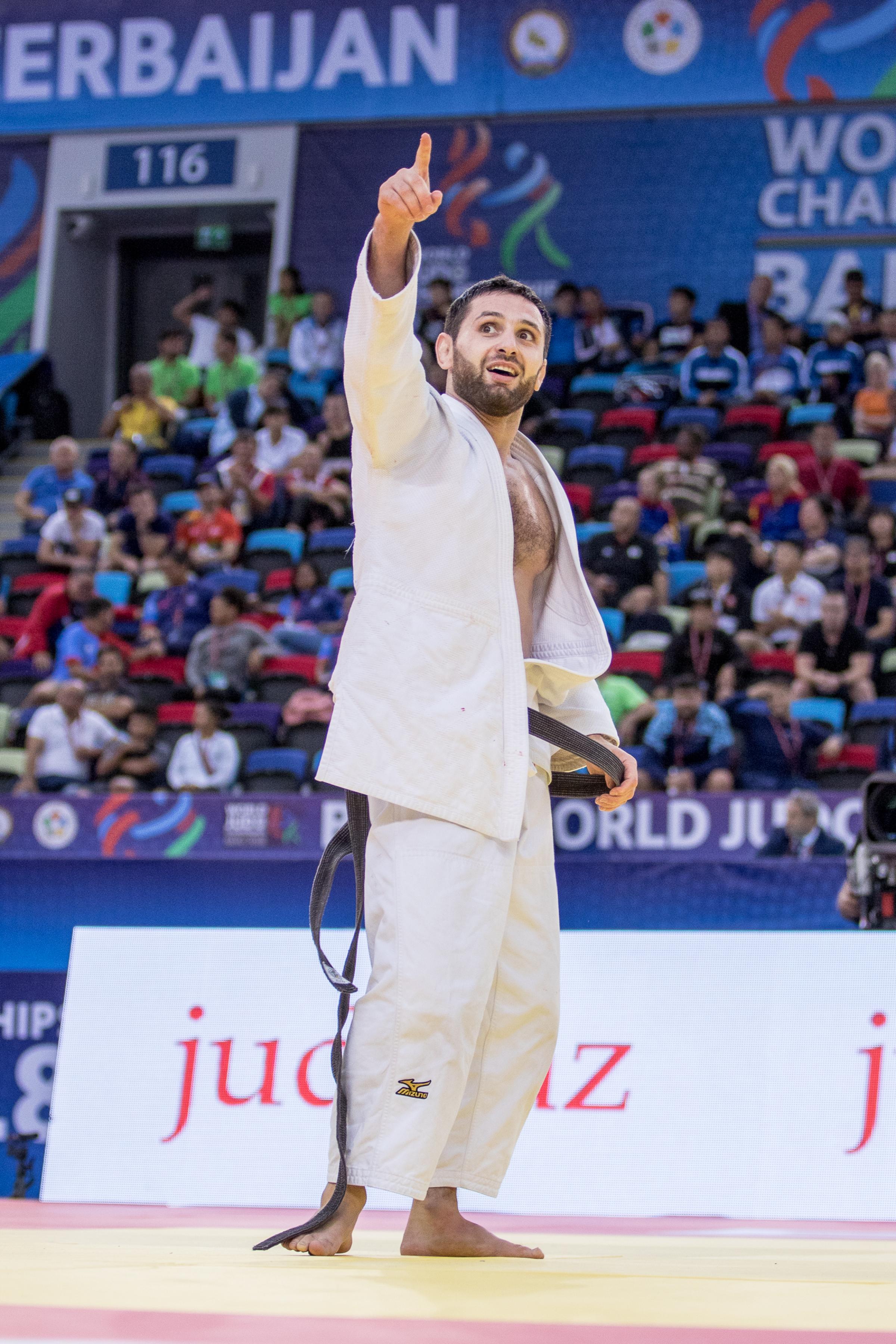 "I have had many exchanges with him, I know that after two minutes he would become tired and I had an advantage, I took my time and I chose my moment, I knew I could win."
He had a bit more left to give in golden score and took down PAPINASHVILI for a second time with ko uchi gake makikomi to secure his place in the final against current World Champion, TAKATO Naohisa (JPN). The now three time World Champion does not have a traditional Japanese competitive style but can compete much like his final opponent and enjoys the close fashion. Unfortunately for Robert MSHVIDOBADZE it was not meant to be, however this is his best result to date and did not walk away disappointed with his performance.
"I will practice and practice and practice, I want to be a champion in the Olympics and of course there is another World Championships before this."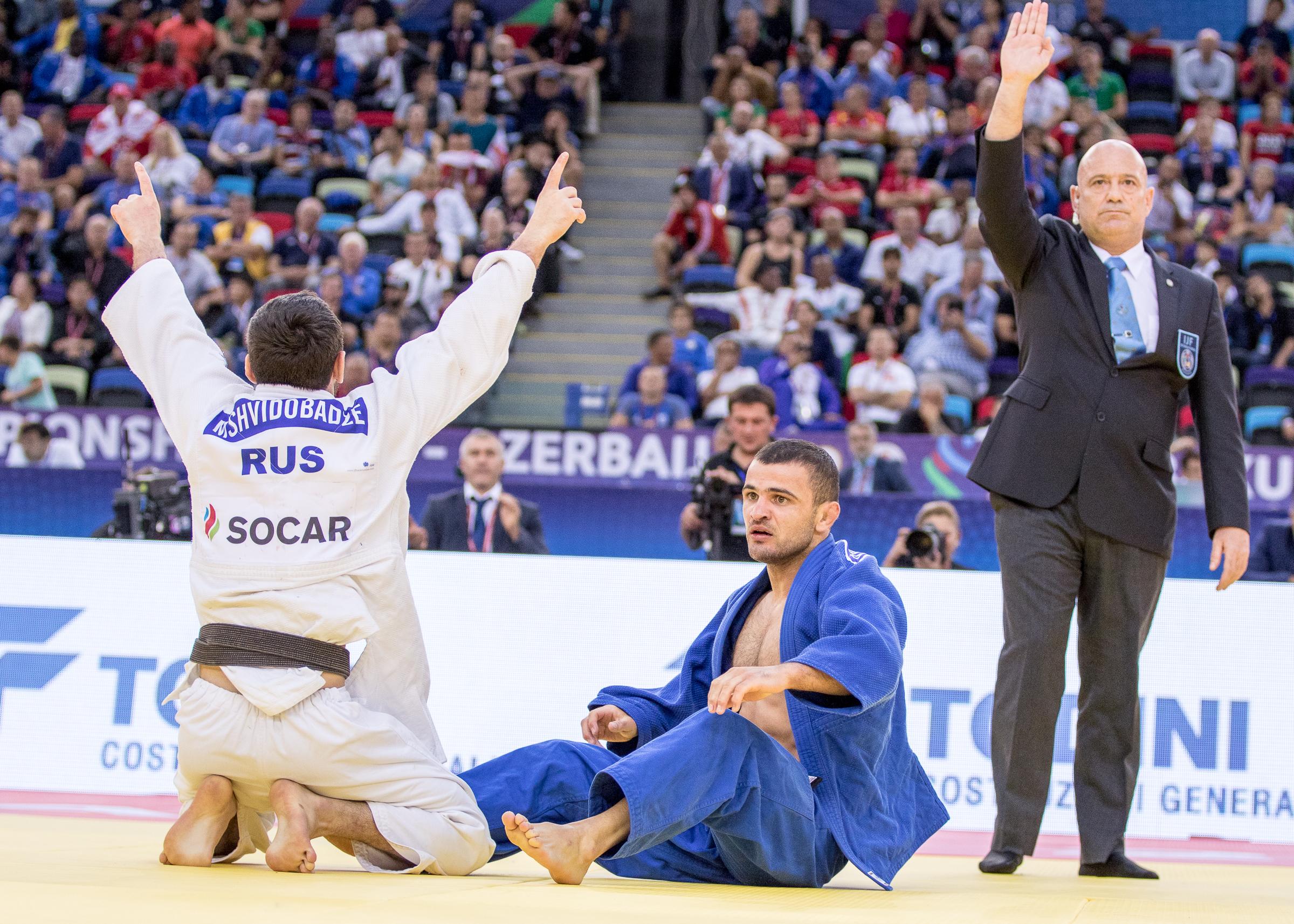 PAPINASHVILI failed to medal in the European Championships in Tel Aviv and desperately wanted to add to his medal tally in these World Championships. His determination allowed him to leave with a bronze medal. The Georgian had a tremendous competitive period during 2013/14 but has since been adapting his judo style. Now a few years later he is coming back in to his own after a transition. His repertoire of techniques were demonstrated, including his fast ashi waza against Yanislav GERCHEV (BUL). The draw decided his next opponent was home favourite and 2017 World silver medallist Orkhan SAFAROV. Though the pair have met on numerous times there was still an even playing field, or so the crowd thought. Only twenty seconds in to the contest PAPINASHVILI countered a weak attack and scored ippon, much to the home crowds horror. The quarter final against Eric TAKABATAKE (BRA) lasted the full four minutes, the Georgian scoring a waza ari. His loss in the semi final against MSHVIDOBADZE sent him to the bronze fight against Azeri Karamat HUSEYNOV. The young Azeri put in flurries of strong attacks but to no avail. The experienced Georgian athlete scored with a waza ari whilst fiercely defending with two penalties against him. The crowd, both heavily laden with Georgian and Azeri spectators roared for the duration of the contest, the more experienced PAPINASHVILI came out on top.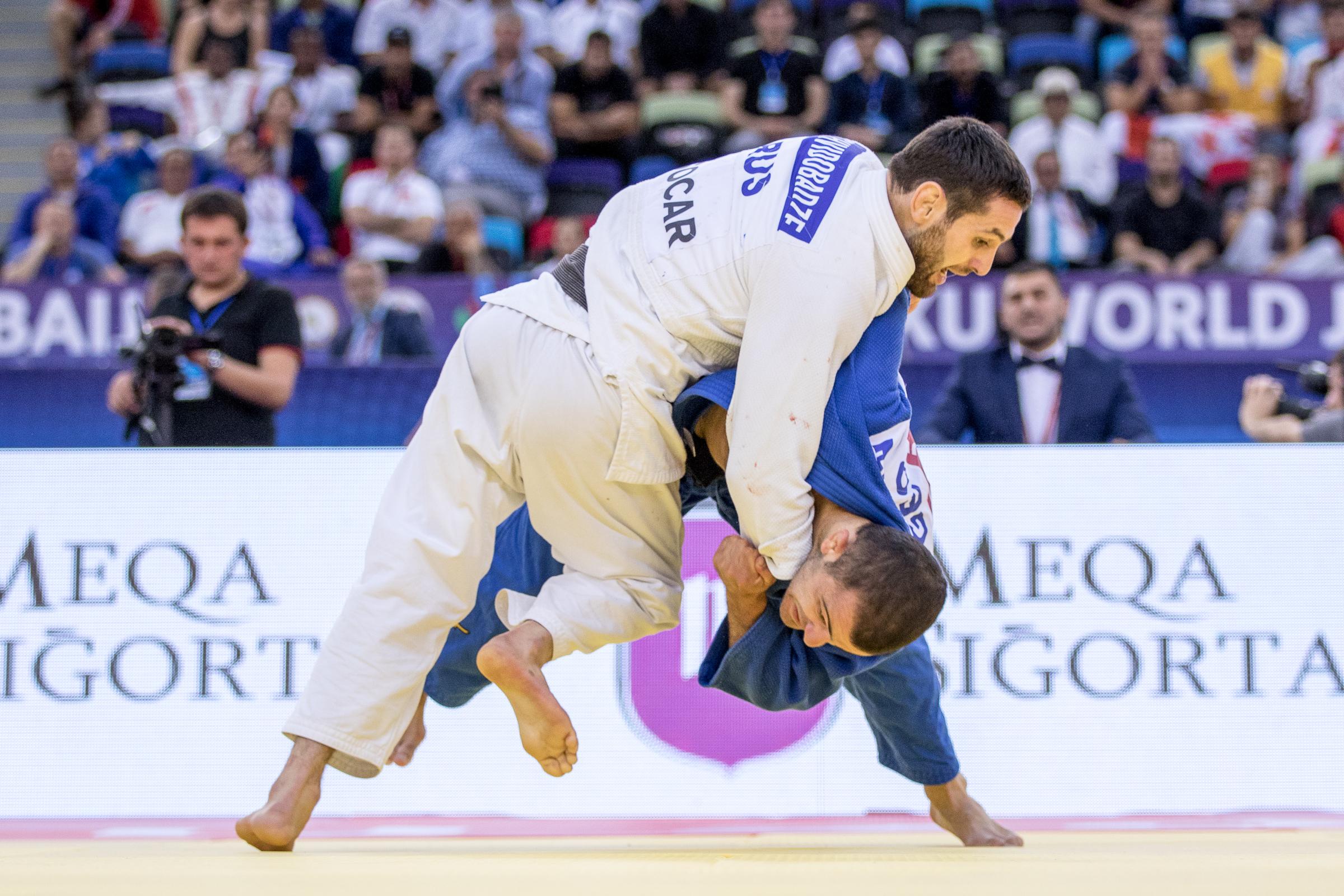 The Junior World Champion silver medallist is WR #51, though today HUSEYNOV was up there with the best. Though he was unable to secure a medal, the 20 year old proved himself as a world class athlete. After a surprise exit from team mate, World silver medallist Orkhan SAFAROV, the crowd relied on this young man to represent his home nation further in to the tournament.
In round three he came against current Olympic Champion, Beslan MUDRANOV (RUS). Both athletes acrobatic and swift in nature, it was an exhilarating contest to witness, the crowd on their feet, willing HUSEYNOV to win. It was all even with a minute and a half to go when MUDRANOV put in an attack that was not strong enough to move the Azeri, resulting in an almighty counter attack and irrefutable ippon score. It was a struggle but he made it past Francisco GARRIGOS (ESP) to the quarter final. Unfortunately he met his maker, TAKATO Naohisa (JPN) and could not escape the current World Champion's attacks, putting him in the repechage against KIM Yong Gwon (PRK).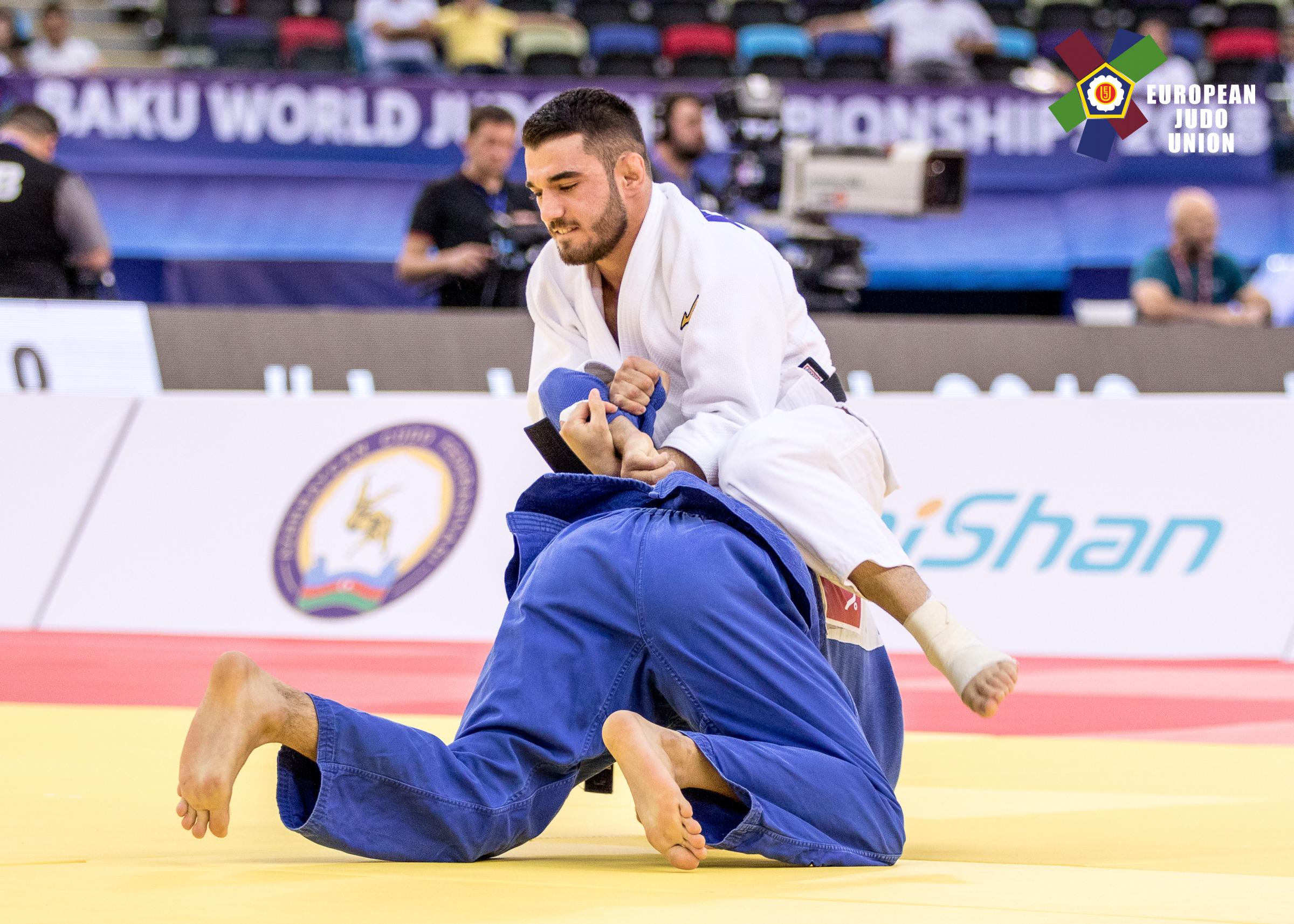 This gruelling contest went in to golden score, both working at an incredible pace but the Azeri looking dominant. Much to the delight of the crowd, he conquered and found himself fighting for bronze. Sadly it was not meant to be against PAPINASHVILI of Georgia but HUSEYNOV accumulated incomparable experience and will undoubtedly look to better himself in his next tournament.
Judoka
---