In the -60kg category it was a tale of two tactics; those of Walide KHYAR (FRA) up against Jorre VERSTRAETEN (BEL). The young Belgian came out on top having along the way defeated among others number three seed Eric TAKABATAKE (BRA) and number two seed YANG Yung Wei (TPE). In the final it was the explosive Frenchman who came out with all guns blazing, Verstraeten having to call on all his defensive poise to hold off the dangerous Khyar. But one risky attack too many allowed Verstraeten the opportunity to counter Khyar's attempted ko soto gake and it was the Belgian with a well-executed uchi mata who took the gold medal, his first at a Grand Slam. Albert OGUZOV (RUS) put in a spirited effort eventually losing out in the first of the bronze medal contests to number two seed YANG Yung Wei (TPE). Romaric Wend Yam BOUDA (FRA) came away with his first ever Grand Slam medal when in the second of the bronze medal contests he defeated Salih YILDIZ (TUR) by a single waza ari scored with left o uchi gari.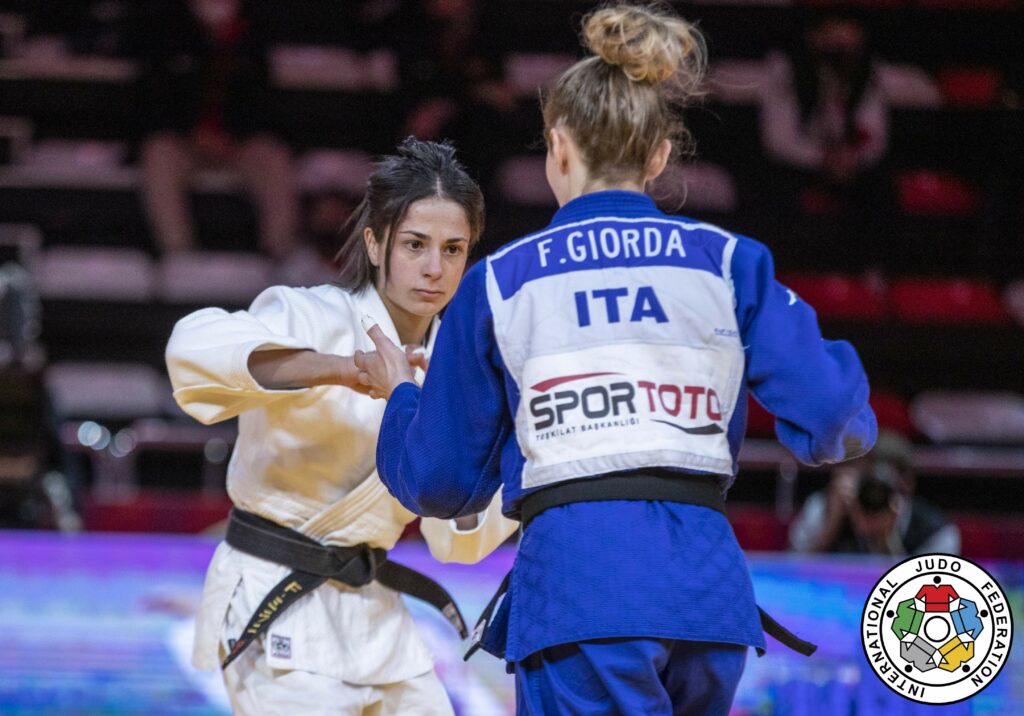 In the -48kg category Francesca MILANI (ITA) continued her run of excellent form when she took the gold medal to follow up her silver medal in Tbilisi last week. En-route to the final Milani defeated current Olympic champion Paula PARETO whom she threw for waza ari in golden score. In the final Milani came up against team-mate Francesca GIORDA (ITA). Unfortunately, the pair failed to produce anything more than five shidos, Giorda (collecting three) being the more guilty of the overly defensive duo. Milani however, can be pleased with her latest result that sees her take a spot among the Tokyo qualified athletes. In the first of the bronze medal contests Gulkander SENTURK (TUR) edged past Paula Pareto (ARG) the latter collecting three shidos all via false attacks. Shira RISHONY (ISR) began the day as number two seed but lost in the quarter final to Senturk. The Israeli made her way through the repechage to face Anastasia PAVLENKO (RUS) in the second of the bronze medal contests whom she threw for waza ari with makikomi to take a hard-fought bronze medal.
European bronze medallist Estrella LOPEZ SHERIFF (ESP) had to settle for a silver medal when in the final of the -52kg category she was thrown with sode tsuri komi goshi for ippon by number three seed Diyora KELDIYOROVA (UZB). Having started out as number one seed Gili COHEN (ISR) may be somewhat disappointed at having had to settle for a bronze medal. After a surprise loss in the quarter-final to newcomer Aleksandra KALETA (POL) the Israeli bounced back to defeat Agata PERENC (POL) by a single waza ari scored with o uchi gari. In the second of the bronze medal matches Kaleta picked up her first Grand Slam medal when she overcame Zeliha CINCI with two scores.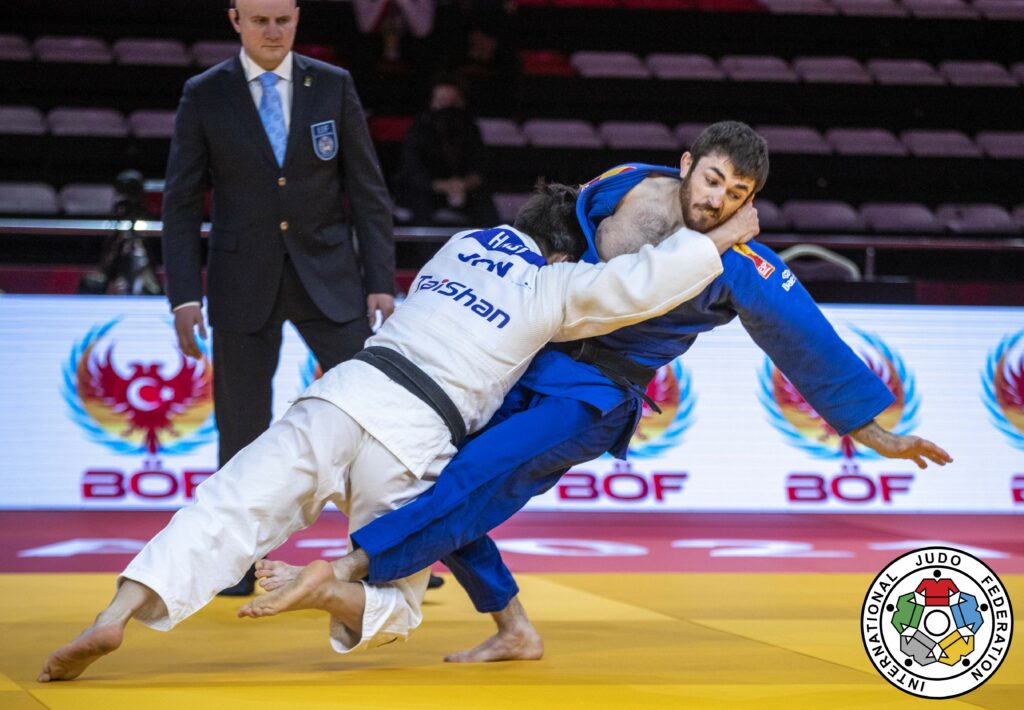 Alberto GAITERO MARTIN (ESP) had a mountain to climb when in the final of the -66kg category he faced number one seed ABE Hifumi (JPN). In a workmanlike and slightly reserved outing Abe suddenly in golden score exploded with a ko uchi gari to flatten Gaitero Martin for ippon and his 9th Grand Slam gold medal. Azerbaijan had two athletes in the final block, each with a chance of taking a bronze medal. The first, Orkhan SAFAROV (AZE) lost out to Murad CHOPANOV (RUS) by a single waza ari, the Russian scoring with a huge ura nage. Nijat SHIKHALIZADA (AZE) had better luck, defeating
Killian LE BLOUCH (FRA) with a beautifully timed nidan ko sot gari to win his sixth Grand Slam medal.
The two battling Canadians, Jessica KLIMKAIT (CAN) and Crista DEGUCHI (CAN) continued their head-to-head with "round six" on the IJF Tour between this pair. The dauting task for number one seed here Klimkait was not only to go up against the current world champion Deguchi but to step out knowing that her record against her stood at 0-5. That record does not really reflect just how close these athletes are. And so it proved in this final. Golden score was required and, with both athletes having picked up two shidos apiece in regulation time, only a false attack penalty picked up by Klimkait separated the pair in the end. A fifth Grand Slam gold for Deguchi and a sixth loss to Deguchi for Klimkait. This story still has some way to go yet.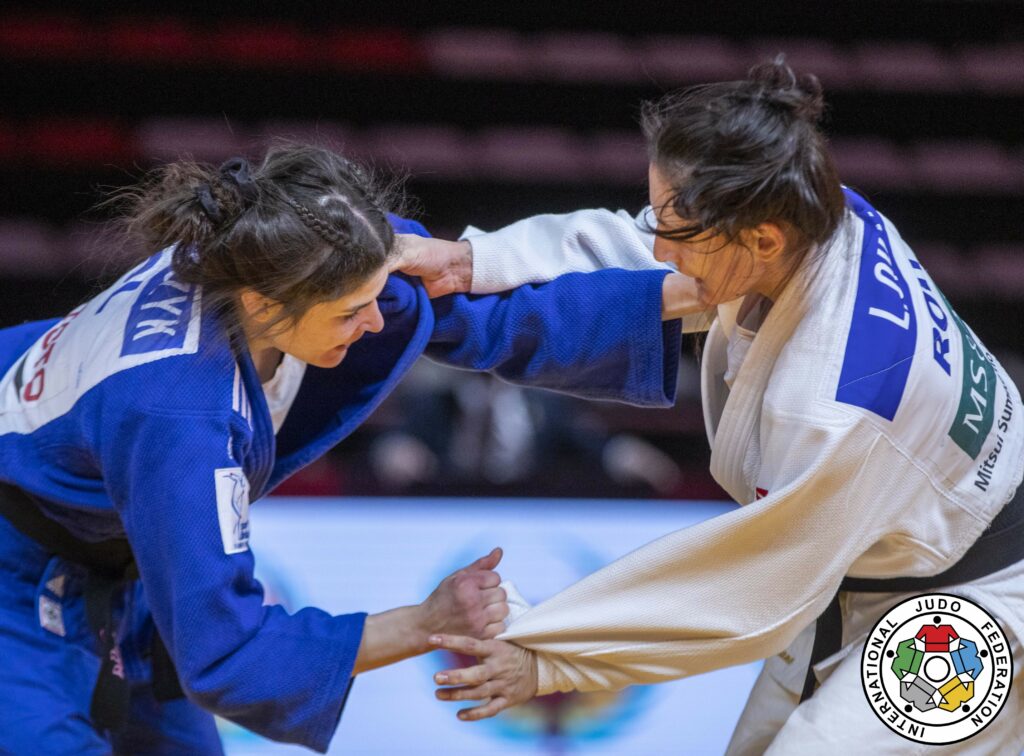 In the first of the bronze medal contests Loredana OHAI (ROU) narrowly lost out to world bronze medallist Julia KOWALCZYK (POL) when in golden score the Romanian collected a third shido for passivity to give Kowalczyk her second Grand Slam medal. The second of the bronze medal contests saw Ghofran KHELIFI (TUN) go up against LU Tongjuan (CHN). But it was the Chinese athlete with a sharp sutemi waza for waza ari who came up with the win and the bronze medal.
Judoka
Author: Sheldon Franco Rooks
---