The last and final day of the European Judo Championships Veterans 2023 delivered specific team events. TM30/TF30 and TM50/TF50 carried out gender specific team championships whilst T40 allowed for the experience of the mixed-team event. For the latter, teams were allowed to have two foreigner judoka to join, whilst the rules permitted one outsider per team otherwise. 

TM30 – Team Men 30
The total of 10 teams entered in this category, three of which were separate French teams. Great Britain and France (2) saw an early exit. Meanwhile the upper half of the draw witnessed Azerbaijan's smooth sailing throughout each round, straight into the final block. A strong but not as levelled performance sent Belgium to the final too. The last match transported another robust routine from the Azerbaijan team as they defeated Belgium with a 3:1 finish. Bronze medallist are Czech Republic and France (3), respectively. 
Head coach, Farhad RAJABLI, who is a 9-times veteran European Champion himself, expressed his feelings whilst shared an inside view on coaching his son as part of the team; 
The goal was initially to win a medal but the way we started the day, I sensed we could potentially win gold and we did it. I feel incredible. We participate two big championships per year, the Europeans, and worlds and for me it is all about enjoyment, just to enjoy judo. We do have a veteran team in Azerbaijan, and we train together, hence the strong spirit. As per my son, whilst it is a pleasure to share this journey together, I don't look at him differently to other judoka when we are at competitions, they are all the same to me.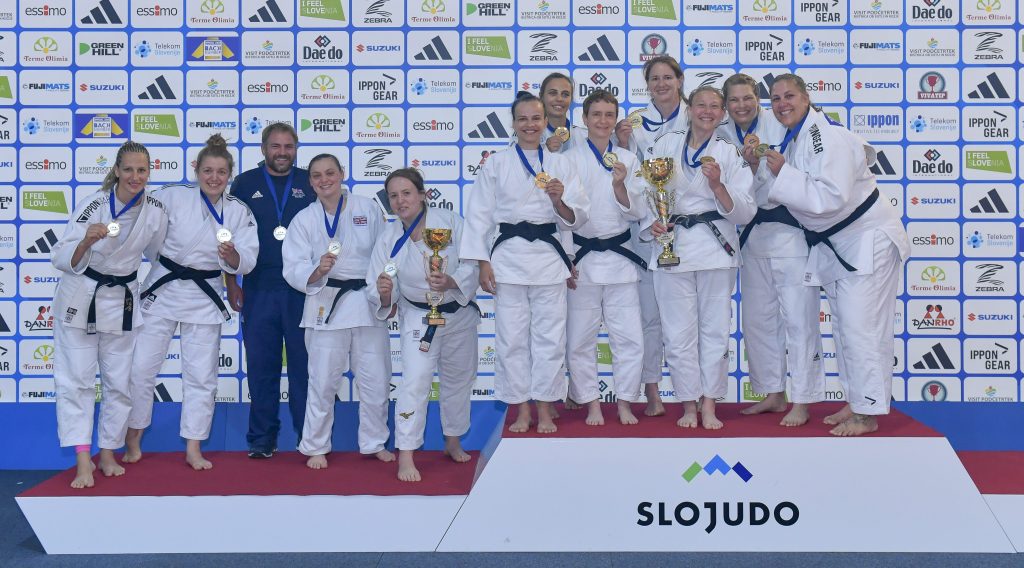 TF30 – Team Women 30
Three great teams entertained us during the TF30 actions, precisely, Italy, Great Britain, and Germany. Italy was set back by both teams and since it was a round robin system, the winner of this team event, Germany, claimed victory during the preliminaries.

T40 – Mixed Team Event
Five mixed teams tested their remaining power this morning. A pool of 3 and a pool of 2 was arranged to progress with the day. In the pool of three we saw Finland, France and the Czech Republic combating. France overcame both countries to claim a spot in the final. A direct semi-final took place between Germany and Italy where the latter claimed confident victory. Finland pushed through third place. The final bout saw France continued dominance, this time over Italy, with a 4:0 finish.  

TM50 – Team Men 50
Six teams went ahead of battle in the TM50 category, where both, Poland and Germany doubled their chances with two teams each. Following the preliminary rounds, Germany (1) landed in the final whilst Germany (2) faced Poland (2) for bronze, having then the latter missing out on a podium spot. Poland (1) also had to settle for a third-place match up against Italy and on this occasion, the Polish proven to be the better of the two. The final came with points from both, Germany (1) and France. With a 2:2 display on the scoreboard, the pressure was put on Jens Peter BISCHOF (GER) and Thierry BORDES (FRA). It took less then a minute for the German judoka to stun Bordes for ippon, claiming second gold for the black-red-yellow's.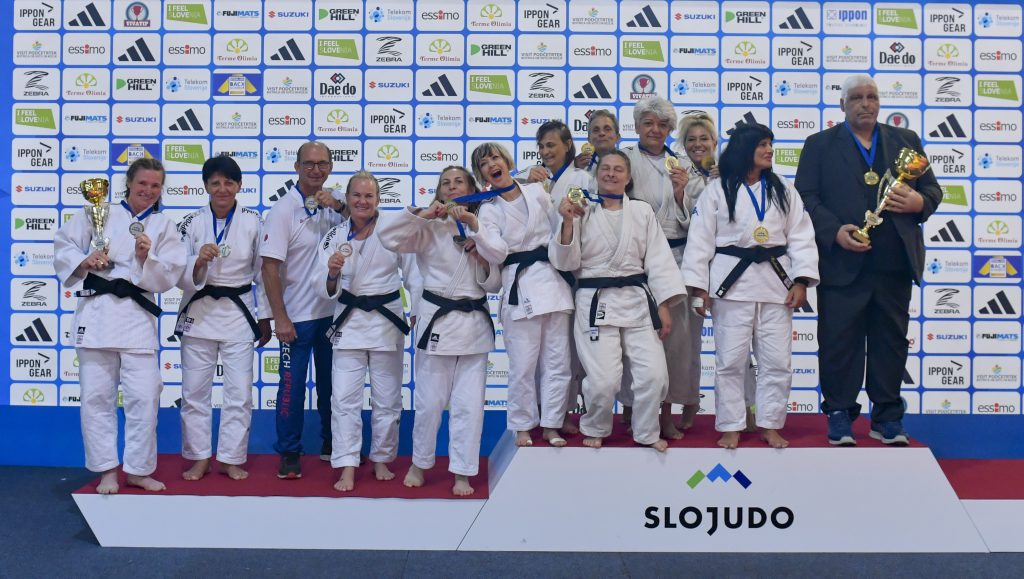 TF50 – Team Women 50
This function was also a three-teams meeting between the Czech Republic, Germany, and Italy. The Mediterranean coastline defeated first the Czech Republic with a 3:2 finish before diminishing Germany by 3:1. Italian coach, Manuela TADINI, shared her joy following the medal ceremony;
I feel fantastic. This team is very special, we are close friends with each other outside of the tatami too. The whole Italian team is close together and supporting each other. This medal is made by heart, and we are very proud of that. Whilst judo is important for us, what more important is the gathering afterwards, being together and being a family.
For the full gallery of the event, please visit our website https://www.eju.net/gallery/european-judo-championships-veterans-2023/269844/. Congratulations to all participant.
Author: Szandra Szogedi
---