The final day at the Games of Small States delivered astonishing performances in an euphoric environment. The National Sports Stadium of Pembroke was once again filled in tremendous spirit during the team event. Victories were claimed by Montenegro women and Cyprus men team, respectively.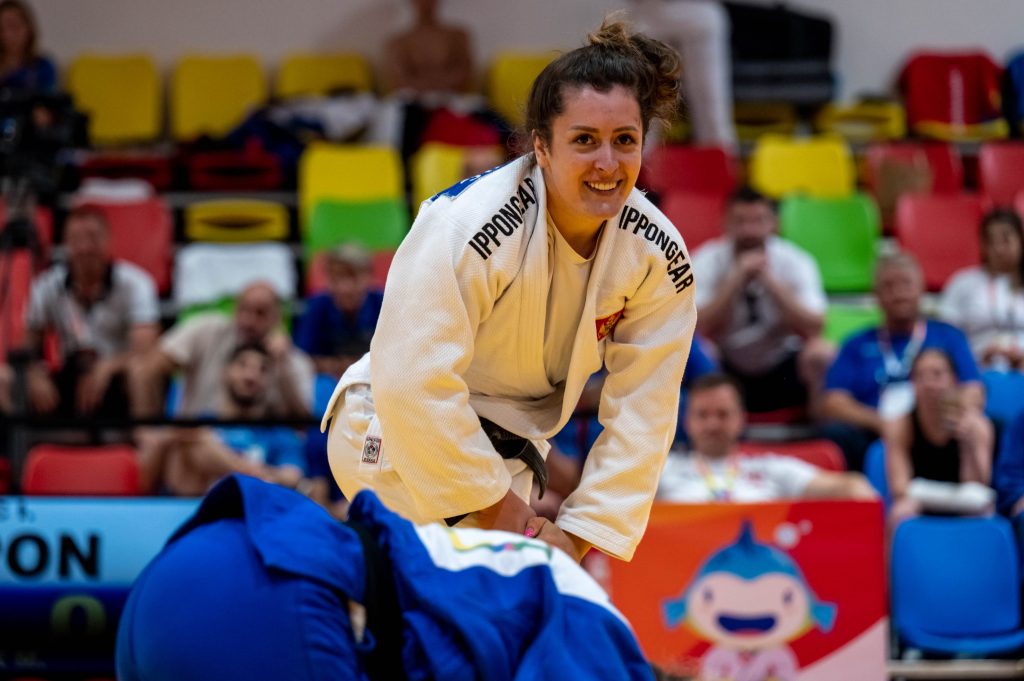 Women Team Event
Five women team entered the field of play this afternoon, all of them with one goal: to go for gold. Since the latter can realistically be achieved only by one team, every contest counted. An early strong match up kicked off the day with Monaco vs Cyprus. Given the outcome of their individual performances, Cyprus was under risk, yet the team managed to pull off a 2:1 win and proceed to the semis to face another strong team, Montenegro. The outcome was also 2:1 but this time in favour of Montenegro's women team. The lower half of the draw was slightly more straight forward with an immediate semi-final start for Malta and Luxembourg. The latter managed a 2:1 win which given the fact that they only had 2 athletes, considered to be a 100% success. 
In the final match up, due to the already explained limited number of Luxembourg judoka, there was no room for error. Both, Anetta MOSR and Monique KEDINGER, needed to win their respected contests in order to keep any hopes for gold. Mosr defeated Tamara GARDASEVIC (MNE) during the -63kg exchange. This brought the match to even and forced more pressure on Kedinger, who was determined to succeed but fall short against Ivana SUNJEVIC (MNE). Montenegro celebrated their conquest whilst Luxembourg settled with silver satisfaction. Cyprus earned bronze by default. Monaco took a similar route to the podium as Malta had to pull out from the bronze medal match due to an injury. Coaches, Sascha HERKENRATH (LUX) and Ilija VUKOTIC (MNE) expressed their thoughts following the final match.
SH: At the end it was a close fight, especially with Anetta winning her contest the match even got closer. We are slightly unlucky as our -52kg athlete got injured during the individual event so originally, we had three girls which might have made a difference in outcome. The girls did well, they gave everything and we are really happy with the silver medal. 
IV: After the individual competition the team seemed to have had a better approach and showed that they are still improving. I hope this will be our check point for bigger tournaments. We won this team event before but I must say the level of the tournament is much stronger than previous years so this medal is at value.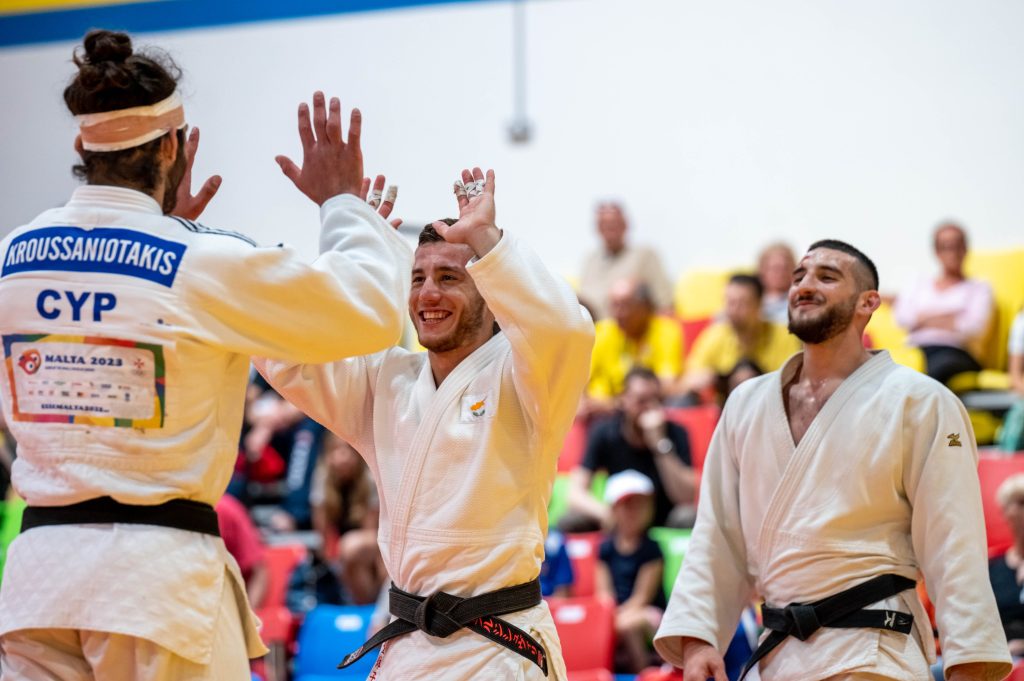 Men Team Event 
Seven teams entered to compete at the men's team. On the top half of the draw, Malta was defeated by Cyprus in the quarter-final stage with a 3:0 clear sweep. Simultaniously, Montenegro was watching closely as they had a bye first round and knew that the winner of that match up will be their first ride. It was a close call as although the first score was marked by BALARJISHVILI (CYP), in the -81kg category, GARDASEVIC (MNE) fast responded. The deciding contest left between Danilo PANTIC (MNE) and Georgios KROUSSANIOTAKIS (CYP). The latter coped with the weight on his shoulder and solitarily carried team Cyprus into the final. Meanwhile on the lower half we witnessed Luxembourg striving through rounds, defeating first Liechtenstein (2:1) then Monaco (2:1), landing themselves straight into the final.
The closing bout was ecstatic. Balarjishvili (CYP) fast dispensed Tom SCHMIT (LUX) in the -66kg trade. Bilgee BAYANAA (LUX) then delivered what can easily be discribed as an unpredicted endeavour, leaving everyone to hang on the edge of their seats. The pressure was passed onto Joffrey BRISOUX (LUX) and Kroussaniotakis (CYP). The pair of them produced a frantic atmosphere, leaving the Cyprus coach in distress. But that only lasted until another glorious moment was supplied by Kroussaniotakis. Bronze medal accomplishments were shared between Montenegro and Monaco. Coaches, Christos CHRISTODOULIDES (CYP) and Jasper HUITSING (LUX) shared their views after the final.
CC: The semi-final really stressed me out, especially the -81kg category, we knew he was a very strong judoka from Montenegro, and we knew beforehand that this category will be our fragile spot. It wasn't easy, as it meant we must win the other two categories; hence we ended up with a 2:1, both in the semis and the final. So, I am thankful it turned out well for us, but it was certainly not easy. I am also proud of the women team they are very young some of them are only 15-year-old. They have a future front of them, and we work together, as you can see, the team is very united. I am extremely happy about what we have done today, and I also hope it will help us to gain more recognition and support within our country.
JH: I am happy and disappointed. At the end, based on the individual performances, we had a small team. On top of that, we had some injures. Therefore, I think coming into this tournament today we perhaps weren't the favourites to make it to the final, and yet we did it twice, so we were consistent with both men and women team. Losing 2:1 twice, of course you hope for more. Having said that I am very happy and proud of the team.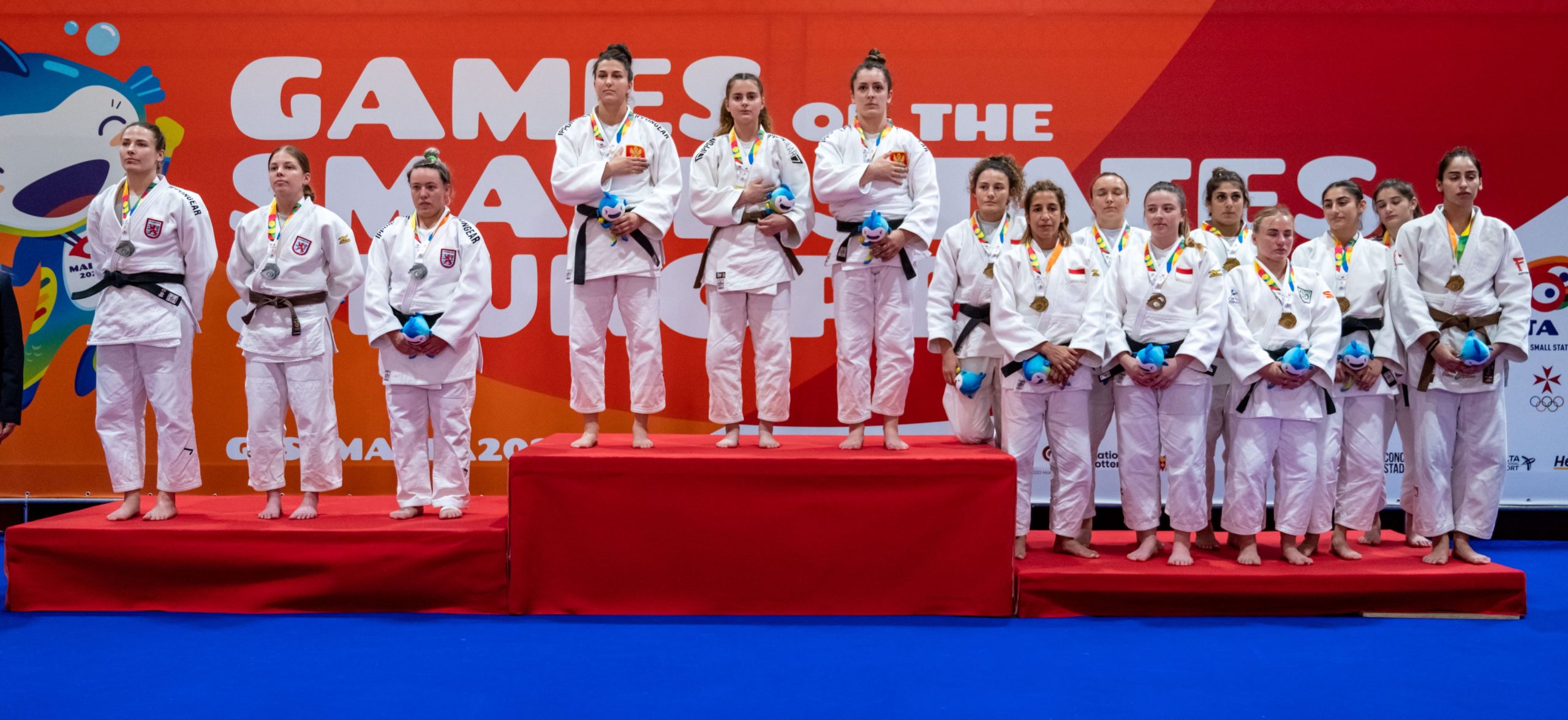 GSSE 2023 Women Team Event: 1. Montenegro 2. Luxembourg 3. Monaco 3. Cyprus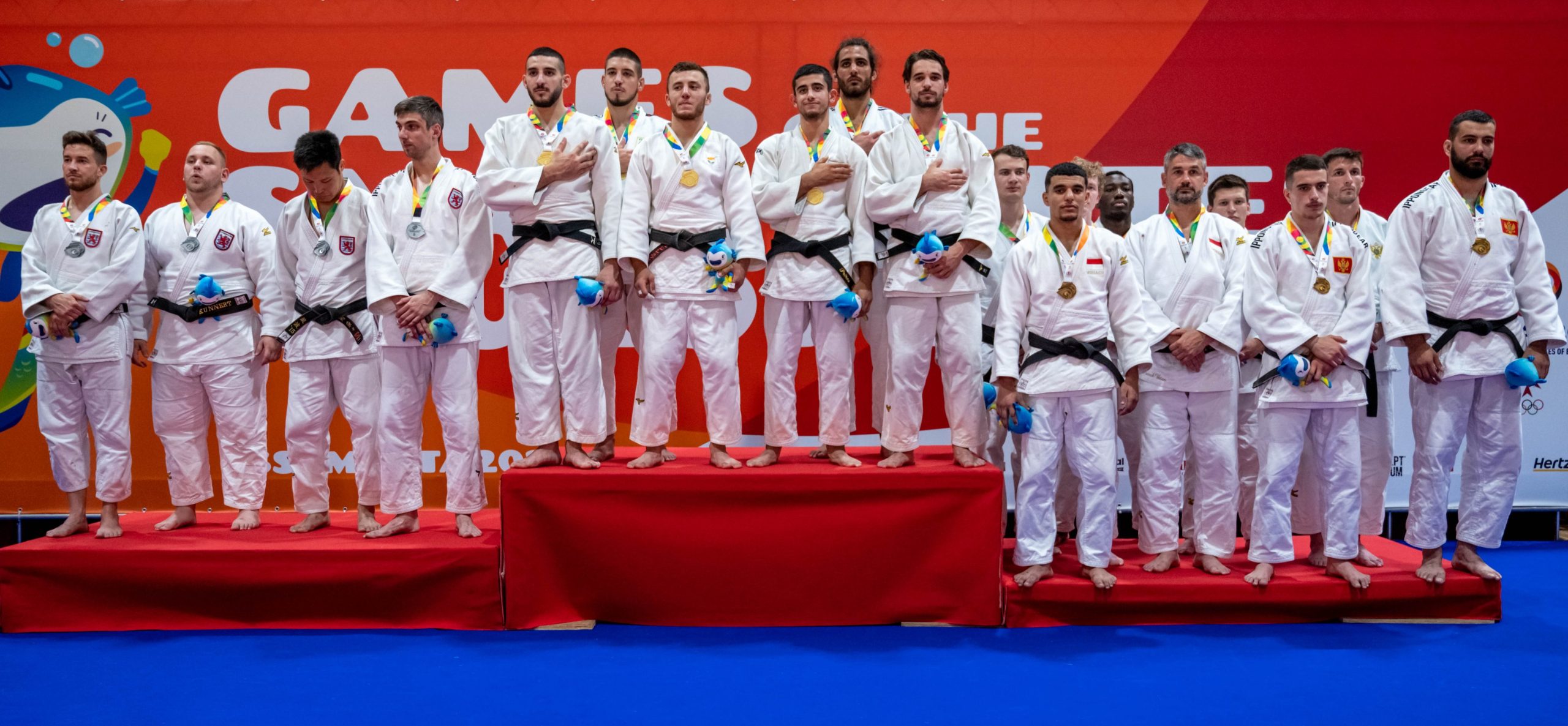 GSSE 2023 Men Team Event: 1. Cyprus 2. Luxembourg 3. Monaco 3. Montenegro
Judoka
Author: Szandra Szogedi
---