The 3rd competition day in ODIVELAS (POR) brought the last individual decisions. On Sunday, the mixed team competition will be held. EJU Sports Director Urska ZOLNIR JUGOVAR and Head-Referee-Director Alexandr JATSKEVITCH took stock of the European Championships this year.
What is the most important thing for a sports director at a youth or under-18 European Championship?
Urska Zolnir Jugovar: "Naturally, we pay special attention to behaviour and respect – this applies to both judoka and coaches. Those who don't accept our rules now, at the beginning of their career, and behave accordingly will always get into trouble. Our task is: we explain disputed situations, try to create understanding and clarify. We remain friendly, but we are firm. The good news is that we are rarely met with incomprehension."
How about the sporting prowess? How much did the talents of the future convince you this weekend?
Zolnir Jugovar: "I have to admit that as sports director you are responsible for the organisation and the professionalism of the process. Even in the final block you only see some fights out of the corner of your eye. What is noticeable, of course, is that young people don't hesitate, they want to force a decision as quickly as possible. There are no tactical skirmishes yet… But I didn't have much time to follow the fights. The operational handling of a European Judo Championship, no matter if Cadets, Juniors, Seniors or Veterans, is hard work. To be honest, as an athlete, I didn't have much time for that. You focus on your own performance. Now I have to look more at others."
In other words, are cadet fights more attractive than those of juniors and adults?
Zolnir Jugovar: "That would be too far-fetched. Technically and tactically, juniors and adults are of course much more mature. But young people are always fast and ambitious. During the European Championships, we had an average of more than 13 (preliminary round) fights per hour. Only on the second day of the competition did this figure drop a little. We are happy with this number. Golden score is the exception in the under-18s, not the rule."
When do you think we will see the first youth European champions from Odivelas at the Olympics or Seniors World and European Championships?
Zolnir Jugovar: "A few maybe already in the run-up to the 2028 Olympic Games in Los Angeles. It takes at least five or six years to develop from a young hopeful to a top judoka. I became European junior champion when I was 15, but I didn't think much of it at the time. There was still no talk of competitive sport. The main thing was to have fun with judo. At the age of 30, in London in 2012, I won Olympic gold."
From a purely organisational point of view, everything went perfectly: 80 employees as well as volunteers from the Portuguese federation ensured that everything ran smoothly. The feedback from the federations is exceptionally positive. The EJU officials also found positive words without exception. Can you underline that?
Zolnir Jugovar: "Absolutely. All the staff are extremely helpful, their hearts burn for judo. We really felt at home in Odivelas. The Portuguese Judo Federation has a very good reputation as an organiser of big events. The hospitality, the friendliness of the people is contagious. The atmosphere was really something to be proud of."
What are the results of the European Youth Championship from the referees' point of view? As Head Referee Director, are you satisfied with their performance?
Alexandr Jatskevitch: "Actually, not completely. We (EJU Referee Commission) selected all 15 referees and 5 commissioners. I know what each one of them is capable of. Especially on the first day too many mistakes occured. There were wrong decisions, some were badly positioned on the tatami, others had problems with the interpretation of the rules because the (throwing) technique of the young people is sometimes not yet so well developed. In other words: Only four of the 15 improved their ranking through the performances in Odivelas. That is an indicator that – under very strict standards – things could have gone better."
That sounds like a: but…?
Jatskevitch: "What I liked very much was that we had decidedly few disqualifications. A total of four for divings, another four for Waki-gatame/armlock. I.e. I would say the fights were very fair for the most part."
Do you sometimes turn a blind eye to young talent?
Jatskevitch: "Of course, they are all still youngsters – on average between 15 and 17 years old. Only when there is a risk of injury we remain rigorous, i.e. with divings or armlocks. If the situation allows, we sometimes deliberately give in. The most recent example: A fight between a Georgian and a Turkish escalated, both started to push each other. With adults, they would have been disqualified immediately. So we explained the situation to them and encouraged both to a handshake. The fight continued. In the end, the Turkish (deservedly) won. And tempers calmed down again."
Would you agree that cadet fights are not more demanding for referees than adult fights?
Jatskevitch: "Definitely! Most of the time it is still quite simple, i.e. without tactical banter. Cadet fights are quite grateful for referees because there are actually not so many contentious situations. Also, the length of the fights is usually quite short."
Personal information:
Urska Zolnir Jugovar (SLO) won Olympic gold in the 63 kg weight category in London in 2012, bronze in Athens in 2004, European champion in Tbilisi in 2009, world championship bronze in both 2005 (Cairo) and 2011 (Paris), she topped the world rankings in 2009 and 2013; for the EJU junior competitions (cadets, juniors) she acts as sports director;
Alexandr Jatskevitch (-86 kg) finished third at the 1980 Olympic Games. He won a total of 3 European Championship titles for the Soviet Union (1978, 1980, 1982).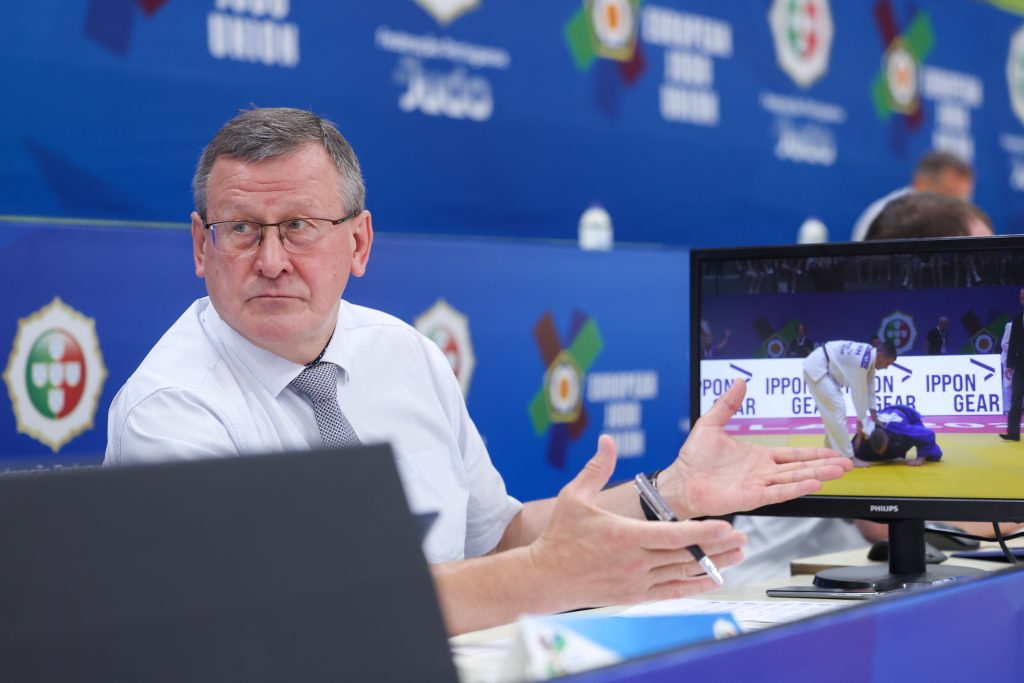 Author: EJU Media
---