The French certainly have a trend, some of the most successful athletes transition in to a position to produce more successful athletes, passing on their wisdom. This is certainly the case for Olympic and World Champion, Séverine Vandenhende.
Séverine started judo at the age of eight in a judo club in Vieux-Condé in the north of France. Her adventure began and in the early 1990's started with a junior world bronze and junior European silver medal and only two years later in 1994, performed sensationally in front of a home crowd to take a bronze in the Tournoi de Paris, the Paris Grand Slam as we now know it.
Though the gold medal evaded her in this competition, she went one better and took the World title in Paris in 1997, the same year as her first senior European medal. This Olympic cycle was crucial for Séverine, her successes led her to an Olympic title in Sydney, Australia.
It was an impressive decade for her and she is now coaching the French women's team to multiple European and World medals.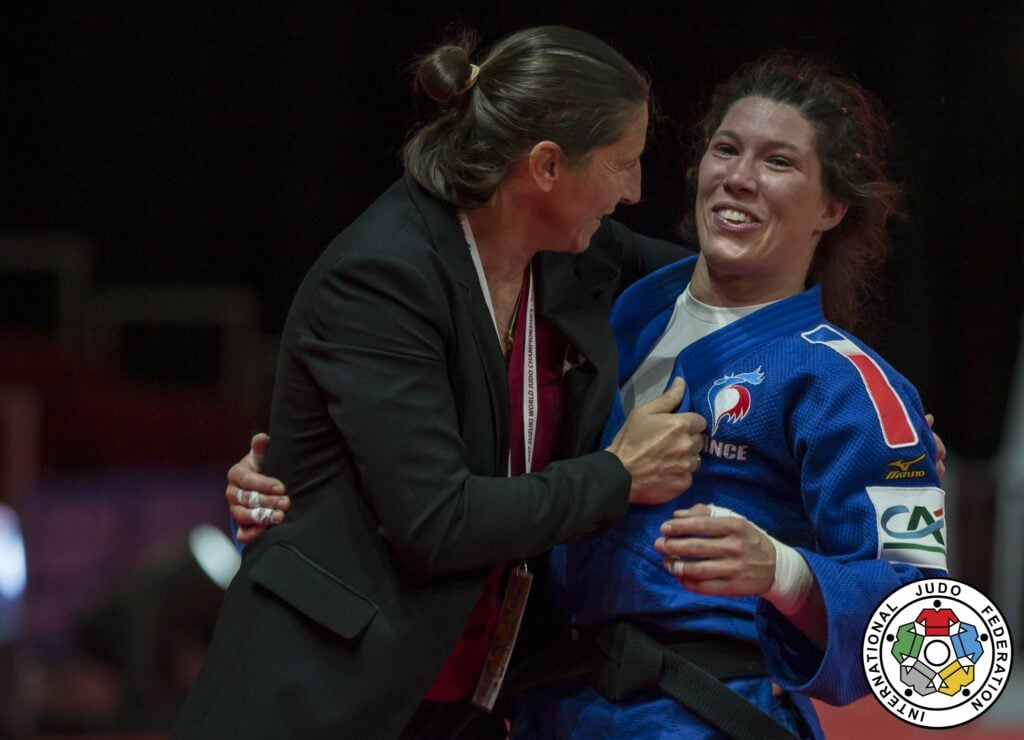 A host of coaches played various roles in her success as an athlete, at the origin, Giovanni Solini who she thanks immensely for his demanding attitude which has led her to this point. Next up was Guy Delvingt at the national junior centre, though this was brief, it was her introduction to high level performance. When arriving at INSEP, the two national junior coaches were Béatrice Rodriguez and Dominique Brun, two world champions. Incidentally, they taught her how to train left handed. Warming up and practicing technique on the right, she would go in to randori on the left, they were able to rectify this to make her better.
At a senior level, it was different for her, the technique and basics were there and she was performing, it was her attitude that was tested now.
When I became senior, I had Yves Delvingt and Christian Dyot. Yves taught me hardness and rigour in training. Christian allowed me to keep my spontaneity, my instinct and the playful side of judo. Then, there was Cécile Nowak (Olympic champion and world champion) and Patrick Rosso with whom I discovered and realised the importance of individualisation in training. During this period I experienced my biggest injuries and my greatest successes. They were able to pick me up from the lowest to take me to the highest. Without perhaps realising it, each of these coaches contributed to the judoka that I became.
It is no secret that high performance female coaches are lacking, so we ask Séverine if she feels that it is important to have a female coach and was is it that they offer that is different to the men.
As an athlete I did not ask myself the question, I was used to evolving in a rather masculine environment. It was at the end of my career with the arrival of Cécile that this caught my attention. Paradoxically, she was not more tender than men, quite the contrary! However, she had the right words, the words that touched me, which sometimes hurt me a lot but which allowed me to become aware and react. She "stung" me when it was necessary, my ego took a hell of a blow. [she laughs] She was able to find the front door, the key.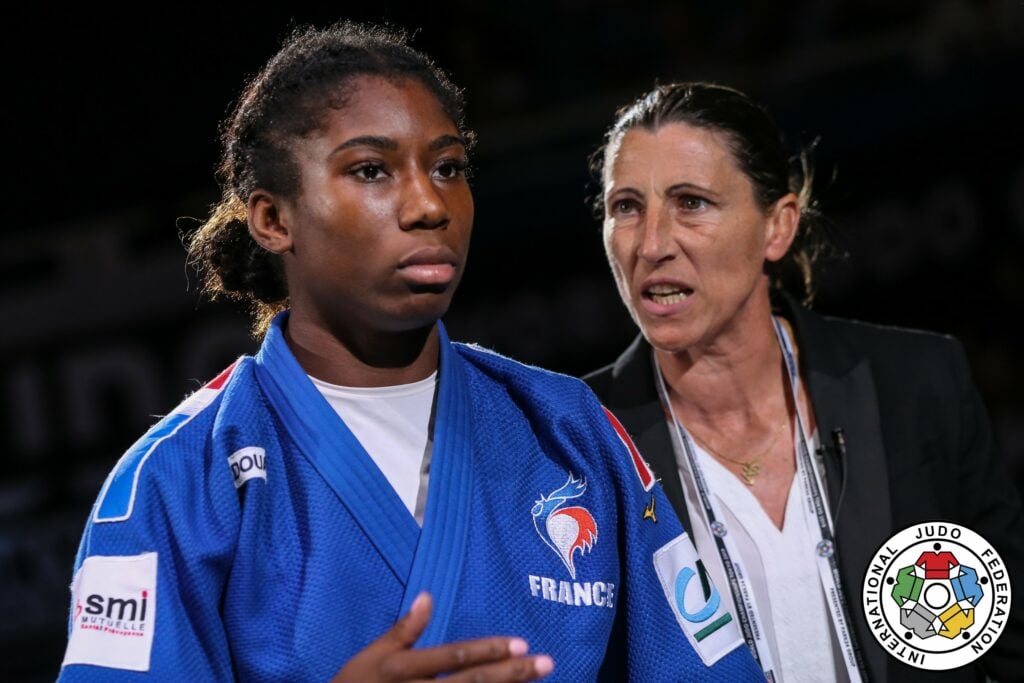 Interestingly, she continues with explaining what is missing from the discussion in regards to the contributions coaches make to athletes,
Today we wonder a lot about all the factors of performance, there are many studies on training methods, physical and mental preparation, recovery, etc. However, there is much less talk about how humans have evolved over time. When we stay for years with a male trainer, he sees us grow up but sometimes forgets that the teenager has become a woman (these changes have for me, less impact on men) that the needs are no longer the same, that their relationship must evolve. I think a woman has this sensitivity and perceives these things much more quickly. For the majority of female athletes, it is quite difficult to talk to a male coach about female issues. Some manage to do so easily but it remains a minority.
It is important to note that the French system at INSEP allows athletes to train and study to better prepare them for post-judo careers. Séverine decided to be a physical education teacher but with her focus more on her training, obtained a training option license, a state certificate and the sports teaching staff, even today she can continue to learn about training.
She didn't however, step straight in to coaching on a national level but had a lot of experience prior.
When I was younger, I gave a few lessons to the children. I put an end to my career in 2003 following a second rupture of the cruciate ligament, in parallel I obtained the profossorat of sport after having already obtained my license and my state certificate. I also trained in a club, at RSC Champigny; I offered my services to the federation, which positioned me as a national trainer among the younger girls and as a trainer at the Pôle France de Brétigny for three years. Then, I became a woman trainer at the Institute of Judo and a national university woman trainer for the next three years. Afterwards, I was INSEP national trainer for the U23 women and after another three years became responsible for the French junior women's team for four years. Since 2017 I have been INSEP coach of the French senior women team. I worked with all populations before training the elite.

As a result, the athlete-to-trainer transition was rapid. The fact of doing this allowed me not to dwell on my career and to open a new page in my life. I always want to pass on, it's a real pleasure for me. I quickly realised that every athlete was different and had their own way. I have studied to respond better and as quickly as possible to the needs of the athletes. It's a second career for me, I live different emotions but as strong or even stronger than when I was an athlete. I understood over time what my coaches felt every day.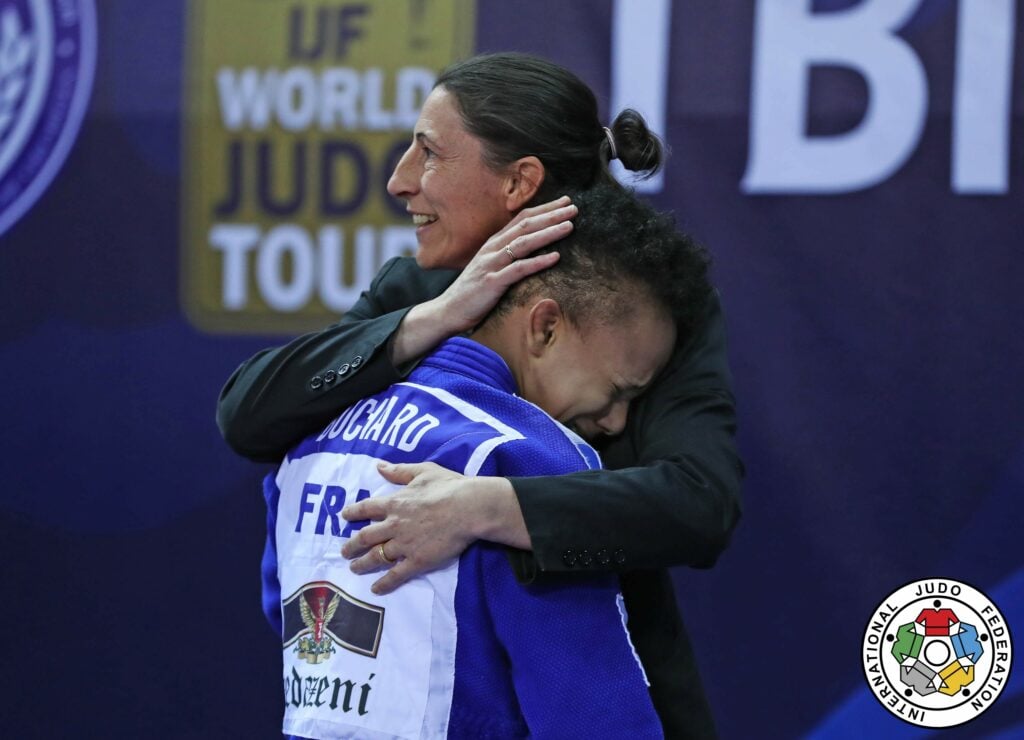 Another thing Séverine understands is the feeling of success and of failure, joys, disappointments, frustrations, big injuries with multiple operations, the difficulty of rehabilitation, the difficulty to find your best level, moments of loneliness, doubt, questioning.
I know very well the constraints and sacrifices imposed by the high level. I experienced the ease in training but also more often the hardness, the patience that is sometimes needed during a technical session. Even if the world of sport evolves, (especially what is happening around) on the tatami it is always the same thing. I am very much in the discussion with the athletes, I often share my own experience with them. I tell them "I've been there, I know what it is, I know it's hard, you will do it, you must not lose your focus on the objective". It also allows me to engage in discussions, to ask questions when the athlete does not dare or cannot express things. I think our exchanges strengthen our relationship and build trust. I think having had a high level career gives credibility and helps to train.
The French women's team is incredible with four in #1 WRL spots. So what is it that has contributed to form such a strong unit?
We are three coaches with Lucie and Larbi. They have wonderful careers, even if we have taken different paths, we agree with the requirements that it takes to perform at a high level. We are very complementary I think that this allows the athletes to find themselves in one of us or quite simply to take from each of us what suits him best. We are there to help them build themselves as an athlete and become independent. We are lucky to have athletes who know what they want, they don't cheat in training, they don't have time to waste, they know how to hurt themselves, they are real warriors. When a young person joins the group, she is very quickly taken in by others, she has no other choice than to follow the rhythm, because there is a very strong group dynamic, victory calls for victory.
Séverine jokingly adds at the end,
And for the rest, it remains our secret.
Celebratory finish for Marie Eve Gahie and Séverine after she takes the world title in 2019 (c) Emanuele Di Feliciantonio
Celebratory finish for Marie Eve Gahie and Séverine after she takes the world title in 2019 (c) Emanuele Di Feliciantonio
Celebratory finish for Marie Eve Gahie and Séverine after she takes the world title in 2019 (c) Emanuele Di Feliciantonio
Not all women have had the opportunity to grow through a nurturing system like in France so Séverine offers advice for those who may be thinking of a career as a coach but is still 'on the fence'.
It's a fabulous job, if you want it and you are motivated, do not hesitate. I am sure that in your club or your region, you will find someone who will accompany you in your efforts. There are training studies and diplomas for each level. Even if you are afraid of being the only woman, go ahead, others may follow. Go to dream, it will only be beneficial.
Though she makes the point that the dream is the base and the motivation, she also discusses why there aren't as many female coaches and the obstacles they face in this sport. In general she believes it seems more natural for a man to become a coach, because for many people judo is still a male sport but she is thankful that mentalities are changing. Then there are the external factors such as family, which leave women wondering if they can in fact do both, have a family and lead this professional career.
Another observation is that we always ask for more experience from a woman than a man. The man has, most of the time, the legitimacy while a woman must constantly prove herself to obtain this legitimacy. I think women need to feel confident, accompanied and supported unfortunately this is not the case enough. A man who has character is a strong point, a woman who has it becomes a flaw. They are much more observed and judged than men. Women must feel that it is possible to become a coach, it is not a job reserved for men, in the same way as referees, officials or politicians. Fortunately, some have dared and we succeed. We saw Urska Zolnir was training the men in Slovenia and recently Yvonne Bönisch in Austria. This shows that the world of judo is evolving and that it is opening up more to women, they are finally finding their place.
Judoka
Author: Thea Cowen
---