Great Britain's Charlie YOUNG is quite the personality on and off the tatami and though he has demonstrated his abilities on numerous occasions, he was consistently missing the mark before today. There was an 'almost' moment for him in the European Open in Sofia earlier this year where he placed for the first time, losing out for the bronze medal, but today was altogether different. The -66kg athlete was not on an ippon streak by any means, his achievement today was quite literally blood, sweat and almost 23 minutes of contest time, including three golden scores. So when he finally had the gold medal in his hands, it was a dream come true.
I'm absolutely over the moon, I came close to a medal earlier on in the year, fifth place, and probably the worst in my opinion so I was happy to be placing but gutted all the same.
Today, I just felt great from the beginning, to be honest I actually felt like I was going to lose during every fight! Each one, the start wasn't going to plan, I felt sluggish at the beginning but then with each fight I started getting in to it but after the first two minutes of every fight I felt really good in myself.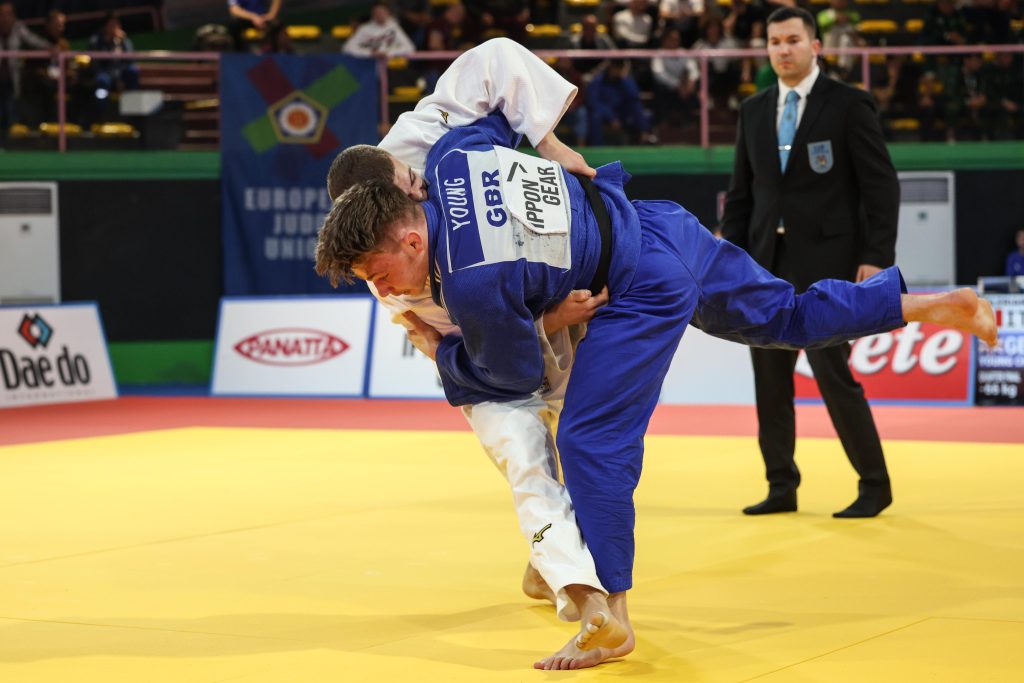 During his preliminary rounds he was forced, twice, to take on not only the home nation athletes but of course the crowd as well, which incidentally included the full senior national team who were readying for their departure to the Nymburk OTC. Then, his final opponent was Serdar RAHIMOV (TJK). The 16-strong team from Turkmenistan gathered in the stands to contend, and quite frankly, put to shame the cheers of the Italians which might have put off a more anxious opponent, however this wasn't the case for Young. Only 20 seconds in to his final, Young found himself a waza ari down and being sent off to medical to tend to an injury to his face,
Actually with the crowd, that got me ready for the fight even more, so I enjoyed that, it [coming off the mat] was probably the best thing that could have happened for me, give me time to recuperate and get back performing like I was earlier in the day. It didn't phase me too much. 
Ultimately, it could be argued that its was one of the more exciting contests of the day, a comeback story after taking a good hit, but what has changed for the young British athlete that he has acquired this focus and now reaping the rewards?
It was a great fight, a war really and that's how I like it. During this year, I've been taking my judo career much more seriously, I'm second year senior, I have goals and want to go to Paris, just training really hard, changing my lifestyle and not been going out or partying, dedicating all of my time to training and studies. I want to perform and I want to win medals, it might sound a little boring but this is what I want. The way I'm feeling now, it is 100% worth it.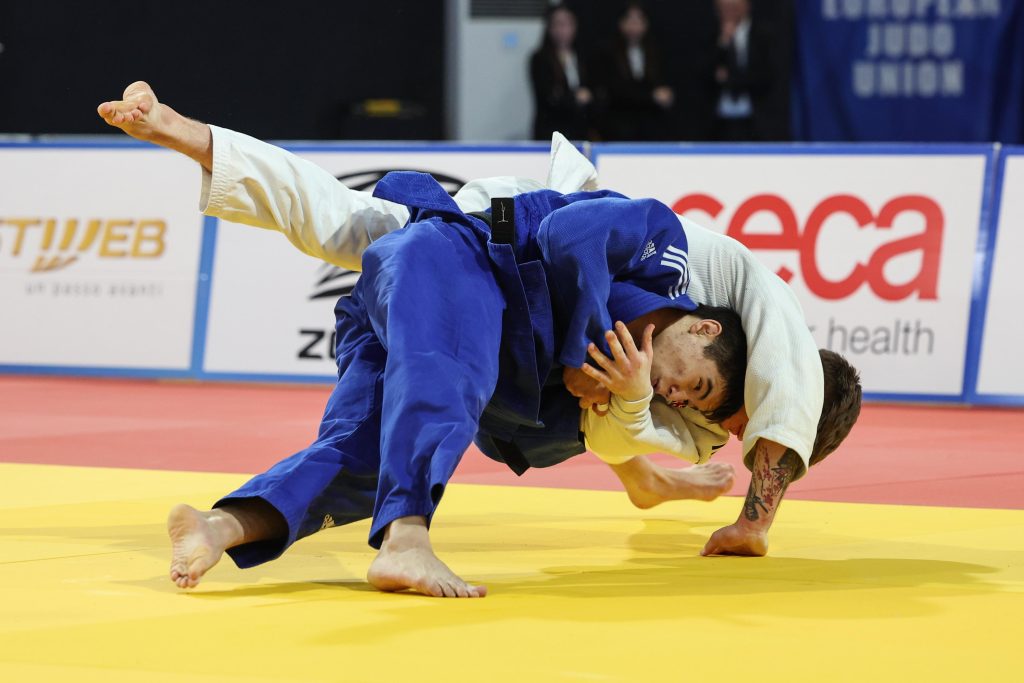 Though in Great Britain, not all of the athletes are based solely at the National Centre in Birmingham, Young is very much a part of the centralised system, which was a long term goal.
It's the best team I could ask for, I just know it's where I need to be to be the best, there are the rare few people that succeed outside of the national training centre, for me the best training partners are there, best strength and conditioning, physios, facilities and it's also local for me. Since it opened when I was 13 I've always wanted to go there with the older ones and they're all my training partners now.
Asking this Midlands-local who has inspired him to become a judoka or if there are any athletes he aspires to be like, it is unsurprising that he immediately celebrates another local judo legend, the late world and European champion, Craig FALLON.
When I was younger, in fact he still is now, Craig Fallon. I idolised him from the age of six. He is just the best judo player we ever had in my opinion, my judo is not like his, I can only wish to be half as good, I know he trained really hard, from people who knew him personally, and it showed in the results he had.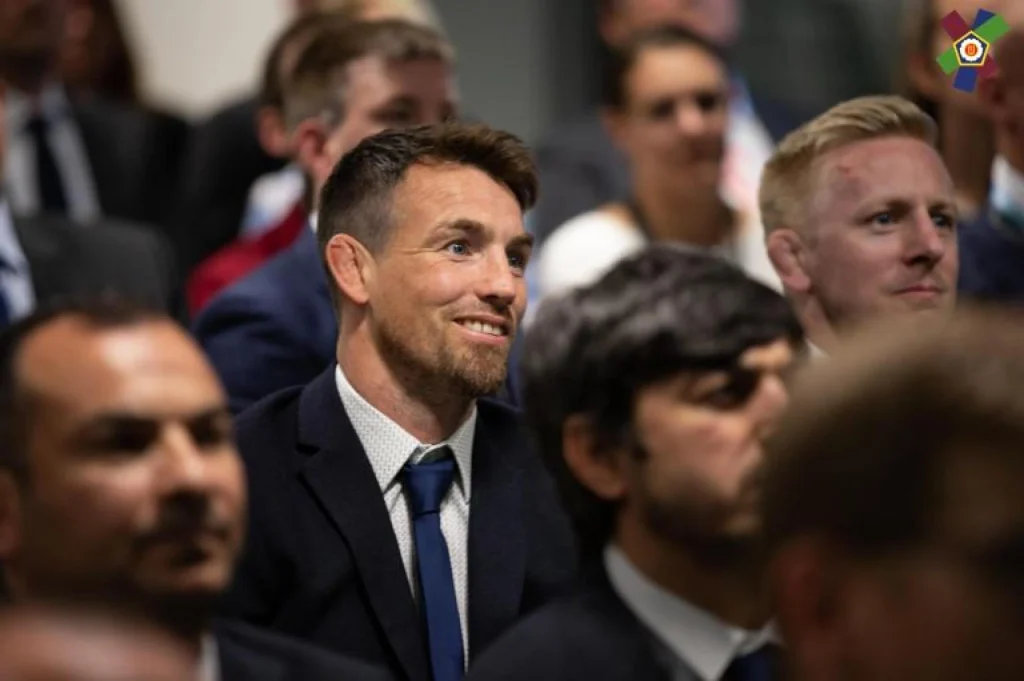 Whilst envisioning himself with the lofty successes and technical supremacy of Fallon, another judoka he mentions comes as a surprise as it turns out to be his very own training partner.
My main training partner is Eric HAM, and I feel like he has helped me progress a lot over the last six months, I struggle with my gripping, my weakest point I'd say and he is very good in that, and the fact I train with him every day has really helped me. I know that I get frustrated during randori but ultimately, this is making me better. 
Now Young must return to his training hub in Walsall, Birmingham, which will also play host to a Junior European Cup in June. However the hive is buzzing after the recent announcement of ONO Shohei (JPN) as he stated he plans to come to the United Kingdom for a two year period, following in the footsteps of his former head coach, INOUE Kosei and currently Wales-based EBINUMA Masashi.
That would be amazing if I could get to have time with him, he is a legend!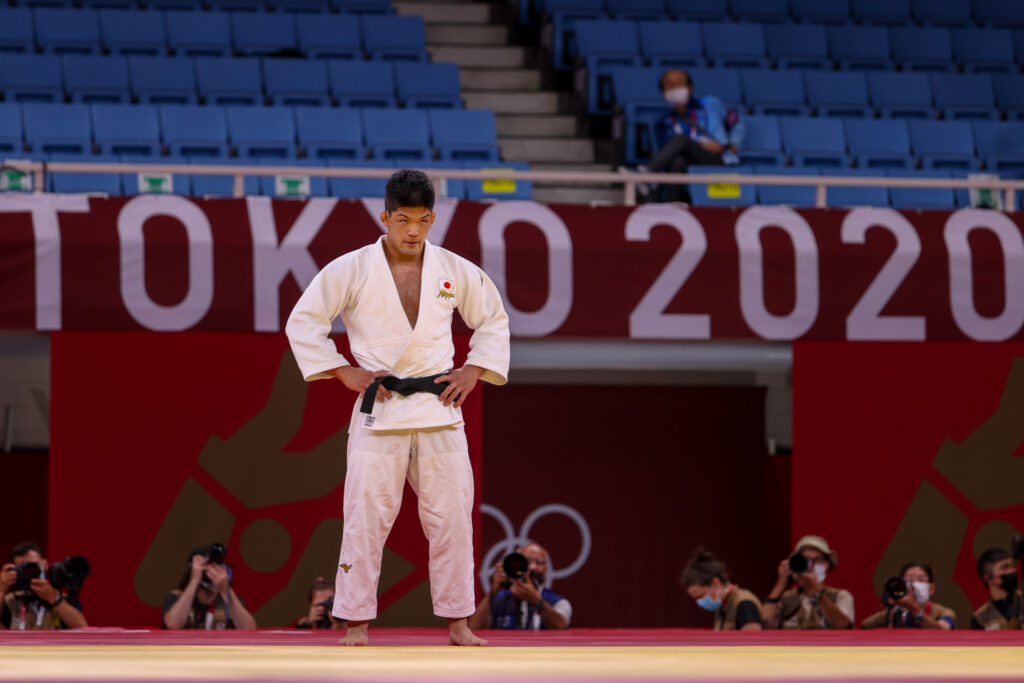 Judoka
Author: Thea Cowen
---