The third and final day of the Zagreb Grand Prix saw 19-year old Gela ZAALISHVILI (GEO) storm to the gold medal in a memorable final against Olympic silver medallist HARASAWA Hisayoshi (JPN). The absence of Teddy RINER (FRA) due to a throat infection left the field open for the assembled variety of challengers, hopefuls, and would-be heavyweight champions. The young Georgian was the beneficiary of a bye in round one before going on to defeat Anton BRACHEV (RUS) in round two. This brought about a round three match-up against number one seed Or SASSON (ISR) who went crashing out after a rather uneventful contest in which the Israeli collected three shidos.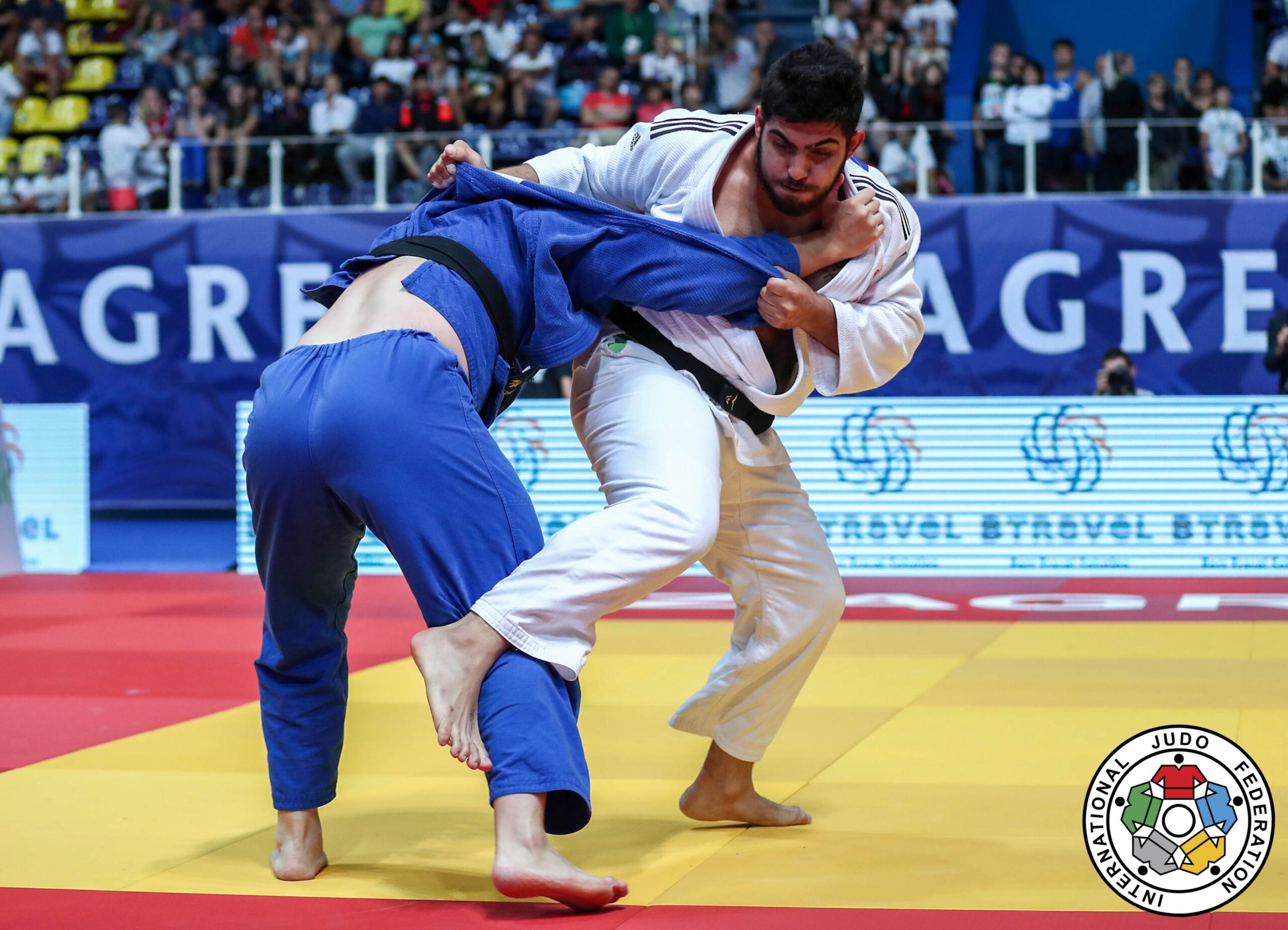 The quarter final against Maciej SARNACKI (POL) appeared to signal a change in the tempo of Zaalishvili's contests when, after only 30 seconds, Zaalishvili reacted to a powerful right sided ko soto gake attempt by Sarnacki by turning his opponent in one beautifully smooth and effortless movement to counter with left o uchi gari for a crunching ippon. Having finished so convincingly there was nonetheless the question of the two shidos for stepping out that Zaalishvili collected within the 30 second duration of the contest. The careless attitude displayed by last year's junior world champion was a stark reminder that he still exhibited traits more in keeping with the age group where had so recently left his mark than with the IJF World Tour.
Podium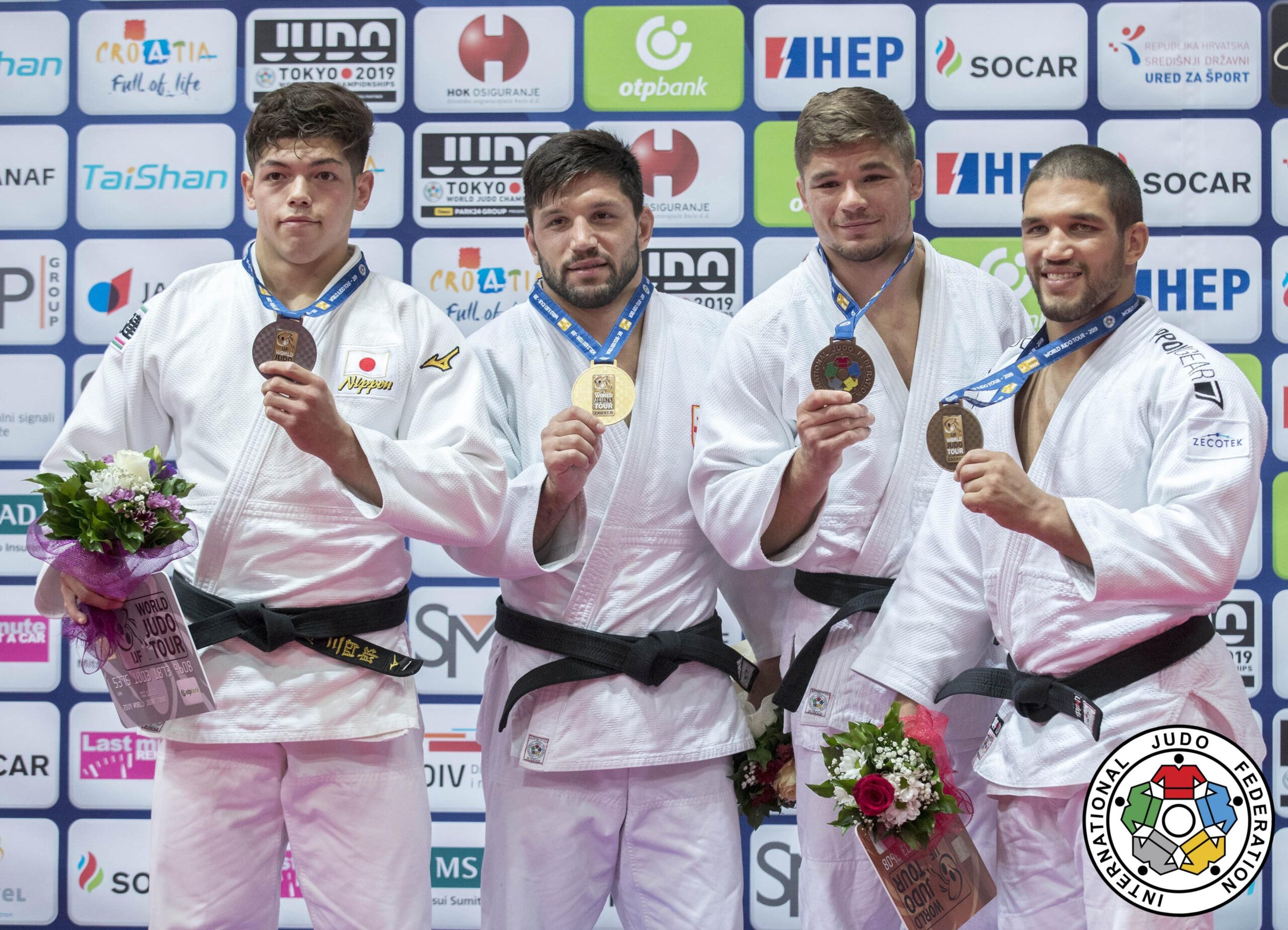 -90 kg1. GVINIASHVILI, Beka (GEO) 2. MURAO, Sanshiro (JPN) 3. TOTH, Krisztian (HUN) 3. VAN T END, Noel (NED)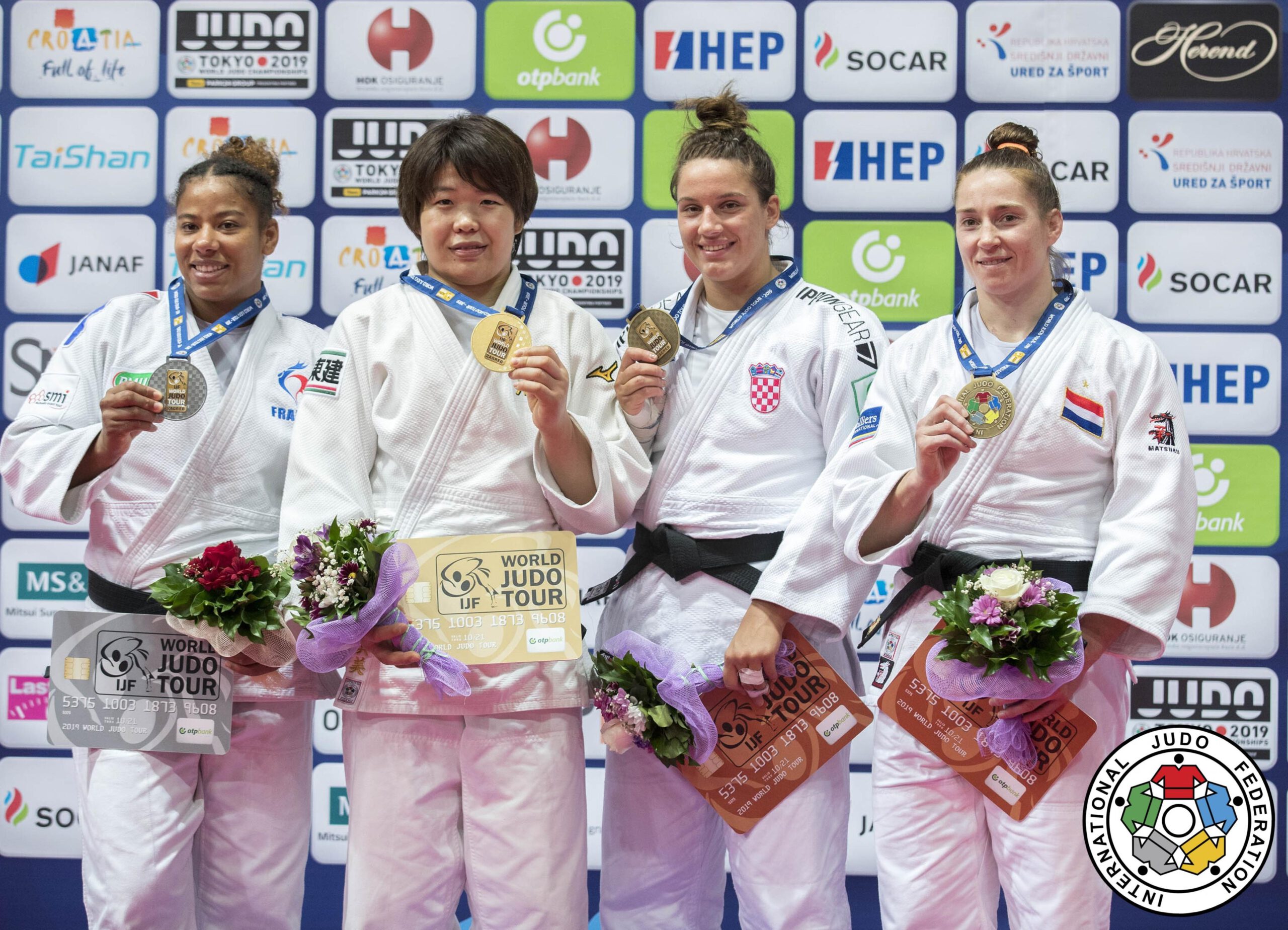 -78 kg1. UMEKI, Mami (JPN) 2. POSVITE, Fanny Estelle (FRA) 3. PRODAN, Karla (CRO) 3. VERKERK, Marhinde (NED)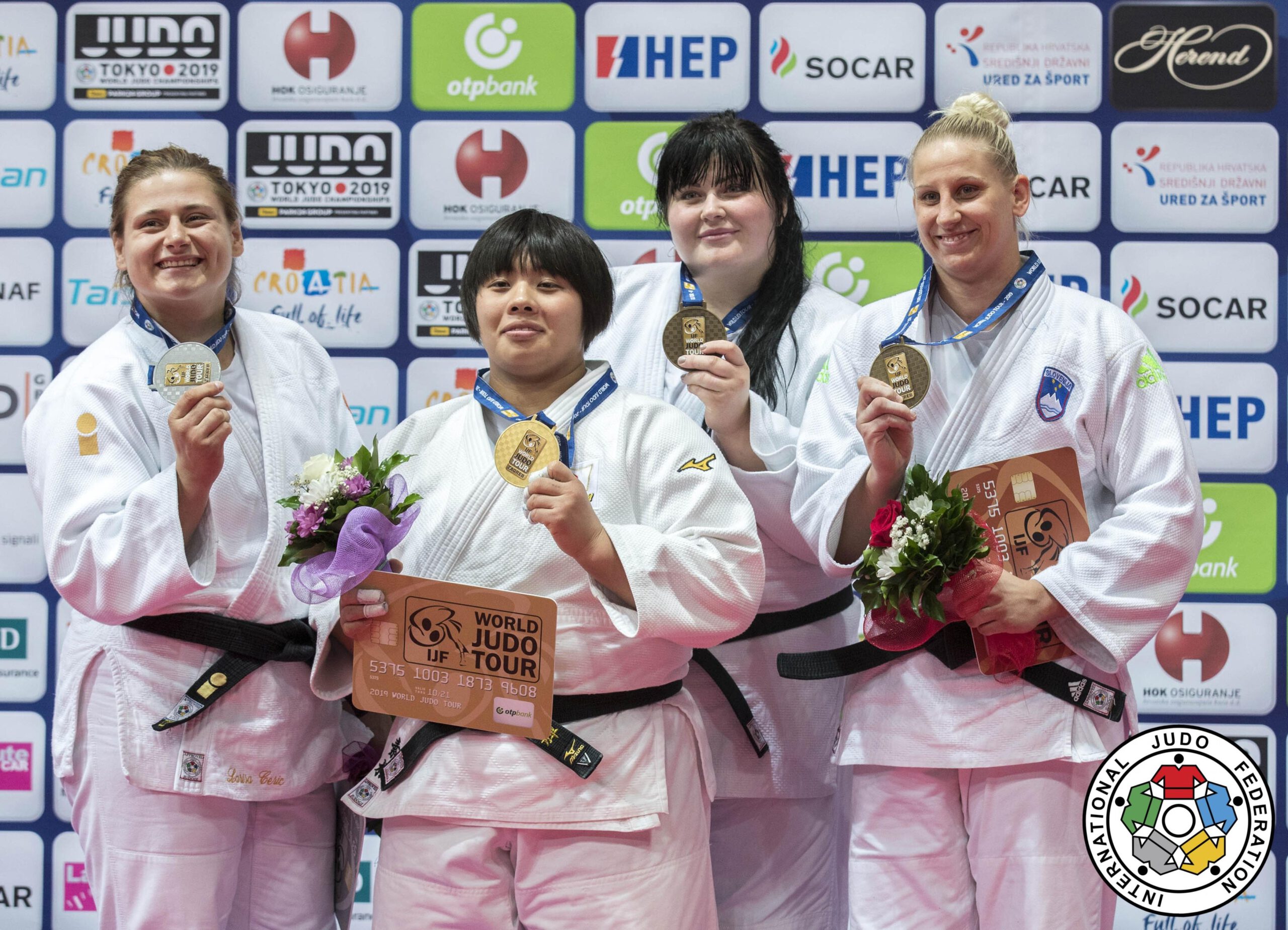 +78 kg1. SONE, Akira (JPN) 2. CERIC, Larisa (BIH) 3. KINDZERSKA, Iryna (AZE) 3. VELENSEK, Anamari (SLO)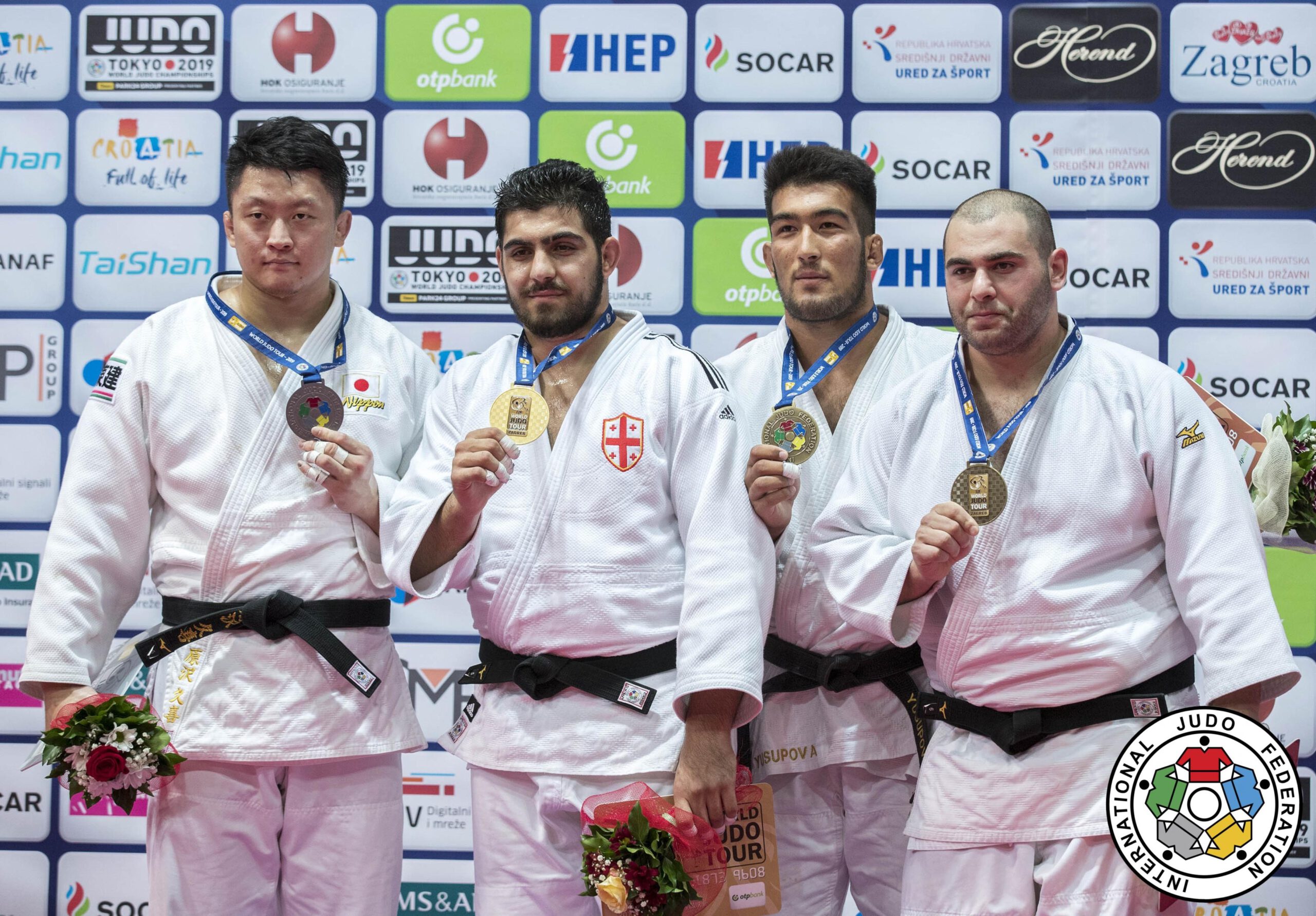 +100 kg1. ZAALISHVILI, Gela (GEO) 2. HARASAWA, Hisayoshi (JPN) 3. YUSUPOV, Alisher (UZB)3. MATIASHVILI, Levani (GEO)
Nevertheless, Zaalishvili had moved into the semi-final where he came up against number four seed Roy MEYER (NED). At this point in his young career Zaalishvili is unlikely to face anyone younger than him on the world tour. And that was the case as he got to grips with the 28-year old Dutchman whose greater experience saw him fancied by many to win. Zaalishvili had other ideas. It took almost the entire contest before Zaalishvili was able to take advantage of an error by Myer who, when attempting a left sided o soto gari was neatly countered with right ko soto gake for waza ari that turned out to be the only score of the contest.
In the final Zaalishvili faced the number two seed Harasawa. Once again, the lack of experience at senior level showed as time and again Zaalishvili found himself in poor attacking positions and struggled against superior gripping skills of Harasawa. The contest headed to golden score where after 22 seconds Harasawa sent the Georgian stumbling back with a ko uchi gari that, despite Zaalishvili's attempts to avoid it, was given waza ari. The applause came, polite as it was, the crowd began to search for the nearest exits and then there was a referee review. Surely this could not be overturned. But it was. And, as many searched once again for their seats the contest continued. Then, immediately upon the restart, Zaalishvili leapt up off his feet to grip deep over the back of Harasawa grabbing his belt. Harasawa reacted by positioning to launch his own close-in attack. But it was Zaalishvili who pulled off a stunning yoko sutemi waza for ippon to grab the gold medal.
There is a great deal of work still to be done to prepare Zaalishvili for the demands of senior heavyweight judo (whatever his results to date). Tactically and most certainly with regard to physical conditioning, Zaalishvili has some way to go yet. But he may yet be able to develop into a genuine heavyweight given the right conditions.
Author: Sheldon Franco Rooks
---