After such an incredible day of judo yesterday we were ready to see some more spectacular performances today.
In the lightest of the mens categories, the -81kg category saw all but one of the top seeds reach the semi finals; two of whom were European Tato GRIGALASHVILI (GEO) and Sami CHOUCHI (BEL). Their contest ran in to golden score with both desperately looking for an entry with two shidos a piece. In the end it was the Georgian who took the win. This now means he will face FUJIWARA Sotaro in the final and Chouchi will meet Sagi MUKI (ISR) for bronze.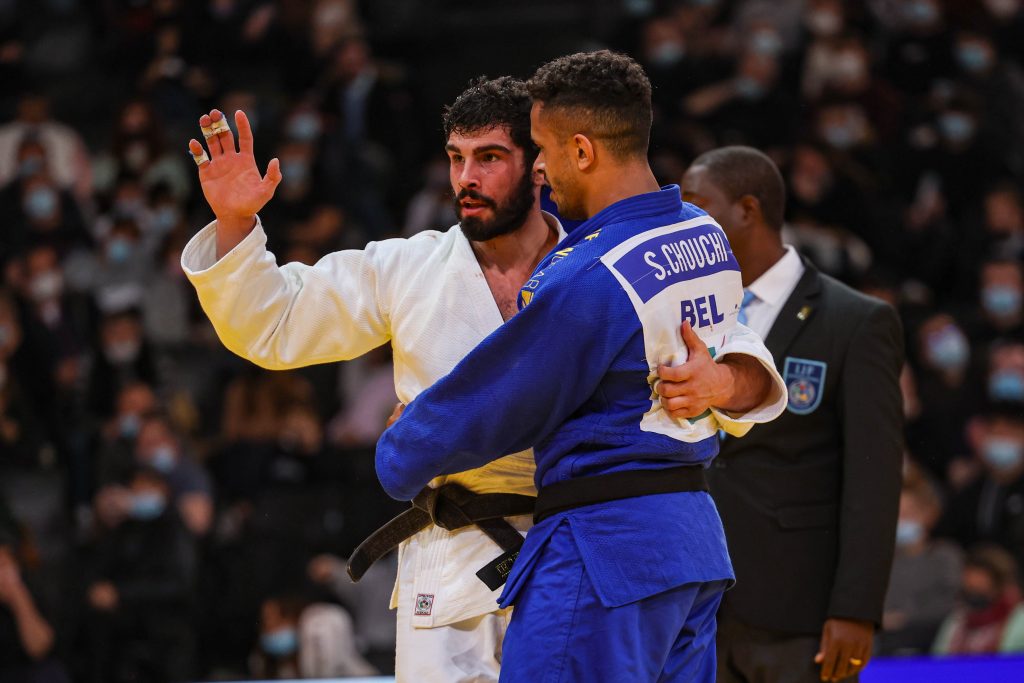 It would seem we can always depend on the French to exceed expectation in the Accor Arena. Today Margaux PINOT went from strength to strength and came back with two shidos to her name in the final against current world champion Barbara MATIC (CRO). As many will know it has been a difficult year for the Frenchwoman but now with the support of her team and of course the crowd, they're lifting her back up. She will face NIIZOE Saki (JPN) for gold.
Matic will move in to the bronze medal contest against Kelly PETERSEN POLLARD (GBR) and we will need to wait and see if Giovanna SCOCCIMARRO (GER) will be able to compete in the other bronze fight as she suffered a knee injury in her quarter final.
After a tough semi final in the -90kg category between Mammadali MEHDIYEV (AZE) and Beka GVINIASHVILI (GEO) it was a penalty that decided the fate of the match and Mehdiyev advanced to the final. This may mean a guaranteed medal however it looked as though he suffered an injury which may affect his final performance. Gviniashvili will compete for bronze against BOBONOV Davlat (UZB) and the French semi finalist, Alexis MATHIEU who lost to MURAO Sanshiro (JPN) will face Mihael ZGANK for bronze.
In the -78kg category, French legend Audrey TCHEUMEO will be competing for her fifth Paris Grand Slam title one extraordinary form against UMEKI Mami (JPN). The Frenchwoman will be joined by team mate, Madeleine MALONGA in the final block as she competes for bronze against YOON Hyunji (KOR).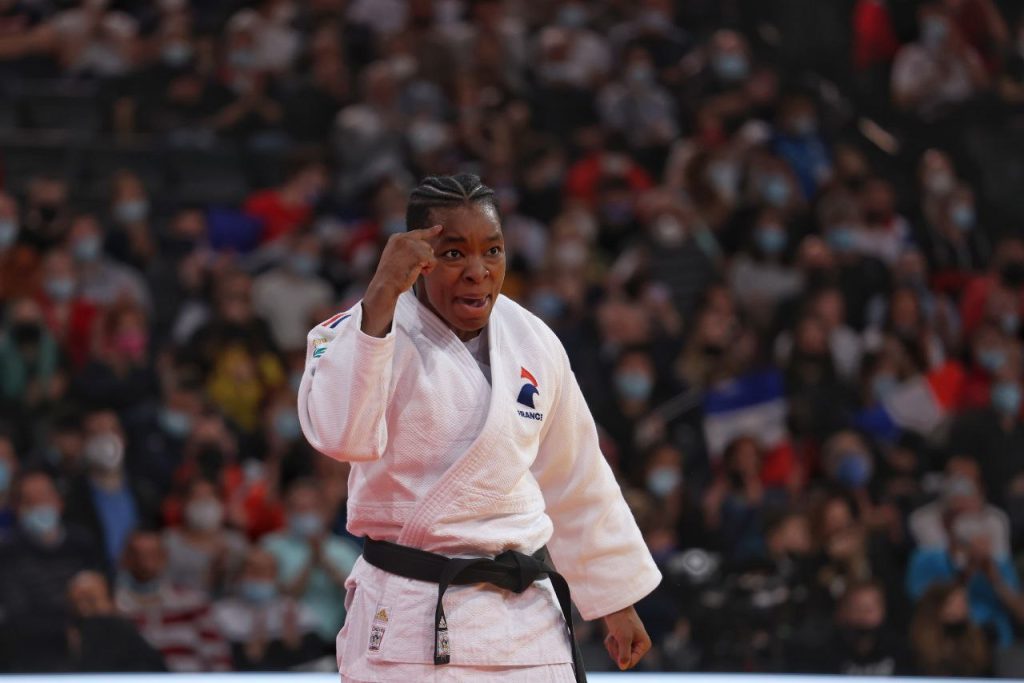 There is also another bronze on the table for Europe, from Great Britain representative Emma REID. Losing out to Tcheumeo in her semi final, she fought back against another strong French athlete, Fanny Estelle POSVITE to take her place in the bronze match.
We have an all-European final in the -100kg category between Toma NIKIFOROV (BEL) and Peter PALTCHIK (ISR), both of whom had an incredible semi final with difficult opponents. For the latter, this is his chance to take a second title in Paris but for Nikiforov, this could be his first medal in the French grand slam event. Europe will also have a chance for bronze in the form of Michale KORREL (NED).
The crowd will be happy to see a potential of three French medals in the women's +78kg category. Lea FONTAINE and Julia TOLOFUA will be leading the charge as they battle it out for bronze against KIM Hayun (KOR) and Nihel CHEIKH ROUHOU (TUN) respectively. Then the arena will really come to life as Romane DICKO takes the stage against TOMITA Wakaba (JPN)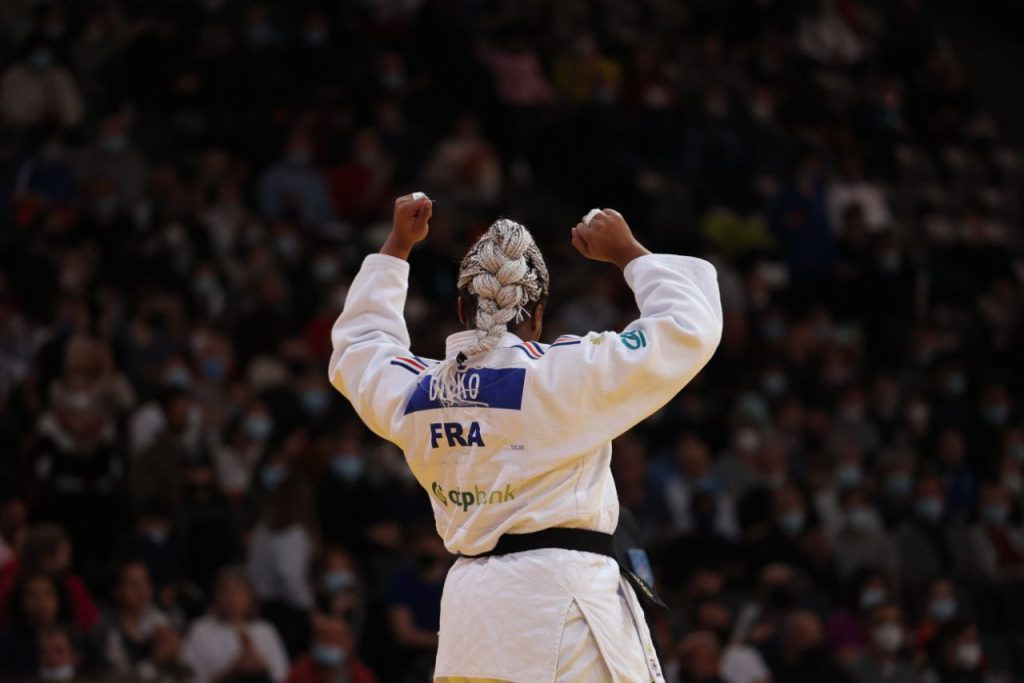 Similarly in the men's +100kg category, Joseph TERHEC and Guerman ANDREEV will be looking to take the two bronze medals for France but will need to conquer the Japanese and Republic of Korea rivals, Kokoro KAGUERA and KIM Minjong (KOR).The final for the men will be 2018 world silver medallist, Ushangi KOKAURI (AZE) in his first grand slam final against ODKHUU Tsetsentsengal (MGL).
Don't miss the final block which starts at 17:00 local time and can be followed at live.ijf.org.
Loading...
Currently there are no photos available!
Judoka
Author: Thea Cowen
---